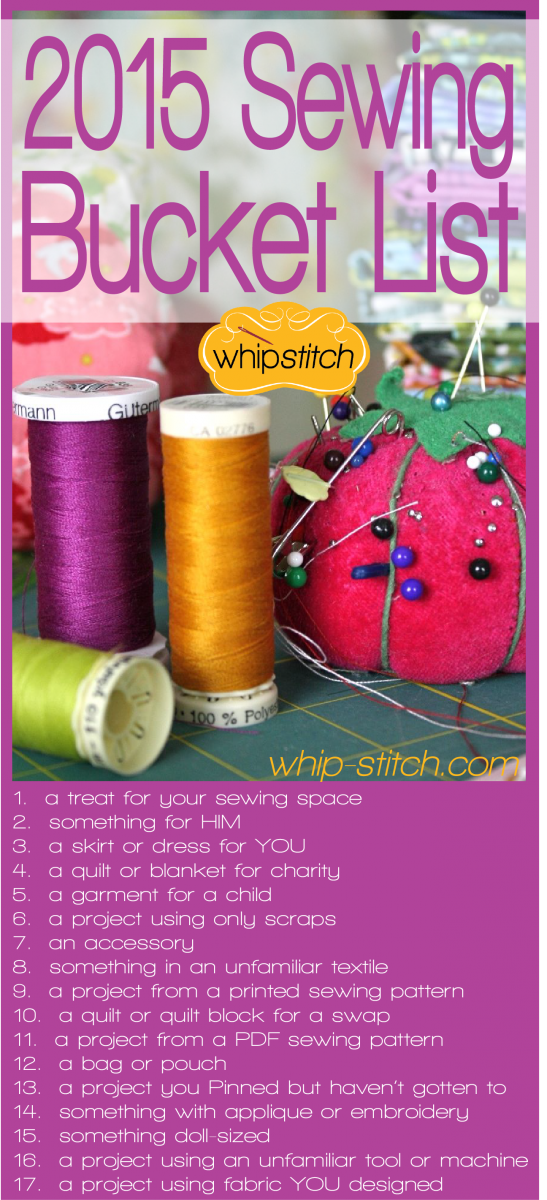 OK, I won't bore you with too many of the background details, but this list came from an amalgamation of factors: my desire to sew as much as I can ONLY from my stash of on-hand fabrics in the coming months; the inspiration provided by Erin with her "26BOOKS" list for the coming year; my deep and abiding love for lists of any kind; and my on-going cogitation over how to re-format the Sewing Buddy Project (entering its SIXTH year!) so that it works better for all the Buddies involved, rather than scrapping it altogether.  That last one has been a pretty strong motivator, obviously, and this list seems to be tickling me that it'll fold it's way into the Sewing Buddies one way or another.
It's a New Year, and I think a lot of us are looking for a means to help keep us motivated and moving forward as we sew, but also to move away from the comfortable and the familiar in small ways.  I've spent some time talking to folks over the years about their sewing goals, and I wanted to assemble a list that ANYONE could use to guide their sewing, at any level.  You're a beginner?  Then #8 is all about using double-gauze or knits for you.  You've been sewing for 40 years? Then #8 is all about leather or burlap or fused fallen leaves for you.  Options are limitless, and so is inspiration–and no matter how much sewing you've done, there's always something left to discover and to which to aspire.  I'm beyond any doubt that it is THIS which keeps me coming back to my machine again and again: the endless options, like entering a library and realizing you could read them ALL.
Will you play along with me?  There are 17 items in this list.  That averages out to one project every three weeks, which seems pretty manageable.  It also allows for some lulls and some catch-ups and some life to happen, without any damage.  Plus, there are lots of these that could, conceivably, be combined into a single project, if you're into that kind of thing (like making your something borrowed be the same as your something blue).
I plan to do these in order, and realistically, won't combine any.  I like to do things the hard way like that.
I'll be using hashtag #2015SewingList over on Instagram to share images, and I'd love to see you do the same.  How fun would it be to see all the ideas and projects rolling out over the coming year?  I've got some mental lists, too, of great links and patterns and tutorials and Pin boards to share, and some ideas for how this list could inspire the 2015 Sewing Buddies.  I hope you'll tag your images and join the fun!
Bring it on, 2015.  I'm ready.