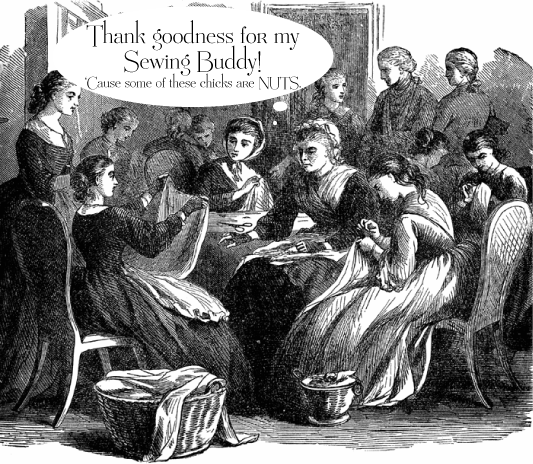 Short version: The Sewing Buddies are BACK!!  Sign up here for 2015.
Long(er) version:  I started the Sewing Buddy Project six (!!) years ago in response to a survey I conducted here on the blog that seemed to indicate that one of the biggest things that would help most of us get more of our sewing goals met was to have a friend who would sew alongside us (literally or figuratively) and keep us motivated and excited about our sewing projects.  Sewing Buddies were my answer: a system of pen pals who all love to sew and want to get to know other sewing folks.
I never imagined it would last so long or be such a big hit.
Over the space of the past half-decade, over 1000 people have taken part in Sewing Buddies, a number I find absolutely staggering.  We've done challenges, we've done contests, we've done charity sewing, we've sent emails and I've posted videos.  It has been a whole lot of fun, and a whole lot of work.  And last year, I thought maybe it was time to put it all to bed.
Statistically, some Buddies are going to go AWOL or bail out.  It's a YEAR, which doesn't seem like a long time, but really can become an eternity if even one little thing in your life happens unexpectedly.  And I took it very personally when I had emails from folks who were really bummed that their Buddies disappeared–it made me feel as though I had failed, and wish there was a way to convince Buddies to power through and stick it out.  I felt like if even ONE Buddy lost contact or dropped the ball, that it was because I hadn't done enough.  I was so discouraged last year that even I was guilty of losing the thread and getting distracted by other projects, and allowing this one to lose steam.
I was ready to give it all up, and just let the Sewing Buddy Project go to sleep.
And then: QuiltCon.  I landed in Austin, and got off the plane, and almost immediately began meeting Sewing Buddies who had been paired up through the Project, corresponded by email, met in real life, and were now attending QuiltCon together as Buddies.  Wait, WHAT?  HOW COOL IS THAT??  Who would EVER have thought even for a second that my little pen pal program would lead to people building relationships so real that they'd be sharing major life experiences with one another?
Around the same time, I received a series of separate emails from people who were glowing about how wonderful their Buddy experience had been, how PERFECTLY matched the two of them were, and all the incredible projects they'd done together.  To top it all off, I had inquiries through all my social channels–Facebook, Twitter, Instagram, and blog comments–from folks wanting to know when we'd be kicking it off for 2015.
That sold me.  The sheer number of folks who sought me out to tell me how much they had loved their Sewing Buddy and being part of the Project made me think that this thing was worth doing again.  And so: here we are.  Year six, and we're ready to match some more folks and see how much magic this Sewing Buddy thing can make! You ready?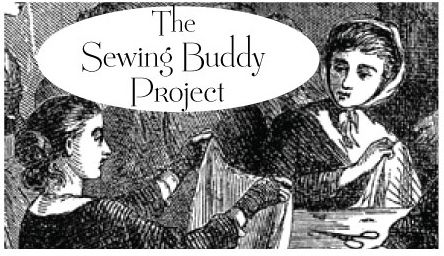 Becoming a Sewing Buddy is a fun opportunity to meet other folks who love sewing.  That's it, in a nutshell.  The Sewing Buddy Project is about making this virtual sewing community immediate and tangible for each of us, by giving us a friend to share ideas, make nerdy sewing jokes, challenge us to keep our goals, and to grow our sewing with.
In 2014, I created an online space as part of the group. It slowed down about halfway through the year, but the feedback I'm hearing is that folks really liked the videos and the encouragement–just not the challenges and contests.  This year, I've opted to keep the parts that folks love and eliminate the parts that were less fun!  The online group will continue, with video and posts just for Buddies, along with ideas, links and projects you might enjoy doing together–like working through the #2015SewingList side-by-side, or participating in one of the many sewing charities we've highlighted over the years.
You sign up, I find your Buddy, and the two of you run with it.  I'll blog and add videos over the course of the year, and we'll use the 2015 Sewing Bucket List as our guide for project ideas.  That's it!  A super fun way to meet someone new and make a relationship that might change your whole sewing world.
As a Sewing Buddy, you'll follow these (very broad) guidelines:
Agree that you will leave no email from your Sewing Buddy un-answered.  A Sewing Buddy is a pen pal who loves to sew, and pen palling with your pen pal is the best way to get that all going–remember what Gramma said: to have a friend, you have to BE a friend.  Simply replying to each message as they go back and forth will build your commitment and resolve.  If your Sewing Buddy-ness goes no further than encouraging emails once a week, that's awesome!  It will keep you on-track to meet some goals or to challenge yourself in a way you might not have otherwise.  If you both decide to start your own Flickr group or joint blog or do some mail exchanges, even better.  At a minimum, though, resolve to always answer your Buddy's emails–any other participation in challenges or contests is completely voluntary.
Branch out and get a new Sewing Buddy, even if you've already been rocking it with your 2010 or 2011 or 2012 Buddy.  You can never have too many friends who sew!  You can keep your other Buddies and learn great stuff from a new one.  Isn't friendship awesome?
Sewing Buddies can be at any skill level and do any type of sewing.  We welcome beginners, intermediates, advanced and lots of mixy types at in-between-y skill levels.  Don't quilt?  Maybe your Buddy can help you learn!  Don't sew garments?  Maybe the two of you will start together!  The only requirement is that you're willing to communicate and interact with one another.  That's it!
Sewing Buddies can be from anywhere in the world, as long as you're willing to communicate in English.  We've had folks from Britain, Australia, Denmark, Sweden, Spain, Portugal, Brazil, Canada, Austria, South Africa, New Zealand and a host of other nations participate, and you can, too!  I can't promise you'll get a Buddy who is geographically near to you, but isn't that part of the fun, that discovery?  Hooray for international diplomacy!
Be on the lookout for blog posts, videos, round-ups and newsletters designed just for Sewing Buddies!  I'm taking feedback, suggestions and comments from past Sewing Buddies very seriously as I work to make this the coolest pen pal experience you've ever had!  If you have ideas for things we can do this year that would really make this program the funnest, I'd love for you to share!
Ready to join??  Jubilee!!  Click through to the class site.  Once you're registered, you'll complete a quick form and give me your necessary information–from there, I'll pop your name in the Super Sciency Whirly Bin of Sewing Magic and find the PERFECT Buddy JUST FOR YOU.  (Seriously: even I am constantly amazed at how well this system matches Buddies every year!!)  Cost is $10 for the year–this covers all the Sewing Buddy content, access to the online group site, and basic admin and video hosting fees on my end. In addition, a portion of your registration will be donated on behalf of all the Sewing Buddies to one of the sewing-related charities I'll be highlighting later this week!  If the fee is prohibitive for you in some way, there is a limited number of scholarships available to make sure that Buddies from all circumstances and walks of life have the opportunity to participate–simply email deborah (at) whipstitchfabrics (dot) com for more information.
Buddies can begin registration RIGHT NOW.  Matches will begin March 20, 2015.  Registration will close March 30, 2015 and all matches will be sent no later than April 2, 2015.  I can't wait to see how you inspire one another!!
I hope it comes through in these words how excited and humbled and surprised and touched I am that this project–which started with just a question–has grown and grown over the years.  And how much it means to me that so many of you took the time to stop me at the elevators in a hotel, or email me on your lunch break, or shoot me a quick note on Instagram to tell me what Sewing Buddies has meant to you, and how much you wanted me to pursue the project again this year.  What an honor, what a privilege to do this work with you!  It's a lot of effort every year, but your words and your experiences have made it clear that every bit of sweat and thought has been worth it–that having a Buddy is changing lives.  Thank you, thank you for being part of it, y'all–I'm so excited to see what this year will bring!!