Back in January, I put together a list: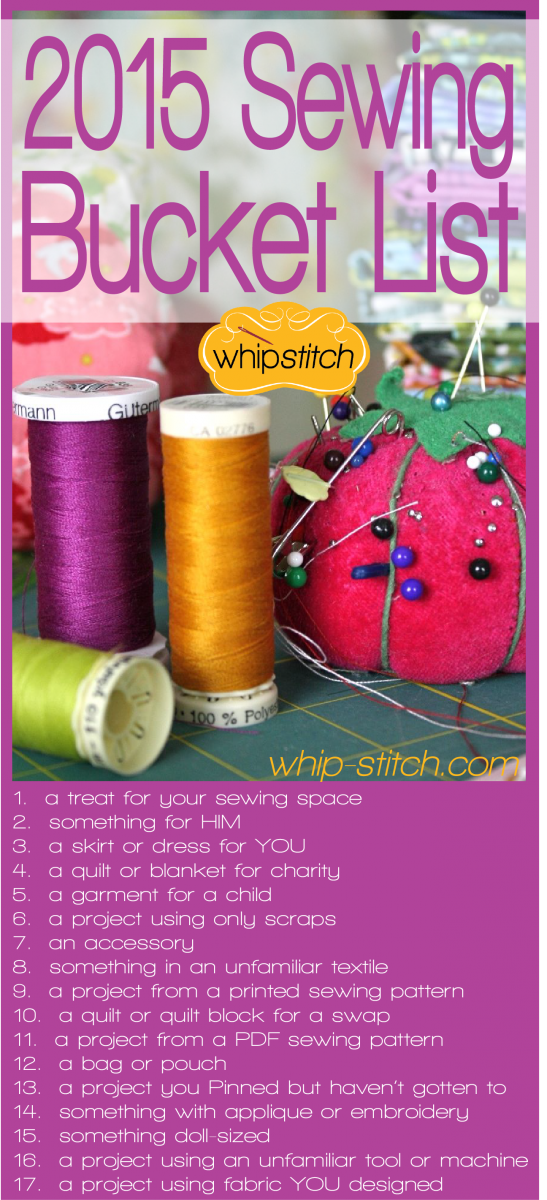 I called it the #2015SewingList and shared it on Instagram.  (For the record, I don't really like the term "bucket list," but for the purposes of easily communicating my goals for making a list of all these projects, it's a good handle, so we're gonna roll with it.)  My idea was that all of us–ALL of us–have a pile of projects we're wanting and waiting to do, and just need a little encouragement to get them done.  Making a list of project categories seemed like an efficient way of organizing them, making a checklist to work against, and maybe getting myself a little motivated.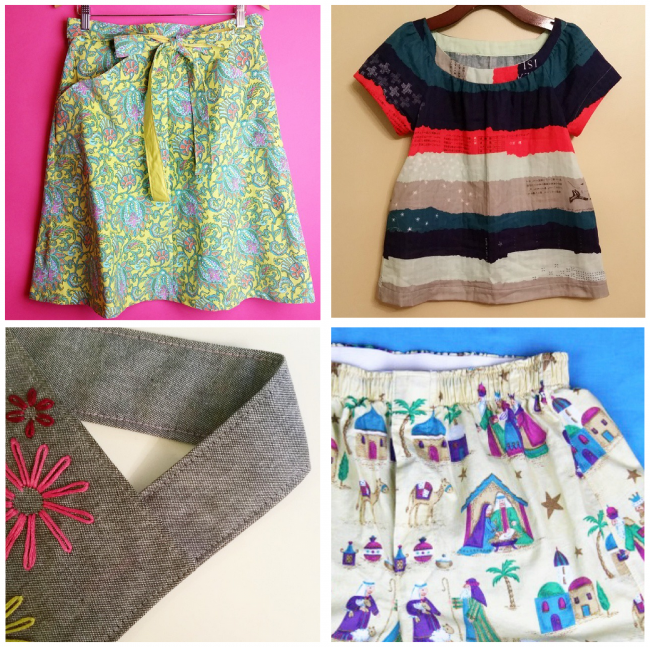 Folks all over the web have been playing along, too!  The #2015SewingList hashtag on Instagram has a whole mess of projects other folks have accomplished–from mustache boxer shorts to Elsa dresses to sewing up something magical using sticky shelf liners.  I've already made a new pair of Overmosts (#5 on the list), the backdrop for the Cotton + Steel booth at QuiltCon (#14), an embroidered pair of Overmosts (also #14), a new corduroy Miette skirt from my PDF Tilly pattern & a double gauze Sailor Top using Fancy Tiger's PDF pattern (#11), and a pair of boxers for my husband from Kwik Sew's printed pattern (#9).  It's funny, just making that list makes me realize HOW MUCH I've already sewn this year–I didn't realize I'd been so productive!  Go, me!!
Since I want EVERYONE to have fun sewing, all the time, and since I truly, truly, truly believe sewing matters, I thought the list might be a great means of helping this year's Sewing Buddies get off to a good start.  Buddies could work their way through the whole list together this year, giving one another encouragement along the way; or they could choose one or a few of the projects to do alongside one another; or they could choose one of the projects and each do a portion, like a micro-swap, just between the two of them.

If you've considered being a Sewing Buddy, but you're just not sure, I hope the #2015SewingList will give you some ideas for how this pen pal program can work for you.  It's SO, SO fun to find Your People and having a Buddy to call your own, whose emails you look forward to and whose encouragement can make or break a project when things are going wrong–well, that can turn your year around.  You can learn all about being a Sewing Buddy here.
If you've already signed up to be a Buddy for 2015, JUBILEE!!  I've got some details about next steps in this short video–which will also give some behind-the-scenes peeks into our private online Buddy space where we'll be working on this list as the year goes on.
Sign-ups for the Sewing Buddy project end at midnight Eastern time, March 30–next week!  Join now, and come play with us!  Whether you're a Buddy or not, though, the #2015SewingList hashtag is yours for the taking.  I hope you'll challenge yourself to try some things you've never tried, to do some projects you've been putting off, and to have as much joy in your sewing as you possibly can this year.