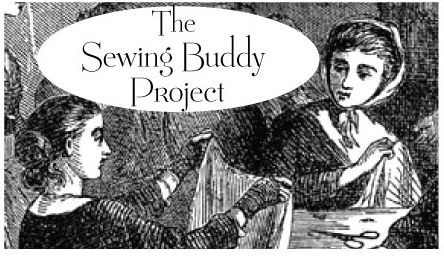 Confession:  When I first developed the Sewing Buddy Project, I didn't really think it would go very far.  I mean, it kinda seemed a little goofy: pen pals? for grown-ups? but with sewing?  I wasn't really sure anyone would care to participate, and might've had a teeny little worry in the back of my head that folks would shake their heads and smirk.
Boy, was I wrong.
Y'all took the Sewing Buddy idea and you RAN. WITH. IT.  I have been a little flattered but mostluy floored to see the excitement and enthusiasm and openness and curiosity with which you have taken to one another and formed friendships and planned outings and done projects and shared ideas–how insanely cool and inspiring to watch, seriously.
From the beginning, the Sewing Buddy Project was intended to be a one-year commitment.  Meet your 2010 Buddy, make deep, lasting friendships, then add another Buddy in 2011.  Like a charm bracelet of epic, stitchy proportions.  So as we head into the frenzy of the holidays and wind up 2010–a crazy, exhausting year for me, I don't know about you–I'm already thinking about 2011 and the fresh newness that it promises.
I have met a bunch of you, and heard from even more–nearly 150 Sewing Buddies in all!–about how this experience has worked for you.  Before we begin to pair folks up in the New Year, will you share your stories with us?  Leave a comment below and recount your Sewing Buddy moments, and I'll choose three pairs of Buddies to profile here on the blog in the weeks leading up to the New Year and the new recruits.
Having a Sewing Buddy is pretty awesome.  Pay the love forward and let us all know what you and your Buddy have been up to!