So, I bought all the kids new shoes and it made me feel pretty confident about starting off the school year with all the boxes checked and all their clothing organized.  Which led me to think/realize that their drawers are filled to overflowing with garments, but that I don't know (1) which ones fit, (2) which ones are horribly and embarrassingly stained, or (3) which ones the kids actually like enough that they'd be willing to put them on without necessitating a bribe.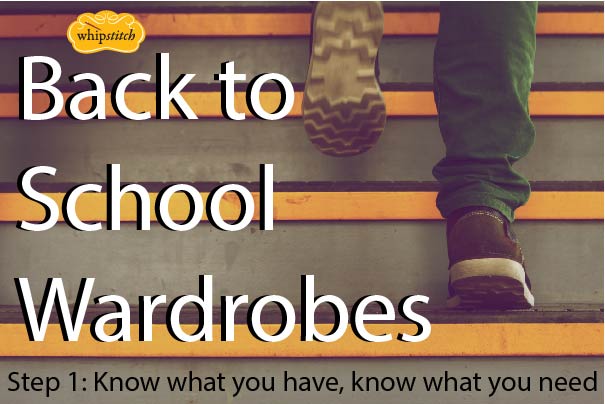 STEP ONE: INVENTORY
I can't know what I want to add if I don't already know what I have.  (If magic were real, then I wouldn't need ANYTHING–a girl can dare to dream.)  With the shoes, part of what made that particular shopping trip so successful was that I knew exactly what categories they each ought to have shoes to fit, and I knew exactly what shoes they had already in the closet that would suit each category.  Which is to say, I didn't go to the store and see a bunch of cute shoes and bring them all home, and then realize that our girls had four pair of sparkly flats and no sneakers, or that our boy had three pair of (ugh) light-up cartoon character shoes with Velcro closure but not one pair of shoes for church.  You see the flaw there–and I think if we're all honest with ourselves, we know that while we're saying aloud, "I would never shop for school clothes without a list!" we also know that we have all been guilty of doing just that.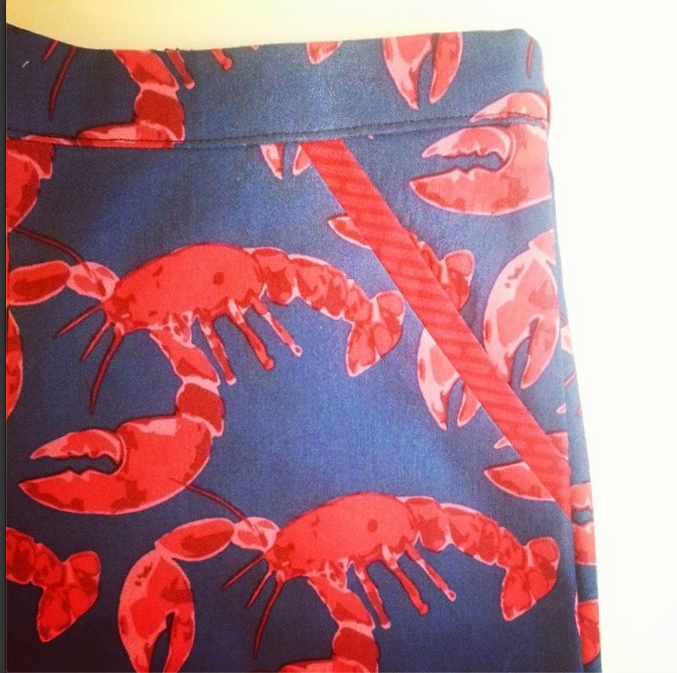 lobster shorts post here
The other thing that inventory helps me achieve–or at least I'm hoping it will, since I haven't really done this before, and am thinking about the whole process differently than I have in the past–is giving our children unlimited choices within limited options.  This is a Montessori idea that I have always loved.  In a Montessori classroom, children can choose any activity they like–from the activities the teacher has set out on the shelves.  Which is to say, they have complete freedom within a highly orchestrated universe.  It isn't that the teacher controls their choices–her role is to encourage them, over time, to continue to reach for new and challenging work that will stretch their skills rather than allowing them to return again and again to something they can do easily.  It is that the teacher specifically engineers the available options to provide work that will make the choosing itself an enjoyable activity, and to minimize the number of times that a child must be turned away from a selection.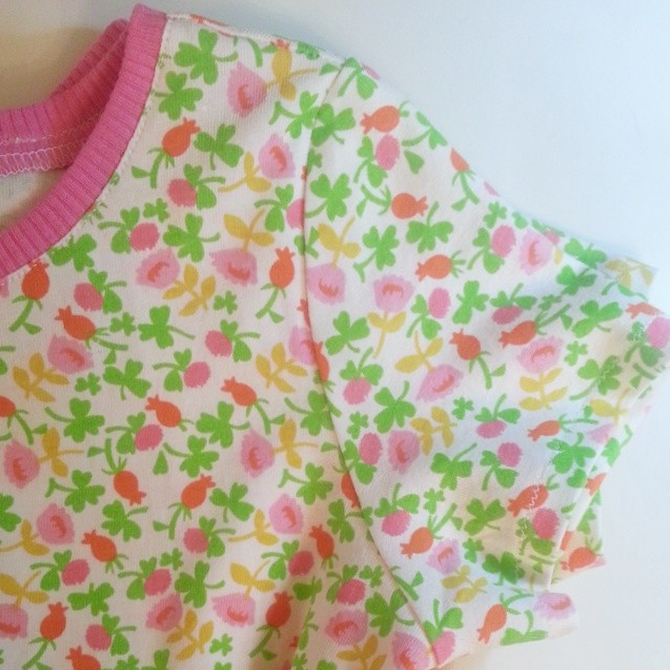 Heather Ross tees post here
I'm totally certain I can successfully apply this idea to my kids' wardrobes.  I want to make sure, by doing an inventory and identifying needs, that they have every garment they could need for any forseeable event.  And then I want to give them total freedom to choose.  And if they don't always match?  No worries–I like an eclectic selection, myself.  And if they choose something grossly inappropriate, like a swimsuit for a funeral or shorts and sandals on the snowiest day of the year?  We have an actual conversation about why we wear what we wear and when–which, honestly, is asking the grown-ups to challenge our own ideas of what's OK and what isn't.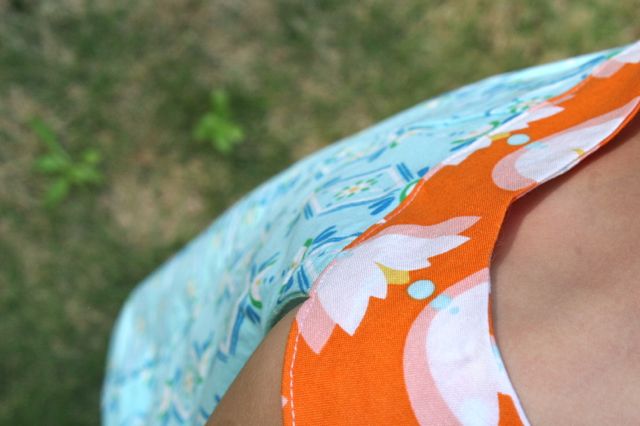 Lotus Pond post here
So.  Inventory.  Using our own days and general activities/commitments as a guide, I've created a PDF printable to use to check off each garment I think our kids are going to need in the coming months.  Rather than have lists of clothing categories, I mainly went with lists of ACTIVITY categories–it doesn't do me much good, as a mom, to plan their clothing based on arbitrary ideas of how many shirts and pants they might need, and then hope they'll have the right KIND of shirts and pants when an occasion arises.  It makes a lot more sense, to my mind, to think about where we ACTUALLY GO and then plan clothing for those events specifically.  So these checklists include school clothes, church clothes, pajamas, those kinds of categories.  And we are one of those old-school families who still have "play" clothes, and change into them at the end of the school day to keep our school clothes nice–play clothes tend to be last year's things that aren't as nice but aren't rags yet, and that I don't mind them rolling in the mud while wearing.  (By all means, if you have suggestions for how to improve these checklists or for things I've left off, let me know in the comments!)  Download here for girls or here for boys, or by clicking the images.
I'll share the results for each of our three kids-still-at-home in the coming days this week.  We have one tween girl, one school-age boy, and one preschool girl who all need to examine what they've got and what they don't.  That's a fairly wide range of ages for the current crop of sewing patterns, but I think it's a good representation of ages that other moms I know have at home, so hopefully by working some of this stuff out in front of all of you, it'll be useful to others!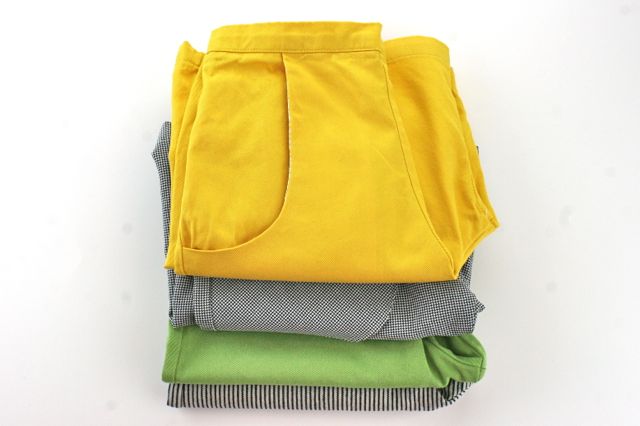 kids' shorts post here
Part of this endeavor is organization, obviously.  A good start to the school year is much more likely if we've got at least the majority of our ducks in a row.  Another part of this is frugality, although I have mixed feelings about how forthright we're being in that regard.  On the one hand, I have literally never, never in my entire 19+ years of being a mom, EVER done the traditional "back to school shopping" extravaganza trip.  Not once, honestly.  It's not on my agenda, it's not really in my nature (having been raised by parents and grandparents who I swear were Puritanical enough to have sailed the Mayflower and made good time on a single tank), and I don't like the whole hype and expense that surrounds it.  At the same time, there are things that I WILL be buying for our children because in the cost/benefit analysis, even though I can make them at home, I'm not sure it's worth it to do so (I will under no circumstances be knitting my children socks just to have them lost or abused in the mud; I still have not made the kids underpants, although the idea intrigues me; and while I will sew a zillion knit tees, I probably will purchase solid-colored ones rather than making them myself).  So I think we're sewing much of their school wardrobes to save money, but we're willing to spend money if it's more economical in the Big Picture to buy rather than invest the time to sew.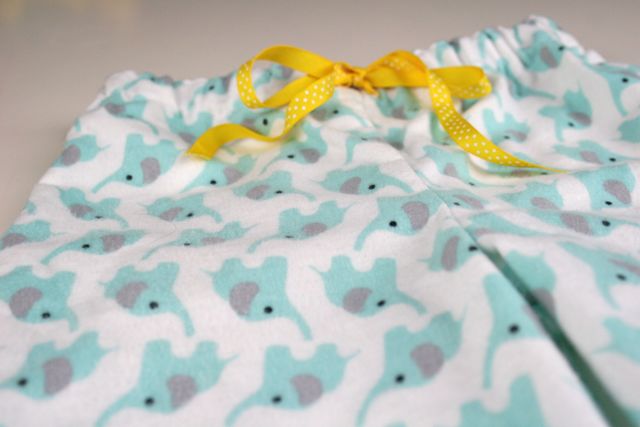 Fanfare flannel jammies post here
When I ask myself the major reason I like and want to sew for my children, it really is the satisfaction I get out of heading out of the house and realizing that they're all wearing things I have made myself.  I have stopped waving off compliments when people learn that I've sewed for the kids, and instead take every "You made that?!?" as an opportunity to spread my agenda: I genuinely think everyone ought to sew, and that it will bring people together in ways that very few other things could do.  So when I lay out these list and stack up their "keeps" and their "donates" and their "throw aways," I won't just be thinking about all the money we're saving by stash shopping for fabric to sew up their school clothes.  I'll be thinking about how fun it is to see them all arrayed in home-sewn clothes, and the memories they'll have and share with others down the road.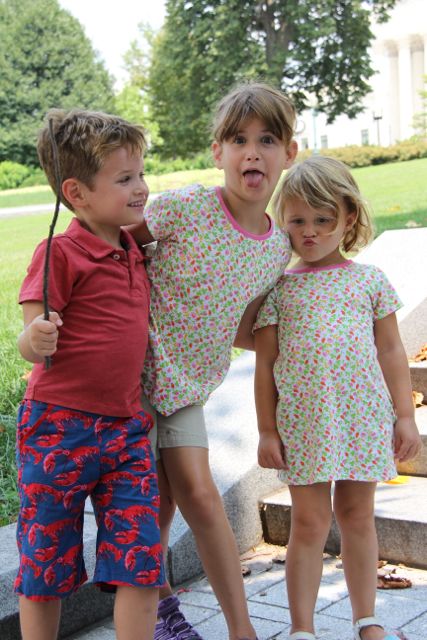 Next post: Our tween girl's inventory results, along with her list of To-Sew and links to patterns and fabric to get us there.