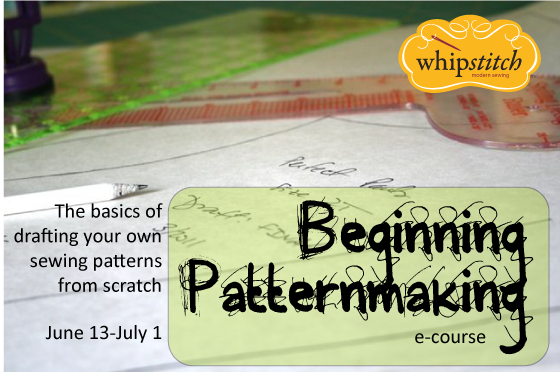 I am super excited to announce that I'm offering a brand-new e-course this summer: Beginning Patternmaking! Like a lot of folks, I started sewing with store-bought patterns but quickly became frustrated when they were never quite what I was looking for.  Like shopping for the perfect purse: you know what you want, if only you could find it!  When I realized I could make my own patterns, from my own ideas, from scratch, it was as if a window had opened up and I could see inspiration stretching ahead of me for miles and miles and miles.
In the years that I was designing children's clothing, making patterns was the only way I could find classic looks for kids that I really wanted my own children to wear–and that I felt good about making to sell.  There are plenty more options out there today when it comes to choosing sewing patterns, but I know with absolute certainty that each of us is bursting with ideas for "I wish they'd make a…" and "I used to have a ______, but can't find one for my kids" and "If I could just find a…." patterns.  Folks, we're just going to have to be the ones to take the dog by the ears, as the Romans used to say, and make these magical patterns ourselves!  The best part?  You can totally do this.
Pattern drafting for making flat patterns, paper patterns like you purchase from a store, is based on simple ideas and simple math (like, addition–and you're totally allowed to use your calculators, Sports Fans!).  Once you've mastered these principles, the entire world is your oyster, and you'll be set on a path to making all your sewing dreams come true!  If you've worked with patterns before, and have basic sewing skills down, you can absolutely learn to draft your own patterns.  And I'd really like to show you how!
See all the details for the Beginning Patternmaking e-course, and register early!  As with my other online classes, I'm offering an early bird discount off the registration price.  Come spend part of the summer with me, and let's make some super cute clothes–and patternmaking history!