I admired the Carolyn Pajamas pattern for ages before sewing them up, like a lot of us did. The style is classic and classy, and the shape seems like it would lend itself equally to silky rayons for summer and to cozy flannels for winter.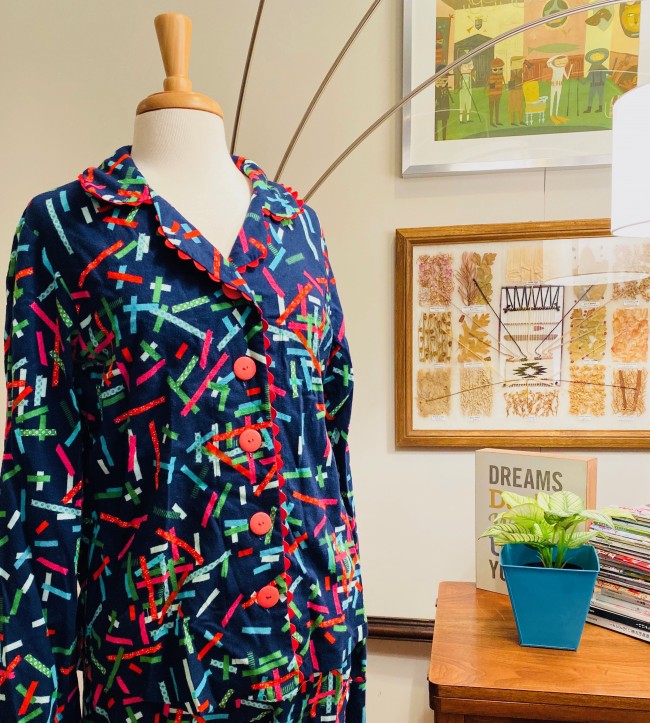 I made my first pair out of double gauze as part of a sewalong for The League of Dressmakers, but as I've learned in shooting video of step-by-step garment construction, it always makes it easier to explain how a particular instruction works if I first show a completed version and then walk through sewing it up–which means I made two pair of Carolyn Pajamas a couple years ago.
Pair one, in double gauze, I want to like but don't love–the fabric tends to ride up and the piping is a little stiff for the softness of double gauze. But the colors! Are dreamy, and it was a joy to sew with, that cotton double layer is soooooo soft. I'd make these without piping if I made them again.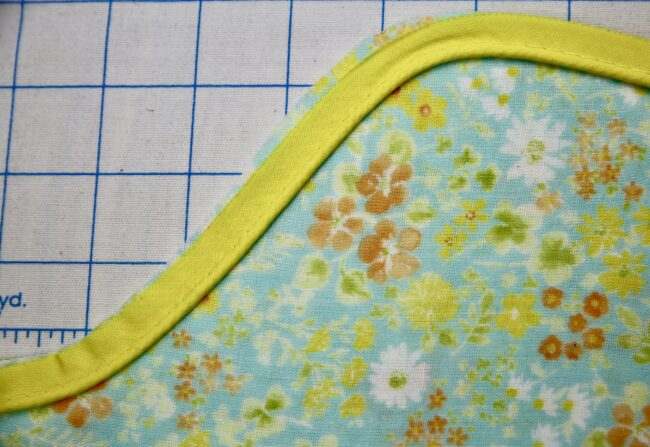 The second pair were for my oldest child, and I wanted her to have some Christmas jammies she'd really love. I chose a reindeer flannel and replaced the piping with ric-rac trim, and the result was INCREDIBLE. I mean, like, maybe one of my favorite garments I've ever made.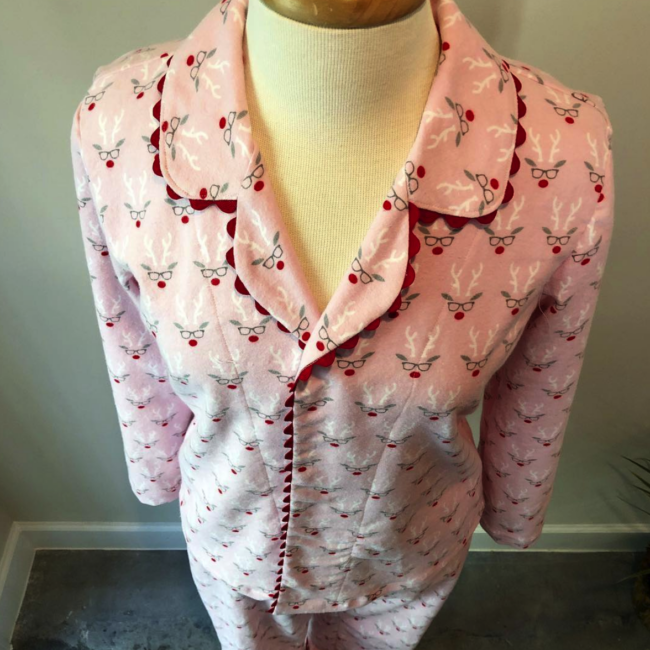 So the third pair, which I sewed as a sample for the League video series (I make one pair step-by-step to show what the "after" will look like, then another pair on-camera in real time to demonstrate the construction techniques and trouble spots) I swapped out the piping for ric-rac again and Y'ALL. WHY HAVEN'T I BEEN DOING THIS ALL ALONG??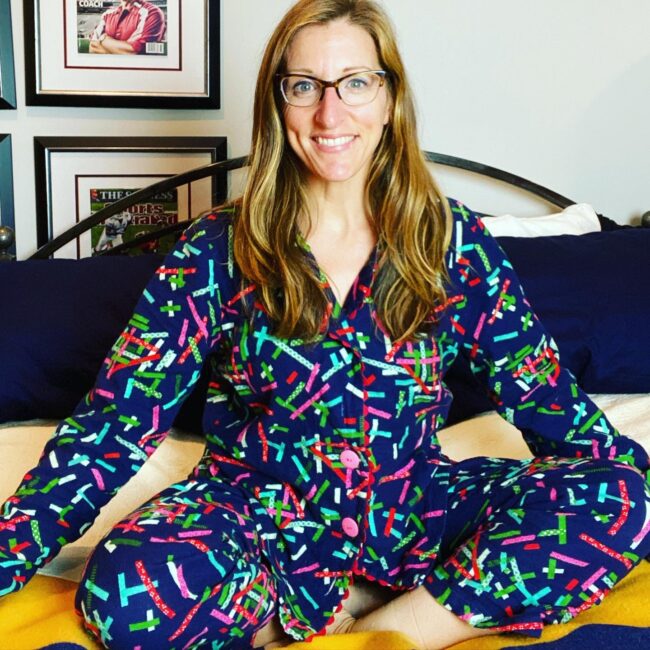 I used this incredible washi flannel designed by Rashida Coleman-Hale for Cotton + Steel (now Ruby Star Society). I bought three yards when it first came out, and as soon as I realized how soft it washed up, went back and got another two yards so I could do matching tops and bottoms for my Dream Jammies.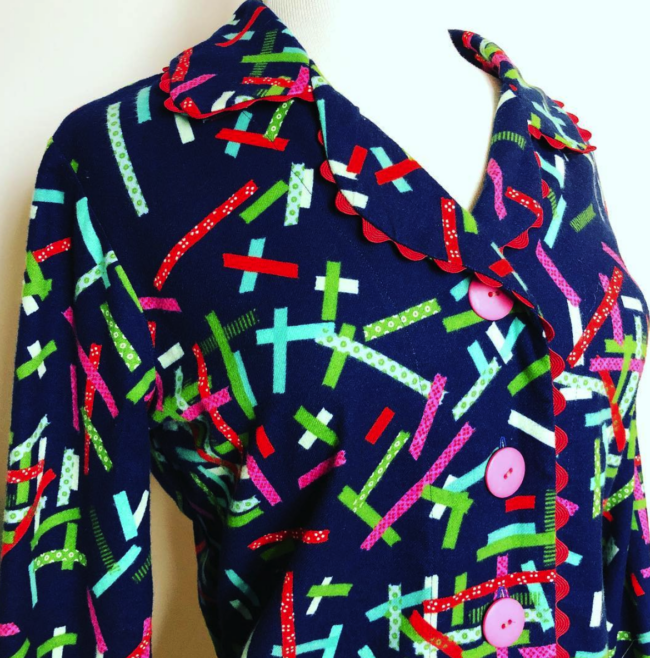 Construction is a breeze with this pattern, even the notched collar, which honestly, really MAKES the design. Somehow, though, I made two errors with the cuffs: I cut the long sleeves for the top, but then added the cuffs without thinking, so the sleeves are VERY long; and I legit LOST the cuffs for the pants, so the pants are VERY cropped.
Turns out: I love both mistakes! The longer sleeves let me lose my hands inside them while I'm sleeping, almost like having a secret lovvie to snuggle, and the cropped pants mean that the legs of the pants don't creep up around my calves and force me to wrestle under the covers to pull them back down.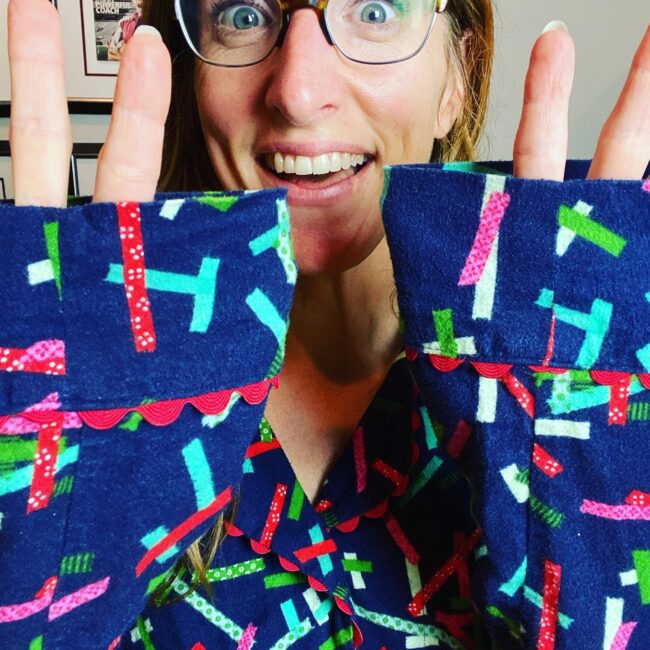 The ric-rac lies flat, so installing it takes zero effort, just an extra step of pinning compared to not using it–so it would almost be rude not to. I added a set of extra large buttons for the closure, and the scale of them makes these feel like I'm a little kid climbing up into my Big Bed at night, which is so soothing and wholesome.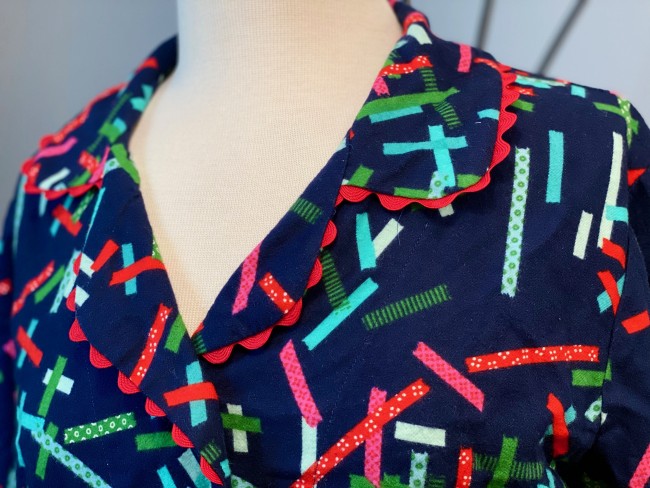 I've washed these probably a dozen times now? At least? (They did sit for most of the year waiting on buttonholes, I confess, but since then have been in near-constant jammie rotation.). And the flannel just keeps getting softer and plumper, not at all pilled or stiff. I just adore it.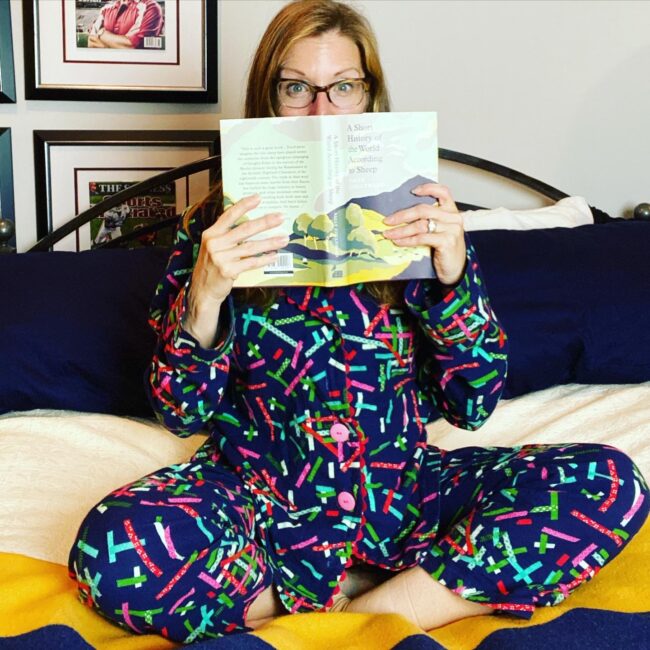 On the whole, the pattern is a solid 4.8 out of 5–I don't really love the pockets in the pants, or feel the need for the fly most of the time, though in fairness I haven't yet made these in either rayon or satin, and I suspect I would very much want pockets + fly in those fabrics. I wish there was a version of the pants with the same cut and fit but without the pockets? The instructions are beautifully written, the illustrations are super clear, and I've never seen a pair on the IG that weren't something you'd intensely want to wear.
Sew your own pair of the Carolyn Pajamas with a League of Dressmakers membership! Learn more about sewing fearlessly with the League here.