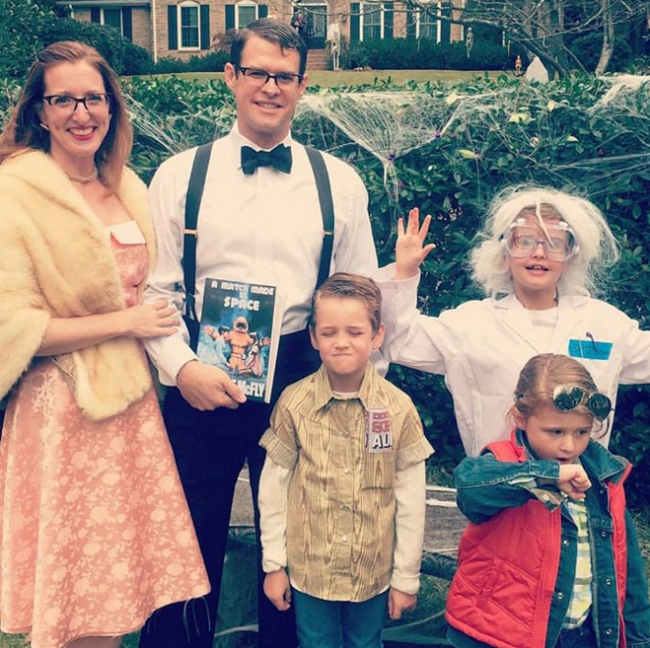 We've done a family Halloween costume for the past four years.  We did Scooby Doo, Sound of Music, and Harry Potter.  This year, we did a little more steering than previously, where the kids had a heavy hand in picking the costumes–this year, we convinced them to join us in Back to the Future costumes.
They haven't seen the movie, of course–they're still quite young, and while we don't remember it that way, when you re-watch the movie with your little kids in mind, you realize pretty quickly that it's not for tiny babies.  My husband showed them edited clips on the YouTube, but they haven't seen the whole thing.  So this was really about indulging the parents this year.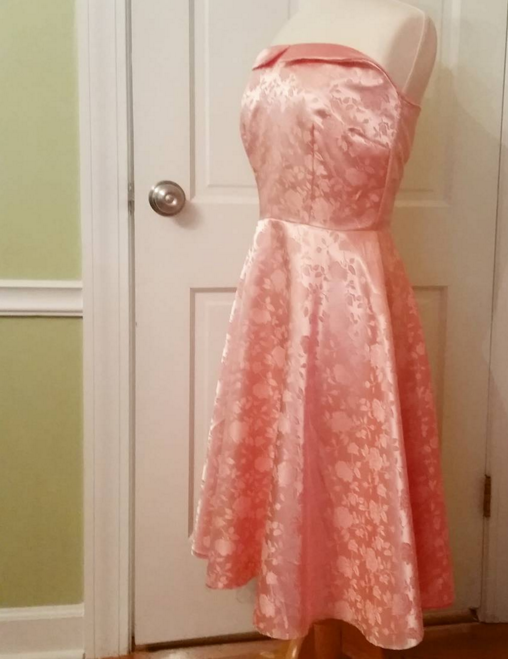 It all started at Goodwill, where I discovered an orange vest in our son't size.  Since he loves a nice puffy vest in the autumn, O brought it home, but the seed was planted.  There was very little sewing involved this year, since we had most everything we needed on hand: the vest, the jean jacket, the sunglasses.  We did order a lab coat for Doc Brown (in a large enough size that all the kids will be able to share it over the years, for any future mad scientists/doctors/Einsteins), and a pair of suspenders that my son wore to school today because he loves his pants HIGH.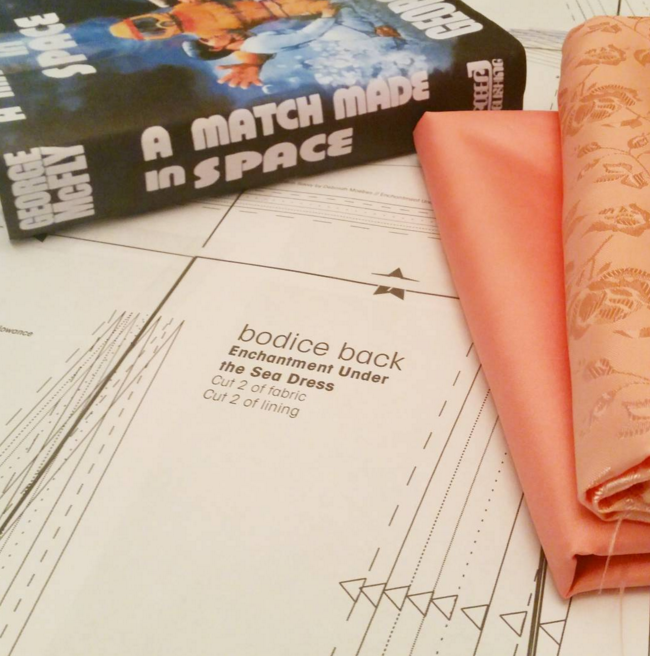 My husband actually owns a tux, which he bought when he joined a firm right out of law school, so his costume was taken care of.  We did consider renting a white dinner jacket for him, but $92 seemed a little excessive for a single night.  So he wore a heat-insulating thinsulate shirt underneath his tux shirt to keep him warm, and we called it a day.  Most of the sewing, though, came down to my costume: Lorraine's Enchantment Under the Sea dress.
I actually did spend an hour or so searching for a better pattern than the one I designed for Stitch Savvy, but in the end, couldn't find one that I preferred.  So hooray!!  I got to use my own pattern to make the dress that inspired it.  Nice, yes??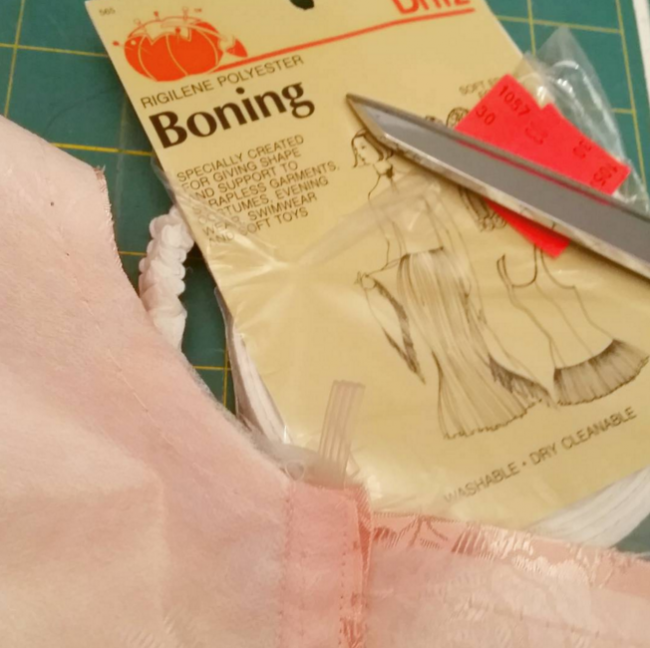 I added some boning to the pattern, which was not in the original design.  I figured this inexpensive, costume-grade polyester could use all the support it could get.  Boning goes in simply: sew the seam, press the allowances to one side, and stitch them down on the raw edge.  This forms a casing, and the boning can slip in easily.  The boning should be trimmed a little on each end, so that it falls within the seam allowances that will attach the lining.  Easy peasy!
This was a super quick sew: about three hours of sewing, not including the cutting.  I trimmed off some corners, though.  I didn't finish any seam allowances; I didn't bother to hem it; and the lining isn't stitched down on the inside.  This is most assuredly a Costume and not a Real Dress, but it was just right for the evening, and was a super fun Halloween.
The children might not let us do a family costume much longer.  What idea should we run with while they're still willing to indulge their parents??