We attended a wedding in Florida over the Memorial Day weekend, and I thought, as I was last-minute packing, "What better place to take photos of my Summer Dresses samples?"  So in the suitcase went a stack of dresses, most of which I had already worn.  One evening, after supper and while the children hunted in the surf for shark's teeth, my husband took charge of the "good" camera and got some shots–remarkably, I have at least one of each dress where I'm not making a ridiculous face!  Hooray!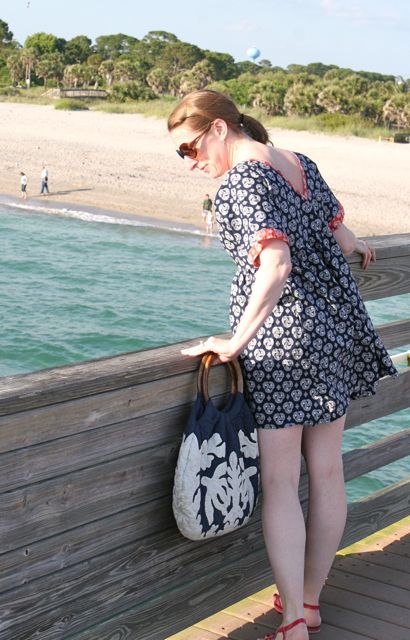 The Modern Babydoll Dress, here in Tsuru by Rashida Coleman-Hale.  This dress is so much cooler than my pasty legs make it look (and this is how tan I am AFTER a week at the beach, y'all).  I wore this one to Quilt Market in Portland and got a zillion compliments–all of which I handed gleefully to Rashida, because this fabric is divine (and totally organic).  See the V-neck back?  My fave part.  Well, that and the fact that the bodice is cut all as one piece, which is pretty fun.  The pattern includes markings to allow you to sew a contrast band on the sleeve, too.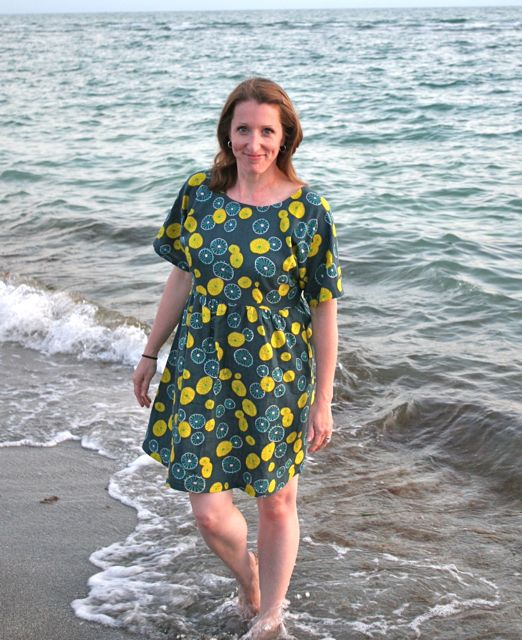 Another Modern Babydoll, this one in Japanese double gauze–shazaam!  Love this, and it feels every inch as amazing as it looks like it feels.  The sleeve length is great for wearing out to dinners, or for layering on top of your swimsuit to and from the beach.  I love the full-but-not-too-full skirt, which can also be made with pleats instead of the gathers.  And the darts at front and back bring the shape in so it's flattering, but not so much that you have to do any tummy-sucking.  Summer is for relaxing, y'all.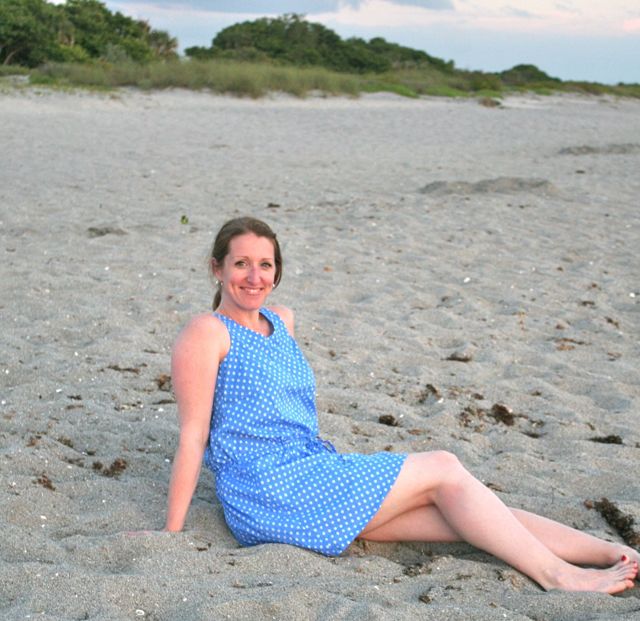 I go back and forth, but I'm pretty sure the Drawstring Shift is my favorite of the three original patterns I've designed for this class.  I love the racerback, the sleeveless shaping, the scoop neckline.  I love that the drawstring can be made at the waist, or below the waist, or as an empire waist, depending on how you like to wear it.  I love that you can tie it center front, or center back, or off to the side, or at the side seam.  And I love that the length on this one is totally flexible, and can be mini all the way to maxi–the pattern shows you how!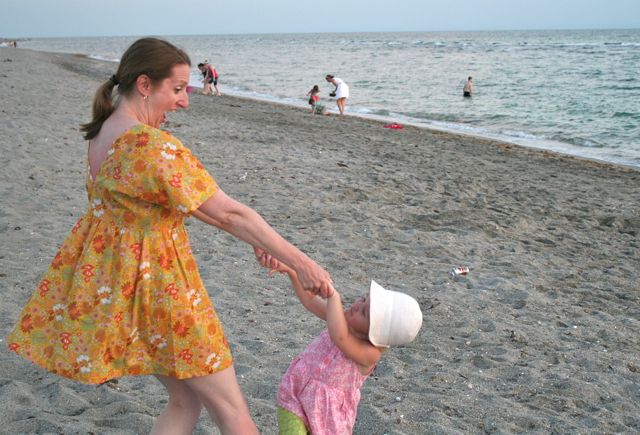 Another another Modern Babydoll.  This one in an amazing voile that I got on super sale from Sew, Mama, Sew's clearance.  Soooooo soft and floaty.  See how sweetly full the skirt is?  This is the shorter "tunic" length, which is a dress if you're under 30 and for layering if you're more…growed-up.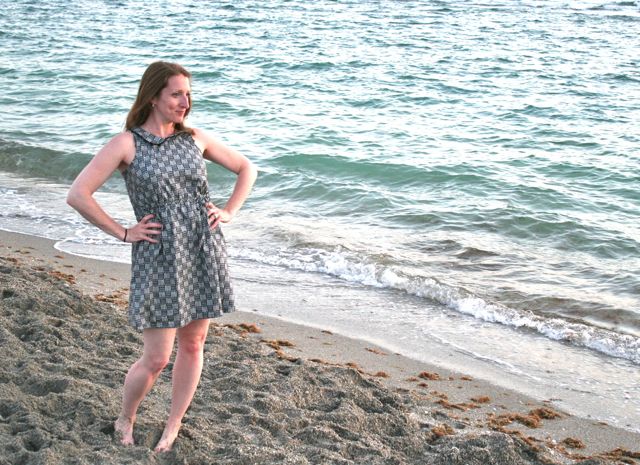 Probably the most popular dress I took with me to Quilt Market, this is another version of the Drawstring Shift (in MicroMod from Cloud9, another organic line).  It has a piped Peter Pan collar, which is waaaay cute, and an empire waistline that ties slightly off-center.  I should have added pockets–what was I thinking?  So the class includes instructions in-depth on three styles of pockets, with a bonus PDF download for seven pocket variations, which would all work with these patterns.  Because, for reals, everything ought to have pockets.
There are still just a few spots left!  And I'm so pooped from the travel and the unpacking that I haven't bothered to adjust the Early Bird price back up to the regular price.  If you hop on over and register today, you'll probably slip in under the wire.  I really, really hope you'll be part of the class–I am over the moon excited about these patterns, and have made some cool updates to the class interface that are going to make this the best online class I've taught so far!  All the details and the button for registration are on the Summer Dresses e-course page.  Can't wait to see what you'll make!