I finished!!!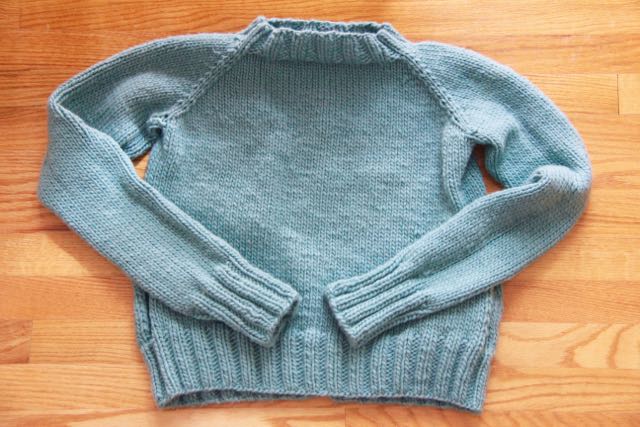 My very first knitted sweater is all done.  Well, mostly done.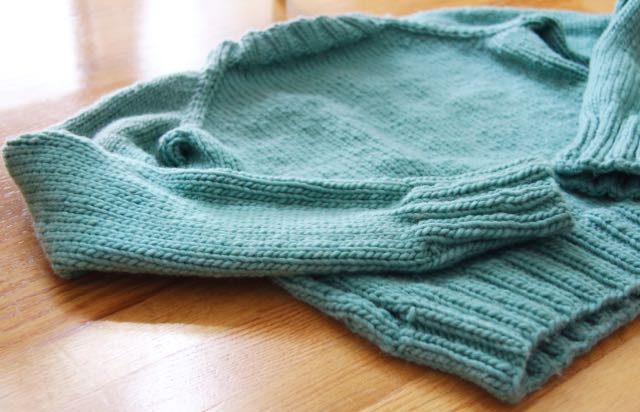 There are two pockets in the pattern, but I only made one.  So far?  I think so far, I think I'll go back and make the other.  But I just really, really wanted to be finished.  So I only made one.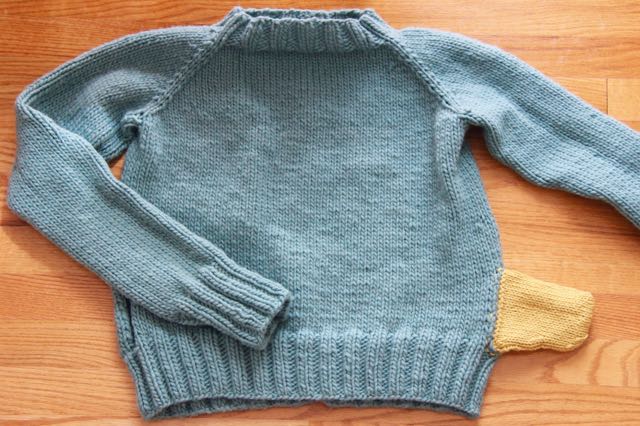 I learned a LOT by knitting this sweater.  I love this design as a first sweater project because it's simple, simple, simple.  Mostly knitted stitches, not a lot of purl.  And all done in the round, so no turning the work and flipping back and forth, like you might with a scarf.  Just around and around and around.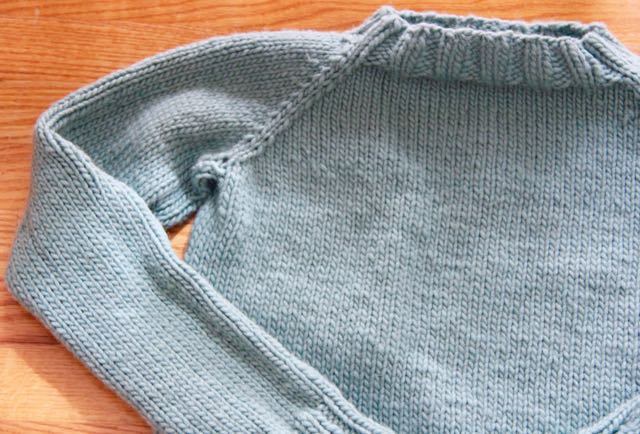 I have some questions still.  Of course, because this is the first large project I've ever made–a bunch of scarves, that one lace shawl that ended up looking like a baby blanket, half a hat, a zillion dishcloths, but never anything as large as this, never a garment.  So obviously I have questions still about how knitting really WORKS.  Turns out, I knit continental style, holding the yarn in my left hand.  Since I learned from a kids' book in the front seat of a car on a road trip when my daughter decided she wanted to learn and needed someone to teach her, it's no surprise that I do it unusually.  And that I feel a little insecure about how I make my knits and my purls.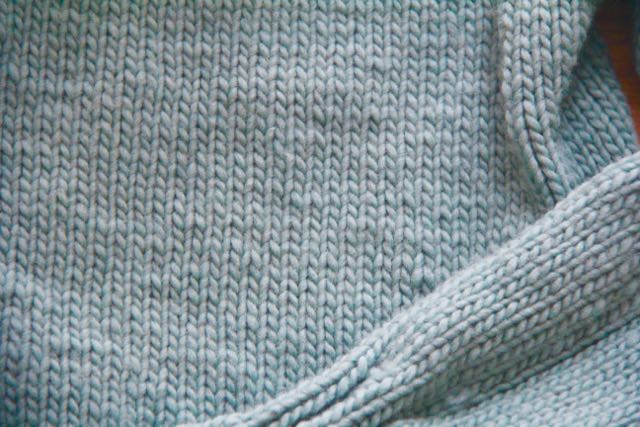 I've been reading a lot on the side–mostly looking at other knitting patterns, because what are we as makers if we are not dreamers?  And when reading Amy Herzog, I was really struck with her idea that when we knit, we ought to think about the fact that we're making fabric.  And is the fabric we're making something we want to wear?  I hadn't really thought about knitting that way previously, that I'm building fabric, and should spend my time building fabric that I love.  Do I love this fabric?  I don't know.  When I knit, my little Vs–the shape the knitted stitches make as they loop around one another–are slanted on one side but more straight up-and-down on the other.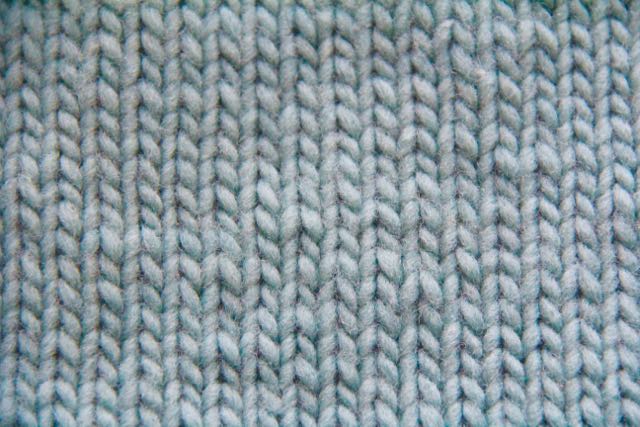 So I thought I was doing it wrong.  See how in the section of my finished sweater above, there are columns of Vs?  And that the one leg of the column seems…tighter than the other?  I'm not really sure why that happens.  I figured I was making my stitches wrong, but someone posted a video of themselves knitting continental on Instagram yesterday, and I make my stitches the exact same way, so it's not that I'm twisting them, I don't think.  Maybe I hold my yarn too tightly?  Because I get the same result when I knit and when I purl, it doesn't seem to make a difference.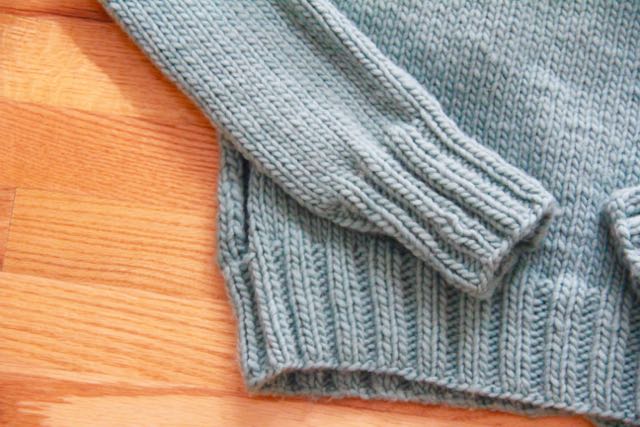 Ribbing is a little tedious to knit, but I love the look at the end.  I love the depth of the ribbing on this sweater, and how it creates a "real" sweater look.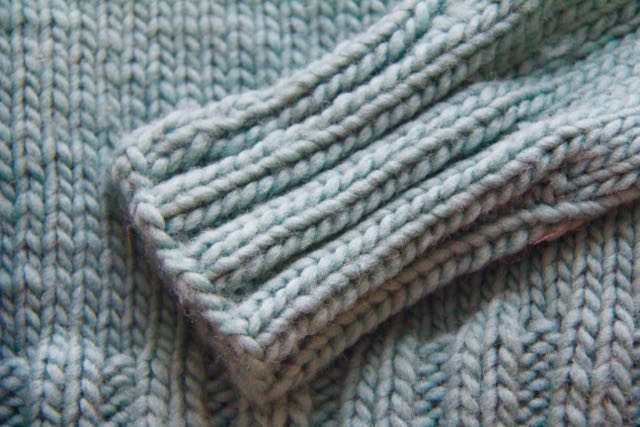 I made the body of the sweater a little longer, based on another bit of advice I gleaned from the knit-along on Instagram, and added an extra inch-ish to the sleeves.  I'm disappointed in the length on the body, to be honest–it hits me between the waist and high hip, which is WAAAAY too short for me.  Is it my imagination or do lots of knitting patterns have very little length to the body?  And do all knitting designers plan their patterns for ladies with no boobs?  I suddenly understand so much more deeply why people get frustrated when they sew with Big 4 patterns–they don't account for anyone over a B-cup, but when you didn't expect it and don't know how to accommodate it or make changes, it's disheartening.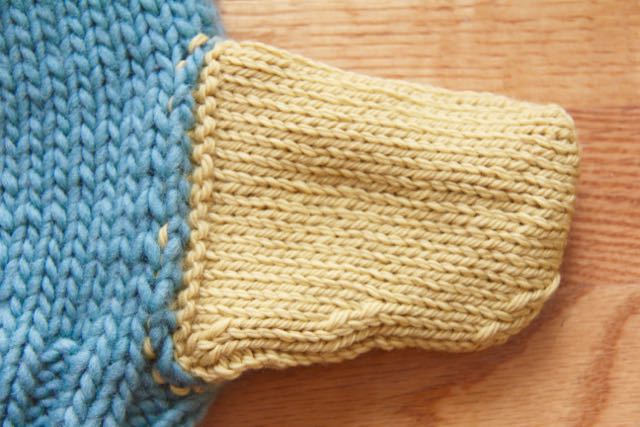 I love the fabric of the pockets, which is a thinner yarn and a smaller gauge.  But they add some bulk.  And this is already a bulky sweater.  Which probably explains why I bailed on the second pocket.  Because the body is so short, and the pockets add bulk, it means that my waist looks a bit wide and I look…fluffy.  I don't hate it, but I'm not sure it's the look I'm going for.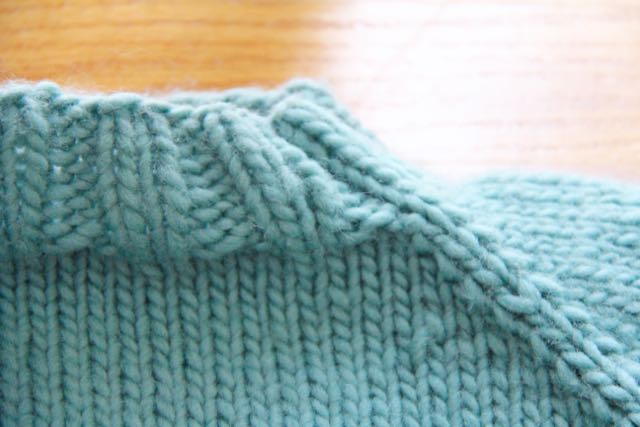 Am I sorry?  Or disappointed?  Not even a little bit.  NOT EVEN A LITTLE BIT.  I am so, so, so excited that I made a sweater, I actually jumped for joy.  I feel like I learned a ton, and that the investment of time and money was completely worth it.  I don't know how often I will wear this–there are about 1.3 days per year in Atlanta where it's actually cold enough to warrant a sweater of this bulk–but it's a great color and might be perfect for my oldest child off at college.  It's just so snuggly and cozy.
All told, this took between February 6 and March 12 to knit.  Yes, I made notes.  Because that's how you collect data with which to congratulate yourself later.  And I am.  Congratulating myself.  Knitting a sweater is a big deal, and I done did it.  Go, me!
I have yet to block the finished product, so that's my next task to tackle.  Learning to wet it and drain it and pin it out and let it dry so that the stitches fill in.  For all I know, those Vs will loosen up and it'll look just like a sweater from a super-high-end store.  Feel free to lend advice and fill in with your knitting knowledge–I'm soaking it all up!