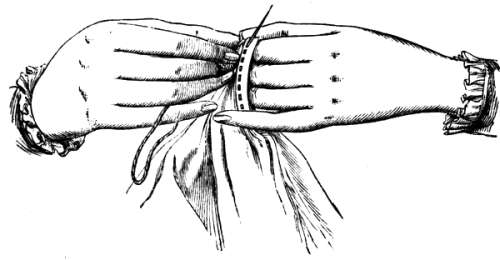 It's totally not too late to get your very own Sewing Buddy! Round 2 of matching is going on NOW. Skip on over to the original post and leave a comment to join in the fun!  I'll close out Round 2 Sunday, August 1 and send out matches next Monday.

When I originally put out the Sewing Goals 2010 survey, I guess I knew that folks felt inspired by seeing what others accomplish in their sewing–that seems natural.  I don't think I was at all surprised to see how many of the responses indicated that having someone to keep us accountable would help most of us stay on track and meet our goals.  So putting together the Sewing Buddy Project made sense: like a pen pal, but with sewing!
Reading the emails and comments and responses, though, has been so much funner than I expected, for reals.  I am SO enjoying seeing how excited y'all are and watching as Buddies get started with this new project–I'm hearing about how much you guys have in common, and how invigorated you feel, and how many of you don't know ANYONE near you who sews, so this is a whole new thing for you.  I had no idea that so many of us were sewing in isolation!  Sewing Buddies to the rescue!
Now that Round 1 has all been matched up, it's time to get to know one another.  I think some basic background info is necessary, like where you grew up and how you like your eggs cooked.  Y'know, the essentials.  And then some sewing background: how long, how often, what type, what techniques you use to disguise your stash so your kids/spouse/folks/neighbors won't think it's taking over the house.  Right now, we're not even really setting goals, not yet.  Step One is really about doing a lap and finding some handholds in common.
I've developed a PDF guide for Sewing Buddies to use with one another as a jumping off point.  Do I think you ought to rely on this as the sole way to introduce yourselves?  Heck, no!  In fact, I've already seen some of you jump in with both feet and send emails with some or all of this info (which I think is really awesome) and others who have given totally different details and asked one another questions (also awesome).  I think that I benefit from some structure, though, and I want to make sure that if you, too, like a framework, that you have one right at hand.
I should mention: I'm working on some Sewing Buddy quizzes for down the road, and I can't promise I won't ask you questions about one another.  There will almost certainly be prizes.  Just putting that out there.
So off you go, my stitching darlings!  Meet your new best sewing friend, and I'll see you soon with ideas of where to go next!