I once had a "friend" who said, "Oh, well, Deborah, you don't cook–you bake!"  I could argue that she meant it as a compliment to my skillz with an oven, but my mother calls this type of person a "poison friend," the one who says horrible things with a smile, and then you don't realize how hurtful they were until they are out of your life entirely.
But her comments–many of them, over a few years we spent time together–were both cutting and insightful, which makes me not miss her at all.  Who wants a clear look inside themselves ALL THE TIME?  I joke.  But only partly.  The baking thing: now, as much as I resented her near-outright-statement that my cooking sucks, she was right that I can rock a baked good.  And thank Heaven for that!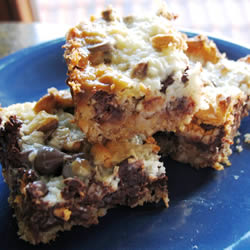 I rarely feel confident when I whip up a mystery dinner with little lead-time and unfamiliar ingredients.  But I can bake up a storm like nobody's business, and quite honestly, it's the only way I know how to deal with stress–especially yours.  I'm not super touch-feely-huggy-gooey, but I find a nice batch of brownies soothes many of life's hardships.  (We once had close friends and neighbors who eschewed carbs and I hardly ever knew what to do for them when times were tough.)
This holiday, we will be traveling for Thanksgiving to see my husband's family, just for the day.  I offered to bring my great-grandmother's handed-down-through-the-generations sweet potato roll recipe (so good your brains will fall out, as my mother says), a batch of the best chocolate chip cookies ever (recipe source: the back of the Kroger semi-sweet chips bag–NOT the jumbo bag, just the regular size bag, since there are two variations), and a batch of Seven Layer Dream Bars, the easiest cookie ever and everyone's favorite (I omit the nuts to focus on the yummy goo factor).
I like to contribute, and I like to stay in my comfort zone.  Baking, you complete me.