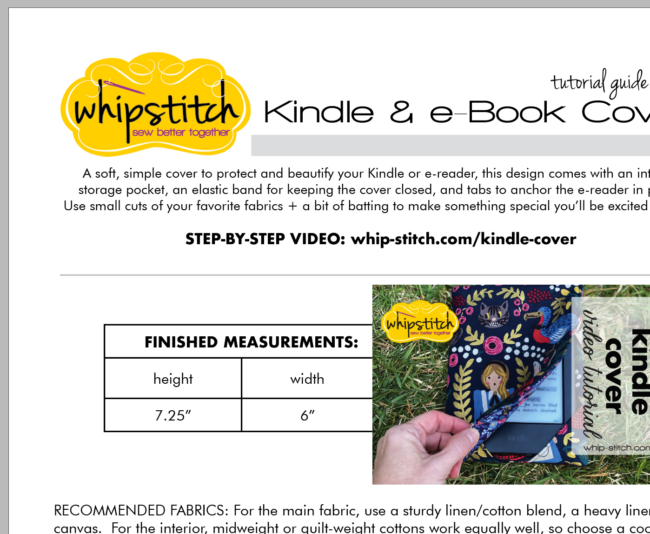 NOW AVAILABLE: A step-by-step video tutorial and printable project guide!  See the post and get the PDF. 
My sweet friend Mika liked my Kindle cover so much she asked for a tutorial.  Since I've always been a bit of a slacker in the gift-giving department, I wanted to make her something pretty, so it was with sincere and genuine pleasure that I put this together, mostly for her but also for you!  I have clutched my electronic reader in my hands and cried over it as I read, laughing and feeling with the characters, totally forgetting that this wasn't print but was a screen with flashing LED behind it, all of which astonishes me, since I really love the book-ness of my books.  I honestly think having a soft fabric cover made a difference in the experience to me–and certainly made me more willing to toss it in my bag and take it with me to read on the go.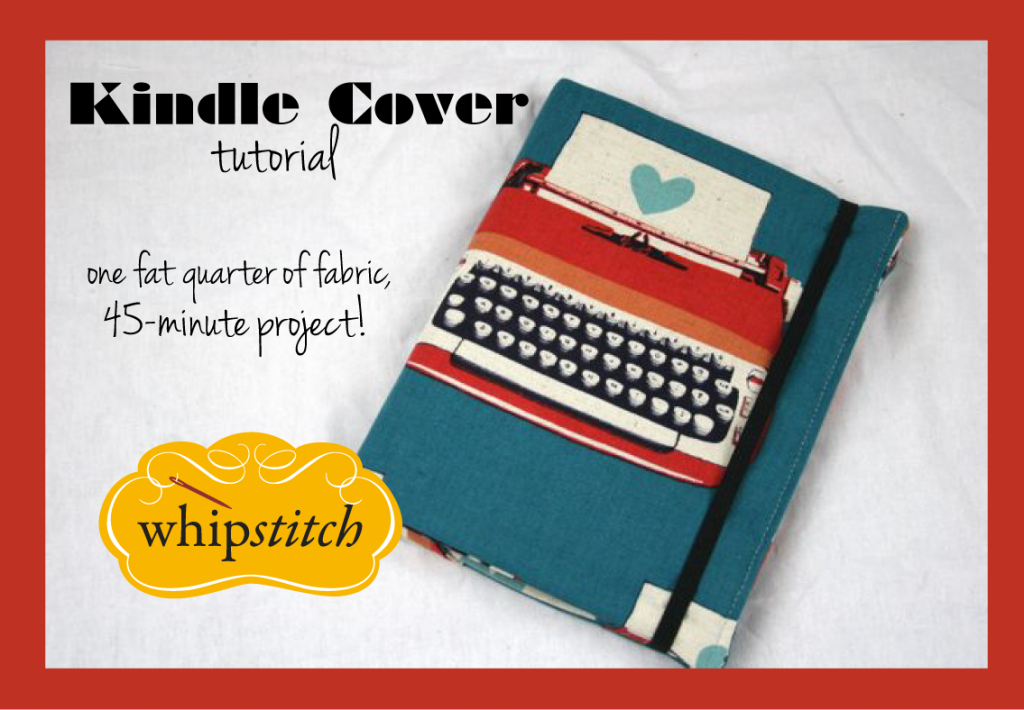 This was a fun project to think through and plan, and it really is super easy to construct.  It took me right around an hour and fifteen minutes to sew this one while taking photos and planning the tutorial, so I feel pretty confident that you could make it in about 45 minutes in real life, which makes it a great option for gift-giving.  (I'm already thinking about end-of-year teacher gifts, again because I am usually such a slacker that when someone puts out the hat I toss in a check even though what I'd really like is to make something personal and lovely.  Wouldn't it be nice this year to take up a collection for a Kindle for your child's teacher, and then sew a sassy cover?  Just an idea.)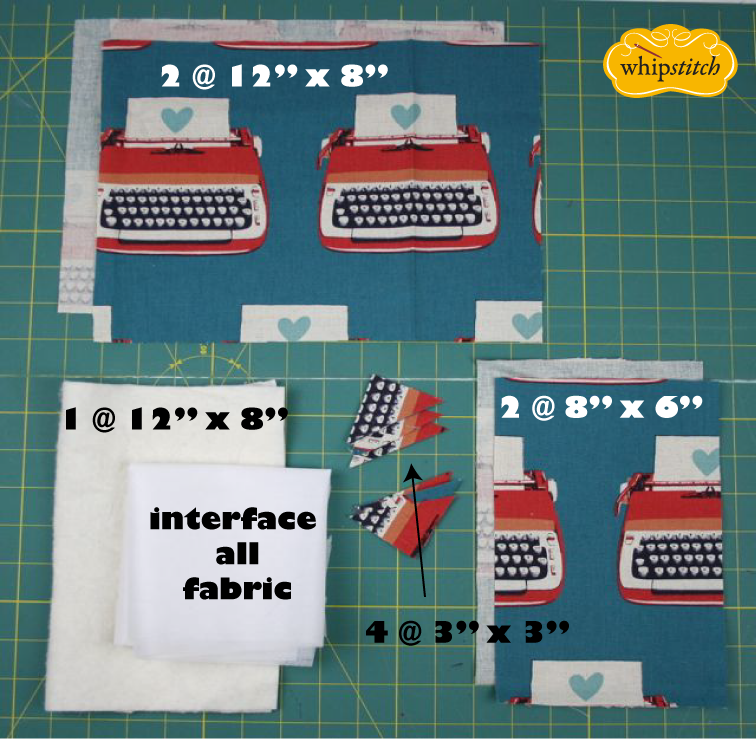 Measuring and Cutting
Begin by cutting your fabric pieces.  I've used the life-changing typewriters from Melody Miller's Ruby Star Shining line (there's still some bits of this collection in the shop; Melody tells me many of these prints won't be reprinted, and they're going fast, just FYI!).  This is a really nice canvas-weight linen/cotton blend, but I made my other version from a 100% cotton home dec print.  You could also use a quilting cotton, but I'd probably use a slightly heavier interfacing than I would for a canvas.  Whatever fabric you choose, you'll need:
fabric for the outer cover and inner cover: two pieces at 12″ x 8″
fabric for the pocket, which is lined: two pieces at 8″ x 6″
fabric for the little corners that hold the Kindle in: 4 pieces at 3″ x 3″
batting to cushion the cover: one piece at 12″ x 8″
interfacing for every piece of fabric you're using
one piece of elastic to hold the cover open or closed: 1/4″ elastic at 10″ long
There is nothing that says you can't use one print on the outer cover and another for the inner cover, or one print for the main cover body and another for the pocket–get wild!
Note: all measurements are based on the standard Kindle, which is the model I own.  I can't testify whether or not the higher-end models share the same dimensions as the standard–does anyone know if these measurements are universal across the various Kindle models?
Assembling the Pocket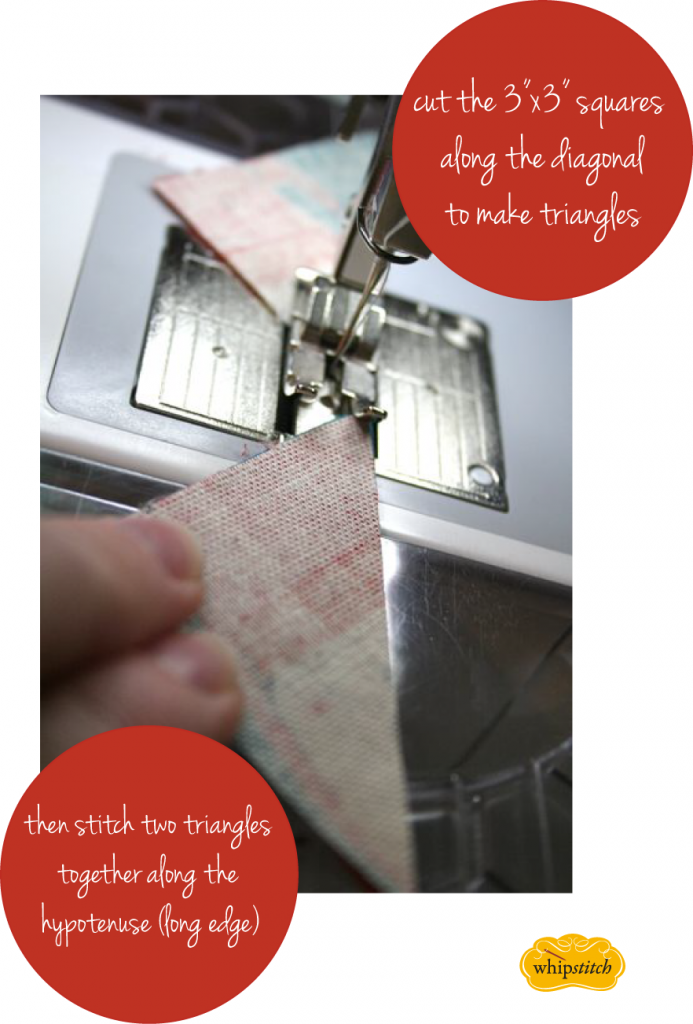 Begin by working with the 3″ x 3″ squares, after they've been interfaced.  Cut all four in half along the diagonal to make triangles.  Then, stitch two triangles together along the long edge using a 1/4″ seam allowance, to make the corners.  Consider chain-stitching these to make the work go faster, like in the photo.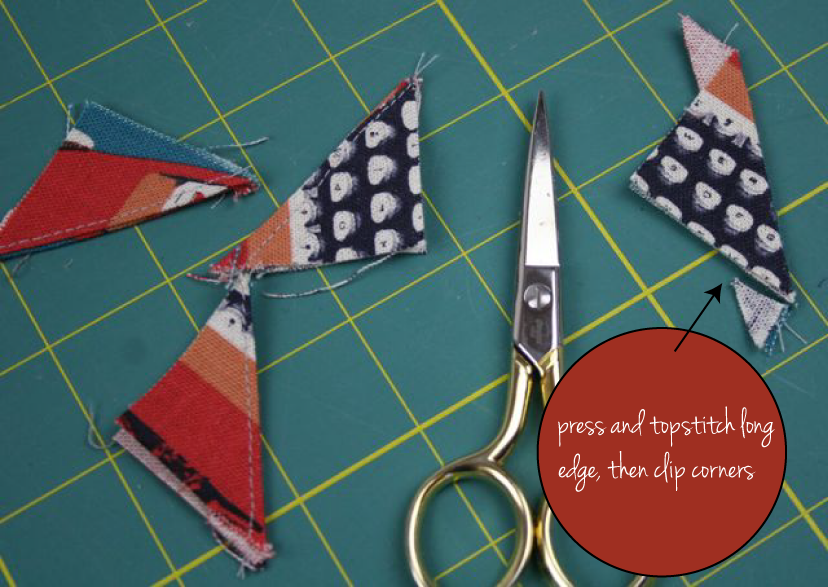 Turn each corner right side out, pressing firmly.  Then topstitch the long edges.  Finally, clip off the little "ears" that are leftover to make a clean edge.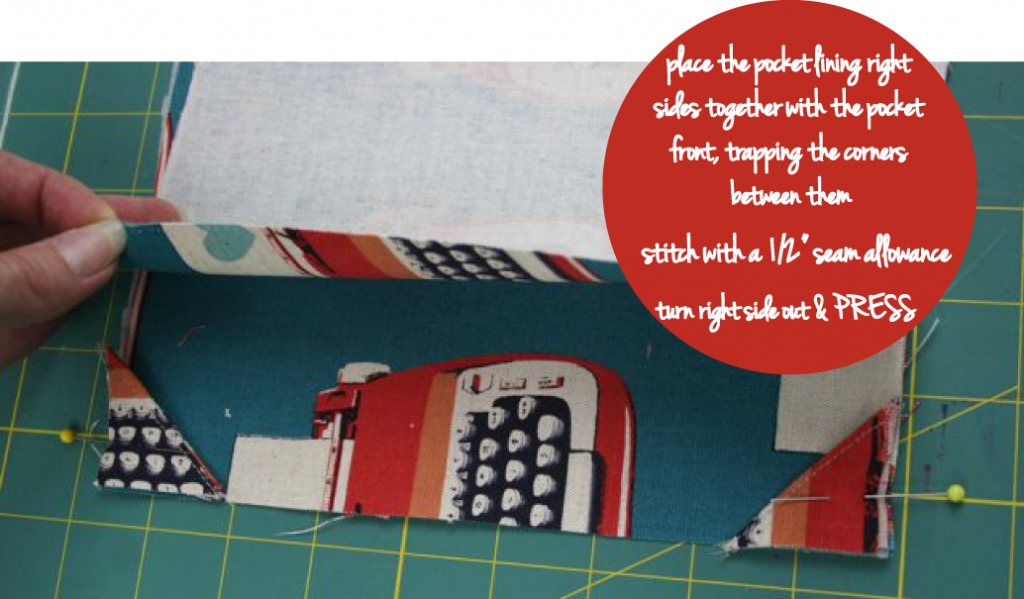 Now we really begin building this thing!  Place the corners on the piece you want to have as the front of the pocket.  Raw edges should line up.  Pin in place.  Then, place the inner side of the pocket–the lining–right sides together with the pocket front and corners.  The pocket opening edges will line up, catching the corners between them.  Pin and stitch, using a 1/2″ seam allowance.  Then flip the lining back so that the whole thing is right side out and PRESS that seam nice and flat.  You'll have two corners, but their edges will still be raw; no worries–we'll fix that in the next step.
Assembling the Body of the Cover
For the rest of the cover, we'll use the pocket you just made, along with the outer and inner cover pieces, to make a padded cover that has a hidden large pocket for storage, plus four corners to hold the Kindle in while you're reading.
Begin by laying the inner cover right side up.  Place the pocket you just made on the right side of that fabric, lining up all the raw edges.  You've got little corners to the left of the pocket, but none on the right of the pocket.  Take your other two triangles and add those on the right of the pocket.  Pin them in place through all the layers: the pocket and the inner cover.  Finally, add the 1/4″ elastic across the whole thing.  By putting the elastic here, you're making sure you'll be able to wrap it around to the front or to the back.  I know it seems like a ton of layers, but you'll only have to stitch through them once, and you're totally going to be great at it.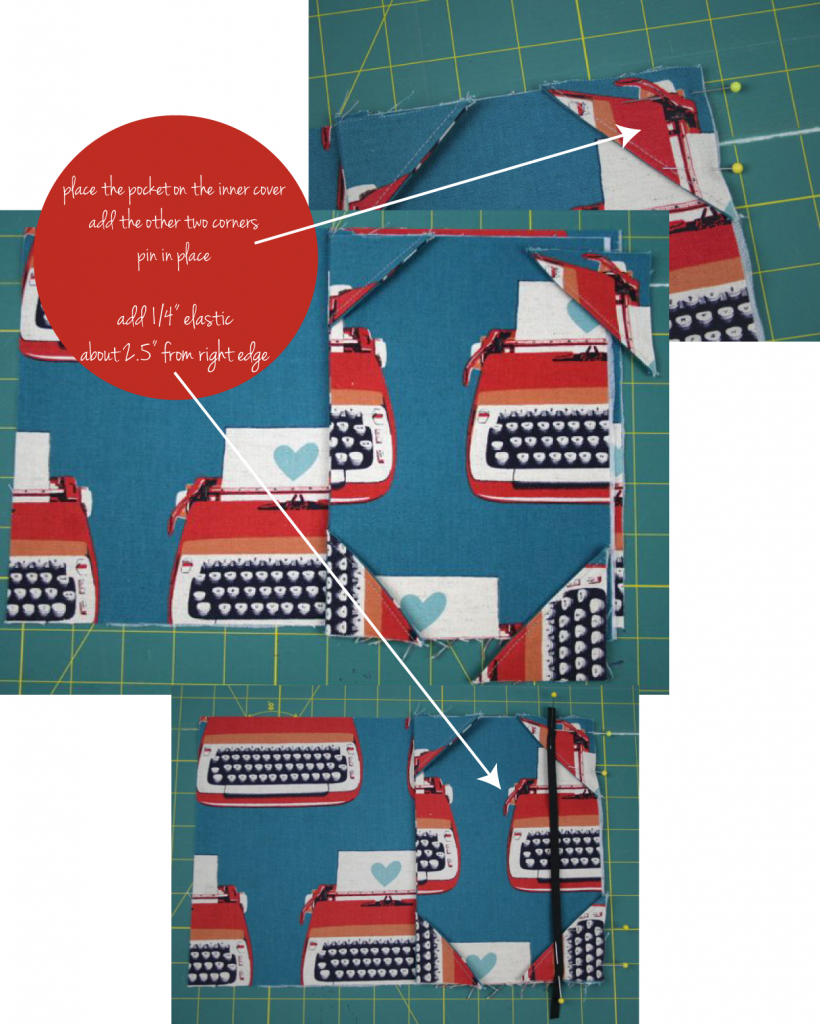 Now, lay the outer cover right sides together with this whole pile of stuff.  You've got the inner cover, wrong side down, then the pocket, then the corners, then the elastic, and now the outer cover, which is right side down.  Throw the batting on top of the wrong side of the outer cover, making a tower of fabric.  You've got a giant pile now, but with some pins, you're going to be OK.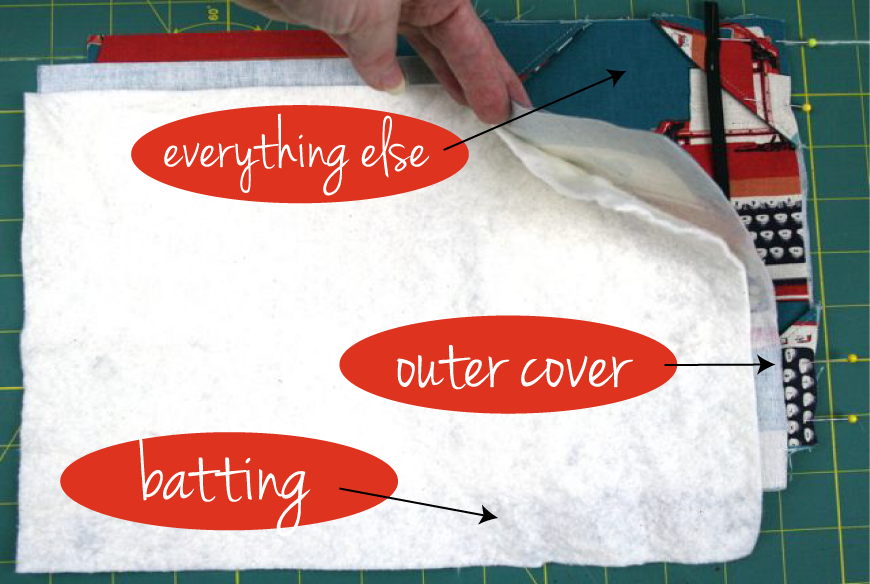 Make sure that all your raw edges are lined up nice and neat–you don't want any overhang here.  Take it all to the machine, and stitch around all four sides using a 3/8″ seam allowance, leaving an opening on the left side of the cover–the side that doesn't have all the corners and the pocket and junk–so that you'll be able to turn it later.  Backstitch at either side of the opening, because we're about to shove our hands in there to flip this right side out.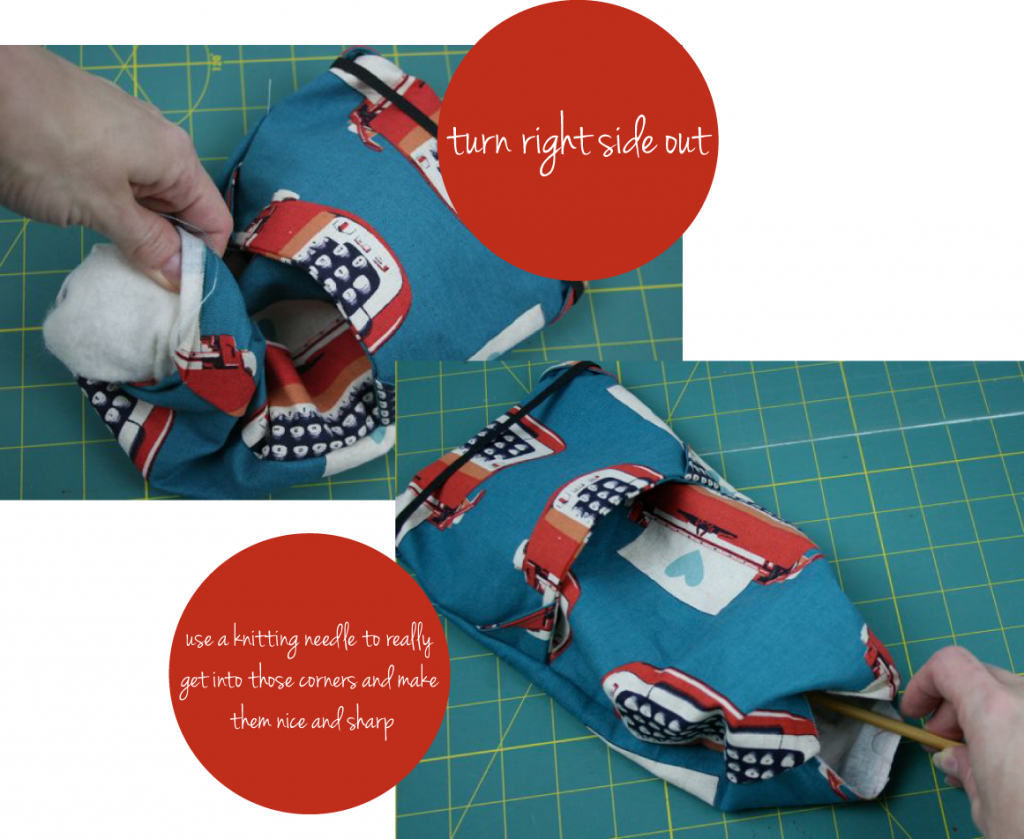 When you turn the whole thing right side out, be prepared to wrestle with it a bit–all that interfacing and all that batting can make for a lot of bulk.  Be sure to clip the corners at an angle to remove most of the bulk, and if you're still struggling to get a clean point on the corners, trim a bit of the seam allowance away, as well.  I ended up trimming ALL my seam allowances down to about 1/4″, with the exception of the side with the opening, which I left at 3/8″ so I could be sure to catch the raw edges inside when I finish that edge.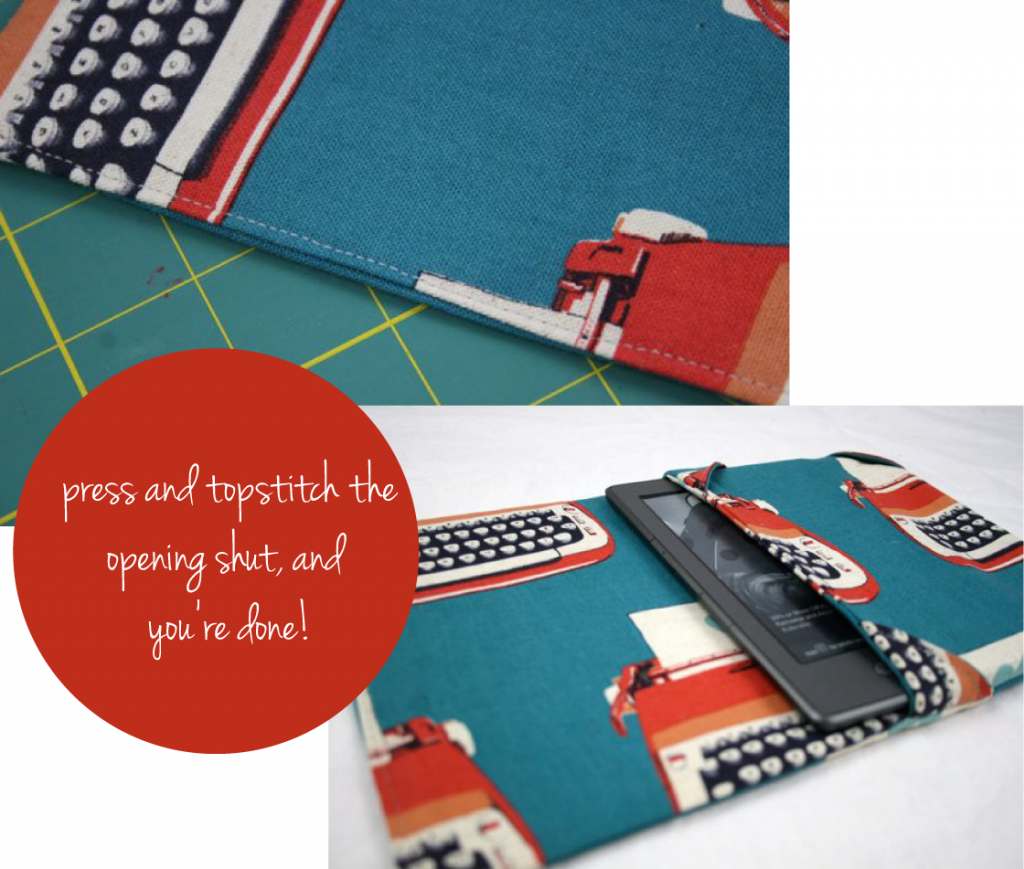 Press the entire thing like a crazy person.  I mean, really steam it up.  You'll want to keep working those corners with the knitting needle until you get them as sharp and pointy as you can, then steam them into flat submission.  You can do it.  Once the edges and corners are all tamed, go back and topstitch along that left edge, the one that makes the flap opposite the pocket, and close up the opening you used to turn.  Done!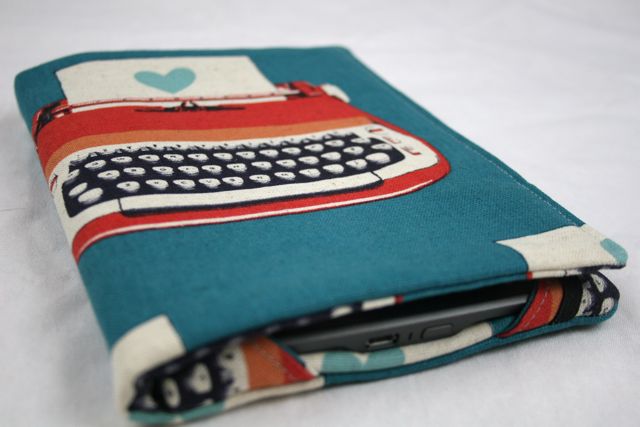 And there you have it!  Padded and slightly stiffened, but still soft and easy on the hands.  The elastic wraps around the front to hold the cover closed when you're not reading, or around the back to hold the cover open when you are: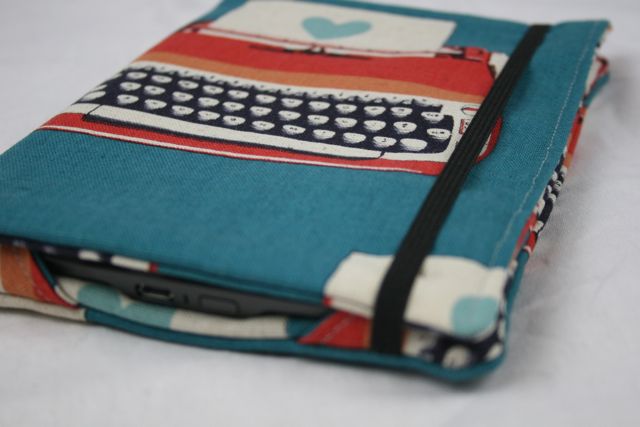 The Kindle can go in the little corners to be held when you're using it, or inside the interior pocket to be secured and buffeted when you're not: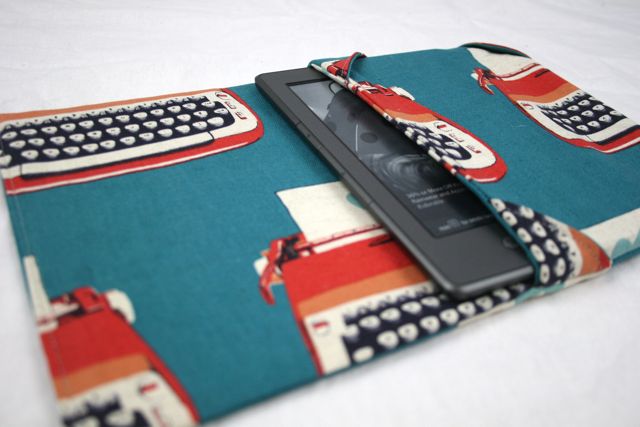 It works equally well for right- or left-handed users, which I'm realizing is more and more important as I get older.  I also love that you can use it as a dust cover for when you're charging, since you can still access the port when the cover is closed: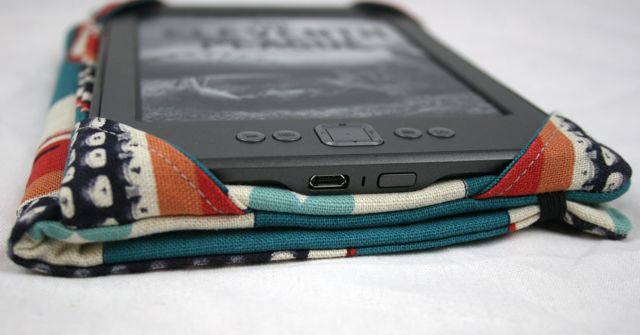 Just like the dust jackets of yore, except all 21st century and stuff.
And if you're looking for recommendations for literature to download, well, here ya go!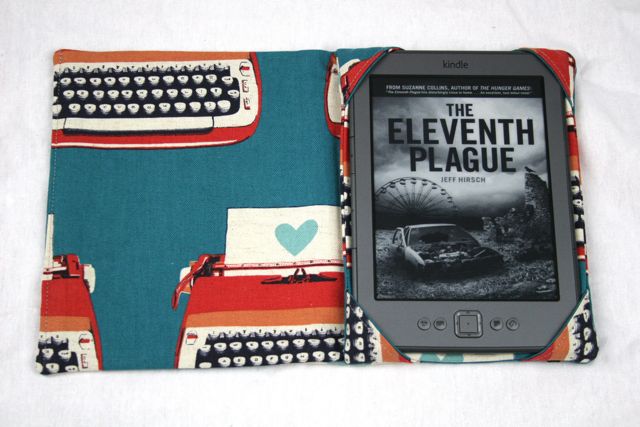 I just downloaded this one today for a rock-bottom, dirt-cheap price–if you're a fan of Gertie's at all, be a peach and grab a copy of her husband's novel (I really do think it's important to support other artists whenever you have the chance).  And if this title floats your boat or are a fan of Young Adult dystopian literature (which is to say, if you've already read The Hunger Games trilogy three times each and are looking for something new), I got some great suggestions on Twitter today. Woot!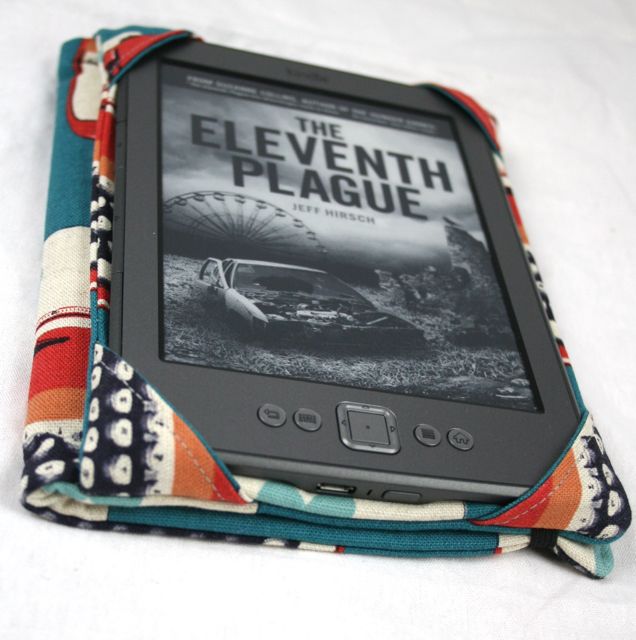 Of course, now I have two Kindle covers and only one Kindle, but I am sure I can find a use for them both.  Like matching them to my tote bag.  Or getting my oldest her OWN Kindle so she can stop asking to borrow mine.  I love all my children beyond reason, but loaning out my Kindle won't. be. happening.
Have fun stitching, y'all!