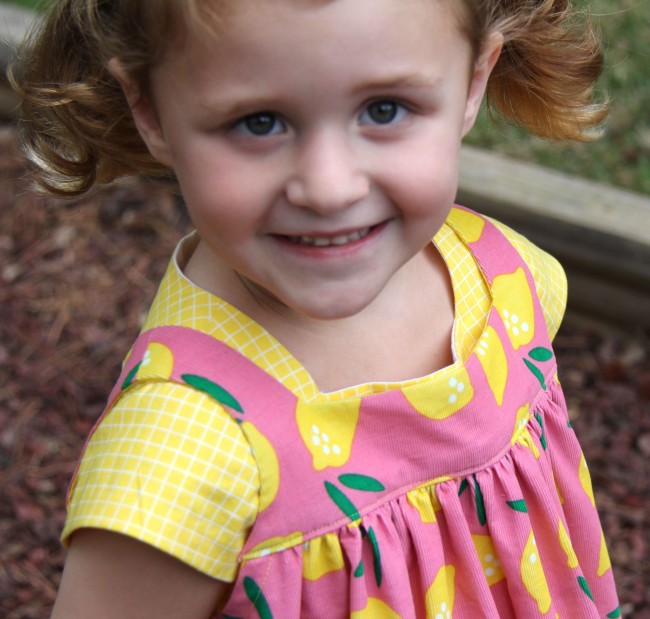 Hello, Lemon Drop!  When Rae's new collection for Cloud9 was very first announced, I lost my mind a little bit over this print.  I have some citrus obsession, I admit, but also: gah!!  How great is THIS??  The color combination, the lemony shapes, the sheer deliciousness of it all.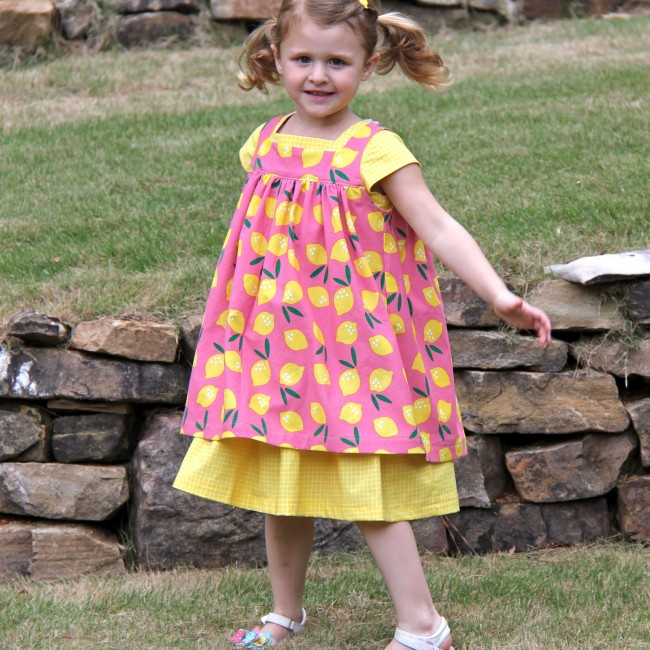 This fabric is from Rae's Small World collection for Cloud9, which is in shops now.  It's an organic cotton babywale corduroy, and it's just dreamy.  I have been a long-standing fan of babywale cord for just about everything, but I extra love it for children's clothing.  When I used to manufacture clothes for kids at a local indy boutique, I made a zillion versions of The Overmost in cord, and the softness combined with the texture was always, always a winner.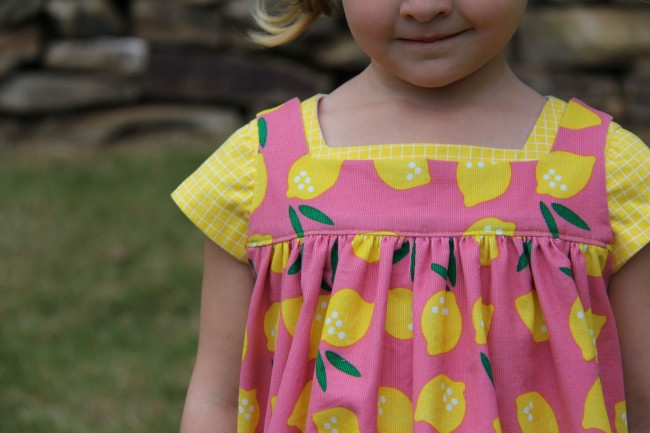 One of the things I love about babywale is how nicely it gathers.  Do you see that?  Sweet, soft gathers with lots of fullness and shape to them, but not a ton of bulk.  For girls especially that makes for whirly, swirly happiness.  These lemons might actually look even better with gathers.  What?!  Yes, EVEN BETTER with gathers.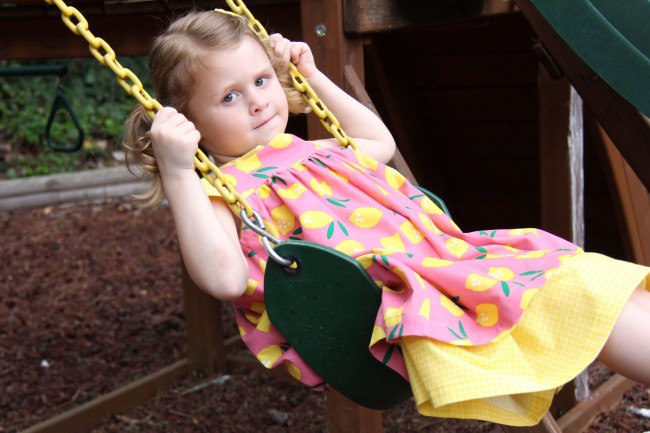 Good grief, that yellow!!  Two words: signature color.  Bless you, Rae, for loving us all so much that you made this print.  At first, I wanted to pair it with a green dress and accents.  The green of the lemon leaves here is close to a kelly green–since I lean more toward the chartreuse family, I didn't immediately have anything on hand that was a good fit.  What I DID have was a pile of yellow prints (not that it stopped me from ordering yardage of another five or six yellows, you know, for science).  This one is from Windham Fabrics, and is a dead match for the lemons.  The pink and the yellow together?  Total magic.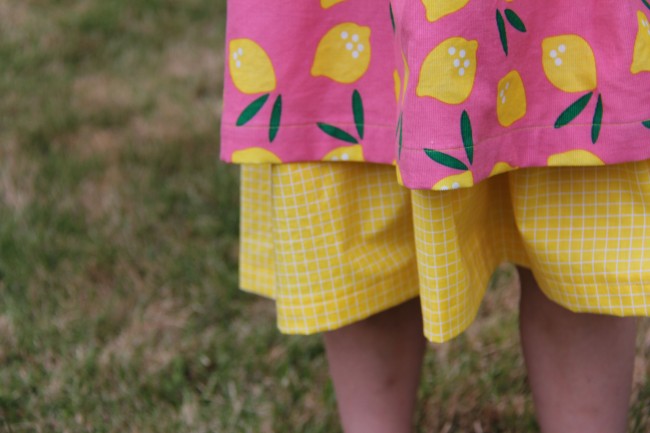 See that texture?  Love.  And I think one of the other blog tour folks pointed out that the prints in the Small World collection have a very mini-Boden feel to them, in the best way.  I agree, and I love that I can get it in yardage!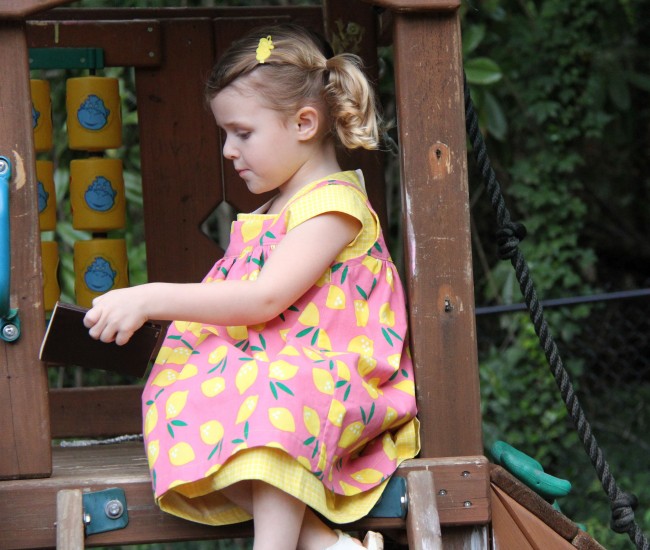 The Lemon Drop print here is sewn up in my Pinafore, a pattern I manufactured for years to sell and developed into a pattern for my Sewing Clothes for Kids class back in 2010.  It's headed out to testers in just a few days, and will be back available for sale super soon!  Read more about the Pinafore here.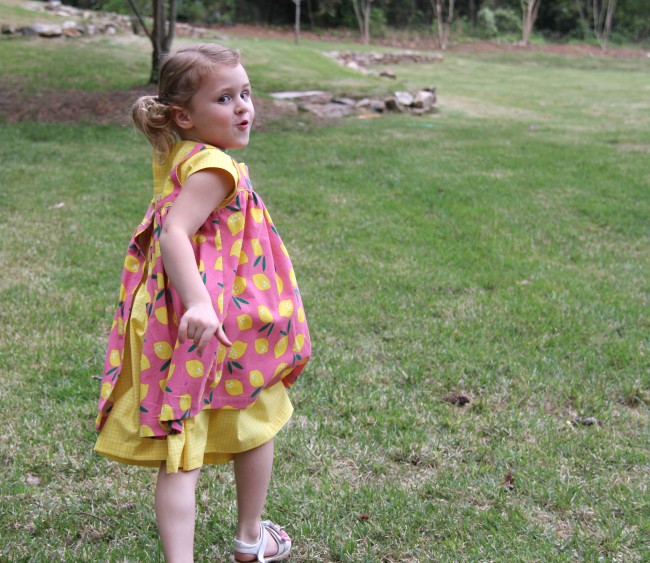 The dress is the Flip Flop Dress, my next pattern after the Pinafore–in fact, since they're designed to be used either together or separately, they'll probably release on the same day.  (The two patterns together are the same outfit I made for our girl for Easter.)
Eeek!  I loved having the under-dress and pinafore together with this fabric–I adore the lemon print so completely that having that yellow peeking out from beneath to make them really POP brought me absurd amounts of joy.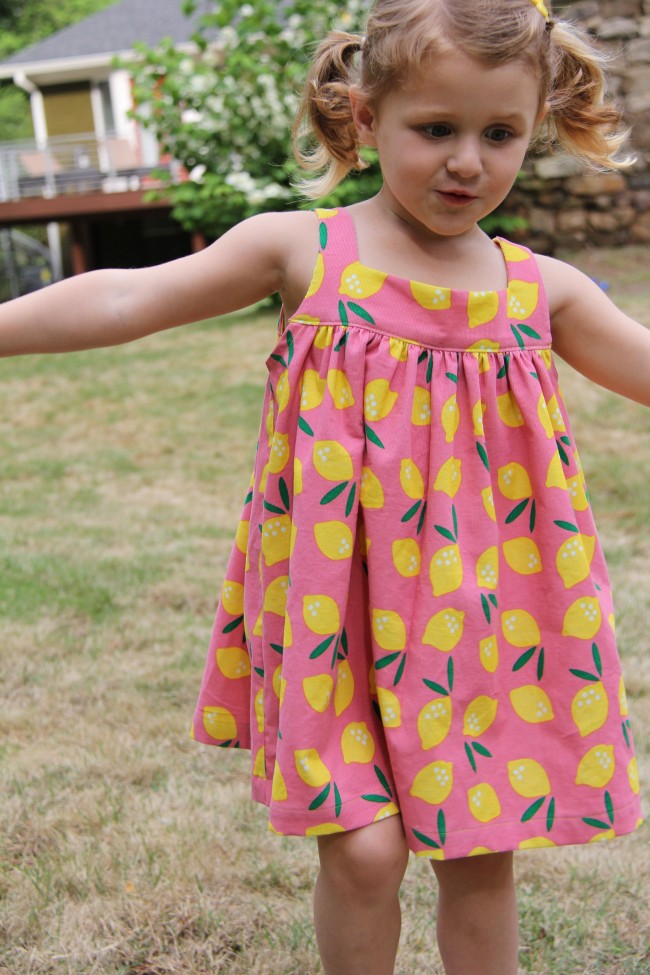 Where we live, summer is for sure on its way.  We've got temps in the 70s+ most days, and despite the near-constant rain, there is no question that spring has sprung and the hotter weather is coming.  My youngest (in these photos) and I have ZERO intention of putting this corduroy puppy in the closet anytime soon, however.  It's so, so soft, and while you might think, "Corduroy's just for winter!" I can see this as a fabulous beach cover-up, just the right blend of soft and sweet and a-little-bit-cozy for relaxing at the end of those long days by the water.  Beach, lake, mountains–she'll be wearing this straight through the hot weather and into next fall.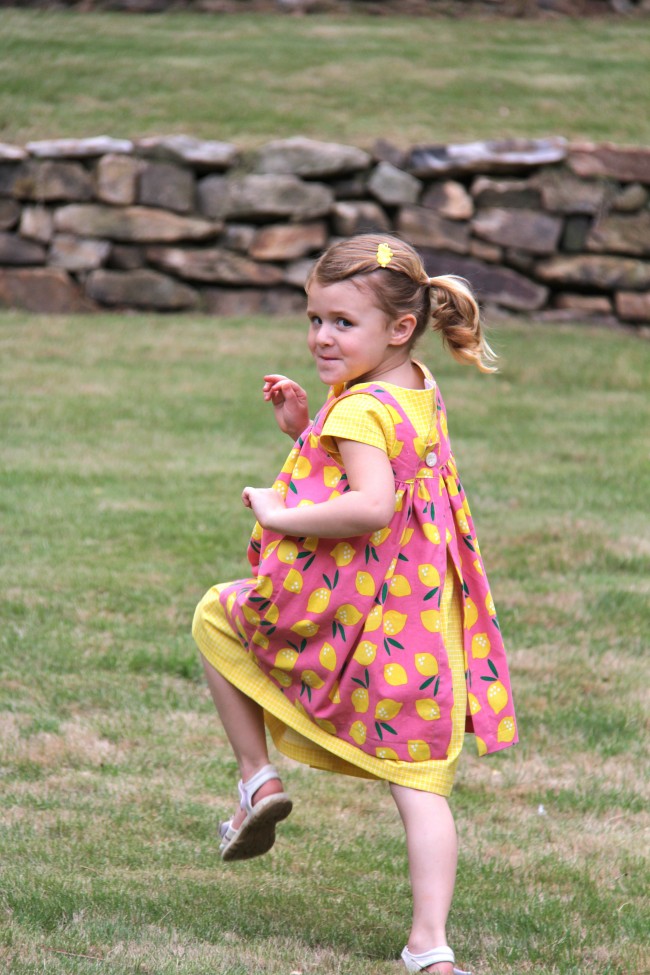 Ha!  That face!!  I finished sewing this up and she immediately said, "Gasp!  Mommy, can I wear it RIGHT NOW??"  Kiddo seal of approval.  She loooooves the colors, she loves the print, she loves the dress.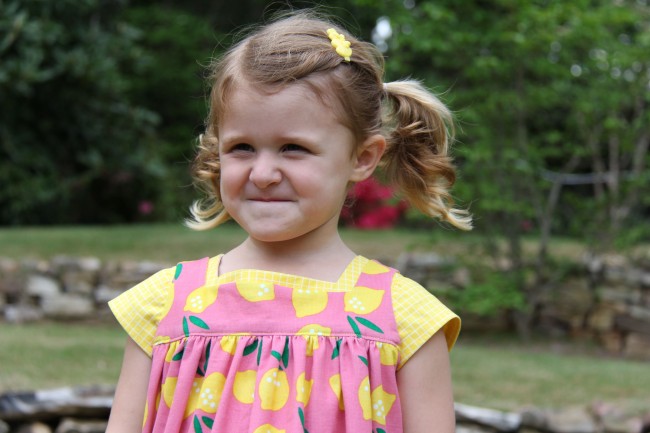 There are so many other fabulous prints in this collection beyond Lemon Drop.  Check out more on the Small World blog tour, and check #smallworldfabric over on Instagram!  Rae's posting some great photos to her blog as well as the Small World Flickr pool, and you can find Small World at local shops now, including Fancy Tiger (in the US) and The Village Haberdashery (in the UK).