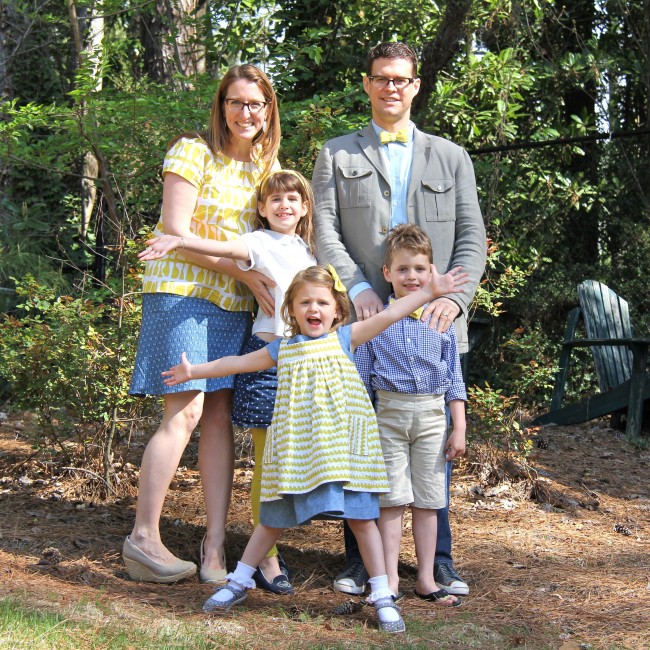 I am over the edge.  It's official.  After many holidays and events where I insisted on dressing all the children in matching outfits, we have now celebrated our second? third? Easter where I made the entire FAMILY dress in matching outfits.  I am a monster.
Two dresses, two tops, two bow ties, one headband, one hair bow, one pair of shorts and a skirt.  Seven fabrics, nine patterns.  And a heavenly morning was had by all.  Read on for details and links!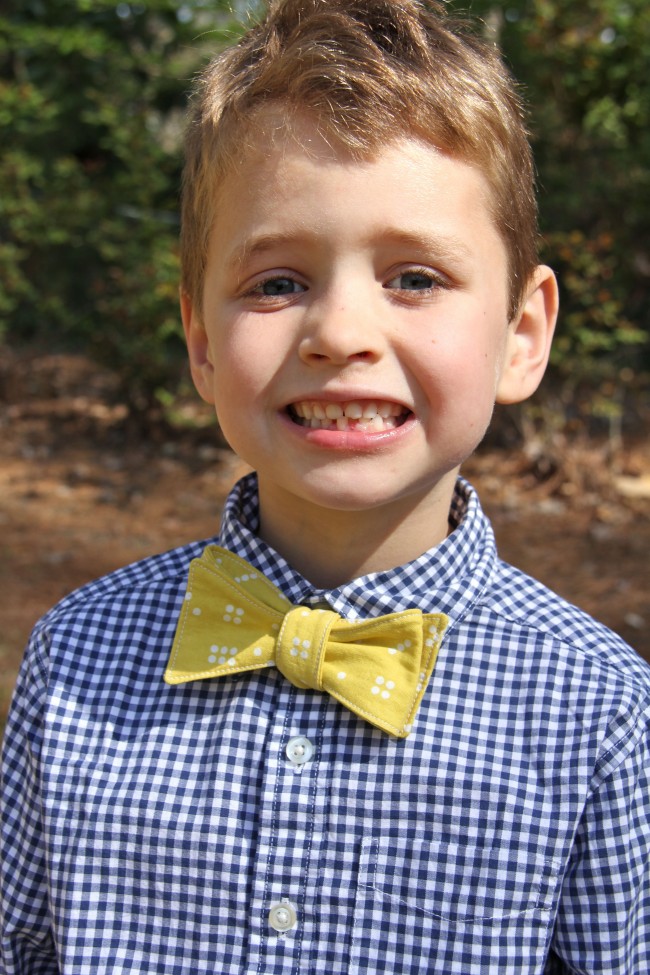 It all started with this fella.  Well, OK, the crazy didn't start with him–I probably would have made everyone match regardless.  But he set the tone for the fabric selection and colors.  He already had this gingham shirt in his closet, never worn, and about to be out-grown.  I wanted something bright to contrast it, and as I was searching for fabrics in this particular shade of blue (most of the fabrics in this post were purchased from Pink Castle Fabrics), ran across some small cuts of two Lotta Jansdotter prints.  Along with the perfect crosshatch from Carolyn Friedlander in cadet blue, we had the basis for an epic Easter wardrobe.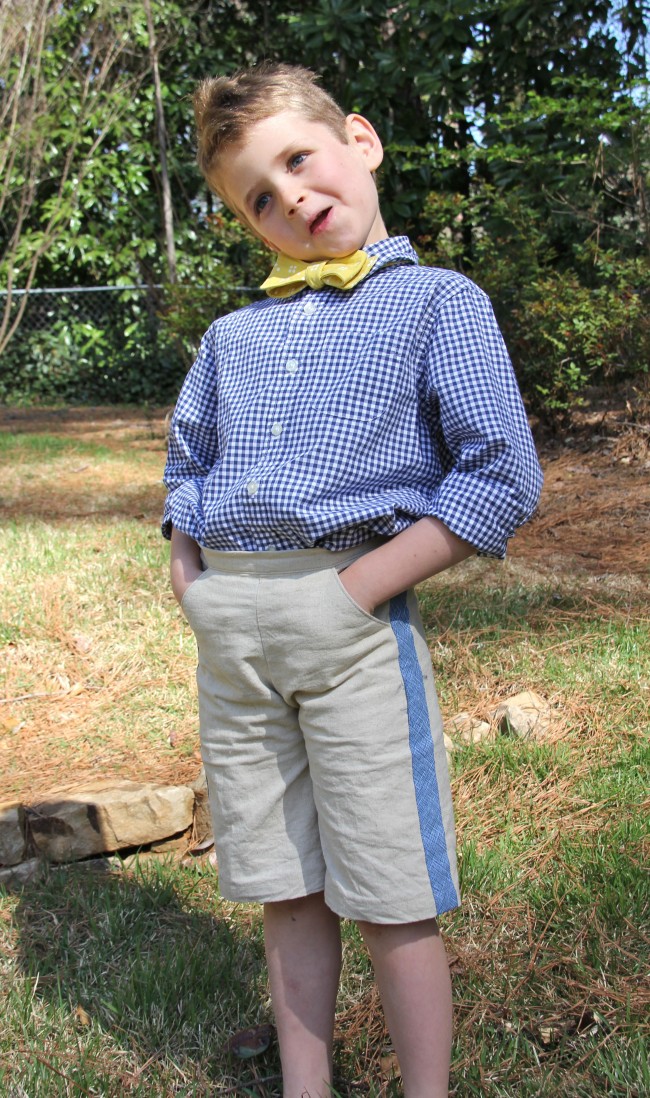 For the boy, his gingham shirt plus a bow tie and a pair of linen shorts–complete with tuxedo stripe.  The shorts pattern is my own, but the tuxedo stripe was inspired by Rae; you can make a similar pair with her Parsley Pants pattern.  The bow tie is from this free pattern.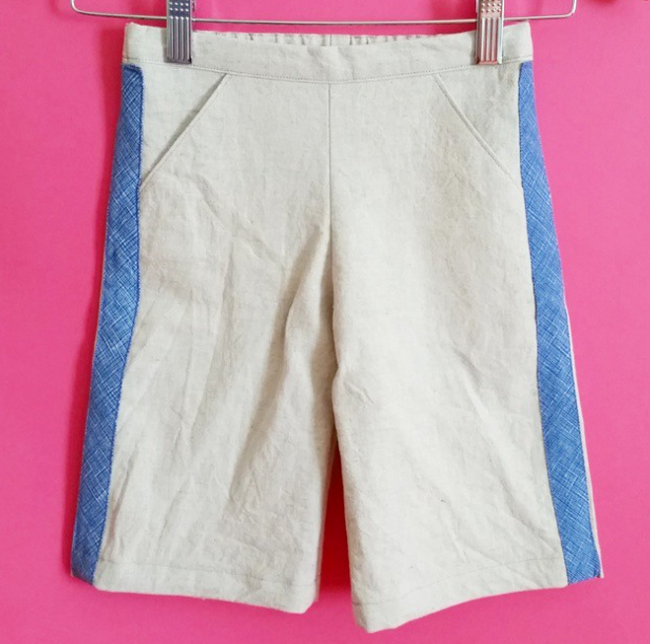 Fabric for the bow tie is Violet Craft; linen for the shorts is Robert Kaufman; fabric for the tuxedo stripe is Carolyn Friedlander.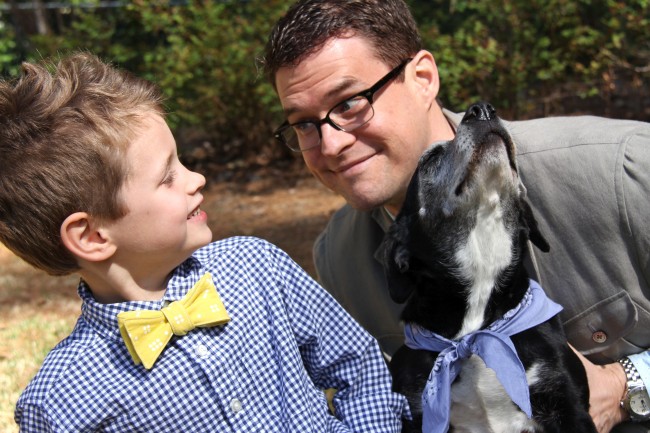 He and his father had matching bow ties.  I had wild and grand plans to finish my husband's navy linen sport coat in time for Easter services, but once again failed to meet that goal.  Argh!!  When will you release me from your torment, sport coat?!?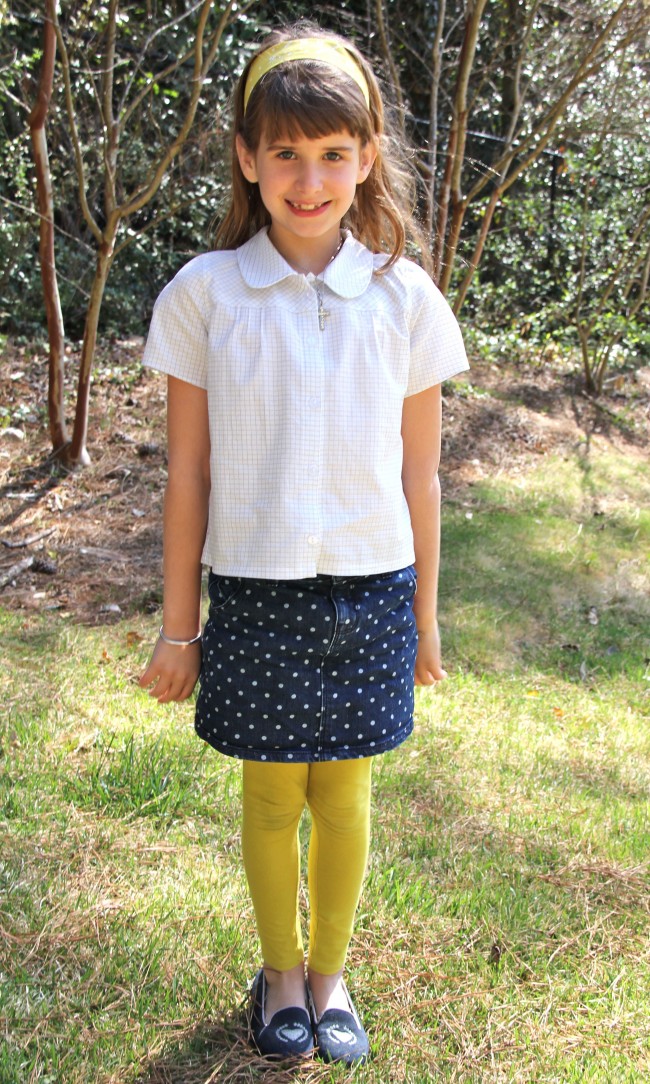 For his older sister, a new shirt and a sweet headband.  She already had the skirt and leggings (purchased for back to school), as well as the shoes.  I wanted to sew her something substantial, and this Music Class blouse was just the ticket.  Pattern available from Oliver + S.  The headband is my pattern (free tutorial tomorrow!).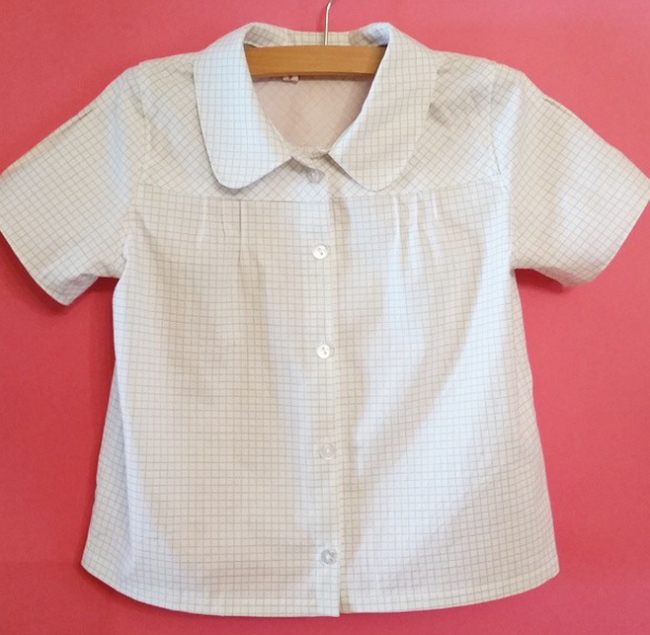 Fabric for the blouse is from MODA.  Fabric for the headband is the same Violet Craft print as the bow ties.  Buttons are the small shirt style that come a dollar a card from Hancock.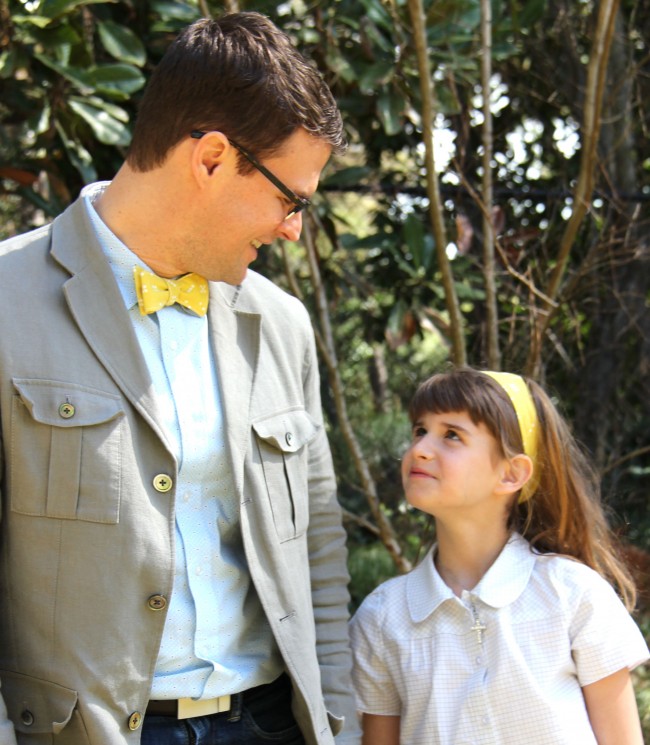 See?  I'm NOT crazy.  The matching is charming!!  I love a family that coordinates for major holidays.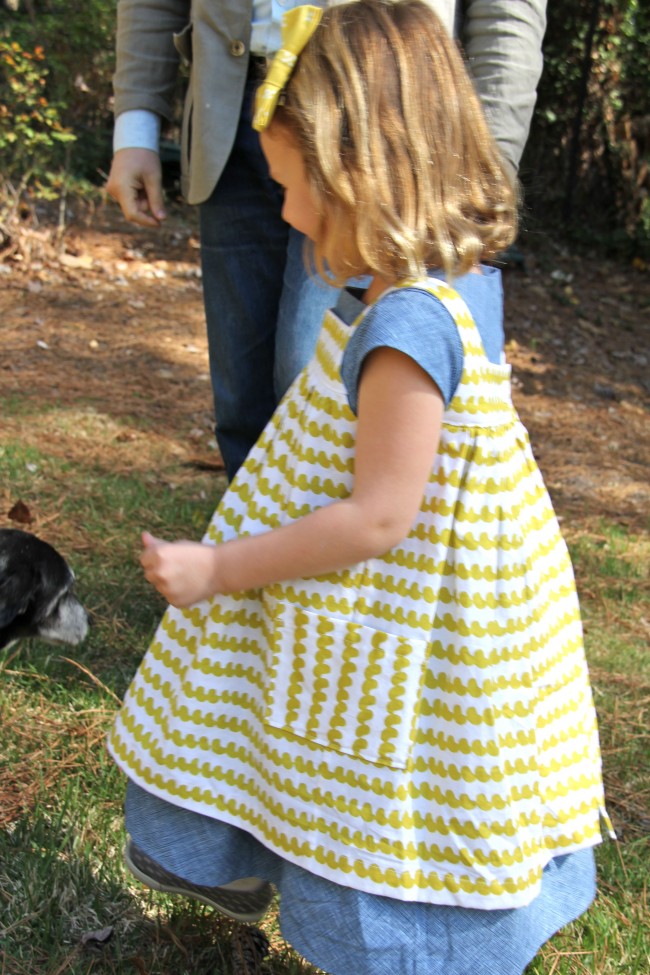 The youngest had the largest handmade garments: both a Flip Flop dress and a Pinafore.  She specifically requested HUGE pockets on the Pinafore: "big enough for three or FOUR eggs, Mommy!"  I aim to please.  I added them with the print perpendicular to the rest of the dress so she'd be able to find the eggs later.  A mother has to plan ahead.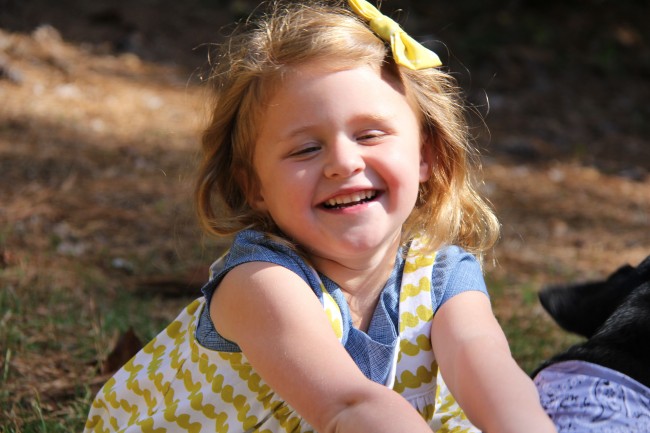 She also had a matching hair bow, because the Violet Craft print PERFECTLY matched the Lotta print of her Pinafore.  The cross hatch of the Flip Flop dress she's wearing under the Pinafore is the same Carolyn Friedlander as her brother's tuxedo stripe on his shorts.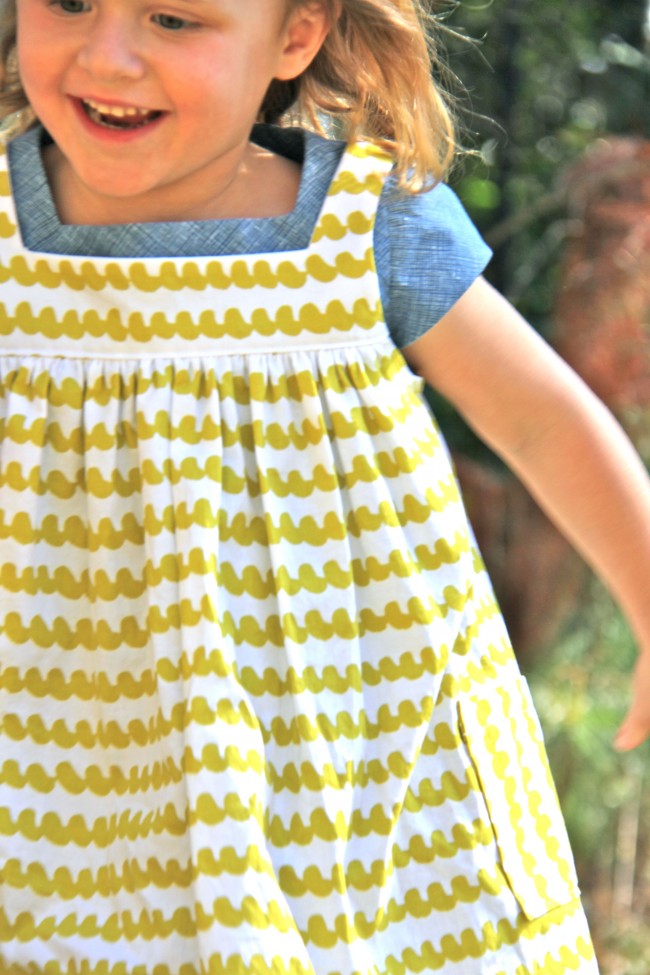 Both the Flip Flop dress and the Pinafore are my patterns; they're heading out for testing in the next few days and should be available for sale sooon!!  The hair bow was a little ad hoc the night before Easter–tutorial next week!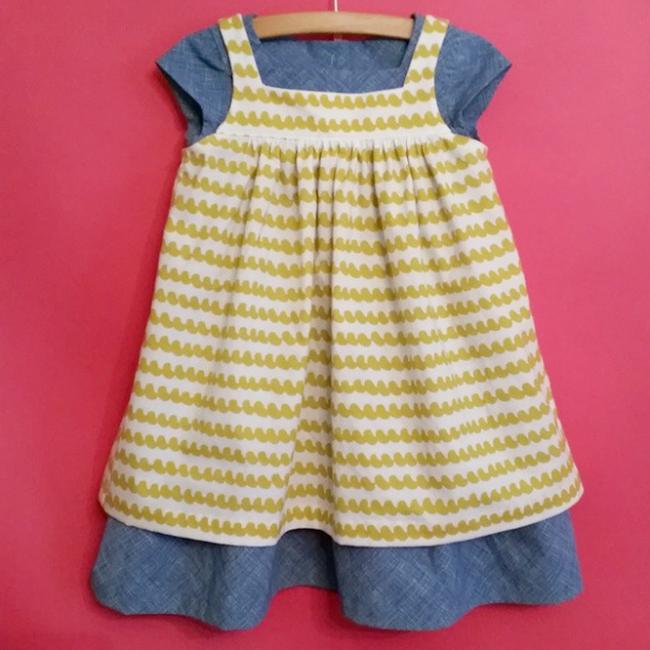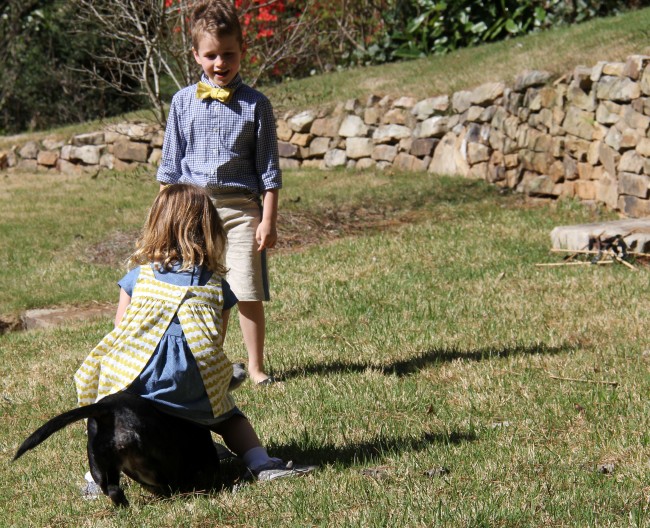 It's not a holiday until someone tries to ride the dog.  Poor sweet dog.  (She's fine, by the way, and escaped to snacks and safety soon after this photo was taken.)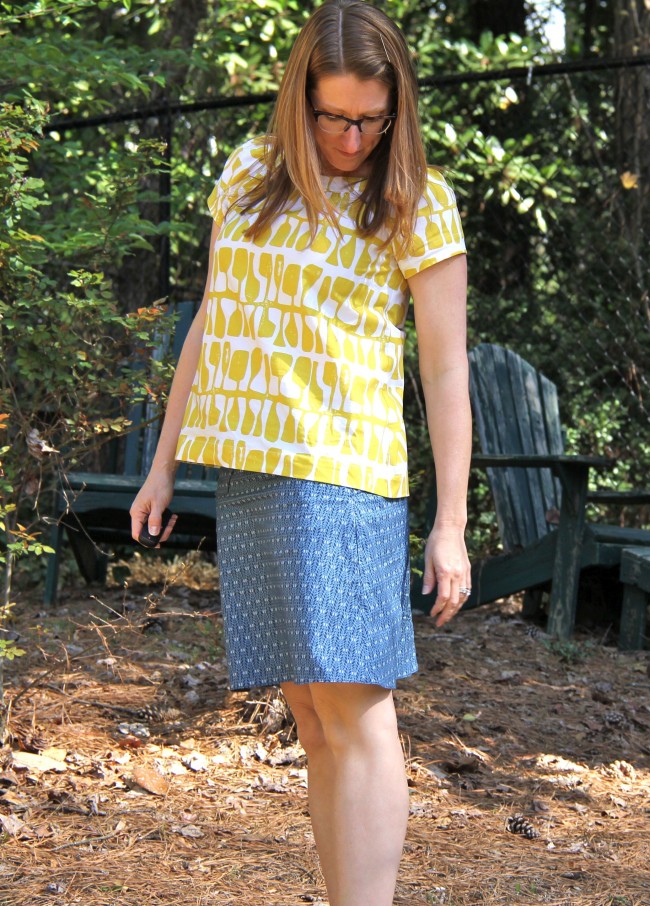 For me, a Sailor Top and a skirt.  The Sailor Top was a HUGE success and one of my new favorite garments for this coming summer.  Ugh, I love it SO much.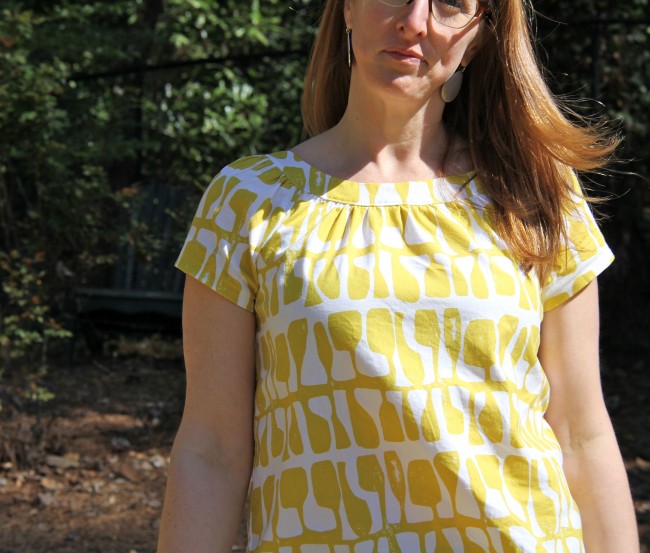 Great shape, great fit, great fabric.  (This is another Lotta print.)  It's a perfect storm of summer casual.  Jubilee!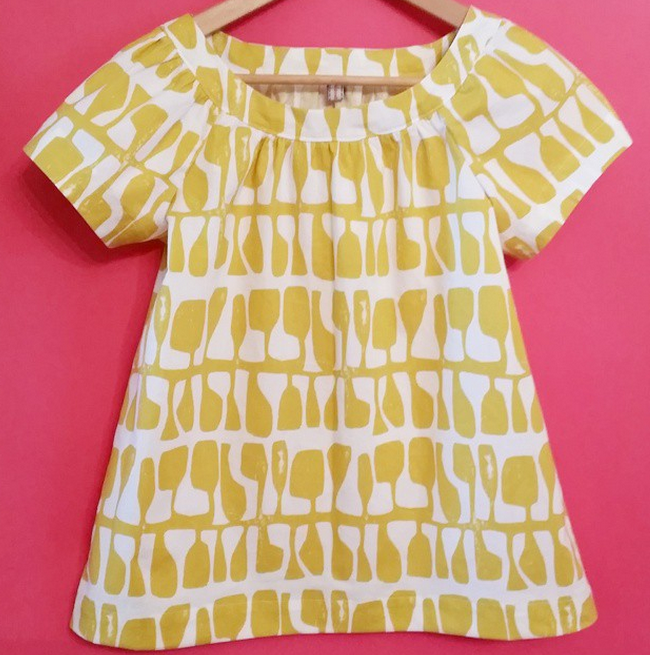 I liked that while we all matched, we didn't quite MATCH match, if you get my meaning.  I liked that we had coordinating prints, but the individual outfits could stand on their own; and that even when we were all together, it wasn't any one print so often that it was overwhelming.  We'll actually wear all these clothes again (in fact, nothing I made for Easter has gone UNworn at least once more since, with the exception of the bow ties).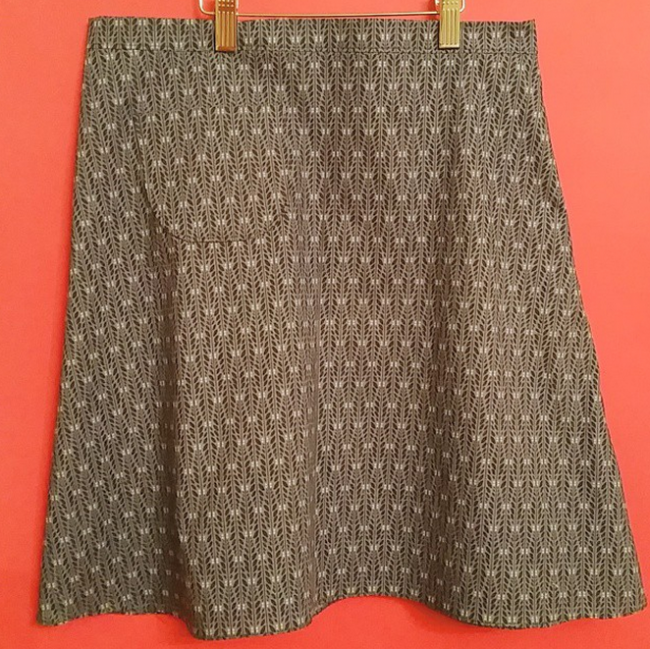 I was vastly less satisfied with the skirt, unfortunately.  The only exception to the statement above that all these garments have been worn again.  It was very ad hoc and last-minute, no pattern, just quick chalk lines to sketch in measurements.  I didn't calculate darts, and that's going to be the death knell for this skirt.  It's just too square, and while I don't have much ba-donk-a-donk to be concerned about, the fit isn't great.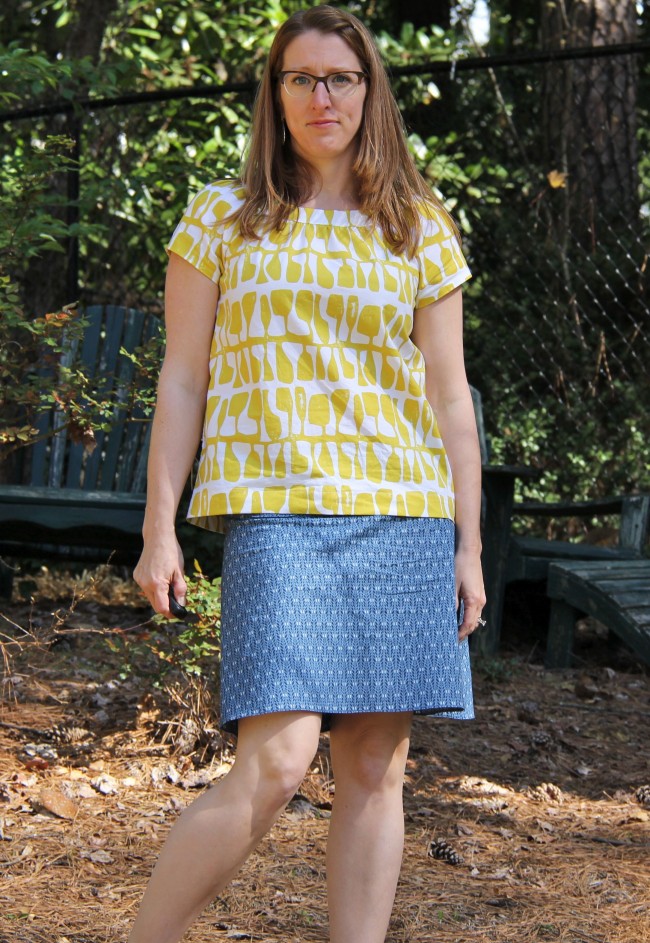 And honestly–this was my larger concern–the shape wasn't very good with this top.  I was vastly more comfortable in the Sailor Top with skinny jeans for the egg hunt later that day than I was Easter morning in the skirt.  C'est la vie.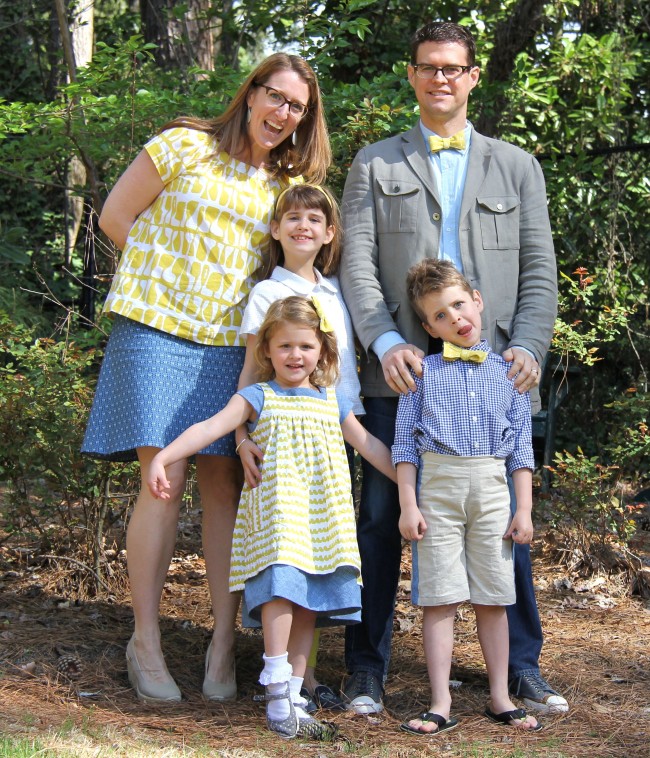 All this sewing represents somewhere in the neighborhood of about 18 hours of sewing spread out over five or six days.  It wasn't burdensome, although I admit that on the Saturday before Easter I spent the bulk of the day (gloriously, gleefully) at my sewing machine–and bless my sweet husband's heart for driving the kids to activities that day so I could do it!  I don't know if 18 hours sounds like an oppressive amount of time, but I loved every second of it, and am really tickled with the result.
How about you?  Were you tortured as a child with matching outfits?  Do you torture your own family?  Or does matching outfits sound like your love language?  I think I'm all three!