Every time I post an image of the built-in bookcases in our den, I always get a ton of questions and comments. They're pretty awesome, if I do say so myself–and they totally make the room.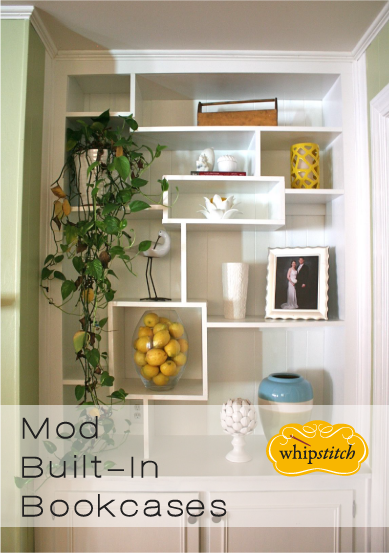 When we first bought this house, the entire den was wall-to-wall wood paneling: dark, shadowy, brown, brown, brown.  It made me feel sad inside.  On top of that, the previous owner was an older man who was in poor health, and had lived here for 40+ years with all the belongings that go along with not having moved house in four decades.  The room was FULL of stuff.  After the estate sale thinned things out a bit, this is what it looked like: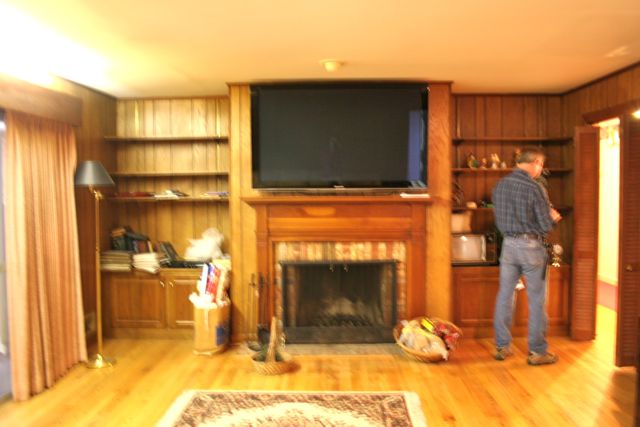 Apologies for the blurry photo–this one was taken at the walk-though when we had the house under contract, and there was just SO little light that it made it pretty hard to get a decent picture anywhere in the center of the house, especially this room.  You can see all the paneling, though, and that the walls and bookcases and cabinet doors and mantel are ALL dark wood.  At first, I expected that we would paint all of it, including the mantel and fireplace surround, but when you got up close, the mantel is actually very pretty wood and worth saving.  Plus, with the paint color we chose for the walls, I thought the warmth of the wood would be a nice contrast.  So shortly before we moved in, this room was closer to this: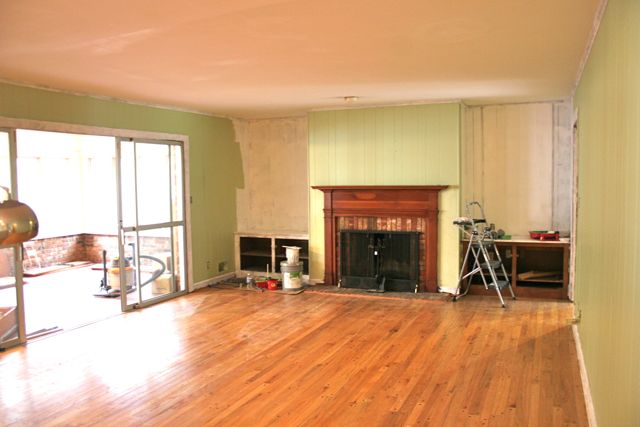 Huge improvement already.  When it came to the bookcases, you can see that they were really "built-ins," meaning the cabinets below were really built-in, but the shelving above was just brackets on tracks installed along the paneling at the back wall (you can see them on the right, where I was attempting to paint around them while we decided what to do in that space).  They weren't much to look at, and I didn't really want to be able to see the brackets, so we started talking about really building them in, with wood supports at the sides for the shelves and some trim around the edges.  We were having some handyman work done at the same time, and as long as our carpenter was there, we asked him if it was a job he would take on; he agreed, and we were thrilled–as much as I like the idea of learning to do woodworking, and as fun as my few experiences with a table saw have been, I'm just not up for taking on a whole new skill set for this project.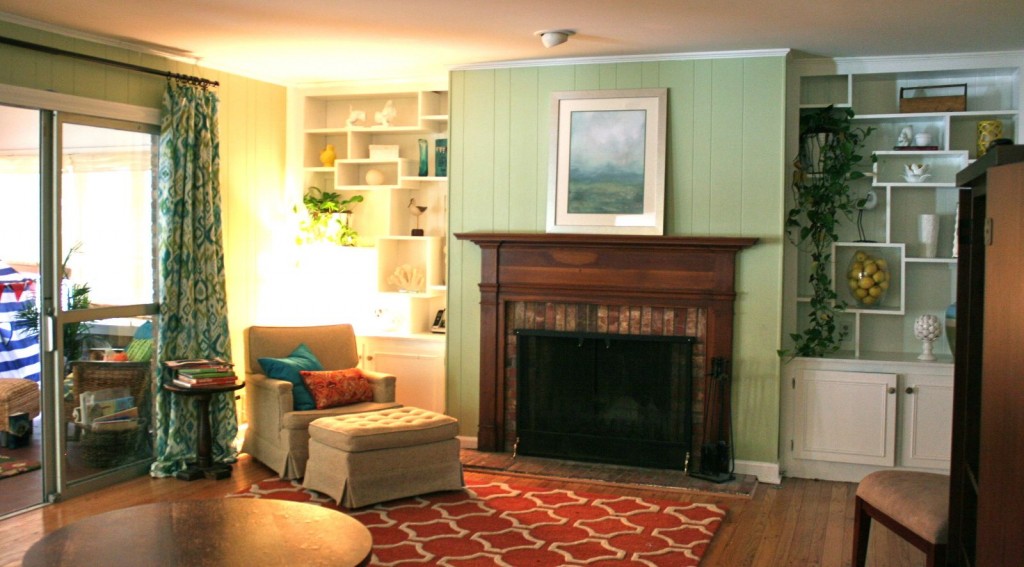 What we did do, though, was some research.  I had been scrolling through images on Houzz, really just with the thought that I wanted the bookcases to be more interesting.  Something more to look at and get excited about than just straight shelves from side to side.  I found an image similar to this one (naturally, I can't find the link to the original, but they're pretty similar) and printed it to show our guy, and asked him if he thought he could do something along those lines–his eyes lit up and he got animated, said he'd done something very similar for his mother-in-law at her place as a room divider and it turned out great.  So we both got to win that day!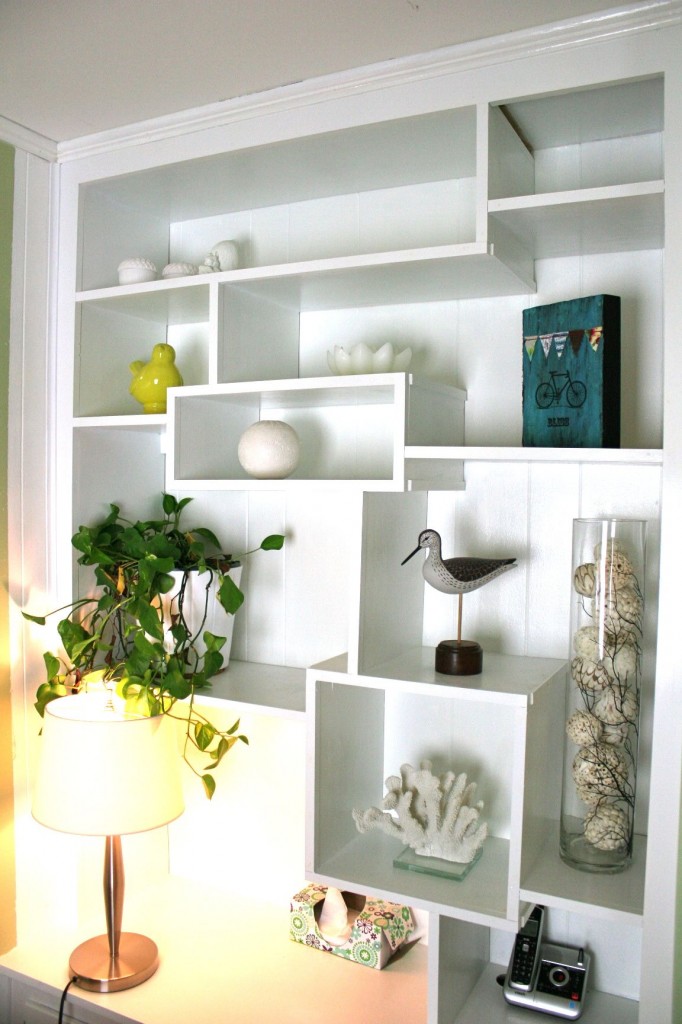 The finished result really makes a giant impact in the room.  The staggered shapes draw the eye and give us a chance to show off our strangely-but-wholly-accidentally-oceanic-inspired bits and pieces, but they have enough presence and visual interest that they can stand on their own, even with some of the spaces empty (which is how we like it–less being more in this case).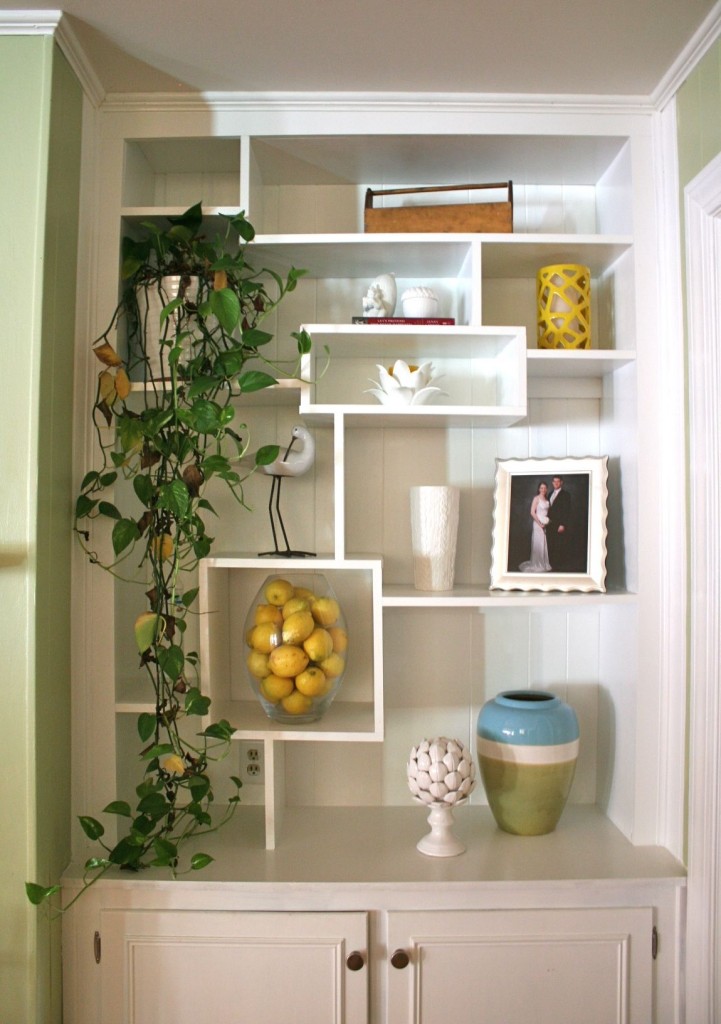 For about a day I thought we'd paint the backs of the bookcases a deep, teal color like here, but the room is fighting so hard to not go dark again and the more I thought about it, the less I thought we could afford such a saturated color.  I also don't much want to leave them white, and I loooooved Lizzie's idea to use wallpaper at the backs for some subtle pattern on that wall, layered with the pattern the shelves themselves make.  I played with the idea of doing a darker green, but there's a lot of green in this room already; a lighter teal, but the new sofa will be teal; or even just leaving them (which is what we've done all along).  Right now, I'm leaning toward making the backs of the openings a lighter grey than the pillows are; the chair up against the shelves on the left will be the same grey (but in a nubbly wool boucle–yum), so a lighter version of that should be enough to show off our white ceramics without darkening the room a ton.  I'll let you know when I find just the right color!