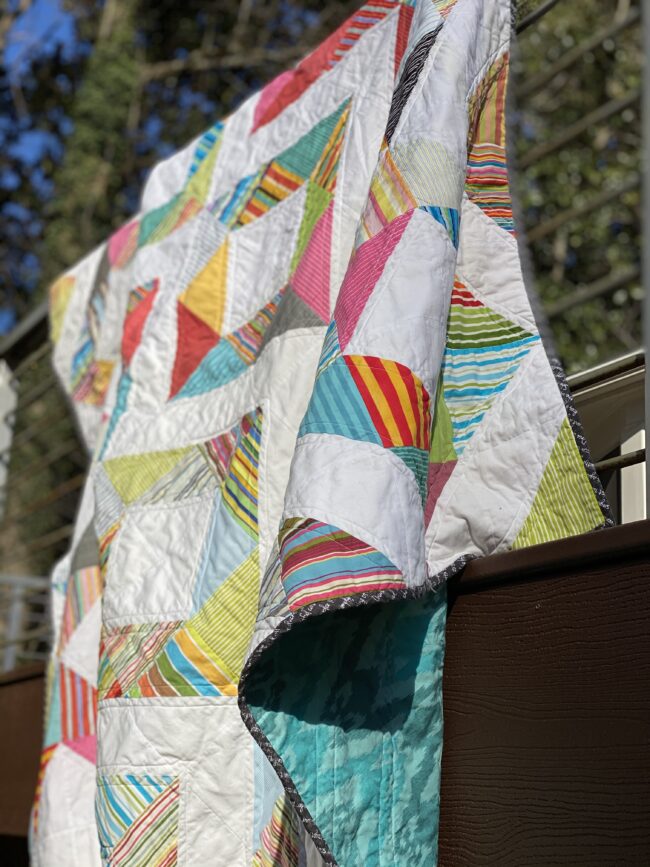 This half-square triangle quilt pattern is now available as a FREE DOWNLOAD for joining the Murder Mystery Quilt mailing list. No spam, just updates on when the next Murder Mystery Quilt is available, sneak previews of new MMQ treats coming along for you, and occasional freebies in your inbox.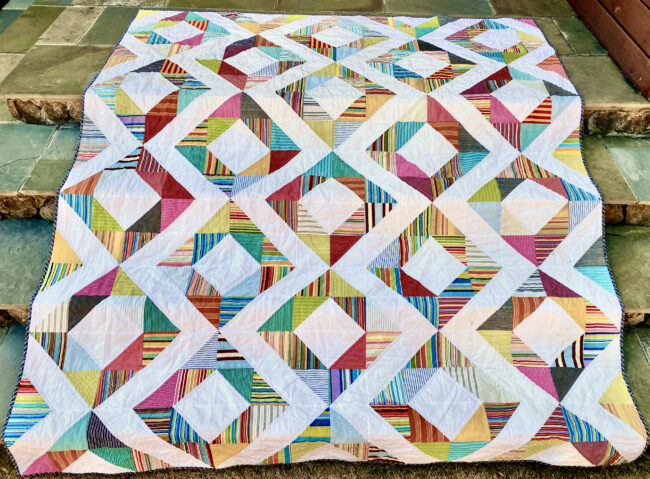 Quilts Make Great Gifts–and Heirlooms
When this quilt began, it was a present for my sister. I made a half-square triangle quilt entirely from striped fabrics for her, and because I was planning to take it with me to a family vacation on Cape Cod, something about all the stripes-and-white felt like sails and sailboats, had this overwhelming nautical vibe.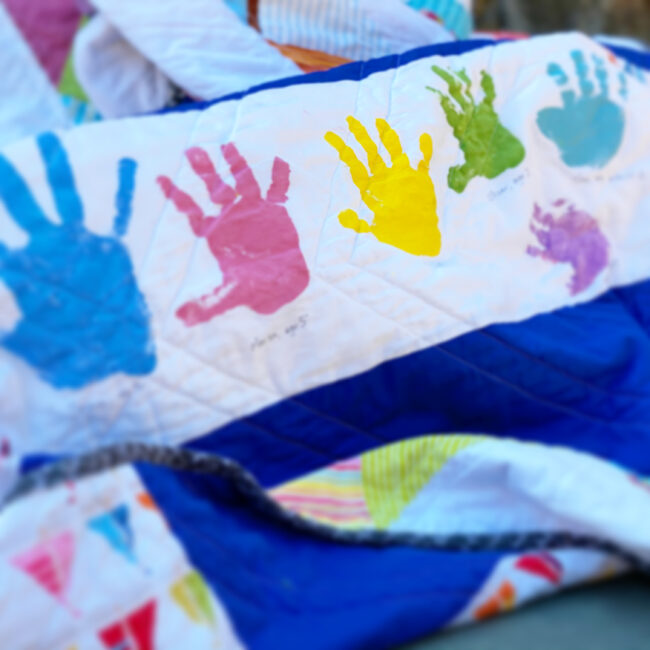 I took her quilt, with a solid backing and some fabric paint, to Cape Cod and we had the children–my four and her two–add their handprints as a cousins Summer Memory. It was sweet and wholesome and wonderful. It was the first quilt I made for someone else from start to finish. We pulled out a discarded old pillow case and did a second set of handprints for me to take home.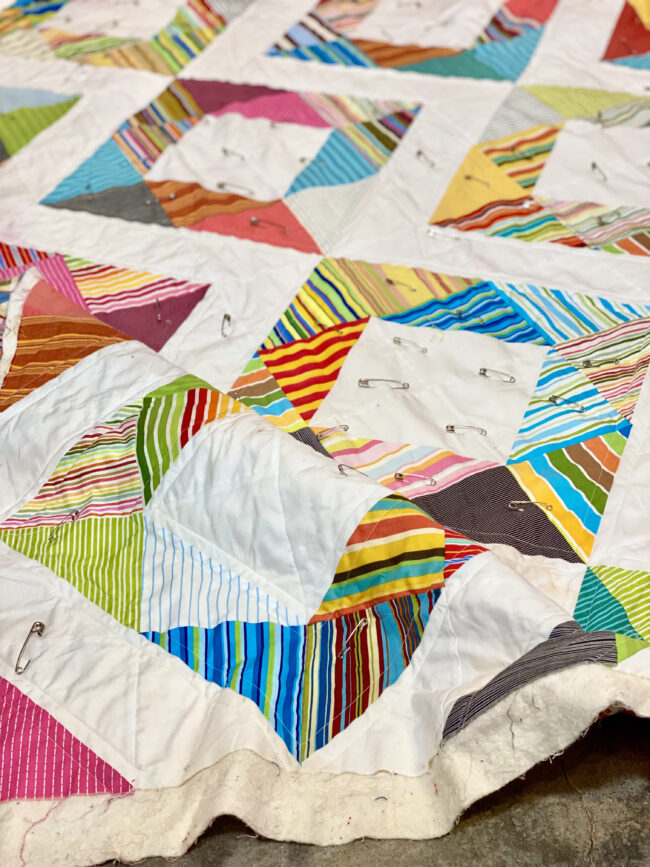 Second Quilt: Ten Years Later
I made a second set of squares to stitch into HSTs for myself, so we could have twinnies quilts. Once I got home, and the pressure to complete the gift quilt before the trip was off, I put my own quilt away in a bag, inside a box, for "later," because that's what so many of us do, we leave the things FOR OURSELVES until later (clearly we all need to encourage the Selfish Seamstress to come back and re-educate us with her wisdom, man, I miss her blog, I really do).
Cue: montage of ten years whooshing past. The youngest baby who made hand prints that day has started middle school. The oldest now lives eight(ish) states away and manages a pet store while finishing her college degree. A LOT has happened–and the quilt still wasn't complete.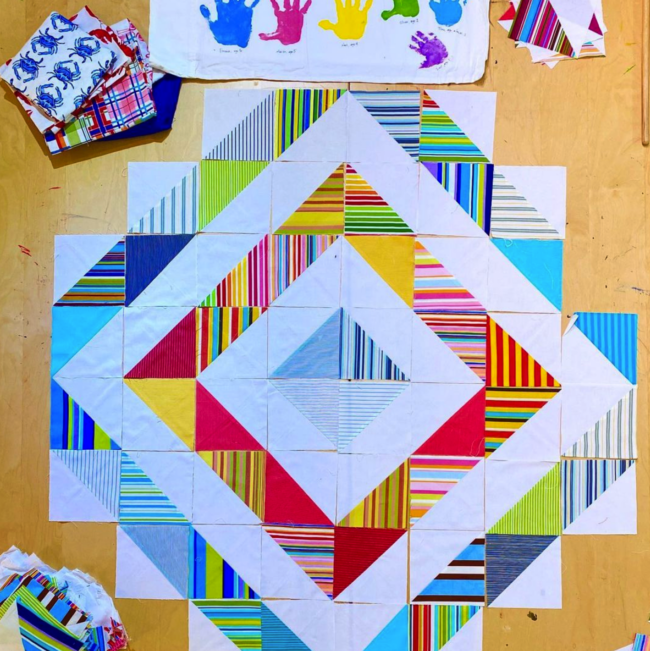 Lockdown Sewing
While designing a block for the 2020 Murder Mystery Quilt, which featured half-square triangles pretty heavily, I remembered this project and dug it back out. It was during the early stages of lockdown, and I think all of us were finding new motivation to clear out old, languishing ideas and move forward toward completed items–if only for the sense of control and certainty in the most uncertain times any of us had ever experienced.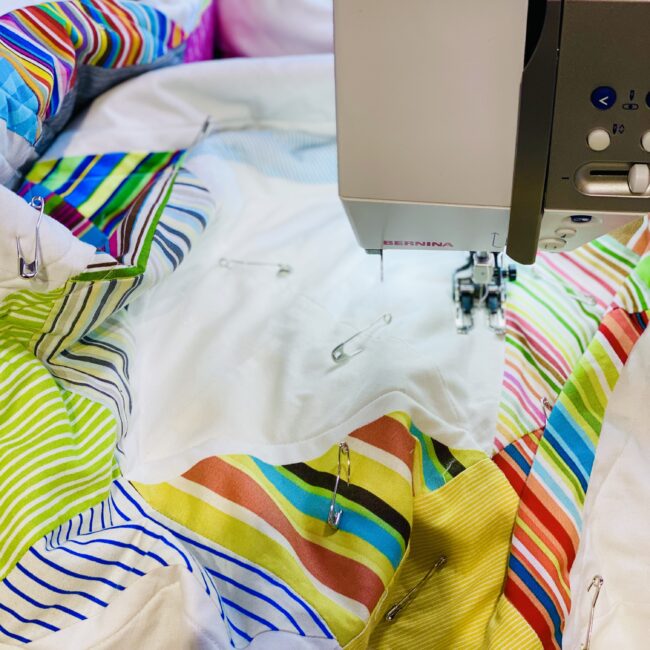 And now: huzzah!! It's complete and I LOVE IT SO MUCH. I played with lots of ideas for how to set these HST blocks, and settled on a God's-eye design that seems to accentuate the stripes while also allowing each fabric to merge into the one next to it?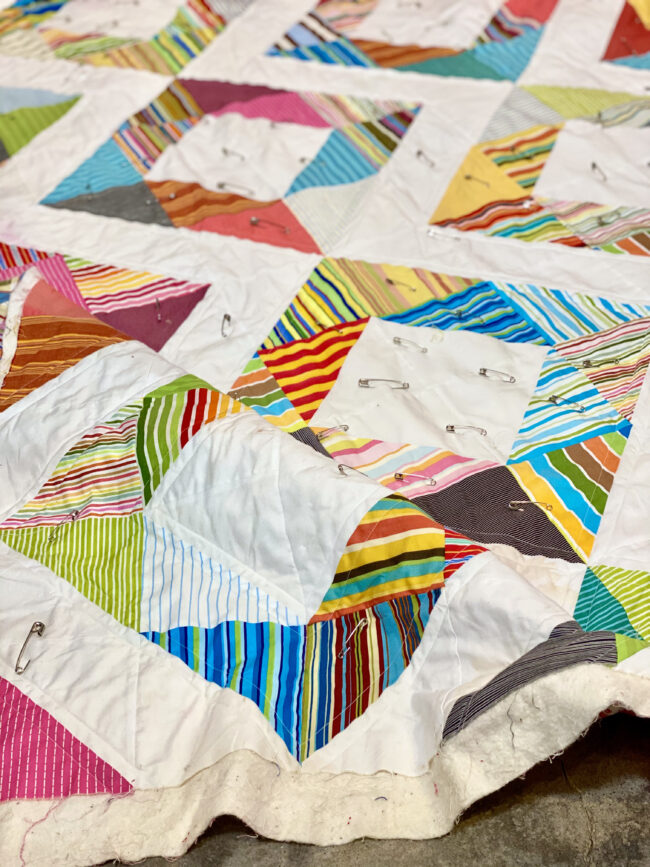 The striped fabrics are all from my stash, every random stripe I could lay my hands on at the time I was cutting squares. The background is Kona white.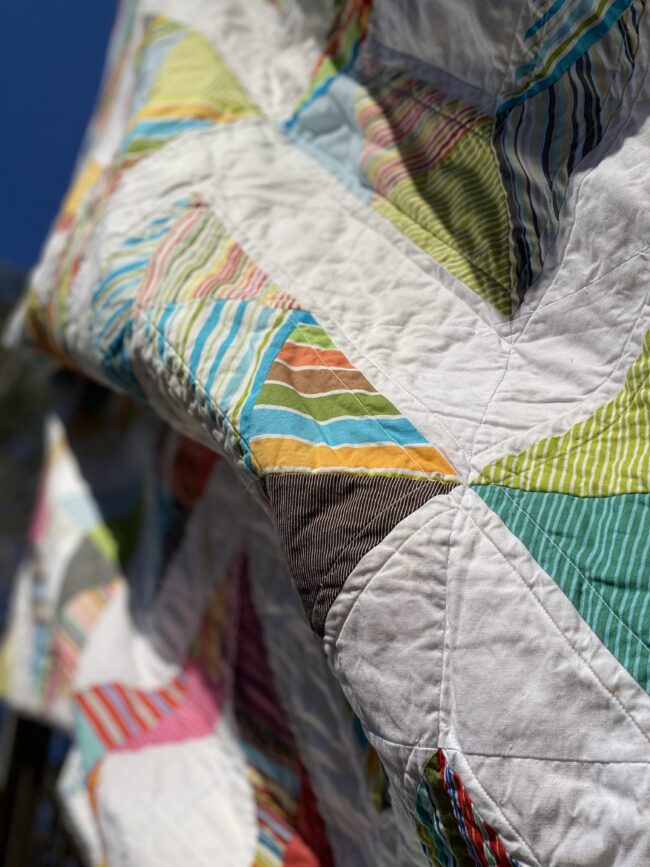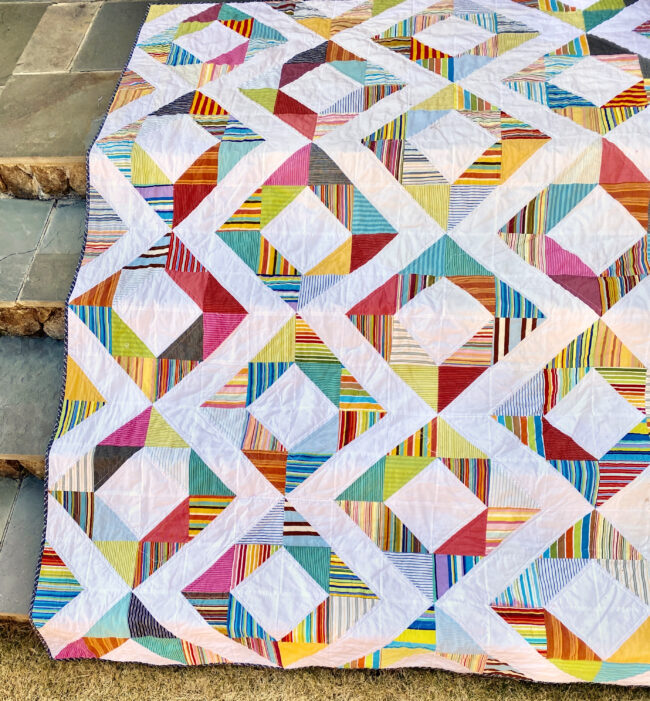 Binding is another fabric from my stash, by dear friend Violet Craft. All the piecing was by machine, as was the quilting; this is the first time I've used white thread on a quilt back that was a solid, dark color, and I'm still not sure I love the effect–but I DO like the secondary design of the quilting lines without the God's-eye shapes as a reference. Binding was sewn by machine stitching in the ditch, and the spots I missed were fixed by hand. Ooops.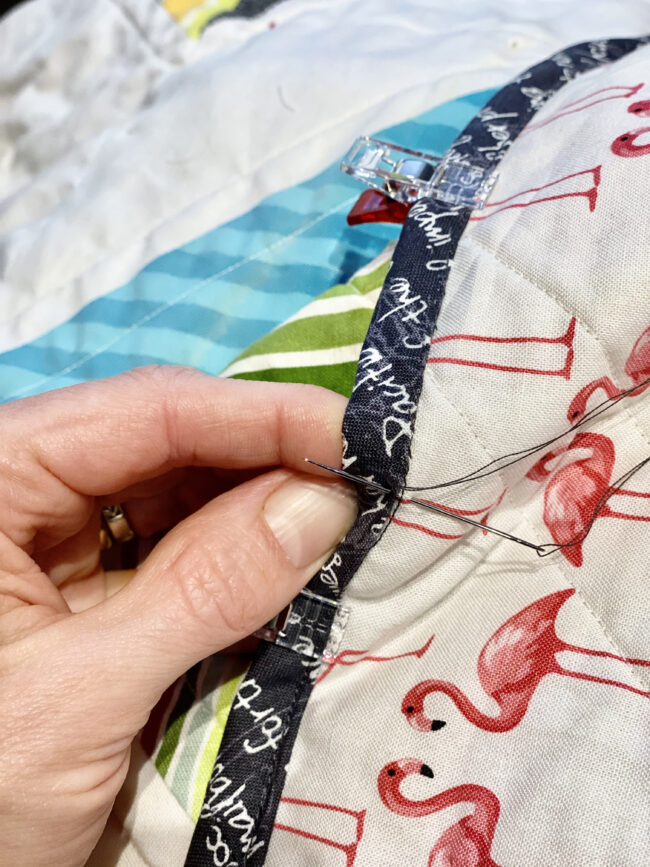 While I was at it, I made a pattern! For you!
It's a free download as a thank you just for signing up for the Murder Mystery Quilt email list, where we promise never to send you anything spammy, just to update you when registration for the next MMQ goes live, and how to get some special goodies set aside just for quilters who love to read/readers who love to quilt/adventurous sewing folk who enjoy a good mystery.
You can get your copy of the pattern right here.
I hope you love it, and that your Nautical Stripes Quilt accompanies you on many treasured visits to the ocean and beyond!