For the two+ years since we moved into this house, I have kept my make-up on the bathroom counter in the travel bag that I got at TJMaxx the week I first moved to Atlanta from college, almost (coughcough) sixteen years ago.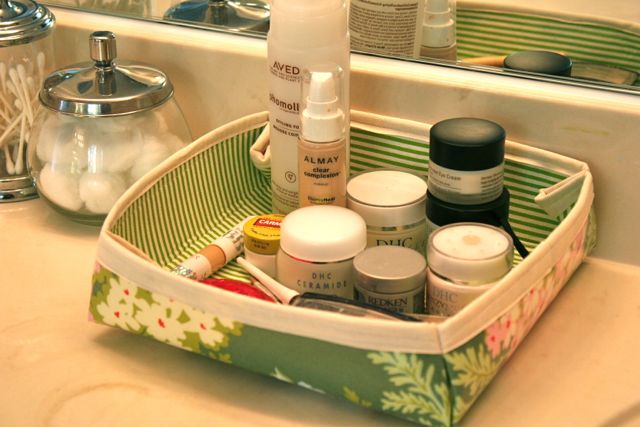 The bathroom–and this is the master bath, now, I don't want to mislead you and make you think this is some fancy extra bath that we don't use very often–is a horror.  Just: a horror.  And this is after we took down the poofy valance on the window and the fluffy curtain on the bathtub that turned it into some kind of Jackie Collins boudoir action.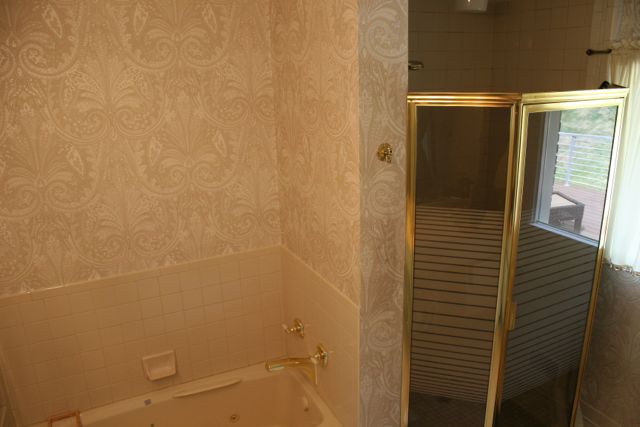 I can't even talk about how hard it was to brighten these photos enough to make them not look all yellowy.  And that wallpaper!  It looks like a….very specific something that once you see it, you cannot un-see.  Point being: having a make-up bag sitting on the counter didn't exactly damage the overall effect of the decor, y'know?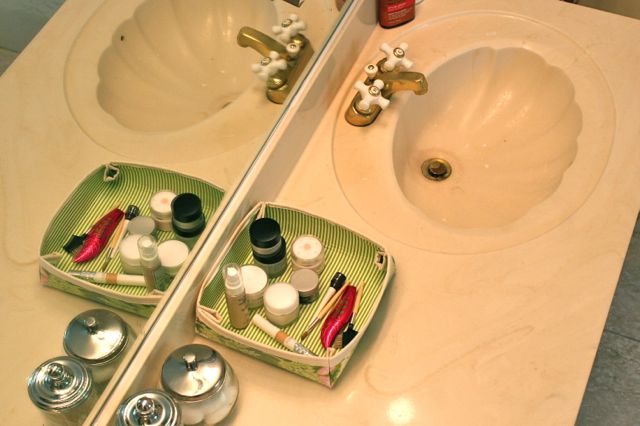 But that doesn't mean we give up altogether–as I learned in my studio, you never know what tiny change might inspire you to make a lot MORE changes, and lead to a complete overhaul.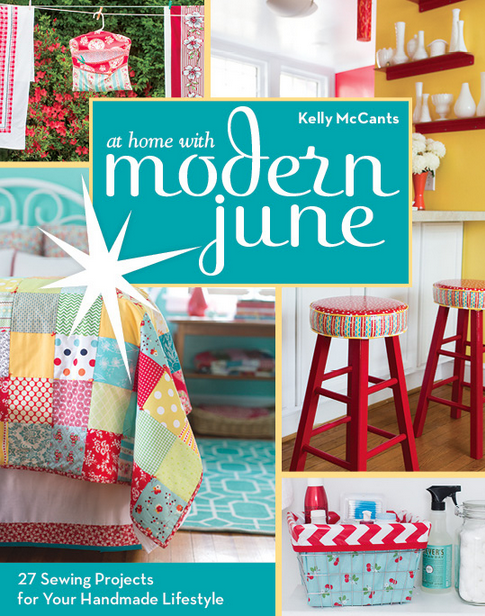 Enter: At Home With Modern June.  This is Kelly McCants' new book, the follow up to her Sewing with Oilcloth, and it has some really sweet home sewing projects.  The one that made me think, "You know, I should just get on that already!" was the make-up tray, which took a whopping 35 minutes to sew up.  Truly: it took longer to take the photos of this thing than it did to actually make it.
At Home With Modern June is designed to walk you through constructing basic home sewing projects–like curtains, cushions, stool covers, duvets, tablecloths and floor covers.  The photos are super bright and cheerful, and the book is laid out in a way that makes it easy and inspiring to tackle any of the projects with just foundational sewing skills.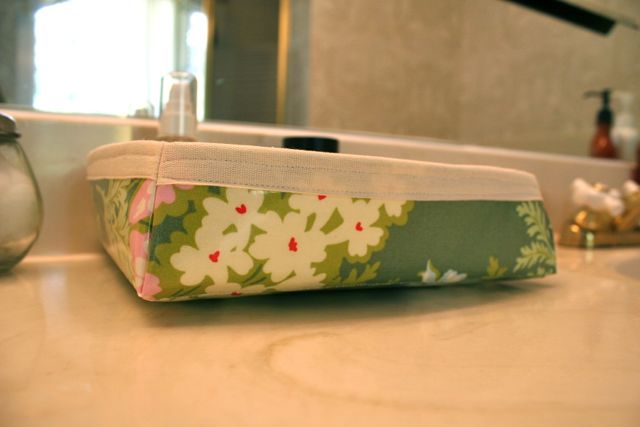 The make-up tray is super practical, super cute, and something I didn't know I desperately needed until I saw the photo in Kelly's book.  The instructions were super clear and easy to follow, and the whole project went together like a snap.  Kelly really takes the time in the book to give you tips and insider techniques to make it quick and simple to sew with laminated cottons and oilcloth, and to get great-looking results that are really unique and professional.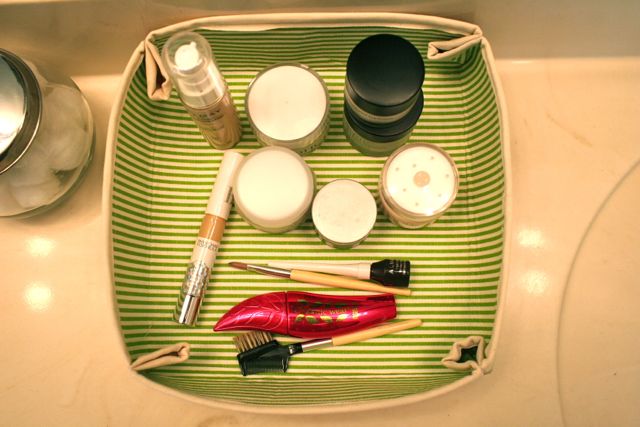 Mine is not actually oilcloth, I have to admit–I used a scrap of laminated cotton I had left in my stash after making lunch bags for the kids a few years ago.  But you can totally get oilcloth direct from Kelly's shop.  I also used a cotton duck for the interior, and rather than bias tape, I finished the edges with a twill tape I had in the drawer–I know, I'm as shocked as you are, because when have I ever given up the chance to sew with bias tape?  But the twill was such a nice texture and the color worked really well with the laminate.  And, coincidentally, with the seashell sinks, and since we won't gut and destroy renovate this bath for a couple years yet, I suppose that's a good thing.
Check out some of the other super cute projects she's got packed in here: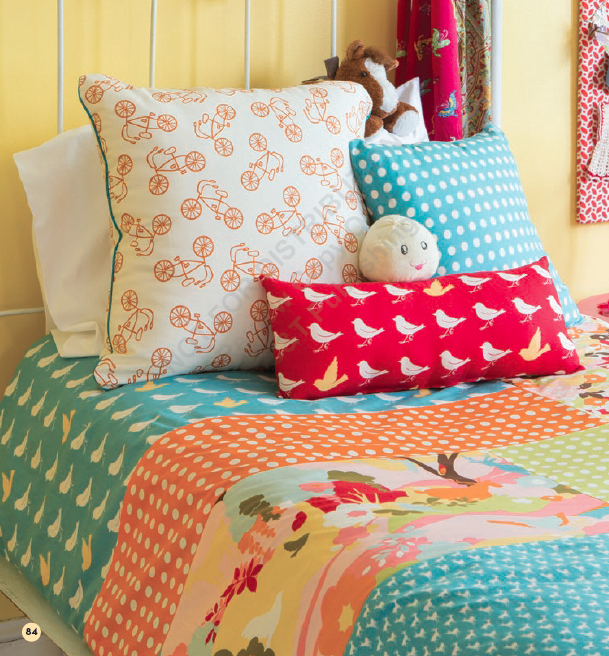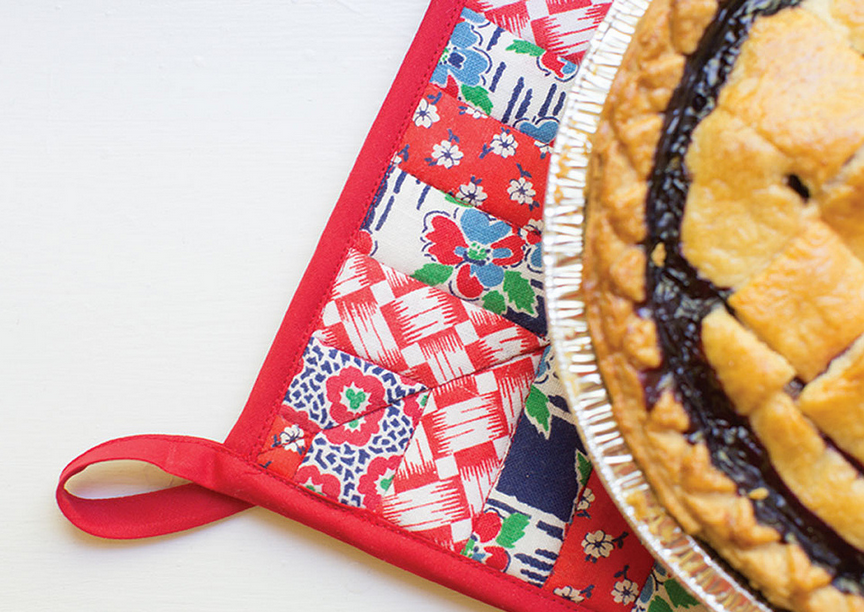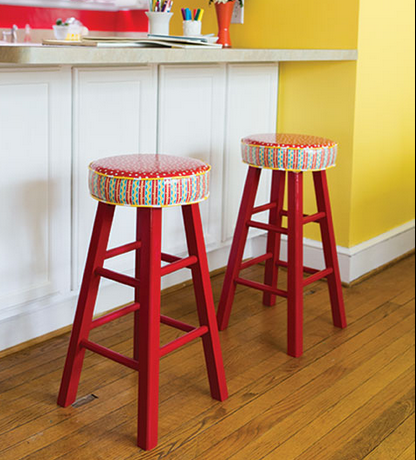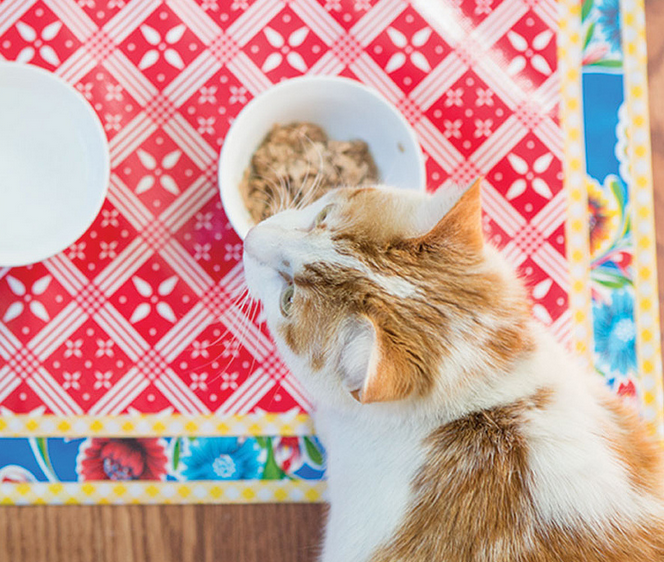 You can find signed copies of At Home With Modern June on Kelly's site, Modern June:

Modern June just launched in its current format, in addition to Kelly's two Etsy shops. Now you can shop for both finished goods and fabric at the same time! How cute is this oilcloth gardening apron??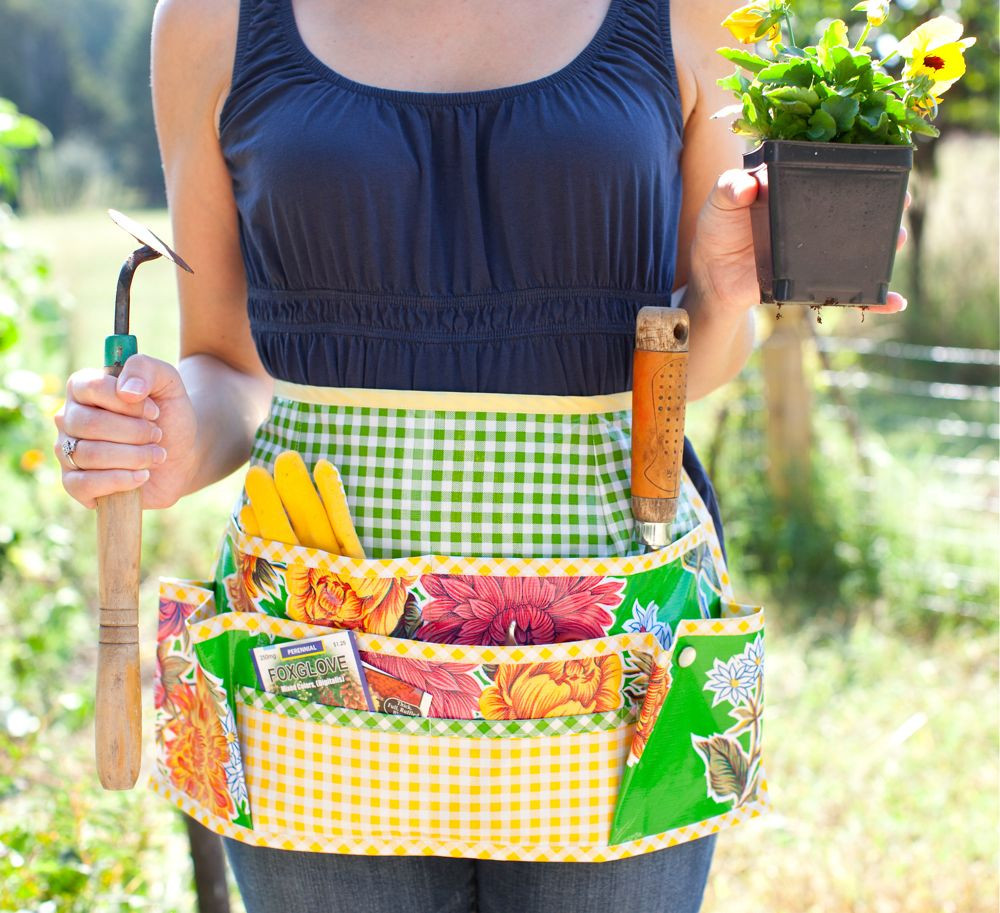 You can follow Kelly's blog at Oilcloth Addict, where she shares oilcloth projects and tips and techniques–like how to iron oilcloth and how to cover a summer settee.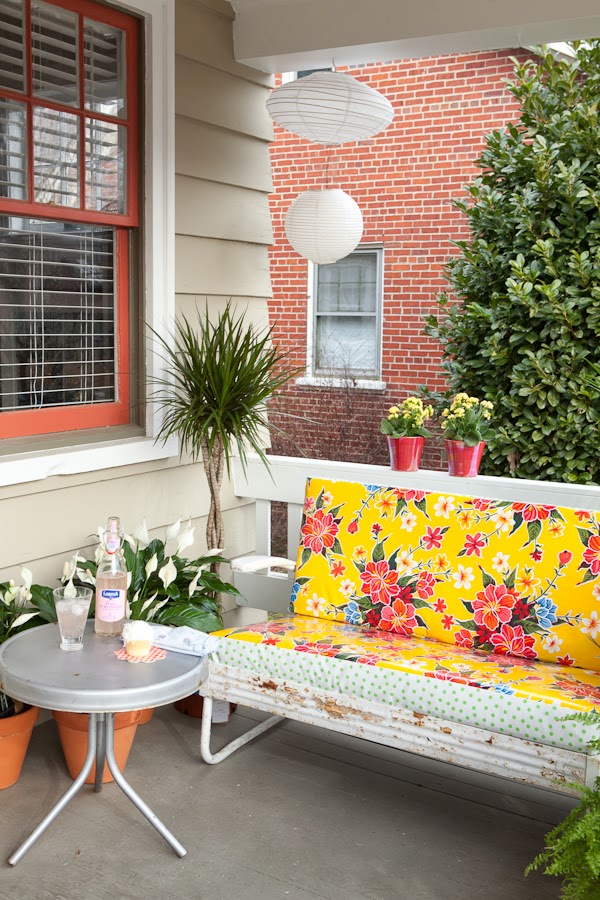 GIVEAWAY!!  Kelly has graciously agreed to offer up one copy of the book and a small bundle of chalk cloth to Whipstitch readers, enough to make two of the no-sew chalk cloth placemats that are featured in the book. To enter, just leave a comment here!  Giveaway is open until Thursday, April 17th at midnight Eastern time.
In the meantime, see the rest of the blog tour dates for At Home with Modern June!
Monday, April 7th: Stash Books
Tuesday, April 8th: Pretty Prudent
Wednesday, April 9th: Craft Gossip
Thursday, April 10th: Apronista
Friday, April 11th: Whipstitch
Saturday, April 12th: Craftypod
Sunday, April 13th: Sew Mama Sew
Monday, April 14th: Grow. Make. Eat.
Tuesday, April 15th: The Painted Home
Wednesday, April 16th: Finding Home 
Thursday, April 17th: Modern June, the Oilcloth Addict