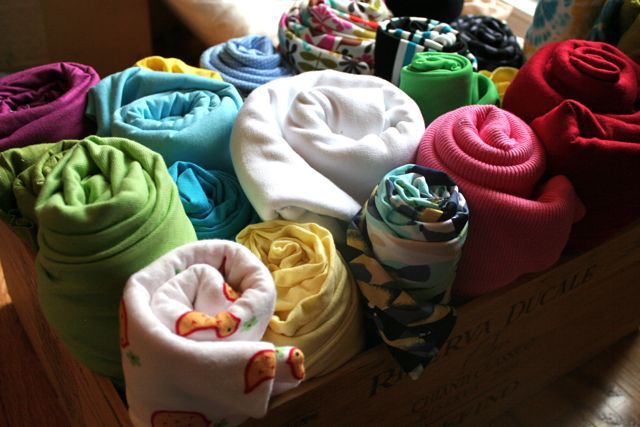 On the subject of tidying, I moved a whole mess of fabric up from where it was being "temporarily" stored in the basement.  Um, it was kind of like this: we bought this house, and we figured we'd finish the basement right away, but then we needed new windows and a new furnace and we remodeled the kitchen and suddenly we had to push back finishing the basement to…some point in the future.  So while I thought I would move my studio down to the basement more or less right away, I ended up in the dining room for the foreseeable future.  Trust me, I would rather have these problems than Real Problems any day of the week, but it meant I had instructed the movers to put all my boxes of fabric and sewing books and thread and notions along with my cutting table down in the basement, which is where it was last week when a small pipe burst during our morning-getting-ready-for-school-rush.
It was a big morning.
We got our contractor to come out–he's basically a life saver, like David Hasselhoff but without the swim trunks.  He fixed the busted pipe, and it was my job to fix the piles of wet boxes all over the basement.  Because despite the fact that we moved in here nearly ten months ago, we've still got boxes in the basement.  And despite the fact that they weren't all over the basement–they were more or less accumulated in one spot in the center of the floor–the water flowed directly beneath them and nowhere else.  Yeah.  It did.  I know.
Luckily for me, my procrastination paid off again (it happens more often than you'd think): because everything was still in boxes, most of it didn't even get wet.  Even though all the boxes had been opened so I could root through them to locate random bits and pieces my treasures, because there was a layer of cardboard between the wet floor and the fabric/books, nothing was ruined!  Hooray!!  For someone who has already survived one basement flood incident, that was really, really excellent news.
So the boxes were unpacked and the fabric came upstairs.  Which forced me to organize my fabric cabinet: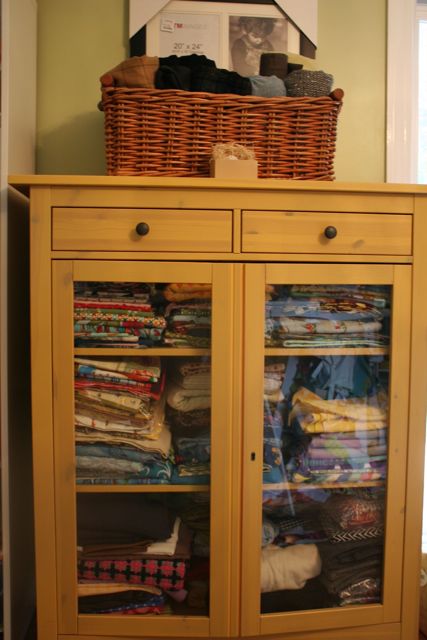 I had to pull out all the fabric I had stuffed in willy-nilly placed lovingly on the shelves and incorporate the additional fabric that came up from downstairs.  None of this has been done since we packed up and moved, no matter how many times I thought, "Hey! I really ought to do that!"  It's actually kinda fun, if you set the time aside to do it and see it as a Tetris-style challenge.  I didn't have enough space for the bulky wools and the knits, though, so those get rolled and placed in baskets and wine crates: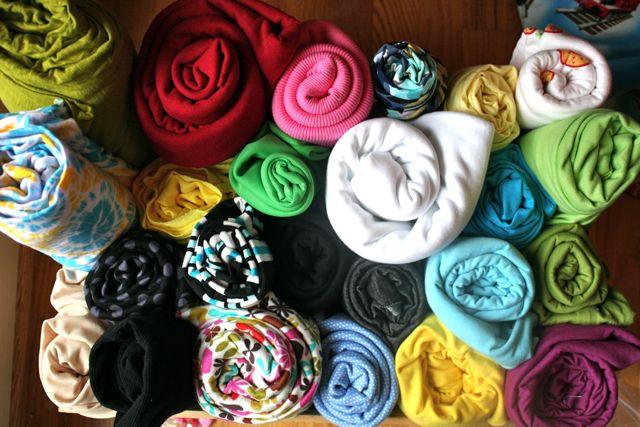 I don't think even I was aware of how much yardage I had accumulated in these two categories, truthfully.  I guess I need to be making more sassy wool skirts with cute tees to match this fall.  Or maybe more stash-busting.  It's almost shameful how long I have had some of these fabrics and not used them yet–there's even a whole dedicated flannel-for-last-year's-Christmas-jammies basket.  Sigh.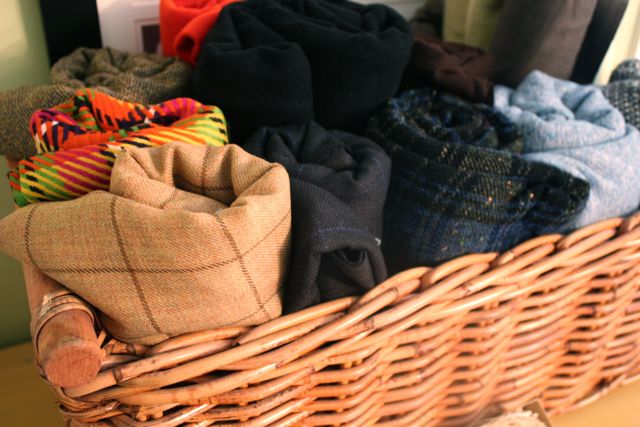 The moral of this story: is it to procrastinate more?  Probably not.  To store your fabric on risers just in case?  Maybe.  I suppose it's that we ought to be thankful, when we have "disasters," that they aren't actual disasters, and keep it all in perspective.  Use what you have, make things you love, and don't get too worked up when you think that treasured/hoarded/passionately defended fabric is threatened/might actually get sewn up.  It's just fabric, y'all.  And it can all be washed.
TL;DR: I have a lot of fabric, and all of it is still safe. Whew.