Day 3 of the Stitch Savvy blog tour!  Today, Anna from Noodlehead is showing off the clutch she made using the instructions in the book–and I'm so excited to read her post and see that the book led her to want to make a project she might not have tried otherwise!  Can't wait to see her Photo Transfer Wall Art–if you read Anna's blog at all, you know that she has such incredible taste, and everything she makes comes out so clean and modern and chic.
Plus, today I'm sharing with you the original Quilted Sewing Machine Cover I made when working on the book, before making the lovely yellow one with Lizzy House fabrics that's featured in the Quilting chapter.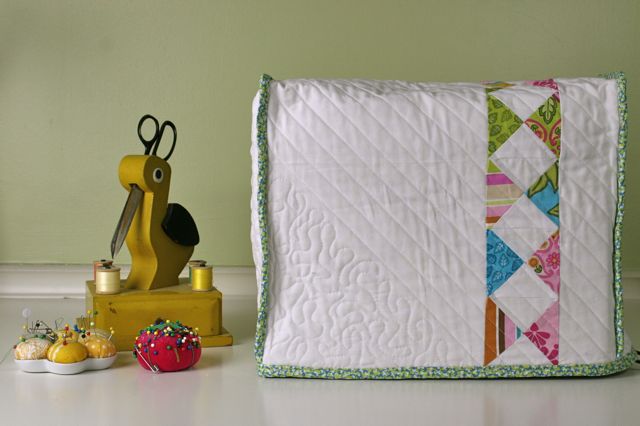 I wanted a cover for my own machine, plain and simple.  I designed this project from a purely selfish place, I admit it.  And I love it–I even made a matching one for my serger!  I sent this one off to the publisher about a year ago for photos–they chose only the yellow one to feature, so my sewing machine at home was mostly uncovered all that time.  I'm really relieved to have it back!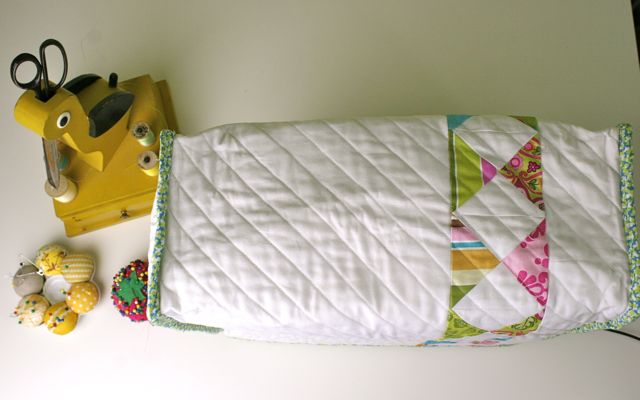 It does show up in the quilting chapter, so it's built with a backing and a layer of batting, and quilted before the edges are bound in bias tape.  Oh, and did I mention it's reversible?  Totally.  Y'all know how I love a good reversible project.  And bias tape.  This project is basically my mother ship.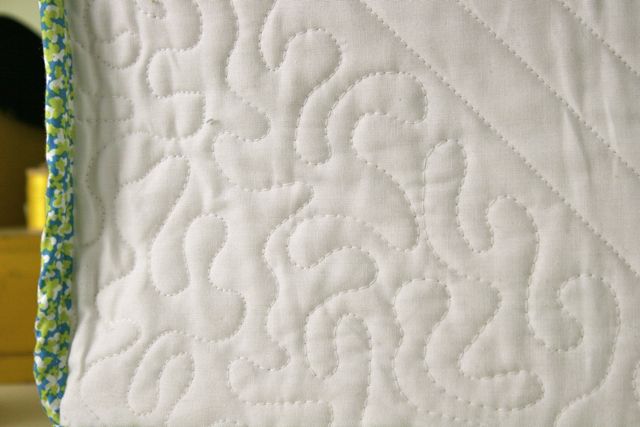 I wanted to not only use this cover to illustrate how to bind a seam with bias tape (which is also how the Wherever Jacket's seams are bound on the interior, since it isn't lined), but also as a lesson in free-motion quilting.  There are straight lines of quilting done on the diagonal, FMQ in a meandering pattern, and even some pebbles: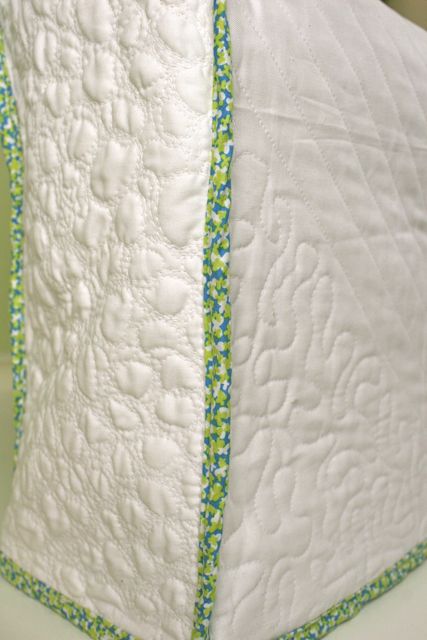 Plus, what a great project to use to demonstrate how to make quarter-square and half-square triangles!  The quilting section has five projects in it, and if you've never made a quilt before or if you've made quilts but want to push yourself a bit, I'm hoping there's a project there that meets you where your skills are right now.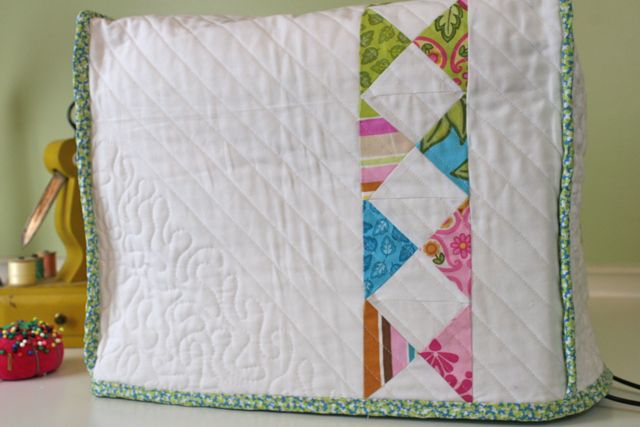 And now I get to enjoy my matching sewing machine and serger covers, home at last, where they belong!

Read Anna's sweet post about the book today, and then stick around and check out her blog, which is seriously filled with great ideas.  She seems to have an encyclopedic knowledge of what cool ideas are floating around the web, and digests them down into lovely images and great projects.  Her gathered clutch and open wide zippy pouch tutorials always turn out SUPER cute, and come spring, my children are all getting one of her bike buckets.
See you Monday for the next stop on the Stitch Savvy blog tour–and don't forget, I've got prizes and surprises coming up next week!