The second Sewing Buddy Challenge for 2012 was COLOR: both Buddies take the concept of color and interpret that by making partner projects to reflect the theme.  The winning entry went way above and beyond, and really rocked out the idea of color by making two sets of themed projects using the same color palette–a lovely yellow and turquoise combination: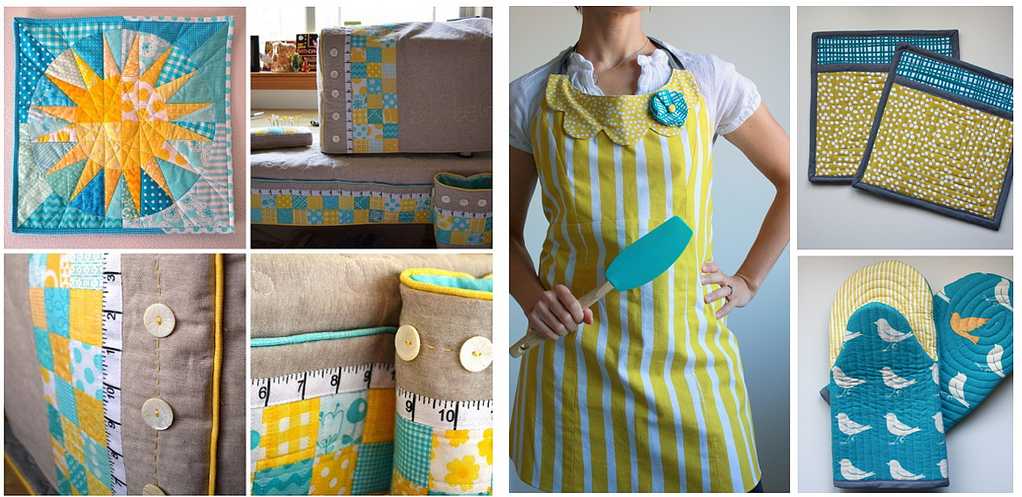 Jennie and Nicole were rocking the DOORS off with these projects!  Jennie killed with her sewing room accessories, all with the theme colors tying them together, and Nicole showed those kitchen accessories who was boss in a big way.  I adore ALL of these, and am so impressed not just by their thoughtfulness when it came to the theme–notice an equal balance in the use of each color? how the tone of each yellow and turquoise is matched by the two Buddies, even though they were working together at a distance? how the fabrics are repeated across the projects?–but also the sheer VOLUME of what they made.  Plus, they did theme-within-theme, both of them doing color AND '"feather the nest" AND quilted projects.  Hands down this is a first-place piece of sewing.  Well done, ladies!  See more of Jennie's sewing on her blog, Porch Swing Quilts, and of Nicole's on her blog, Nicole at Home.
Each of these fabulous winners gets her own copy of the Kona color card, very appropriate prize for the COLOR theme.  I love just looking at the Kona color card, honestly–somehow seeing those grades and slight variations of color is inspiring all on its own.
The next Sewing Buddy Challenge–the last for 2012–will be posted October 15 and run through the end of the year.  I'll let you all know the theme, and remember: you don't have to be a Sewing Buddy to play along (just to win prizes)!