Last January, I had a conversation about the word "seamstress."  I was lucky enough to be in Palm Springs at the Heather Ross Workshop, and even luckier to be hanging out one evening after the excitement was dying down with Gretchen and a whole host of other seriously cool ladies.  And as we're all talking, we keep stumbling over what word to use to describe one-who-sews.  We tried "sewer," but acknowledged that it looks, on paper, a lot like where-the-sewage-goes rather than one-who-puts-thread-through-fabric.  We tried "sewist," but agreed that it's a little bit pretentious–just a smidge, not a ton, and it's not really as descriptive as we'd like, because you have to define the word each time you use it, which can be tiresome.  We floated "stitcher," which has been my default for a while, but it falls a little flat, in all honesty.
And then Gretchen asked me, "How do you feel about 'seamstress'?"  My answer:  "Ambivalent."
Here's what I mean: when someone would come to our house back before we moved, and need to pass through my studio space to get someplace else, I would often get asked, "Oh!  Are you a seamstress?" in an excited tone.  And I would be offended.  Part of that was because I was busy manufacturing children's clothing at the time, and thought of myself as something higher and fancier than a seamstress, and part of it was that the word itself conjured up images of sweatshops and piecework and wage labor–not creativity and design and innovation.  So I would get my feelings all hurt, and complain that someone had "referred to me as a seamstress–as if!" I saw myself as MORE than "just a seamstress," with the smallness that term implied.
At the same time, though, the term seamstress has been used for many, many decades and quite simply describes what it is someone who sews is doing: putting in seams.  The term is effortless, because you don't have to define the word for your listener or reader; it's universal, because it can apply to someone who does any type of sewing (although I acknowledge that it is more commonly used for garment sewing rather than crafts or quilts); and it has the added benefit of all its historic connections and connotations, granting us nostalgia and a sense of continuity with the past. It's not a mean word, and seamstress-ing doesn't have to imply that the work done is too blue-collar or too low-tech or too small-potato to be artful and sophisticated and urbane. A seamstress can be all those things.
As the months have passed and I've ruminated periodically on the term, I've become more and more a fan of bringing seamstress back.  I don't like the push-back I felt when someone would "accuse" me of being a seamstress, that sense that what I was doing was SO MUCH BETTER and so FAR ABOVE what someone who is "just a seamstress" would do.  I didn't like the picture of myself that painted, the slight arrogance, the self-importance, the idea that I saw my own sewing as superior to the sewing women (and men) have been doing for far longer than I have been alive.  I realized that my rejection of the term was about my own pride, and that I'd made the mistake youth so often makes: believing that I'd discovered and/or invented this thing, and not that I'd inherited it, that it was a gift passed down rather than my own creation. Owning seamstress, making that word something to be inspired by again, requires that I re-examine why I disliked it to begin with, and what it is I want to be able to say about myself and my sewing. I say we shake off the negative connotations that the word seamstress has accumulated, we take it back and make it a term to be proud of, an identity to embrace, something we would be flattered to be called.
I am a seamstress.  In the same way that some who acts is an actress, someone who inherits is an heiress, someone who governs is a governess…  Wait, that can't be right.  Could that be part of why so many of us push back on seamstressing?  Because when a dude does it, he's a tailor, which is mighty and can defeat seven with one blow, but when a lady does it the task is diminished?  When a man is a governor, he's in charge of an entire state and when a woman is a governess she's in charge of someone else's children? That's a load, right there. How irritating.  How last-century.
I am a seamstress.  I am one who puts in a seam.  And the seams I sew bind not just fabric, but my family and my friends, ideas and desires, hope and dream and play.  What I do is nothing to be ashamed of, it is something to rest easy in and to feel grateful and proud to be gifted to do.  Let's stop being sewers–seriously.  And while I appreciate the intent of sewist, I worry that for folks who don't sew, it doesn't give an accurate picture of what I'm hoping to accomplish at my machine.  I don't feel like a stitcher, which somehow sounds like you'd have to wear piggy tails to fit the term.  I want to be a seamstress.
Join me?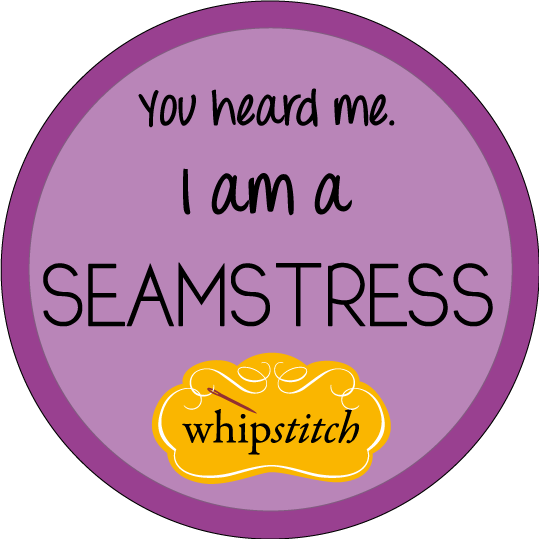 Feel free to grab the button and be a seamstress, too.  I think that would be awesome.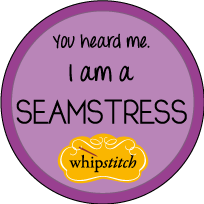 <div align="center"><a href="https://whip-stitch.com/blog" title="Whipstitch"><img src="https://whip-stitch.com/wp-content/uploads/2012/06/seamstress.png" alt="Whipstitch" style="border:none;" /></a></div>
**Updated to ask: Of course, if we take back "seamstress," what does that make our fellas who sew? Tailors? Seamers? Might need your help with answering that one, y'all…
Updated x2: A fabulous button for all you SEAMSTERS! (See comments thread for more details if you just got here, y'all.)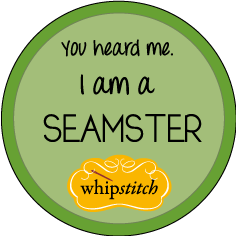 <div align="center"><a href="https://whip-stitch.com/blog" title="Whipstitch"><img src="https://whip-stitch.com/wp-content/uploads/2012/06/seamster-sm.png" alt="Whipstitch" style="border:none;" /></a></div>