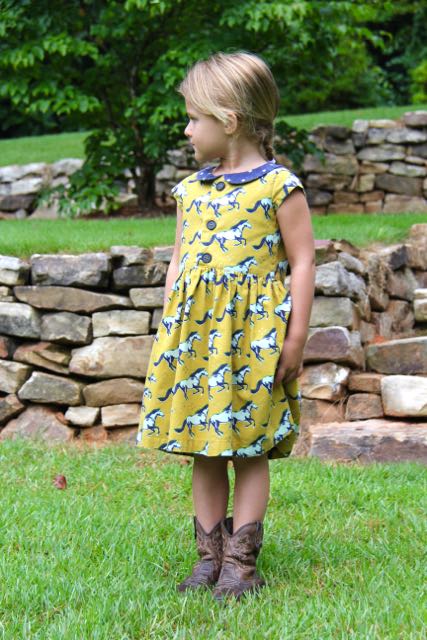 The Flip Flop Dress features a lined bodice that can button front OR button back, with either a rounded or a square neckline, and a full gathered dirndl skirt.  The bodice hits about an inch above the natural waist, and the skirt falls just below the knee.  There is an optional lined cap sleeve, and an optional Peter Pan collar, meaning you can make dozens of variations of the dress from the core pattern alone!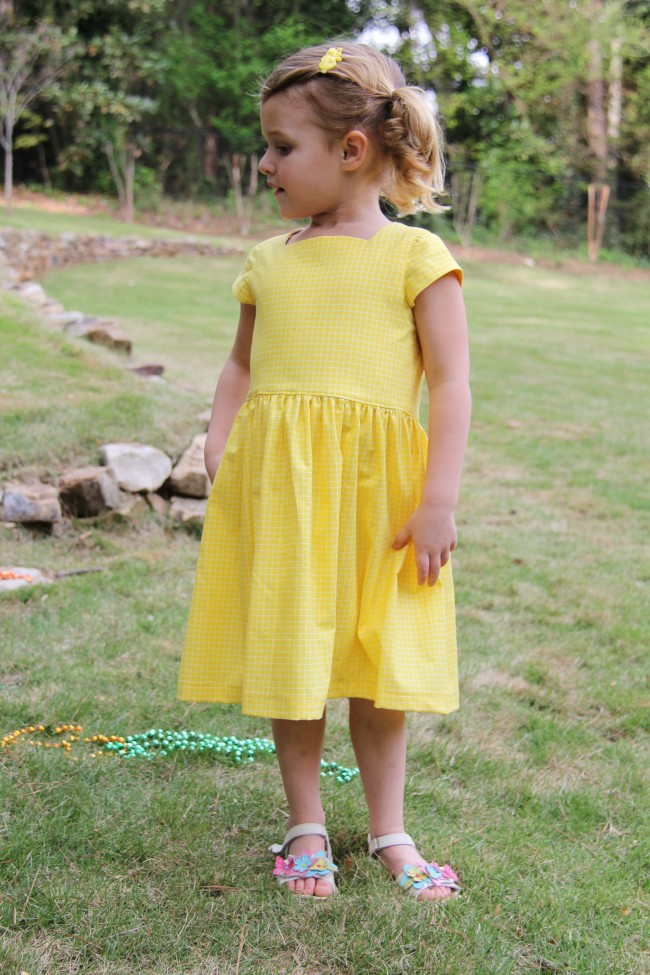 I confess that as I was developing the pattern and designing the options for each version, I may have gotten a little carried away.  I made two sleeves and two collars and two necklines and an unlined bodice version….  It was exciting, but when I tested the pattern with stitchers, the feedback told me it was a LOT of information for a single pattern.  My goal with any pattern I design isn't to make THE pattern so you'll never need another pattern–it's to create a pattern you'll want to follow and that you'll actually sew up.  Narrowing down the options to TWO core views was key to making this a solid, usable, clear sewing pattern.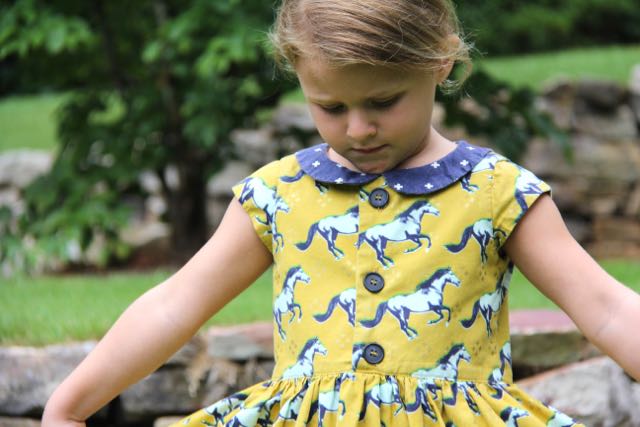 View A includes all the options in the basic pattern: a Peter Pan collar, lined cap sleeves, and the lined bodice with full skirt.  Good grief, it's adorable–a truly classic look that's also updated and really versatile.  I like that, even compared to what this pattern originally was back 20 years ago, this incarnation is a "big girl" dress that's suitable for a huge range of occasions.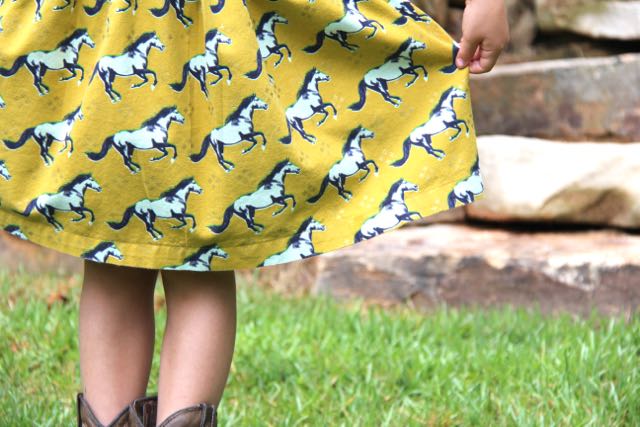 Because you can "flip flop" the pattern to make it with the button closure either at the front or the back, you can really vary the final look a great deal with just a simple change in cutting technique.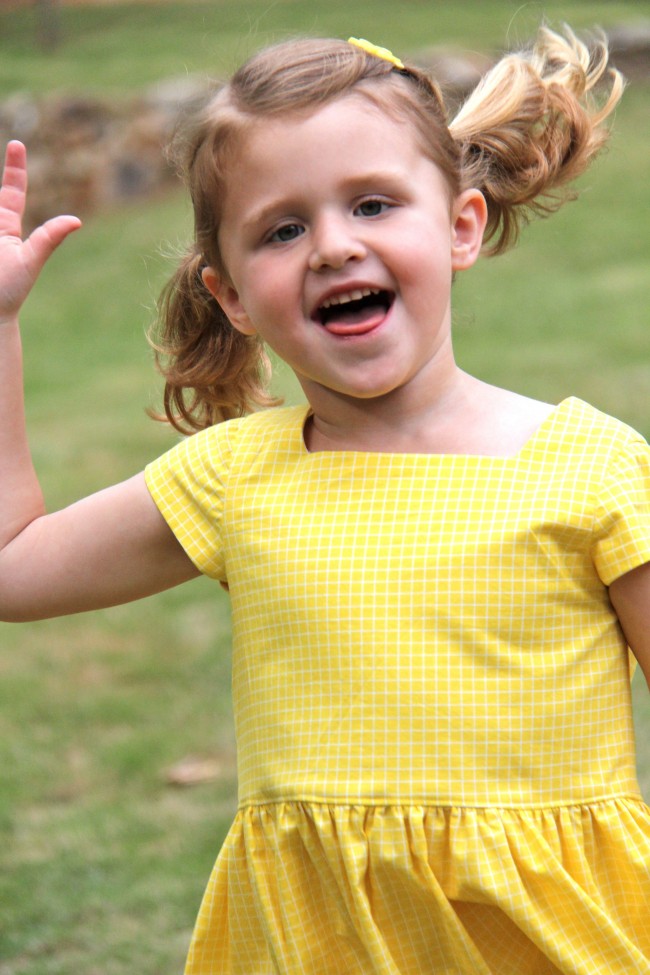 View B is even simpler to sew than View A, and can totally be stitched up in under two hours.  Once you get the hang of it, honestly, you can churn out a whole week's worth of these like a magical assembly line.  This view includes a square neckline, a sleeveless bodice, and the same full, twirly skirt.  "Flip flopping" the pattern again allows you to move the buttons between front and back as you choose.  Shown here with the cap sleeves (rather than sleeveless), you can easily see how many variations just this core pattern of two views provides!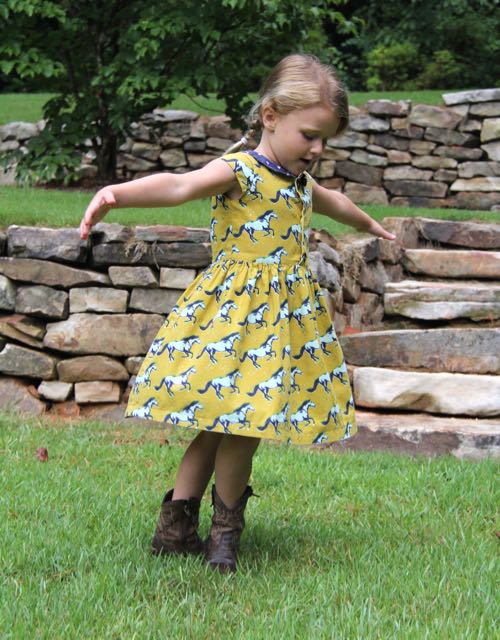 You can make a sleeveless version with Peter Pan collar, or a cap sleeved version with a square neckline–each element can be selected as you plan your garment–and each dress really looks unique.  My youngest looooooves this style, and reaches for this dress before anything else in her wardrobe.  But I never worry that she looks as though she's wearing the same thing day after day.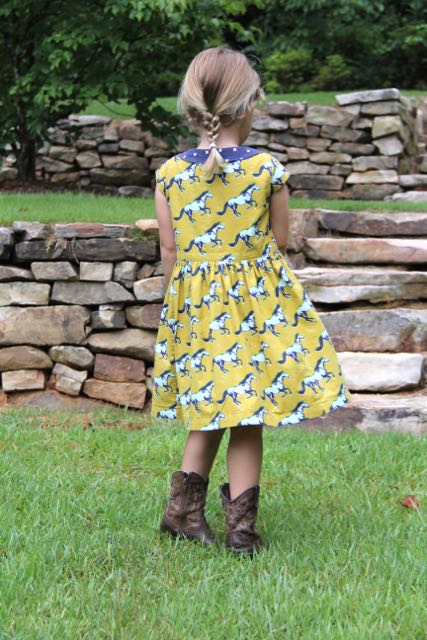 The back of the dress is a classic shape that goes from playground to school to church to weddings, easy peasy.  The waistline seam falls about one inch above the natural waist, and the bodice is slightly more fitted than "younger" girl patterns, meaning this dress is one that will let her grow, while still letting her be little.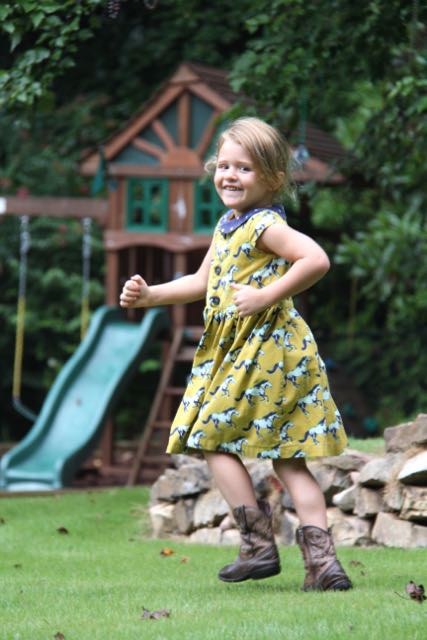 I can hardly even count how many variations of this pattern I've made–not to test it, but because my child demanded asked nicely for them.  The moment this mustang fabric from Cotton + Steel (ordered from Pink Castle Fabrics) came into the house, she wanted THIS dress made from it.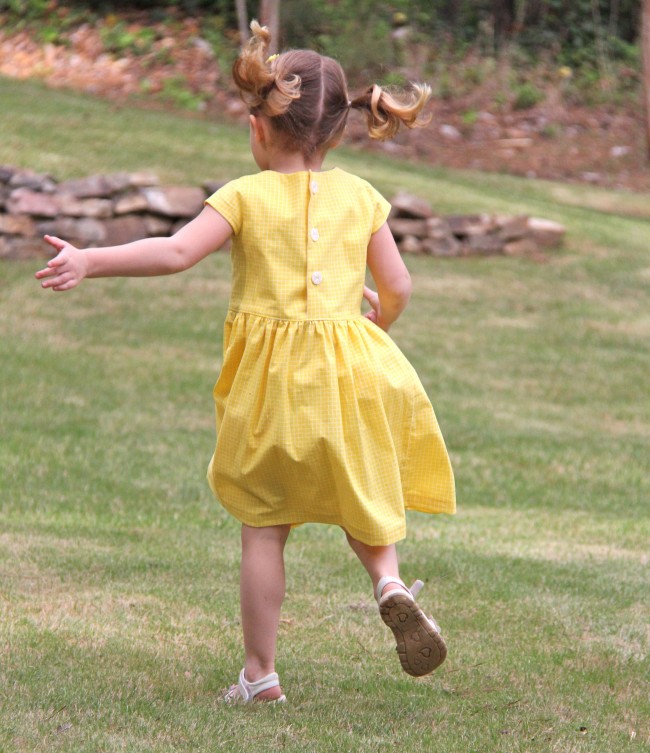 The other versions were because I couldn't wash the dress often or fast enough for her!  She wore it every single time it came out of the laundry, over and over.  And suddenly, every fabric she saw she wanted in this style.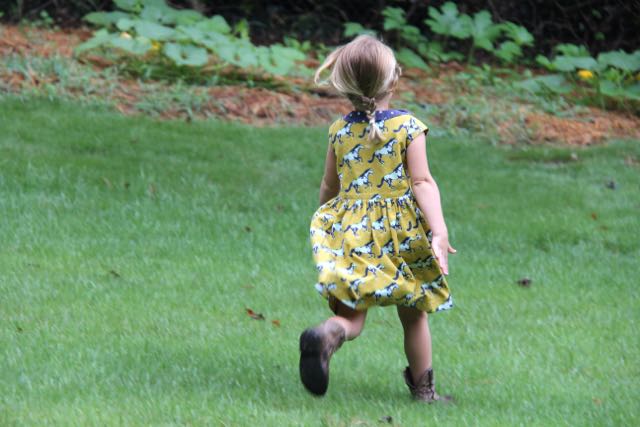 I love knowing that I can have a go-t0 pattern that works and fits and looks great and sews up beautifully in nearly any fabric.  The Flip Flop Dress works in quilt-weight cottons, lawns, double gauze, babywale corduroys, lightweight denims, and voiles.  So versatile!  The sleeveless version even makes a great jumper, and could be sewn up in a solid twill as a school uniform.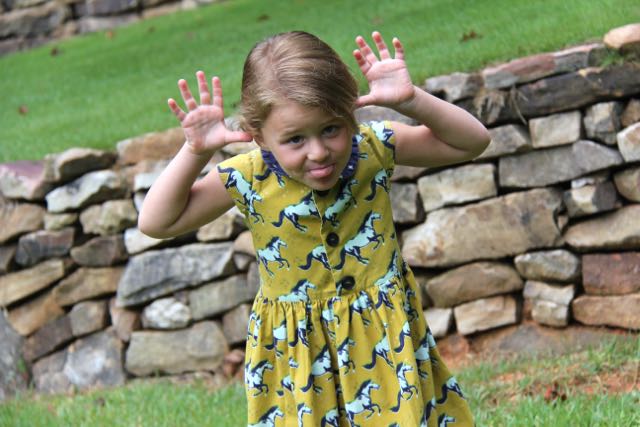 Coming up, I'll share the additional options that I eliminated from the basic pattern–they were too good to just toss away!  So I'll include them as FREE downloads here on the blog after the pattern releases, and showcase some of the versions I've stitched up here at our house.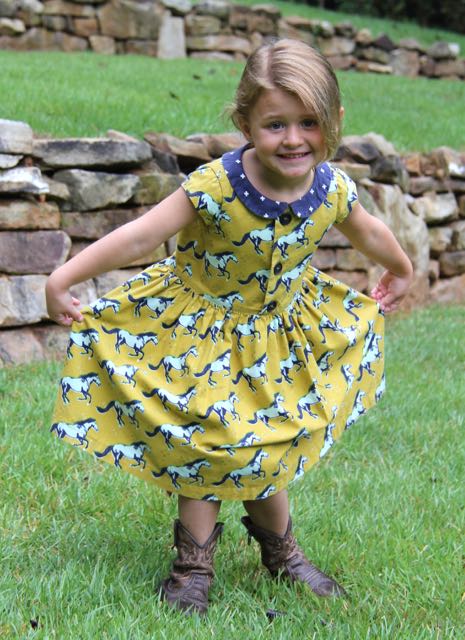 Can't wait to hear what you think!!