In the first grade, when I was six years old, my class did a unit on Ancient Egypt.  I was, as most children are, completely mesmerized.  The story of Howard Carter and his tenacious pursuit of discovery was–and remains, nearly 100 years later–absolutely captivating.  I adored hearing my teacher read, quietly and with appropriate pauses, of those moments when Carter at last, decades after beginning his search, approached the entrance to what he believed to be the greatest tomb in the Egyptian Valley of the Kings.  I held my breath as Carter and his workmen punched a small hole in the plaster to open up a tomb that had been sealed for millennia.  And I gasped when Carter's financial sponsor for his quest asked if he could see anything by the light of the candle he thrust through that opening, and Carter replied, "Yes, wonderful things!"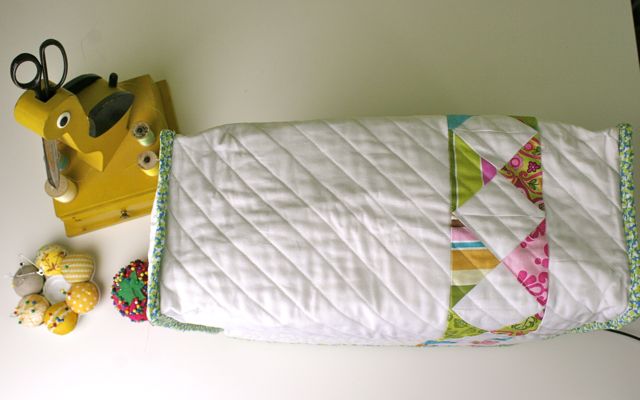 Our copy of the World Book Encyclopedia had a huge entry for Tutankhamun.  It included transparent overleaves, the kind that each had a portion of an image and when you lay them all on top of one another, you can gradually peel away layers by turning the pages.  I could sit for hours, slowly uncovering layer after layer of Tut's sarcophagus, discovering the tiniest treasures tucked inside his burial.  It was like solving a mystery–it WAS solving a mystery.  And I was hooked.
Mystery Lover
I read a lot of mysteries.  A LOT.  And I watch ALL the detective shows.  Poirot, Marple, Jessica Fletcher, Columbo, Psych, Monk, Rosemary & Thyme, Midsomer Murders, Agatha Raisin, Maisie Dobbs, Flavia de Luce, Temperence Brennan, Amelia Peabody–I can't get enough of them.  I prefer the lighter mysteries, something with a sense of humor and not too much dark underbelly.  Agatha Christie even gets a little dark in her later works, to be honest–I want to escape into a puzzle and lose myself in the thrill of the discovery.
That's probably what attracted me to archaeology to begin with.  I love the idea of a new discovery.  And meeting King Tut, the boy king who was probably murdered, just sealed the deal.  I mean, how much cooler can it get than intrigue and mystery in Ancient Egypt?  As I got older, I began to see new layers that fascinated me: how humans have really been the same throughout history, loving and hating and scheming and building; how regardless of time or place or even technology, relationships have always been the driving force behind all human endeavor (even if they were sometimes poisonous or dangerous relationships); and how the more we see people in the past, the more we can see ourselves more clearly.
That's the part of the mysteries I watch and read that I take away with me most.  I love the chase and the discovery, but even more than that, I love the ticking inside individuals, the bits that fit together to make up the whole, and the drama of a mystery story makes that come to the fore.
People Who Sew Love to Put Pieces Together
I feel deeply connected to other people who sew, and a giant factor in that is that you all are My People.  Many of you love the thrill of discovery, you love seeing how the parts fit together to make up the whole, and lots and lots and lots of you are READERS.  Did you know that 76% of Americans have read at least one book in the past 12 months?  That seems like a high number, right?  Until you flip it around: one in four Americans didn't read A SINGLE BOOK LAST YEAR.  And then you hear the real kicker: that's TRIPLE the number of non-readers since 1978.  When I discovered the online sewing community and learned how very many of you love to read–and read a LOT–I was elated.  Readers love other readers, and we love sharing what we read.
And lots of people who sew love mysteries.  I guess it's the puzzle thing again, the way we are accustomed to looking at individual pattern pieces and discovering how they fit into the greater shape of the final project.  There's even a long-standing tradition of the Mystery Quilt, where you don't get to see the top of the puzzle box, so to speak, as you're constructing the blocks.  You see each block in isolation, and only over time does the greater design emerge.  Kind of like a mystery to solve in a book.
Getting the Idea
I keep a notebook of ideas every year.  I jot down brainstorms that come to me so that I can choose the best ones to develop.  At the end of the year, I move the ones I'm most attached to (but haven't yet given life to) into the next year's notebook.   I've had this pet idea for at least four years, and every year it makes the move with me, but I've never gotten around to bringing it to life: what if there was a mystery quilt project that was a REAL MYSTERY?  Where the puzzle to solve wasn't just what the quilt would look like, but also an actual murder to solve–and the QUILT HELPED?
When I launched a survey a couple of months ago and asked if any of you would want to do a mystery quilt project next year (this year!!), and if any of you would be interested in a sewing book club, the response was extraordinary: more than 64% of respondents said yes to both.  Hooray!  I finally had the data I needed to feel confident bringing my Murder Mystery Quilt to life.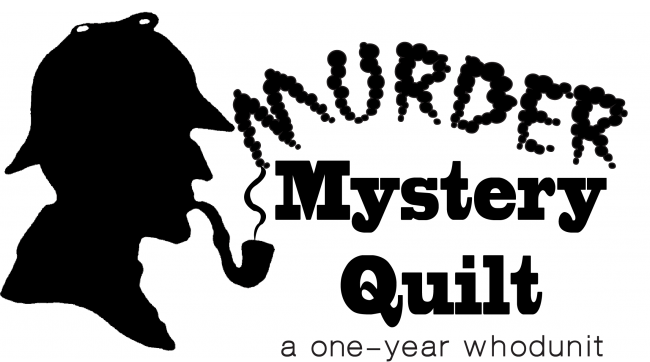 The Murder Mystery Quilt is a monthly subscription club that reads along together and stitches up a quilt to find clues and solve the murder mystery contained in the story.  
Members receive a chapter from a mystery story each month, and a pattern for a quilt block.  The quilt block relates directly to the chapter you've read, and contains an additional clue (or clues!) to help unravel the plot.  There are 12 blocks, one for each month of the year, and every quilter gets one guess as to who the killer is.  All the correct guesses are put in a bucket, and a winner is drawn for a giant prize basket of quilting goodies and fabric!  There's also a second prize for those who complete the quilt top, regardless of whether they made a correct guess, so that everyone has a chance to win–even if you feel more like a Watson than a Holmes.  (After all, Holmes was a little bit of an egomaniac who didn't like to share credit, but it was always Watson who supplied the necessary connections to get to the solution, right?)
A year-long quilting project can seem like one more thing to keep up with.  I think the story alone keeps you motivated–like the original Sherlock Holmes mysteries, this one is a serial and so you're compelled by the characters and the plot to read anew each month.  I've also added a layer of extra motivation: every month, when you complete your block and share your finish to our private Facebook group or on Instagram, you get an ADDITIONAL clue via email to help you find the solution!  That's a total of 12 extra clues that will give you a glimpse of whodunit, on top of the clues in the text and the clues in the quilt.
Along the way, you'll receive monthly emails with encouragement and discussion, and access to our password-protected "classroom" space where you can download chapters, patterns, instructions and little extras (coloring pages! connect-the-dots!) as we go along.  Our private Facebook group gives you a chance to chat with other quilters about this or any other project, and really get connected to community in 2016.  (Pssst!  This is a great project for Sewing Buddies to do together!)
Are you intrigued?  I hope you'll sew along with me!  This project is a dream come true for me, and I have loved, loved, loved every single second I have spent putting it together.  I can't wait to get started.  Come hunt clues in 2016!
Join us!  We need your brainpower and we want to play with you.  Read more about the Murder Mystery Quilt here.  Registration opens next week!  Sign up early, as spots are limited.