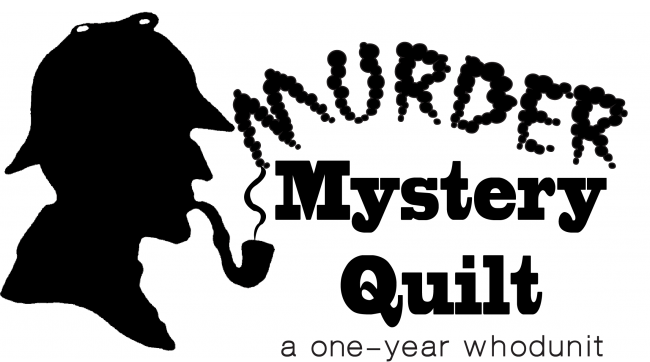 Archaeobotanist Kitty Campbell is looking forward to a weekend in the Appalachain Mountains with her best friend, Amanda.  At the Hike Inn, there are no cars and no roads and no technology, just the peace and quiet of mountain air and the restful views of some of the prettiest country around.  Kitty's knowledge of local plant life means she's right at home in the mountaintop breezes, and ready to relax and get away from the city for a while.
That all changes when a body is discovered, and everyone's a suspect.  Isolated on the mountaintop, with every guest a potential killer, Kitty and Amanda must figure out how to stop a murderer from striking again.  Will her training help or hinder her success in finding the solution––before it's too late?
---
The Murder Mystery Quilt is a monthly subscription club that reads along together and stitches up a quilt to find clues and solve the murder mystery contained in the story.   This is a mystery quilt in the traditional sense–you sew a block each month and the overall design of the quilt isn't revealed until all the blocks are sewn–but it's also a MYSTERY quilt: each month, along with the block pattern and design, you receive a chapter of a mystery story.  Each chapter reveals clues as the plot unfolds, and it's your job to seek out whodunit!  Read more about the origin of the idea for the Murder Mystery Quilt here.
In addition to the chapters holding clues, as any mystery story does, the BLOCKS you're sewing have hidden clues, as well.  So each block you sew gets you closer to learning the identity of the murderer.  Every block you sew and share with us through Instagram or our private Facebook group also earns you an additional clue via email, so you're rewarded every month for completing the block and staying on track to finish the quilt!  The skills included in each block pattern are suitable for anyone from adventurous beginner to seasoned quilter–the instructions are clearly detailed to make it possible for anyone to follow along and learn as they sew, but the designs are interesting enough to keep anyone engaged.  Plus! Clues!!
When you're sure you know who the killer is, you get to guess.  Every correct guess is entered to win a fabulous prize goodie basket of quilting tools and fabrics at the end of the year!  You only get one guess, but for each month before December that you submit your guess, you get an additional entry–so the sooner you know the answer, the more chances you have to win.  But use it wisely! Incorrect guesses don't get entered into the drawing.

This a monthly subscription club.  See below for all the benefits that come along with your membership!  Quilt blocks are suitable for all skill levels from adventurous beginner to seasoned quilter, and come complete with instructions and full-color step-by-step illustrations.  Techniques are clearly explained and may include basic piecing, simple curves, applique, and optional embroidery elements; no block contains multiple techniques.
Included in your monthly subscription:
one chapter a month of a murder mystery for you to solve!
a PDF quilt block pattern, including templates and instructions with full-color step-by-step illustrations for assembly
access to a private, password-protected "classroom" site where chapters, patterns, and instructions are archived for download, and venue for asking questions and sharing ideas with other quilters
private Facebook group for tagging images of your blocks, joining in group discussions, and building community with other sleuths
round-ups of quilting tutorials from around the web, along with resource lists of books, for every technique included in the quilt
monthly email when each chapter and pattern is posted on the second Wednesday of each month
monthly email with ideas, insights, hints and links to resources around the web, on the fourth Wednesday of each month
entry for every correct guess into the Solutions Prize pool, to win a basket of quilting tools and fabric
entry for every completed quilt top into the Finishers Prize pool, to win a prize basket
an additional clue via email for every month you share and tag your completed block
coloring pages, connect-the-dots, and bonus extras for you to download and print!
The story is funny and engaging, the characters are interesting and intriguing, and the mystery is waiting to be solved!  Spend the year with a group of quilters and stitchers who love to see how the puzzle pieces fit together, and challenge yourself to learn whodunit!

Finished quilt measures 45″ x 60″ (crib size) and contains twelve 15″ blocks.  Instructions for two optional borders are included, for a finished size of either 53″ x 68″ (large throw) or 65″ x 80″ (twin sized).  Fabric is not included.
Registration includes a one-time sign-up fee to cover January for members joining Feb 1 or later.  Deadline to join for 2016 is February 29, 2016.  Cancel your membership at any time–there is no minimum commitment!