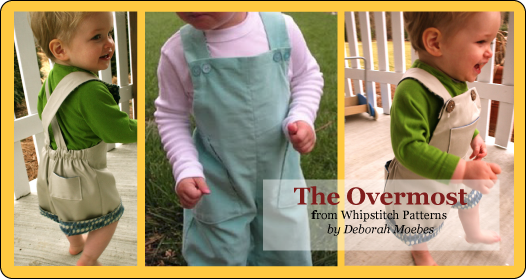 It's finally here!  Now available for purchase is the PDF pattern for the Overmost.  These unisex short overalls are fantastic for this time of year, are quick and easy to stitch up, and flatter every kid who wears them.  Easy to play in and with a great fit that allows them to be worn over a shirt or over nothing at all, I looove this outfit for our boy and our girls!  There's been a huge demand for this pattern ever since I announced it on MADE this spring, and at last it's ready to release–in FIVE sizes, from 12 months to 4T!
Skip over to the patterns page and follow the links to make your purchase online, or go straight to the Overmost description.
Be on the lookout for a GREAT GIVEAWAY after the Fourth of July, too! Any guesses what it'll be??