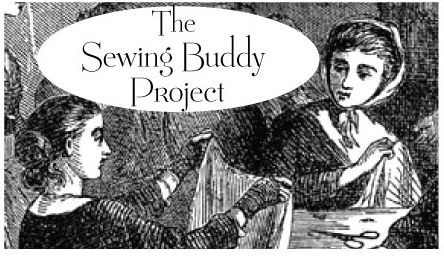 Hello, Sewing Buddies!  I have been typing my little fingers to the bone the past week or so matching up folks from near and far, playing yenta so that stitchers here and there (and sometimes way over there) can connect and share ideas and get inspired and maybe even find the encouragement to make those projects that have been languishing and begging to be sewn.  This is one of my favorite things that I do, and each year it has gotten to be more fun and exciting to see who finds a perfect match and what they do with it!  I've heard from dozens of Sewing Buddies from the past two years who are still going strong, and I am super excited to see where 2012 will take us.
This year, we'll be doing a couple of things that I haven't done in years past.  First and foremost, Sewing Buddies will be eligible to win fabulous prizes by taking part in three quarterly challenges over the course of the remaining months in 2012: one begins TODAY and runs through June; one begins July 1 and runs through September; and one begins October 1 and runs through December.  Each will be different, but each will rely on the shared efforts of Sewing Buddies to win!  (Note: non-Sewing Buddies are more than welcome to participate–that would be awesome!  But only Sewing Buddies are eligible to win prizes.)
Challenge #1
The first challenge begins today.  Hooray!  Sewing Buddies, your task is simple: work together to complete the challenge.  These challenges are all completely optional, and if you and your Buddy determine that you'd like to skip one, no worries!  But what a fun way to win prizes, yes?  By communicating through email or snail mail, coming up with a plan and sharing skills and techniques and ideas, you're sure to stretch your sewing at the same time that you work toward world sewing domination.
The task: Create a boy/girl project using coordinating fabrics in any sewn format you choose. 
The finished project will include TWO sewn pieces: one for a boy and one for a girl (or one for a man and one for a woman, if you prefer a grown-up version).  These can be stitched independently (one Buddy makes one while the other Buddy makes the other) or they can be stitched collaboratively (by shipping the pieces back and forth between you, with one person doing part of the project and the other doing the rest).  "Coordinating fabrics" can be a particular fabric collection, or colors that work together, or fabrics with a particular design theme.  Format can be clothing, quilting, home decor, bags, toys, wall art, embroidery, anything you can think of that involves needle and thread.
For example:
I am currently obsessed with brother/sister outfits, which would be great for this challenge–maybe one of you makes on and the other makes the other?
mini-quilts are spectacular for a challenge like this, and if you wanted, you could ship them between you with one Buddy doing the piecing and the other doing the quilting
a framed embroidery piece is lovely, and an unusual solution to making matching male/female pieces
what about baby toys?  that would work!
Remember, these do NOT have to be for children, though they can be, there is no required size, and this first challenge is specifically designed to be do-able regardless of geography–if you don't want to ship anything to your Buddy, no worries!  The only requirement is that one sewn project is male-centric, and the other is female-centric.  Deadline for all prize-eligible entries is June 15, 2012.
I know you'll do awesome things, and I can't wait to see them.  Y'all should have all received your Sewing Buddy introductions by now, so use these next few days to cogitate and come up with a plan that suits you both!  In two weeks, I'll set up a Flickr group for Sewing Buddies to which you can upload your photos as you get to know one another better.  In the meantime, be on the lookout for Sewing Buddy emails and periodic blog posts with tips and treats just for you!
I am REALLY excited about spending 2012 with all of you–nearly 175 Buddies this year!  Let's get sewing, y'all.