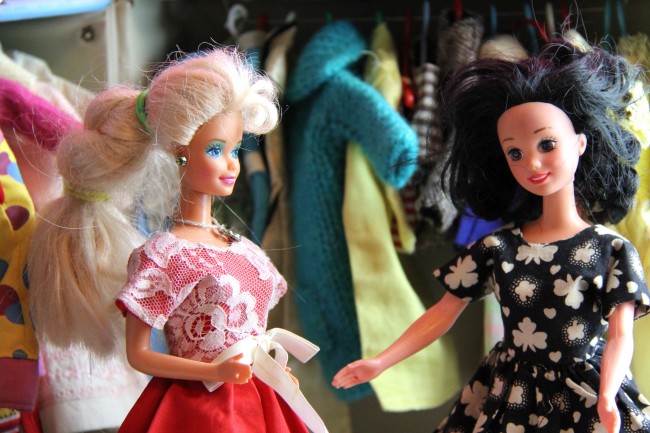 Two years ago, I went on a mission at Christmas: a vintage Barbie holiday for our 7-year-old.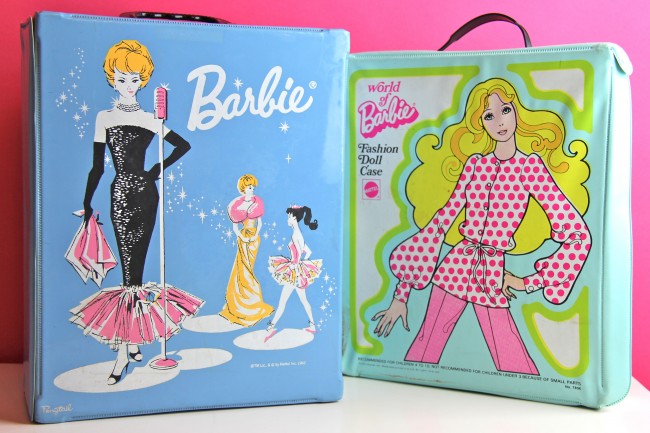 I was especially focused on the carrying cases, honestly.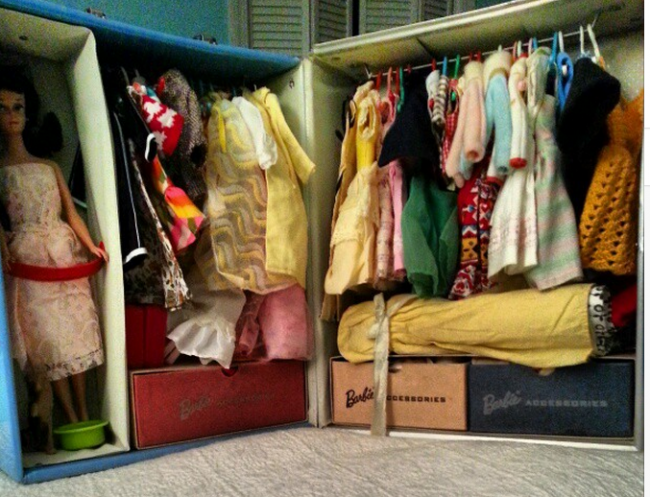 When I was little and we'd go visit my grandmother, she would permit us to play with the Barbie clothes HER mother had sewed for MY mother (and her sister).  They were in these amazing carrying cases, complete with cardboard drawers and tiny, tiny hangers for each garment.  Oh, how I loved those hangers!
I confess that I didn't so much "play" with Barbie as "organize her closet."  That was the fun part for me, putting all the dresses and blouses and skirts on the hangers and organizing them on the racks.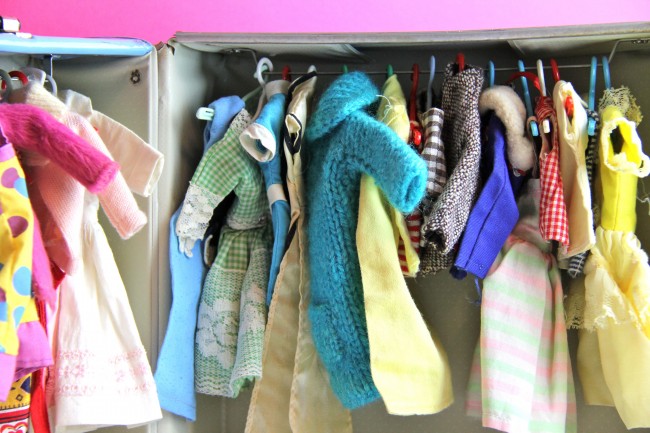 I have such happy, happy memories of all those clothes, with their tiny buttons and tiny snaps and teensy seams and perfect, perfect smallness.  I wanted to offer that to our daughter, as well–since the clothes I played with as a child, which would have been absolute heirlooms today, were lost somewhere along the way between moves and my grandparents growing older, and maybe would have been too precious to allow children to actually PLAY with today, anyway.  Isn't that a tragedy?  Doll clothes too nice to let children pretend with?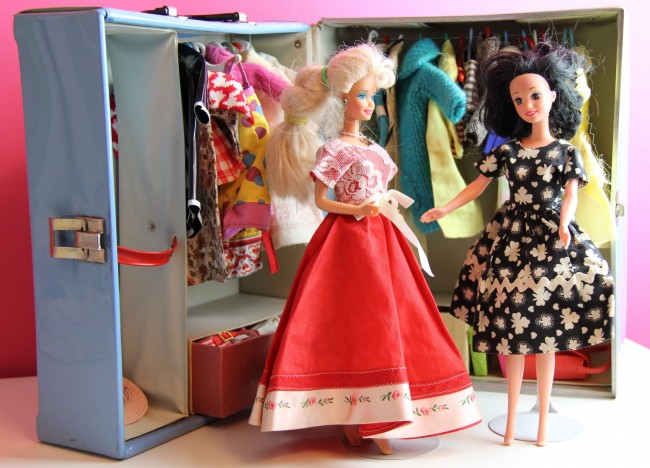 Turns out, Barbie clothes are super, super collectible.  Which I think I knew on some level, but not to the degree that I discovered while putting the gift together.  What I learned, though, fascinated me: the tagged Barbie clothes, produced by Mattel, are all catalogued and collectible and highly sought-after by folks who love All Things Barbie.  But the handmade clothes?  The ones made scrap by scrap by someone's grandmother as a sacrificial act of love and devotion for a child to play with?  Those seem to have very little value at all, and can be bought by the lot on eBay for ten to thirty dollars a gallon.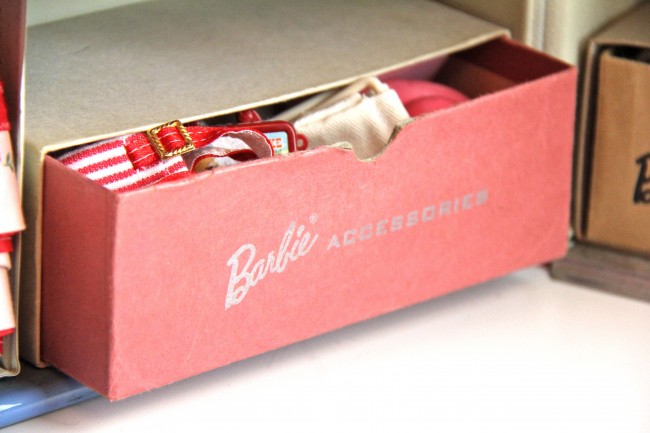 Lucky for me, those are exactly the Barbie clothes I most wanted!  The ones that were of primary interest to me were the ones that were made with bits of lace and leftover fabric and unfinished seams and no tags at all.  They fascinate me, and I knew that not only would they be fun to play with for our daughter, but that they'd be fulfilling their purpose in this world by coming into a little girl's home.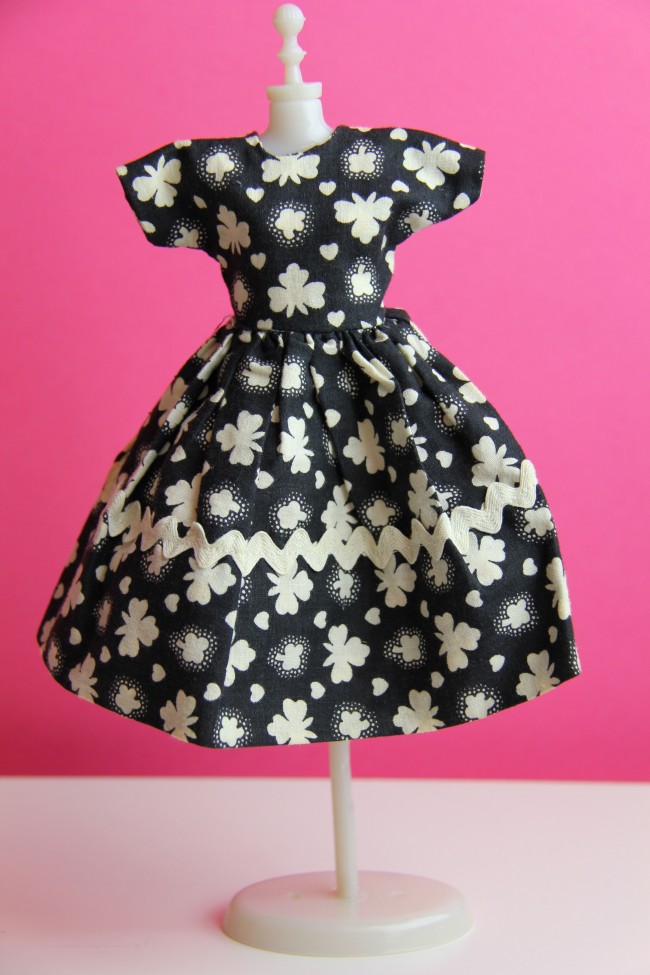 So I bought.  Giant lots, big bags.  Some of them were…not up to snuff, let's say.  All of them had that odd thrift-store smell to them.  And some of them…  Some of them were heavenly.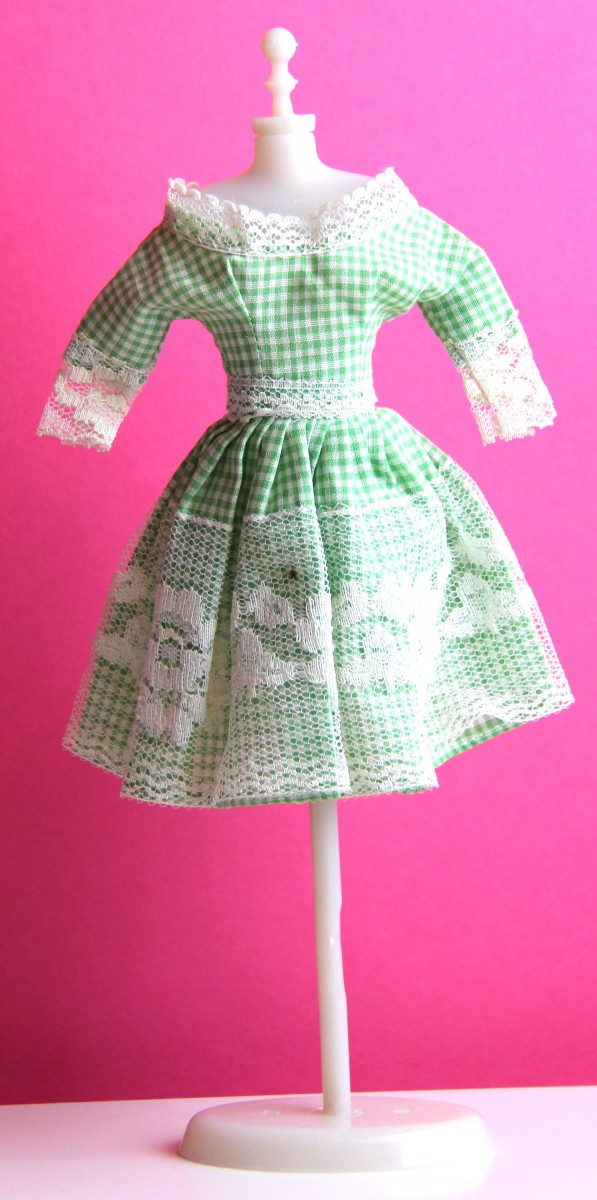 It's their hand-made-ness that I love the most.  Their stains, their imperfections.  These were made by someone who wanted to take the time to stitch teensy stitches just to see the joy on a little girl's face.  And let's be honest: our Barbies aren't so pristine, either.  And no one cares even a little bit at our house.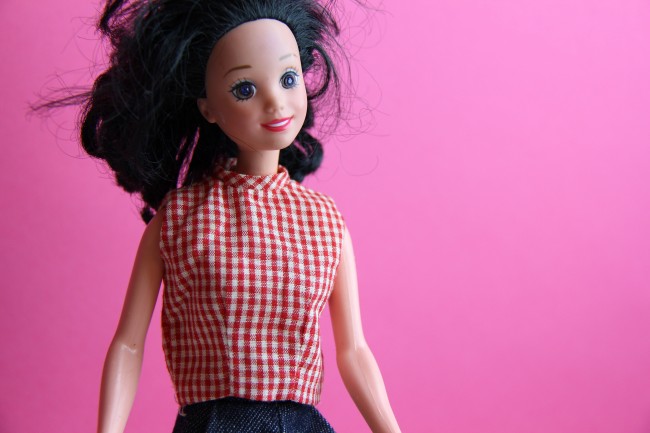 There are the teensiest little blouses, and sweet little cropped pants.  You can tell that these clothes were made over the space of decades, mostly in the 60s and 70s, but a few in the 80s, as well.  With such careful details–bust darts and itty bitty collars and hand-sewn snaps.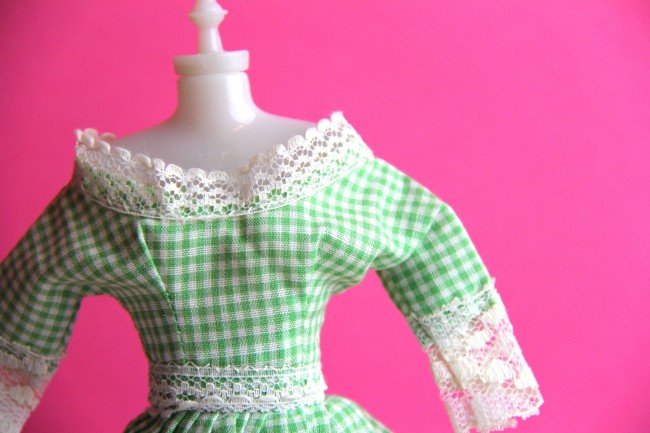 They have trim and lace and button details on them that I can't even imagine.  But they take so little of each, I have to guess that most of them were made from sewing room scraps.  Something about that makes it EVEN BETTER to me.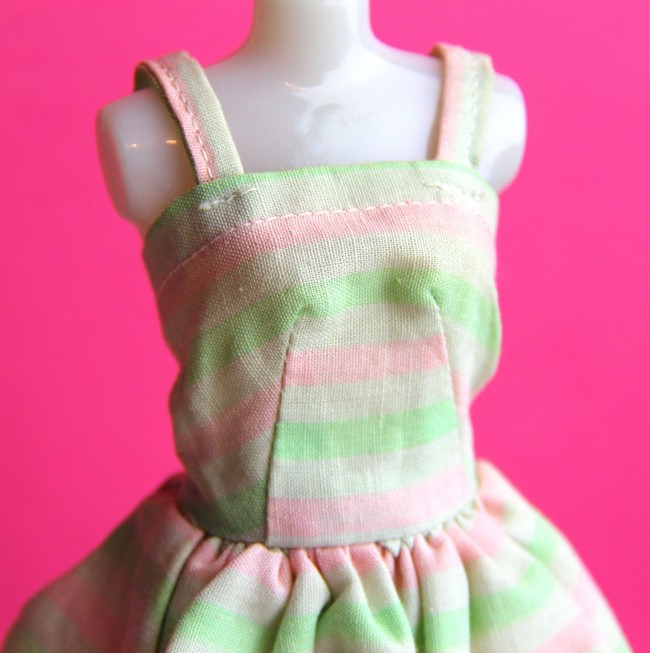 A lot of them are made so, so carefully–and others are a little amateurish.  I can't say in complete honesty that I love those the most.  I really appreciate good craftsmanship, after all.  But there is a great deal of charm in those little spots where a few handstitches were the only way to make it work.  Tim Gunn would be proud.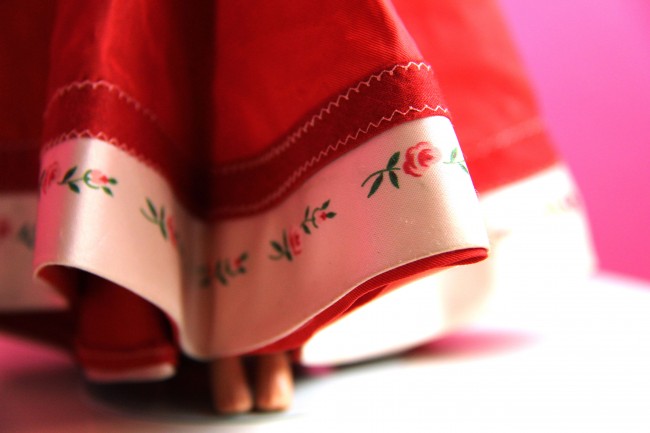 Occasionally, I see a great idea applied on a small scale, like using ribbon to hem a full skirt.  Or accenting with tiny zigzags at the edge of trims.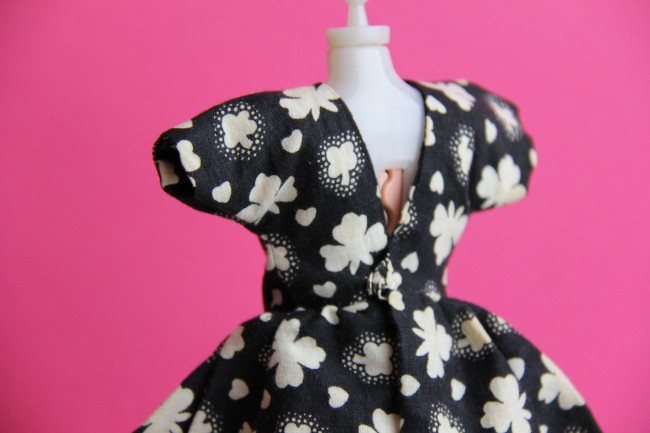 The back neckline of this fabulous one with the black-and-white print and the kimono sleeves even found its way into one of my pattern designs!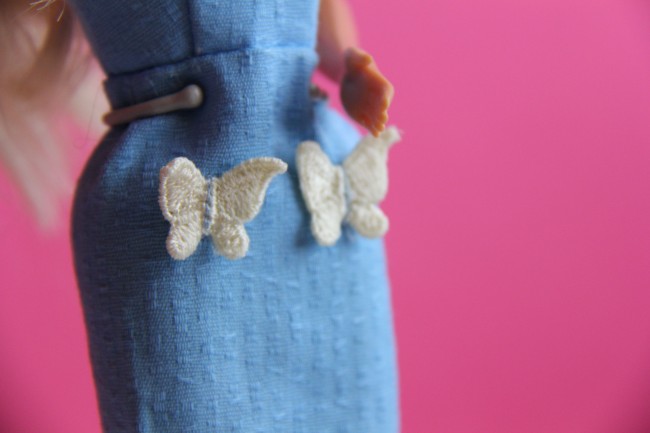 There are even KNITS!  Someone used the smallest needles you can think of to KNIT something for Barbie.  Can you even dream of such a thing??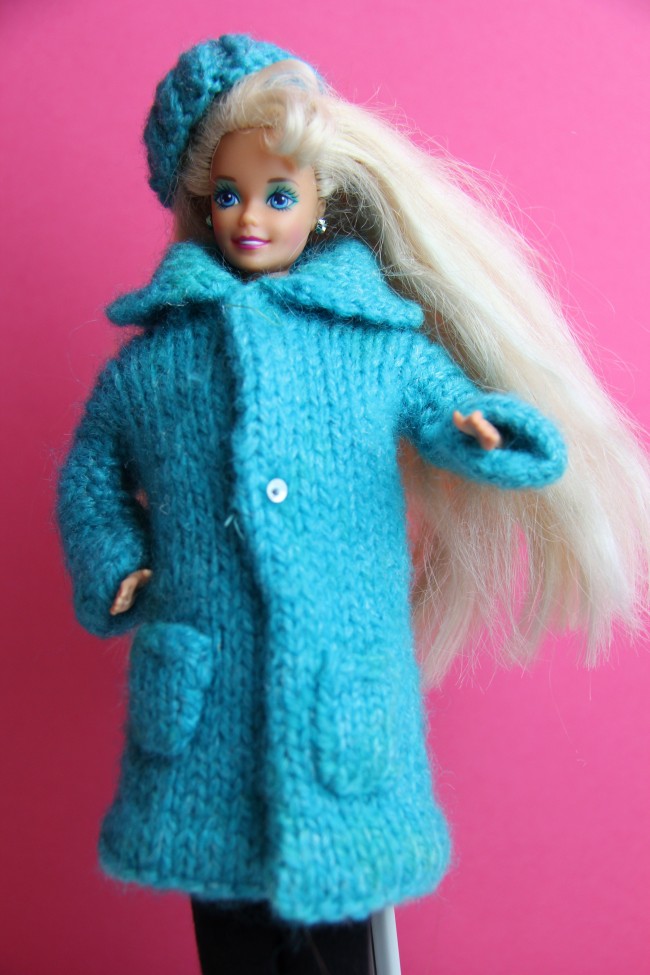 Each stitch is so tiny, and they're finished as if these are real clothes.  Which they are, just…for a toy.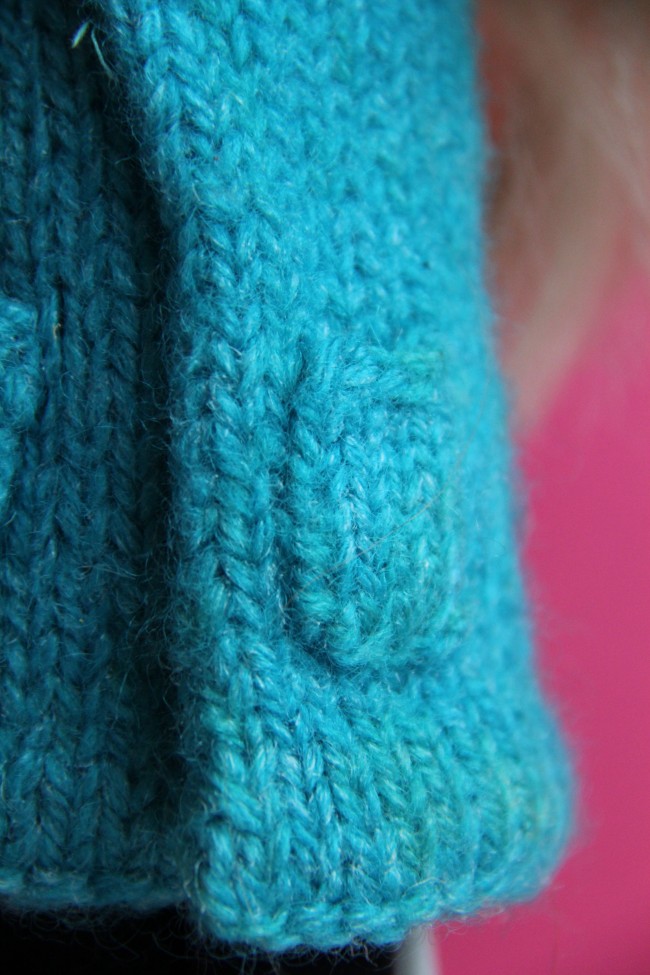 Not all the pieces I collected (or scored, depending on how you look at it) are for Barbie, of course.  There are some for Skipper, and others for the bevy of non-Barbie ladies who are nearly the same proportions.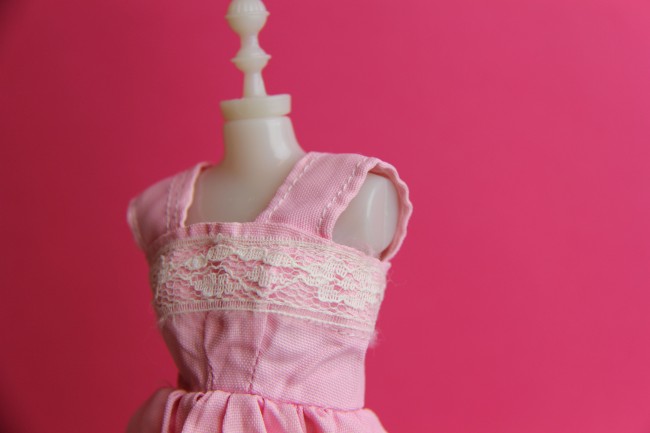 Genuinely the ONLY disappointment of the entire endeavor has been the rare occasion when a garment won't fit a particular doll. The Belle (of Beast fame) doll we have isn't quite the same measurements of Barbie, and it always bums the youngest out when she can't get a dress on her or make her feet fit in the tiny shoes.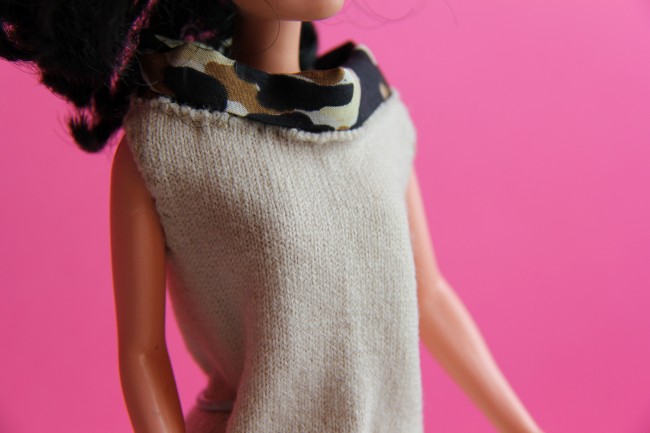 The other day, we were having a super rough afternoon.  Everyone came home so grumpy, and the kids were snipping, snipping, snipping at one another.  Out of nowhere, I asked the youngest if she wanted to play Barbies.  She replied, "Will you play with me?"  Uh, YES.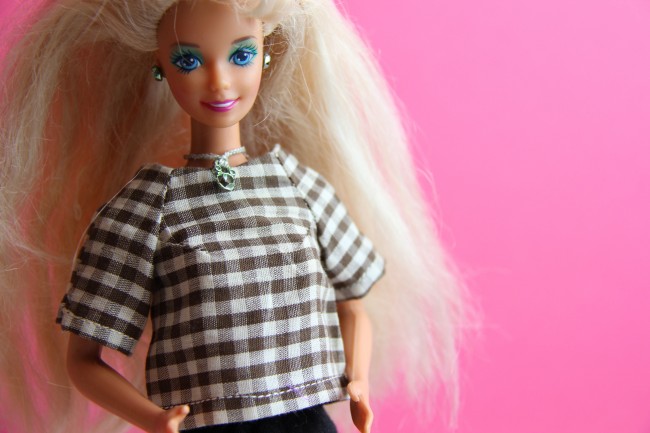 Next thing I know, all of us–the two girls and our son and I–are all on the floor of the girls' room, jammed up against the dresser drawers, dressing and organizing and searching for hangers and trying on tiny shoes.  And it was so fun, fun to see them re-discover these tiny treasures.  Exciting to show them how to operate the itty buttons.  And affirming to know that these things are meant to played with and loved–and they are.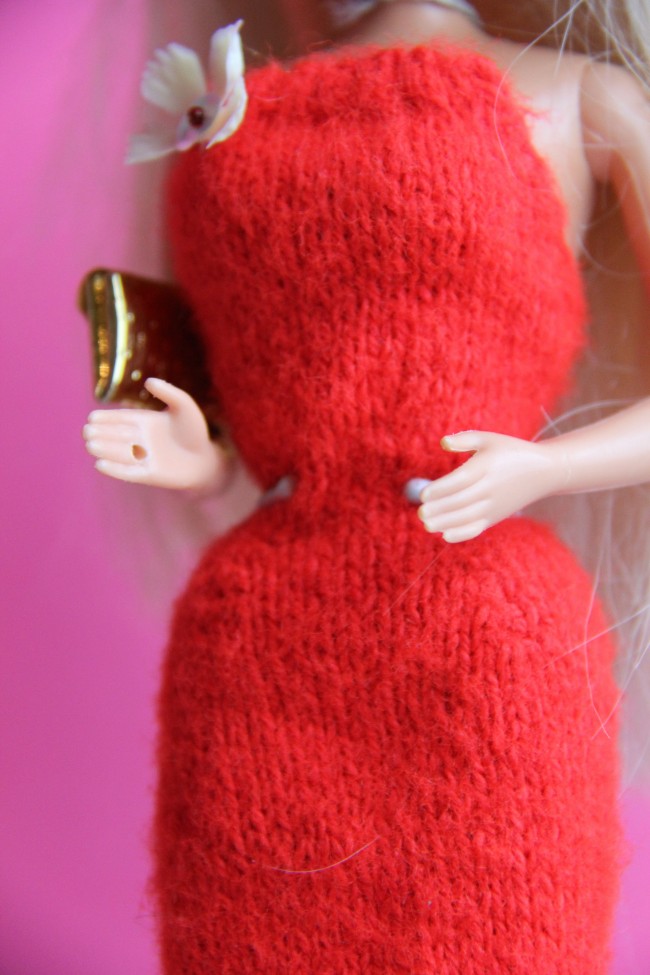 If you ever have a moment where you think, "Does sewing even matter? Does what I make at my machine MATTER?"  The answer is YES, in so many ways you may not even know.  Your stitches may survive you and your family and yard sales and eBay and storage lockers to someday land in the hands of a family who desperately needed exactly what you were making just to make it through the day.
Keep sewing.  Just keep sewing.