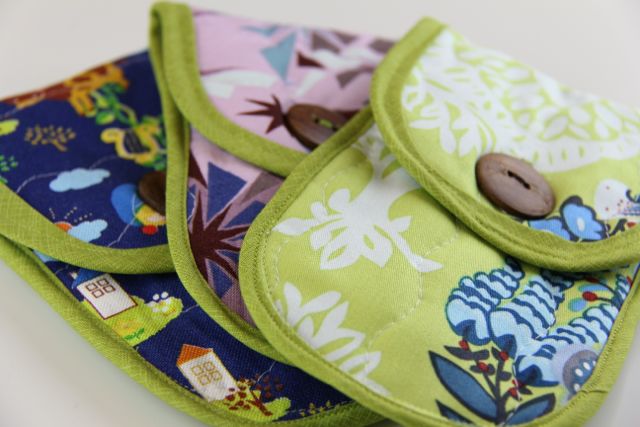 Before heading off to Camp Stitchalot, I wanted to do something nice for all the campers.  Since this particular camp session didn't include formal workshops, I wanted to make doubly extra sure that every camper there was remembered and felt special, and that I'd made an effort to get to know them all individually–it matters so much to me that people love sewing and find joy in it, and over time I have come to see that connecting with one another is the surest way to bring more happiness to your craft.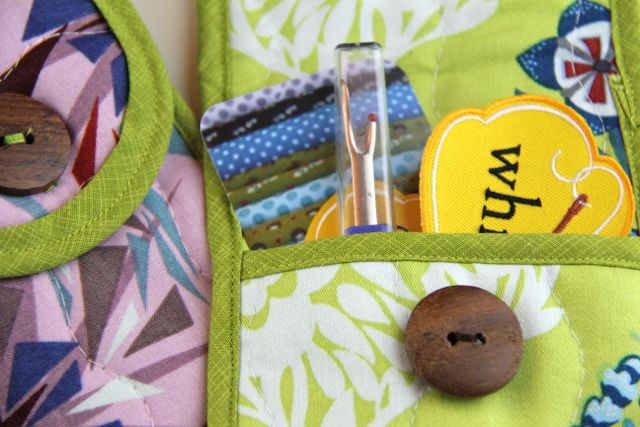 So: something sweetly handmade for each camper. Now, I admit that I didn't fully process that there would be FORTY campers.  I added in another six gifties for the instructors and for Brenda and Rossie, who did all the heavy lifting in organizing camp for the rest of us.  That's a lot of last-minute sewing–because, naturally, while I had thought to make gifts weeks and weeks ago, it wasn't until the last few days prior to leaving that I finally made the time to sit down and DO the sewing.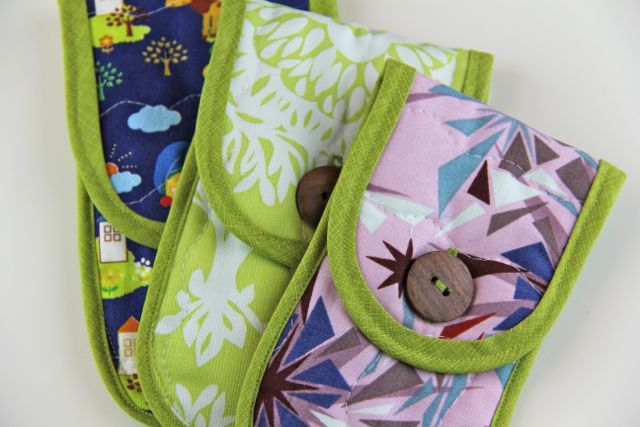 The result is these sweet little pouches.  I equipped them with sewing supplies and some Whipstitch goodies, but very deliberately sized them to work equally well as a glasses case or for "personal care" products for the ladies, if you catch my drift–always nice to be subtle where those are concerned, and keep them from bouncing about too much in one's handbag (that applies to sewing supplies and glasses equally well, of course).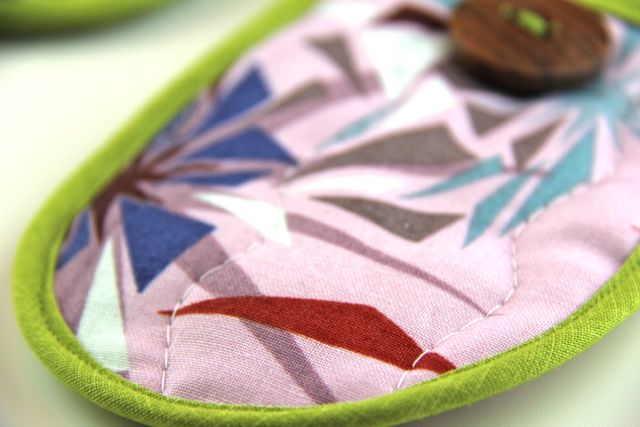 The fabric were all pre-quilted–I made sandwiches of a fat quarter plus batting plus another fat quarter of a coordinating fabric, so the exterior of each pouch is different from the interior (for most of them–I did make 40, after all, so they're all a little different).  I struggled and struggled for what fabric to use for each as bias binding, but ended up using the same for every fabric I chose: this lovely Robert Kaufman Quilter's Linen in chartreuse.  It had all the right qualities: it matched or complemented every fabric I chose; I have an entire bolt of it; and it's one of my very favorite colors.  In fact, it's a dead match for my go-to thread, Guterman 712, with which I have on on-going love affair, since it is the perfect thread choice for approximately 72% of my sewing projects (white is appropriate for another 21%, which means I rarely need an odd color of thread).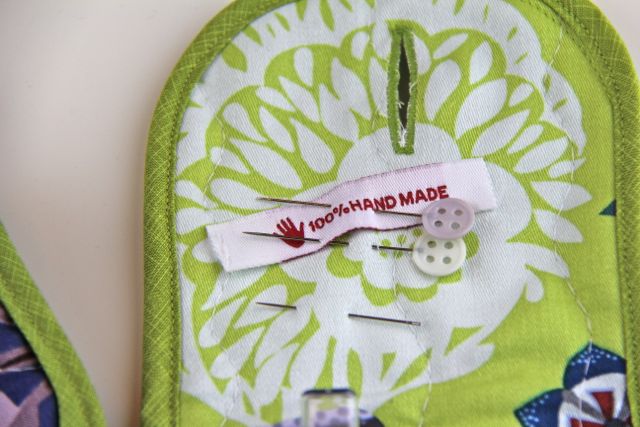 I also used the same buttons for every pouch–a lovely 1″ coconut number I brought back from Hawaii–and added buttonholes to the flap on every pouch.  I thought long and hard about using Velcro, instead, but I really thought the buttonholes were nicer, you know?  Classy like.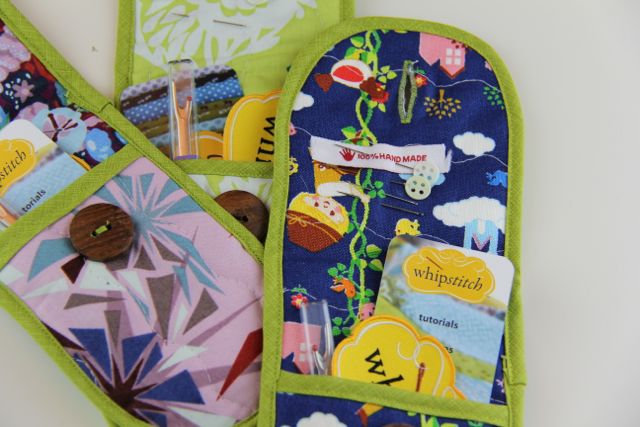 By no means do I argue that this is my very best sewing.  I MADE FORTY, Y'ALL.  Some of the stitches are riiiight on the edge of the bias tape, and some of the ends where the tape overlaps along the side are imperfectly lined up.  But I think the end result is pretty great: they're a really good size, and I filled them with lots of goodies for folks at Camp.  Everyone got a Whipstitch patch, and a bookmark, and a new seam ripper (those got a serious workout, I can tell you), along with a garment tag, some sweet little pins with button heads, and a hand-sewing needle. They were such fun to giveaway, and I actually ended up with extras, so a few folks who bought tons from my IG destash got one in their packages, too!
Another simple but satisfying gift project to have on hand!