Back when we flew to New York and visited Mood Fabrics, I promised my husband I would sew him a linen sport coat for summer.  At the time, it seemed like one of those ambitious-but-not-too-ambitious projects that I could shoot for, maybe stretch my skills and comfort zone, but that I could totally finish.  You know, like the all-yellow quilt.  Which took me three years (ish) to get going.  So I am going to call this one a WIN: I am totally starting in on this sport coat.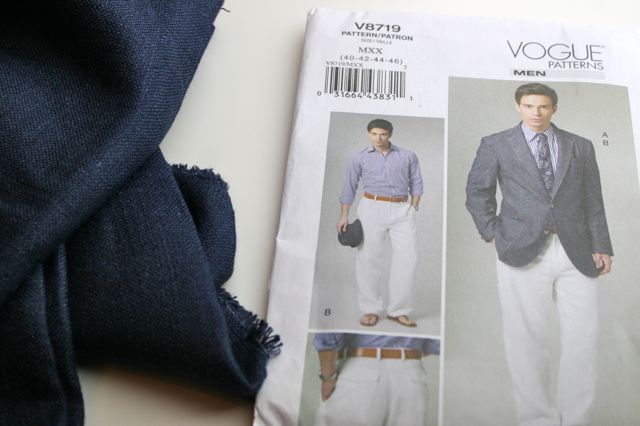 He still doesn't believe me.  Even when I brought out the pattern and the fabric, and started telling him about making a muslin (I called it a "trial run" for his benefit–no need to get into definitions at this stage), I suspect he still was nodding and agreeing, and was pretty sure he'd never see this coat finished.  At one point, he almost let himself believe, but then he said, "But it's September!  Won't I have to wait until next summer to even wear it?"  My explanation that the weather in Atlanta is bound to be steamy for at least another nine weeks served only to convince him it would take a minimum of 12 weeks before I got this thing done.
I am aiming to pleasantly surprise this man of mine, and get this jacket finished by the end of the month.  You can totally wear an unlined navy linen sport coat in late September in the South, y'all.
Primary in-the-trenches motivation that keeps me from freezing with indecision, the kind that makes a project languish un-sewn?  Blue steel, people.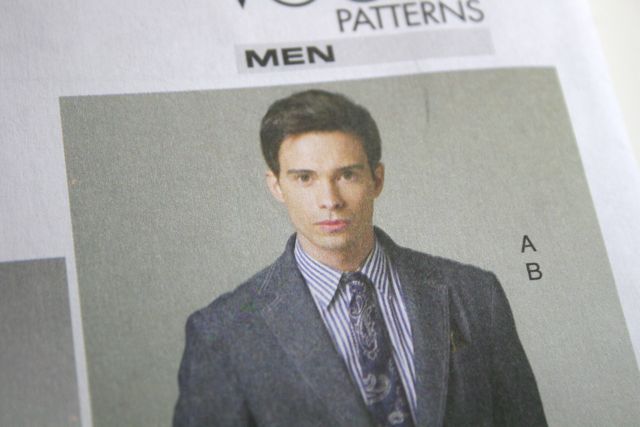 I mean, for REALS.  I chose this pattern because it has a two-part sleeve and enough shaping (through front and back waist darts) that I could adjust the fit and get a more slender, European cut for my man–but there is no denying that the Zoolander-ness of the model on the cover is providing some background entertainment.  Plus, this guy already mastered the Magnum: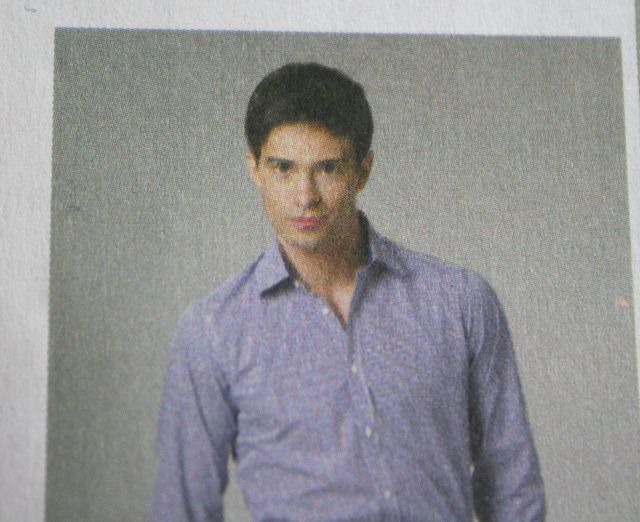 This is what I'm saying.
As added incentive, I'll be sharing this whole process step-by-step with you all, in what looks like it will be a nine-part blog series.  Care to follow along?  There will be continuous bias tape binding the interior seams, a lined sleeve, patch pockets on the inside and outside, and some lovely faux-tortoiseshell buttons to finish it off.  If I can survive the unraveling of the linen and the multiple fittings with my husband–and honor his request that we skip the shoulder pads–then I'm going to need some moral support.
Series Installments:
Pattern Adjustments
Fabric Selection and Design Options
Transferring the Adjustments & Cutting the Fabric
Constructing the Jacket
I'm cutting the muslin today and taking photos as I go.  I've made men's shirts before, but this is my first men's jacket–and considering I once told my husband I wouldn't be making him a suit because "do I look like a tiny Italian man?", I feel like I'm venturing into a whole new territory–in a good way.  The Blue Steel is keeping things exciting.
Anyone else ever sew anything for your man?  How'd that go??  Throw some supportive stories at me, you guys!