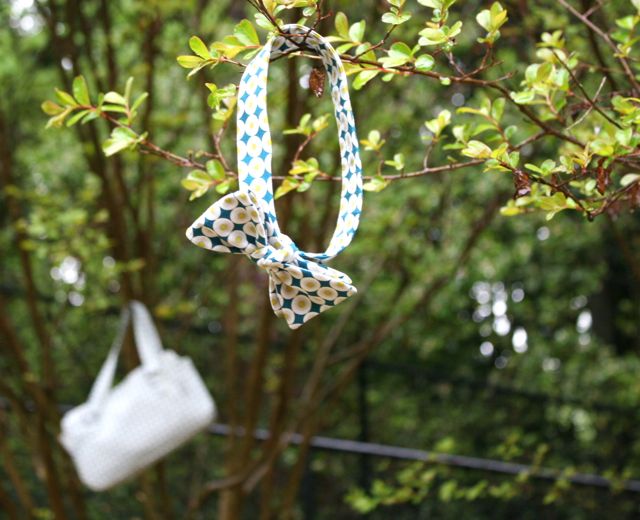 The last few days, I've been playing with microMod from Rob Bancroft of Green Bee Patterns & Design!  Alexia and Rob have such a cool thing going over there: husband and wife, along with her mom, all running their own design company and putting out not just a whole mess of great sewing patterns, but also making this gorgeous fabric!  MicroMod is an all-organic line from Cloud9, and it is dreeeeeaaaamy.

I love the idea of a His-and-Hers Sew-Along.  I loved thinking about how I would use this fabric and what ways there are to do a non-gag him-n-her project.  I knew I wanted one of the Everyday Handbags in MicroMod–because it feels so mid-century and delicious and just right for the shapes.  Today's bag is very Audrey (not on purpose, maybe that's just where my head has been these past few months) and I wanted something that would play nicely with an Audrey-style bag, but for him.  A wallet?  A pocket square?  A bow tie!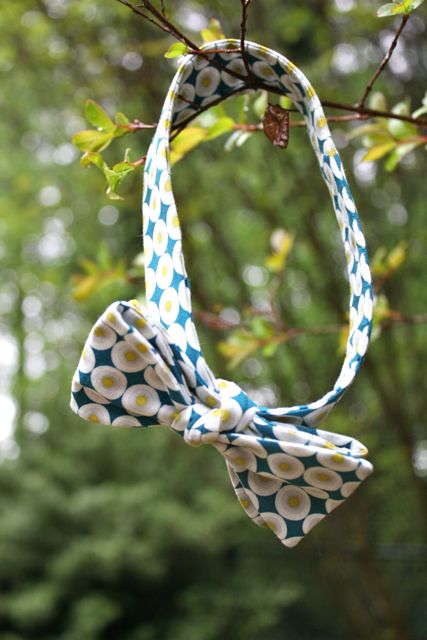 Both of these projects are sewn out of the Vertigo print in teal, from the microMod line.  A fabulous handbag and a sassy bow tie make me think of a night on the town, but this fabric doesn't feel like a nightclub or a dark restaurant to me–more like a grand day strolling the park, hand in hand, or a cafe on the sidewalk, enjoying the fresh afternoon breeze.  Can't you feel it, y'all?  Don't you want a teensy dog to walk while you swing this bag and his hand, so you can glance over and see him smiling above his rockin' bow tie?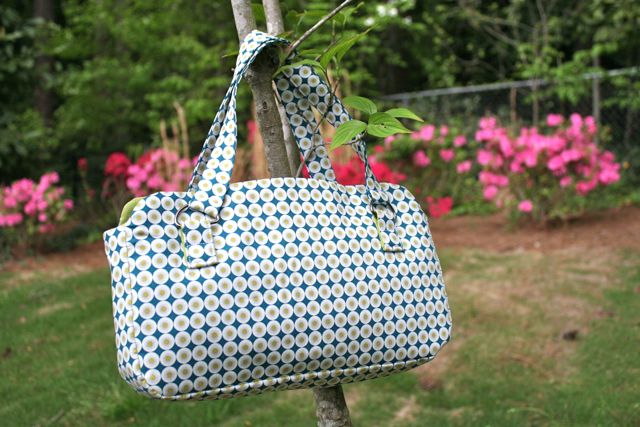 This final handbag from the Everyday Handbags class has sweet rounded corners and straps attached to the sides of the bag with hardware.  A magnetic snap holds your goodies inside, and two interior pockets keep everything sorted.  It's large enough for a day bag, but tidy enough for dates.  Day-time dates.  Lunch dates.  Dog-walking dates.  The kinds of dates people go on when they have lives that aren't rushed or over-scheduled, where they can meet for an hour in the afternoon and enjoy one another's company for the pleasure of the relationship and the memory.  The kind of life I think most of us most want to have.  And doesn't the fabric feel like that to you?  It totally does to me.  This print (you can get it from Hawthorne Threads or Pink Chalk Fabrics) is modern and clean and whimsical and joyful, all at the same time.  I just love it.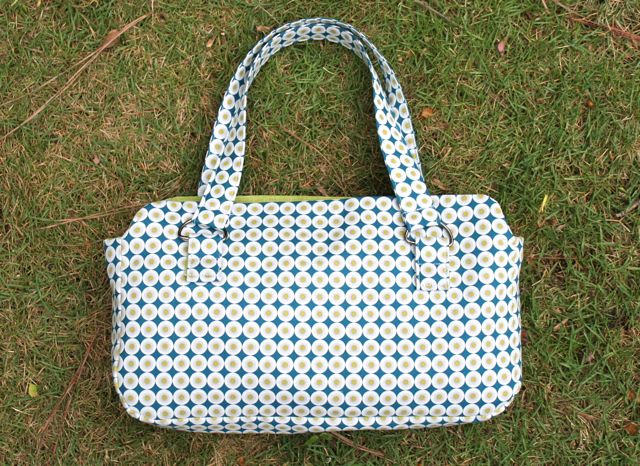 Measuring 13″ x 8″ plus straps, this bag is such a great size (if I do say so myself, and I do).  I love a handbag that I can tuck under my arm and carry but that I can also dangle from my hand like in the movies (Audrey again!) or those sophisticated ladies on a Paris street.  This one has just the right structure and stiffness for that, but the organic cotton of the microMod–dude!  It has such a soft hand and a smooth touch, almost like poplin in its smoothness.  It's a delight, and makes the bag feel and look much more expensive and professionally made than it really is.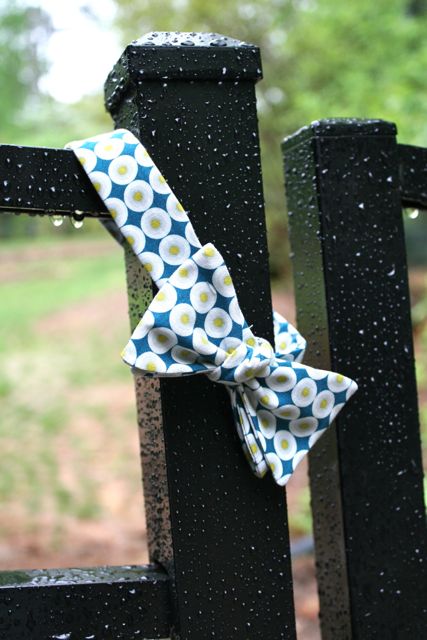 Same goes for the bow tie: my husband's other bow tie is black satin (naturally).  This one rivals that in how smooth and crisp the fabric is.  Seriously, I loved sewing with it, and the bow tie itself was a snap to put together.  I used a template from the Seasoned Homemaker (although I'll say that one of her comments pointed out this is a little on the small side, and I agree–I would lengthen a bit if I made it again), and it went together in under 30 minutes.  For reals.  Hint: trim your seam allowances down before you turn right side out and it'll go much more quickly!
The Everyday Handbags class begins April 29 and there are still spots left!  See all the info and register right here.
The His and Hers Sew-Along is in full swing, and there are a TON of great projects to see!  Follow along and at the end of April you can enter to win an amazing grand prize: A fat quarter stack of microMod by Rob Bancroft from Cloud9 fabrics, the entire Green Bee Patterns collection, a microMod sewing bag, and a Singer Heavy Duty Sewing Machine! (Open to contiguous US residents only.)  Check out the full list of folks participating:
April 6 – Rachael at Imagine Gnats
April 8 – Heather at alamode
April 10 – Holly at Bijou lovely
April 13 – Alexia, Michelle & Rob Green Bee 
April 17 – Faith at Fresh Lemons
April 18 – Katie at Swim Bike Quilt
April 19 – Deborah at Whipstitch
April 20 – Jacey at Jaceycraft
April 22 – Krista at Krista Withers Quilting
April 24 – Jenny at the Southern Institute
April 25 – Amy from sukie don't ya know
April 27 – Sara from Sew Sweetness
April 29 – Katy from I'm a Ginger Monkey
April 30 – Amber from One Shabby Chick
May 1 – Alexia, Michelle & Rob Green Bee GRAND PRIZE