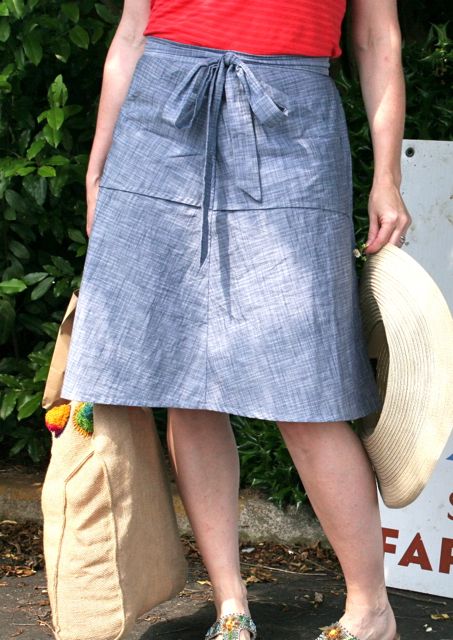 I finally made the time last week to sew up the Miette Skirt by Tilly of Tilly and the Buttons.  I downloaded and printed the pattern ages ago, but you know how it goes with PDFs–you kinda forget you have them, and then you'll think about them and wonder where on earth on your hard drive that particular pattern might possibly be stored, and by the time you track it down, you're too pooped to sew.  I'm working on that.
For now, I've started by going ahead and printing the patterns I have on PDF that I feel the most strongly about–this one, the bucket hat for our kids this summer from Little Things to Sew, and the Louisa Dress from Compagnie M–so that they're right THERE on my work table where I will have them in my FACE.  (I'm also trying to take Rae's genius suggestion and actually create a folder on my desktop labeled "other people's patterns" where I can directly download all those PDFs so they never go missing, but at this point, moving all those files is a major undertaking, so it's slow going.)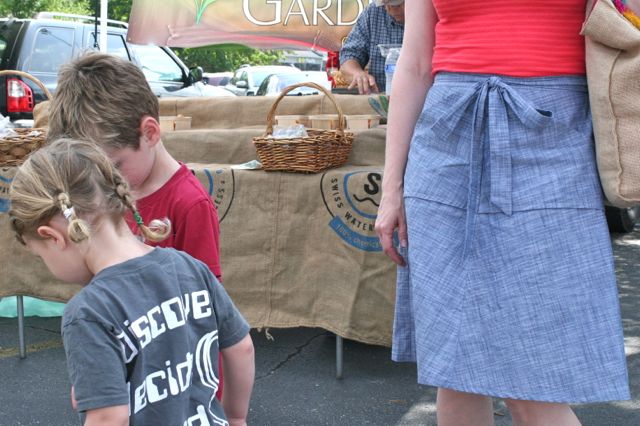 I started all this intentional-printing-and-sewing with the Cappuccino Dress, and then I printed and sewed up the Bianca.  One garment at a time, I'm printing and assembling and tracing and storing away patterns that, one by one, I am sure to make again, simply because they've all turned out so wonderfully (no jinx!).
This time, it's the Miette Skirt.  It wasn't until I tried it on that I realized what it reminds me of: the Carport Skirt from Stitch by Stitch.  Ha!  My own pattern and I haven't worn it in ages.  The Miette is similar in its 1970s vibe and easy-wear attitude, but is the reverse of the Carport style: that skirt was cut on the fold at the back and wrapped around to the front to be tied at the side, and this one has a seam center front and wraps fully around the back–it also ties at the front, but with larger overlapping panels.  I still love the Carport Skirt, but quite frankly, found that the Miette has more coverage–and since I'm five (!!) years older than I was when I designed the patterns for Stitch By Stitch, I find that I (ahem) appreciate the extra fabric in back.  Sigh.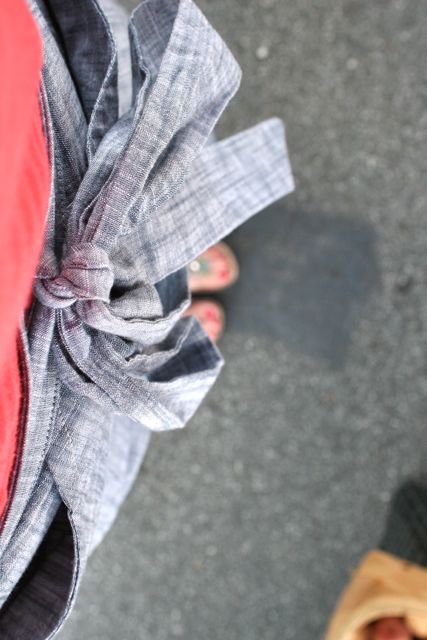 The front ties on this are probably my favorite part.  Just the right length for a really good floppy bow, and the choice to center or offset it when you tie it in the front.  Plus, because this is a wrap skirt that puts the tie through a gap in the waistband (constructed with an opening left in the side seam, which is less finished than a buttonhole, but then doesn't require you to make a buttonhole, so take your pick–you can see it below, on the waistband by my thumb), you've got lots of margin (hey!) for your waistline.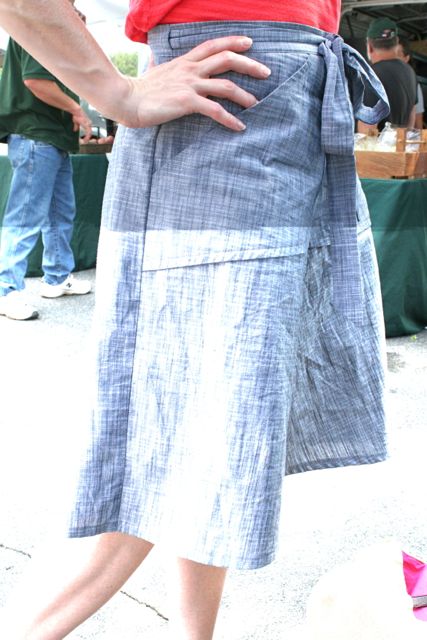 The bow does require that you wear the skirt with a shirt tucked in–I just don't see how you could style this with shirttails out and not look like you're smuggling produce.  But I suspect that an autumn or winter version with a snazzy short jacket over it would be super fetch.  Like, can't you totally imagine this silhouette in a printed baby-wale corduroy??  Yeah, you can.
Speaking of produce, we took these photos on a blisteringly hot and sunny morning at the farmer's market–and my brilliantly un-sun damaged skin reflected most of that light right back on the camera lens.  Of the 140 photos we shot, only these five were actually usable without causing retinal damage, so you'll have to forgive the lack of full-length shots and just take my word that the skirt is totally darling with a shirt tucked in. The length of the skirt, for example, is DEAD ON at the knee on me, and very flattering when swished, if I do say so myself.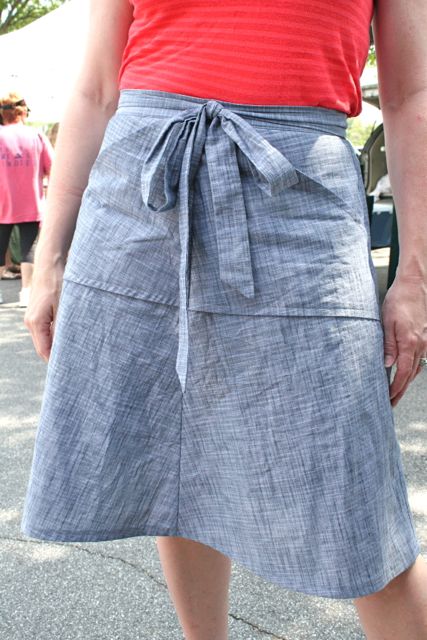 The center front seam allows for the giant pockets, which I would never have considered leaving off.  And what is it about this style that inspires so many of us to make it out of chambray or denim??  Is it that we remember our mothers wearing nearly this exact same skirt 40 years ago?  Possibly.  This Robert Kaufman Chambray Union Crossweave is DREEEEEAMY and was every bit as easy to sew with as it is to wear (I got mine from Pink Chalk Fabrics).  I love, love, love it with the shape and styling of this skirt–see the wrinkles?  I literally wore it three days in a row, and would have done it again except the ungodly heat of this day (it was a solid 95 degrees by the time we left the market) made me sweat like nobody's business (overshare?), and this little sweetie was due for a wash.
All my seam allowances were serged–I considered a French seam, but in the end decided against it considering the bulk of the pockets added in.  Were I to make it without the pockets (again: why would you do that?!?), I would almost certainly do French seams, since I love how clean that makes a simple skirt like this.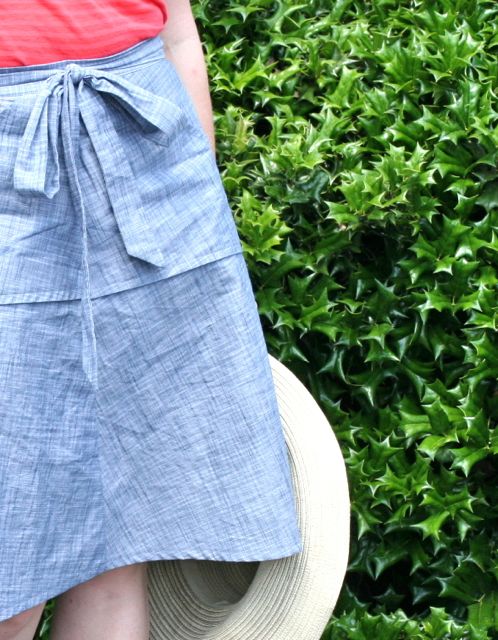 I thought the instructions were very succinct but confess that I didn't follow any of the tutorial on Tilly's blog–I skipped straight to the "cheat sheet" included in the pattern, which was a nice feature for folks who just want to get going.  The skirt went together in less than two hours, not including cutting (which I did on a separate night), and totally goes with everything in my closet!  Now I'm considering which of my loud prints might actually work here–or if I need another version in a nice, classic white linen.  Hmmmm…