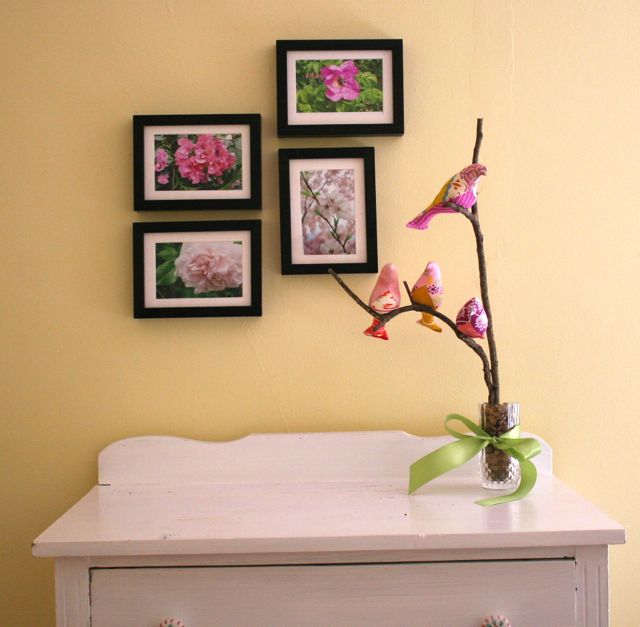 I went to a baby shower recently, and as is my apparent habit, liked the gift I gave so much that I came back home and made another for our house!  This was a sweet little bird arrangement that was originally designed as a mobile, but I think it has so much more versatility on the dresser as decor, don't you?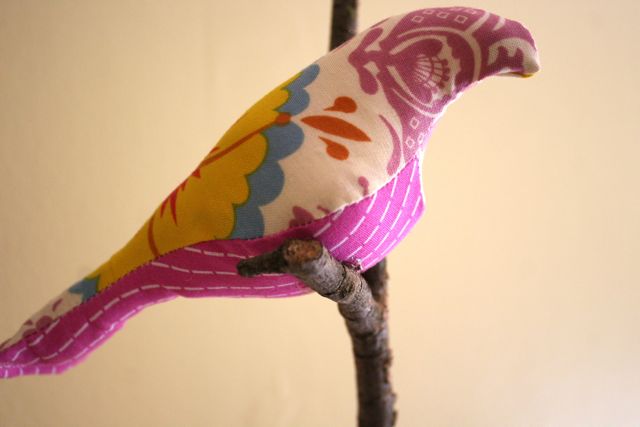 Each bird is made of small scraps from my scrap basket, then stuffed and stitched shut.  They don't take much time to sew, but choosing the fabrics to put together, and combining lots of fabrics for a miniature flock, was harder than I would have thought.  Our little girls have a soft, buttery yellow wall color and a pale, pale pink ceiling, and both of them looooove pink–the two-year-old has begin pointing at pink and saying, "Pretty!" because that's what she thinks that color is called–so lots of pink and purply-violet seemed to be in order.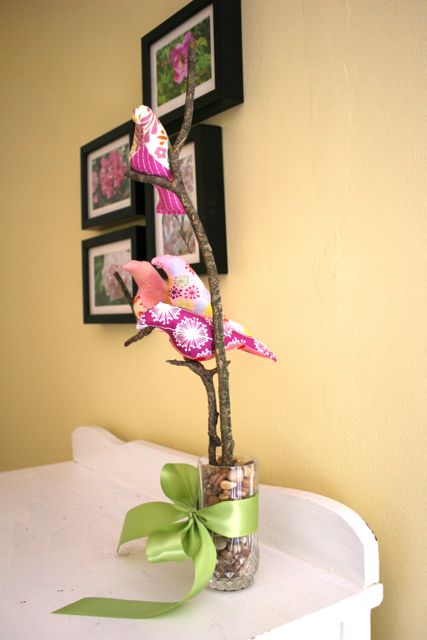 Probably the biggest challenge was finding just the right stick.  In this case, I had to make do with two separate sticks that I planted next to one another in a crystal glass.  The glass is part of a set that belonged to my husband's grandmother, and since the dresser was handmade by his grandfather for his mother when she was young, it seemed fitting.  The dresser needs repainting and I am picturing crystal knobs once that happens, so I really love having these pieces together.  I filled the glass with aquarium gravel rather than sand because it gives more stability to the sticks, and more weight to the base.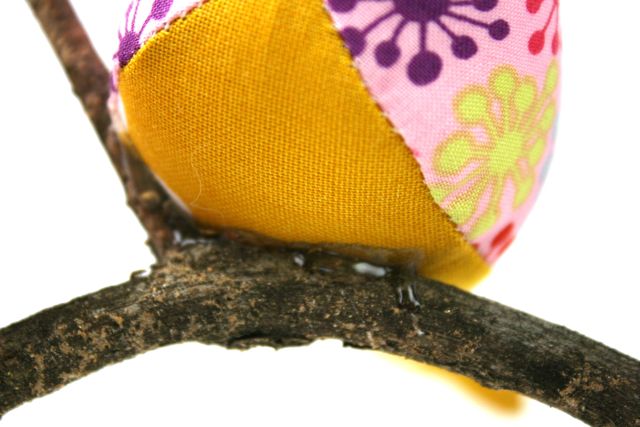 When I made the version for the baby shower, I thought I would sew each bird to the branch using clear nylon filament thread, but that was a complete disaster–the birds would sit for a tenuous second, then flip upside down and dangle from the branch, wordlessly.  It was really pathetic and a little sick, actually.  So hot glue came to the rescue.  And it was so easy and so quick that now I want to hot glue everything in sight.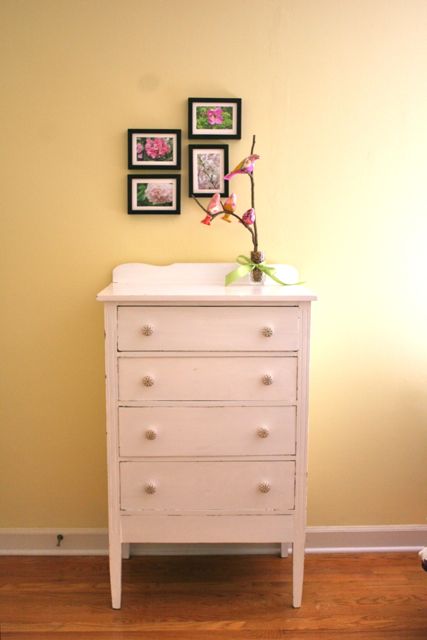 The photos framed on the wall behind the birds were taken when our oldest and my husband and I were living in DC before my middle daughter was born.  We went to pretty much every botanical garden in the District and surrounding states and took photos of the prettiest flowers we found, with the plan of framing them when we came home with our new baby girl.  All three of us took photos here and there, but now no one really knows which ones were shot by whom, which is fine.  I am hoping to swap out the black Ikea frames for white ones, but that's pretty far down the list of priorities when you still don't have kitchen cabinet doors.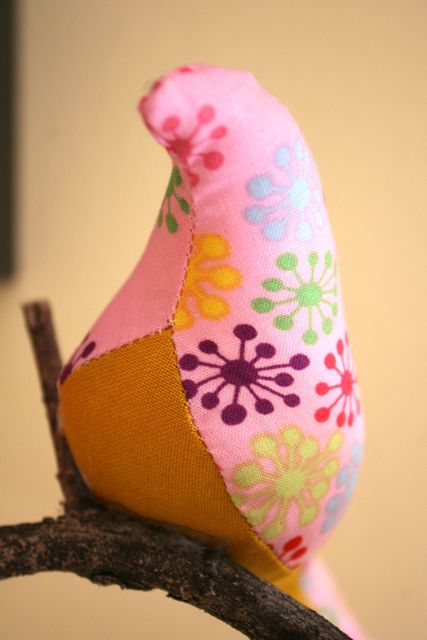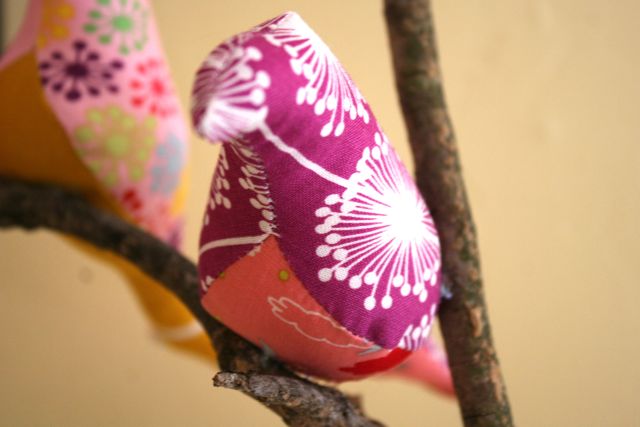 Some of the birds as nestled between two branches to give them a stronger perch; when I did that, I made sure to hot glue on both sides.  I think it makes them look cool, like they're hanging out after school, waiting for the pretty girls to walk by.  Both of the little girls super love their new bird friends, and it makes a really great impact when you come into their room from the hallway, next to the sweet yellow walls and the pink ceiling and the soft morning light coming through their curtains: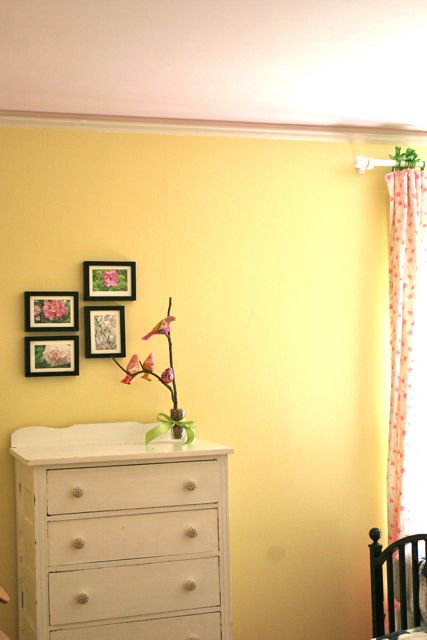 Now if I can just finish their matching postage-stamp quilts, we'll be in business around here.