Hooray, hooray!!  A whole bunch of you have already registered for the 2016 Sewing Buddy Project.  I am beyond delighted to welcome back some familiar faces and to greet some new ones–yippee for Sewing Buddies!!  The Sewing Buddy Project is a year-long pen pal program, and for just $10 you get a personalized pen pal match, monthly emails, sewing prompts and project ideas, plus access to a private Facebook group and lots of support from the community!  I think this year is going to be the best one yet, and at such a small price point and low level of commitment (nothing to send, no deadlines to meet, just a promise to communicate with one another), it's an excellent way to connect with others and give your sewing a boost.  We can all use a new friend!
In addition to the Sewing Buddies, I am both elated and a little terrified to unveil the other TWO clubs I've been busily building for 2016.  These are my babies, and a lot of the courage I found to launch them came when you all confirmed through your survey responses that I'm not crazy for thinking these are really fun, needed ideas.  They combine all my most favorite parts about what I do at Whipstitch: designing curriculum, shooting video, writing, creating patterns, and building community.  These groups, along with the Sewing Buddies, are my primary focus for 2016–if I do nothing else this year than these clubs, I will rest easy and feel fulfilled.  I've invested hours and hours, and am nervous and giddy headed into the Big Reveal.  Do you want to hear more about them??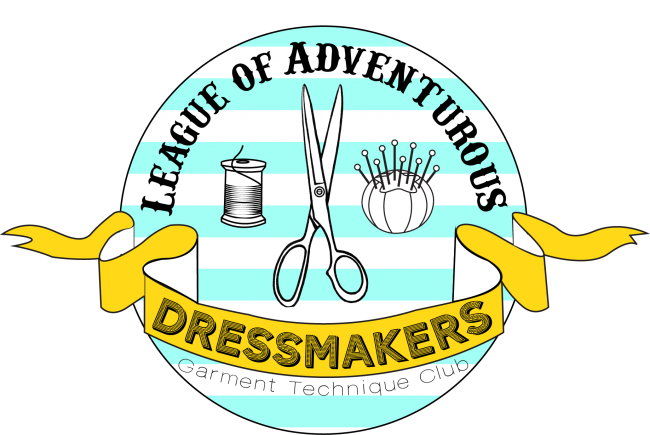 The League of Adventurous Dressmakers is a monthly subscription club that explores in-depth technique lessons for better garment sewing.  I am super, super excited to launch this group–it is, I think, what my pursuit of building better online classes has been leading toward for years.  This monthly group will feature up-close video lessons on a new garment technique each month, with an accompanying printable guide.  Each guide walks you through the technique–and variations on it–using text, full-color images, and tips & hints, all specifically designed to make your garment sewing SING (and clocking in between six and twenty pages, they're really e-books!).  Every guide includes a quick-start "cheat sheet," too, so if you don't want to print the whole guide, you can have a handy reference available near you as you sew.
In addition to the monthly high-definition videos and the e-book technique guides, each month features a PDF pattern that allows you to practice the new technique in a limited fashion.  Some of these patterns are simple garments, and others are smaller projects that apply each technique in a targeted manner to really let you explore and master the sewing.  You'll also receive round-ups of various commercial sewing patterns that feature a particular technique, from indie to Big 4, both printed and PDF.  Resources galore!
The first six techniques have already been selected, but club members will vote in the first month to choose the other six techniques–so the year's experience is really customized to the folks who join.  We'll be covering pointed collar construction, tucks & pleats, blending sizes on a garment pattern, and cuffs & sleeve plackets, just to name a few.  I can hardly wait to share the whole "classroom" environment and share these videos with you.  And!  I've scheduled monthly live video chats so we can share comments and concepts in a real-time environment.  There's even a private Facebook group so you can tag your own projects, ask questions, get to know your other League members, and share ideas!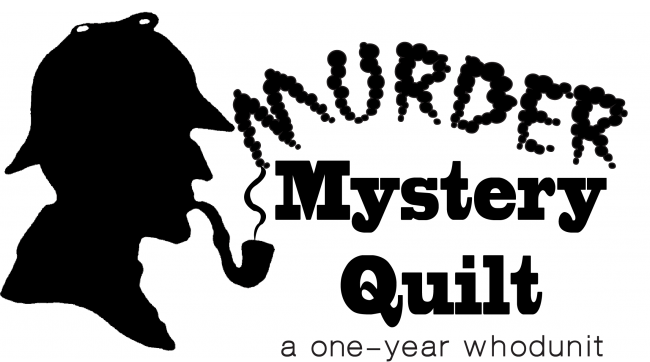 The Murder Mystery Quilt is also a monthly subscription club, but with a whole different twist.  This is a mystery quilt in the traditional sense–you sew a block each month and the overall design of the quilt isn't revealed until all the blocks are sewn–but it's also a MYSTERY quilt: each month, along with the block pattern and design, you receive a chapter of a mystery story.  Each chapter reveals clues as the plot unfolds, and it's your job to seek out whodunit!
In addition to the chapters holding clues, as any mystery story does, the BLOCKS you're sewing have hidden clues, as well.  So each block you sew gets you closer to learning the identity of the murderer.  Every block you sew and share with us through Instagram or our private Facebook group also earns you an additional clue via email, so you're rewarded every month for completing the block and staying on track to finish the quilt!  The skills included in each block pattern are suitable for anyone from adventurous beginner to seasoned quilter–the instructions are clearly detailed to make it possible for anyone to follow along and learn as they sew, but the designs are interesting enough to keep anyone engaged.  Plus! Clues!!
When you're sure you know who the killer is, you get to guess.  Every correct guess is entered to win a fabulous prize goodie basket of quilting tools and fabrics at the end of the year!  You only get one guess, but for each month before December that you submit your guess, you get an additional entry–so the sooner you know the answer, the more chances you have to win.  But use it wisely! Incorrect guesses don't get entered into the drawing.  (Don't worry, there's also an alternate prize for folks who finish the quilt but don't figure out the clues and solve the crime, so everyone has a chance to shine!)
I have been marinating this idea for years and years, and am nervous and excited to unveil it for you.  The story is so fun (and funny), the blocks are so enjoyable to sew, and the project has a fun twist that leaves me tickled.  I can hardly wait to reveal the setting and characters, and to send out the pattern for the first block!!
More details on these clubs tomorrow and Friday.  Registration opens next week!  I hope you'll join me as I sink into some fun in 2016.  Let's get sewing!