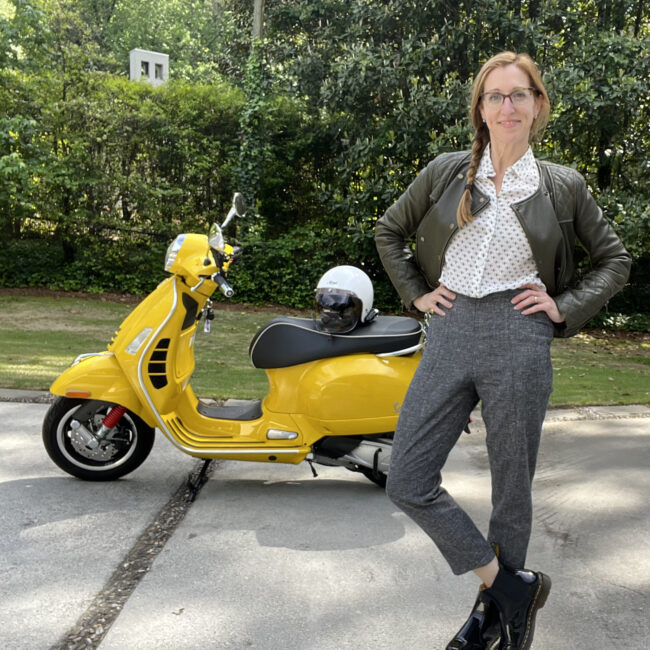 I really, really love this pants pattern. They fit great right out of the package with minimal adjustments, they feel great to wear, and they are adaptable to a huge variety of activities. I made one pair, and I already have another pair cut out and ready to go–which hardly ever happens for me.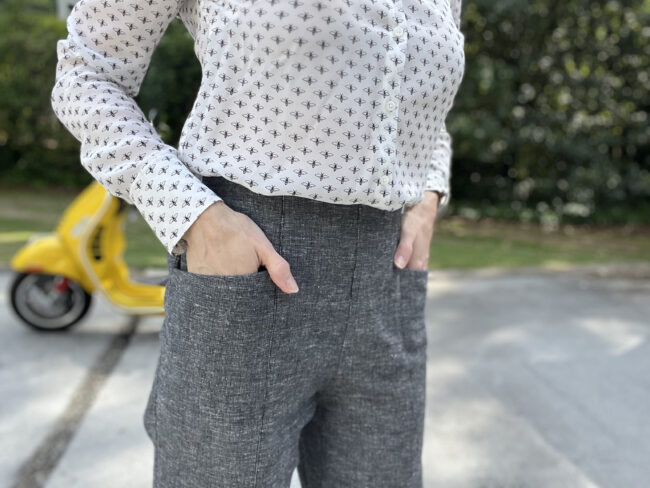 These are the Pietra Pants from Closet Core patterns. I included them in a video sewalong series I'm hosting at The League of Dressmakers where we're sewing five pants patterns, one per week, and as we progress each pattern gets a little more challenging and has more details and skills included. We started with the Emerson Pants, a classic loose-fit trouser with a flat-front waistband and an elastic back, and next are these, another flat front pant with elastic back waist, but with a few more details that gives them a tailored look that can dress up and dress down.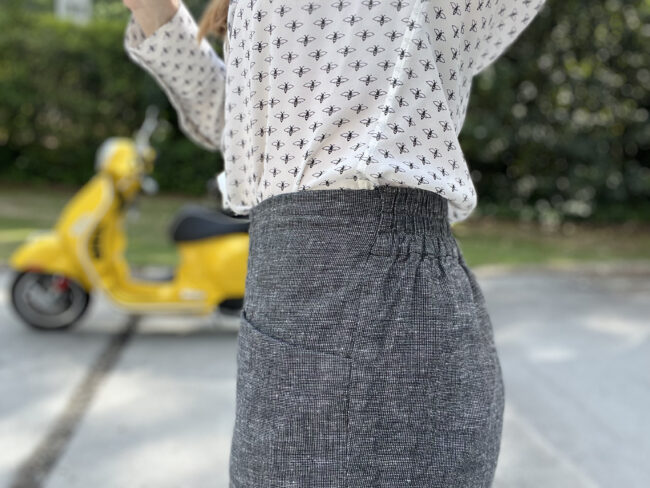 Pattern Details
Rather than a waistband, the Pietra has a front waist facing, one that's a little longer than average on a pair of pants–this one extends about 6″ below the upper edge of the pants front, which means there's a good amount of support and shaping in the front of the pant. I like this because there's no chance of getting any over-enthusiastic squeezing of my midsection from the elastic, and because it's not going to "bite" into my waist as I wear (and sweat) in them, leaving angry red marks when I take them off.
I love the shaping in these pants, both from the facing (which has integrated princess-like seams that accentuate my waist-to-hip ratio, and look more tailored but without the structure of a more formal pant) and from the back waist elastic, which at 2″ is nice and substantial.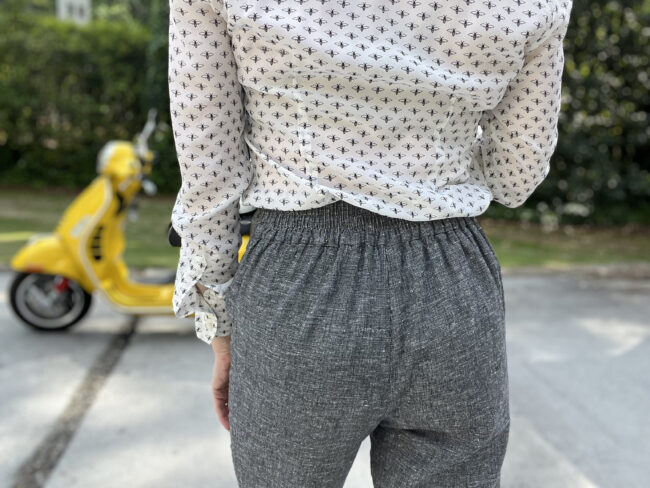 I love how the volume at the back is a reasonable amount–I love a loose pant, but in some cases the looseness leads to a sloppy look, especially at the end of a hot day in a soft linen. They get droopy, right? And then I feel like I sat in something and my damp pants are hanging off me. With the design of this pattern, I didn't experience that AT ALL, even in this linen blend fabric, even when hiking in the hot sun of Israel on a recent trip: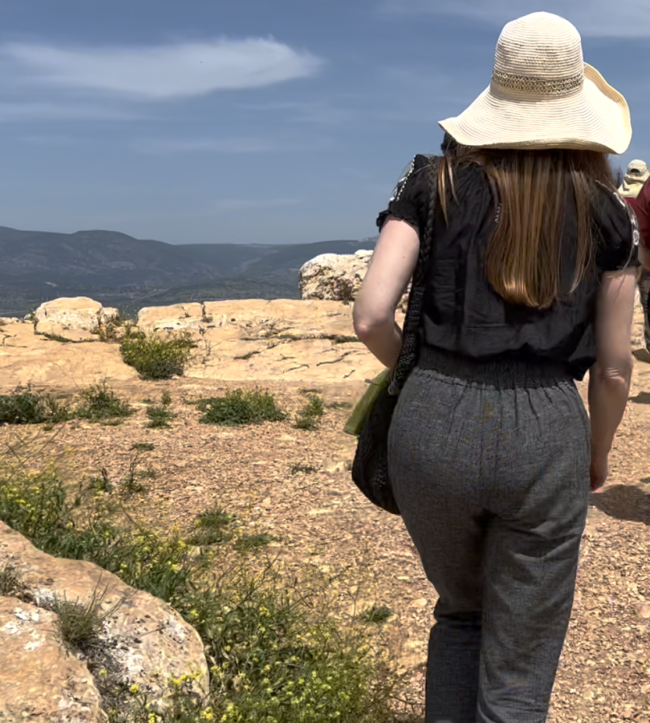 Fabric & Pattern Adjustments
I chose a fabric from my stash that I'd been wanting to use for a pair of comfortable summer pants for ages. It's a linen blend, not sure if the "blend" is cotton or poly or both, but I think it's cotton. I love how the weft threads make an almost dotted look in the fabric close up, and how it reads differently depending on the light, sometimes black, sometimes charcoal, sometimes lighter grey.
I made an end-game adjustment to the waist length after I finished assembling these, and removed about 3/4″ from front and back at the crotch–I like my pants to hit pretty close to the body, so I wasn't surprised by that. Other than that, I cut a size 6 waist and graded to an 8 hip, based on my body measurements, and was really pleased with the fit.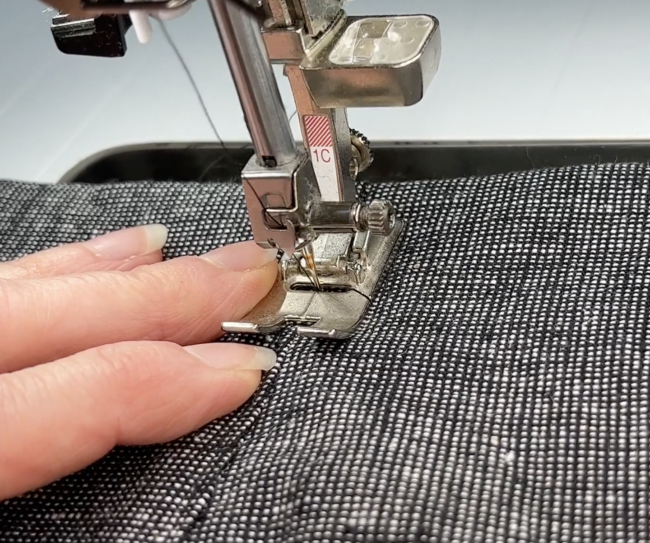 The fabric also makes these pants look more expensive and unique. I like that they're breathable and easy to wear, but look high-end, thanks to the seamlines and the fabric.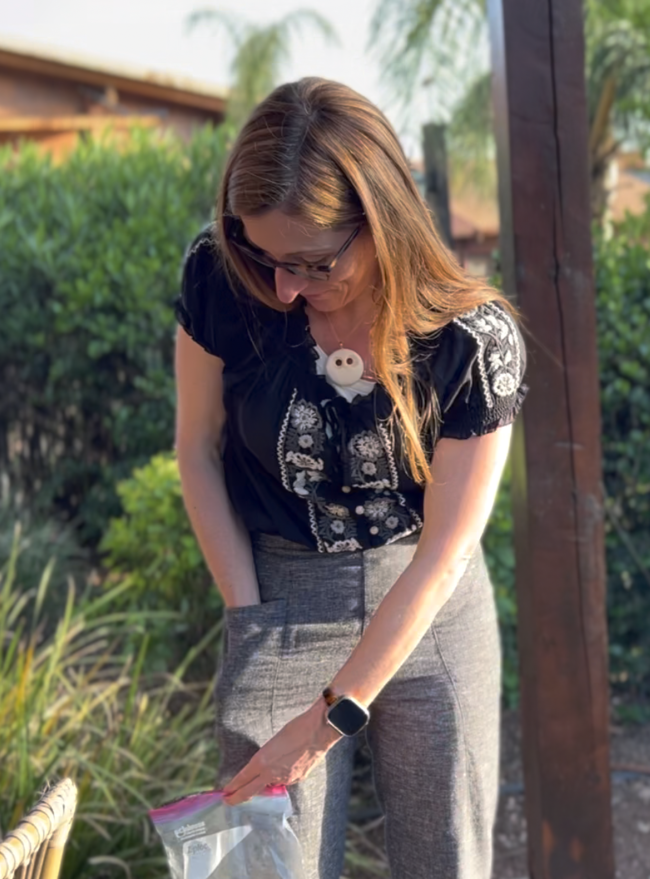 Top Design Details
Probably my very favorite deign feature is the integrated pocket, which forms the upper portion of the side front, and shares a front seam with the pants leg. They pockets are deep–deep enough to use to collect shells off the shores of the Sea of Galilee and carry back to the hotel–but they add very little bulk, and like all Closet Core patterns, are exceptionally well-designed, with notches placed in every spot you need them AND with adequate differentiation so that I didn't swam "right" for "left" pieces accidentally. (That last is an oft-overlooked detail on pattern pieces that, when observed, causes me to IMMEDIATELY become loyal to a pattern design company, since it implies a thoughtfulness and attention to revision that I admire.)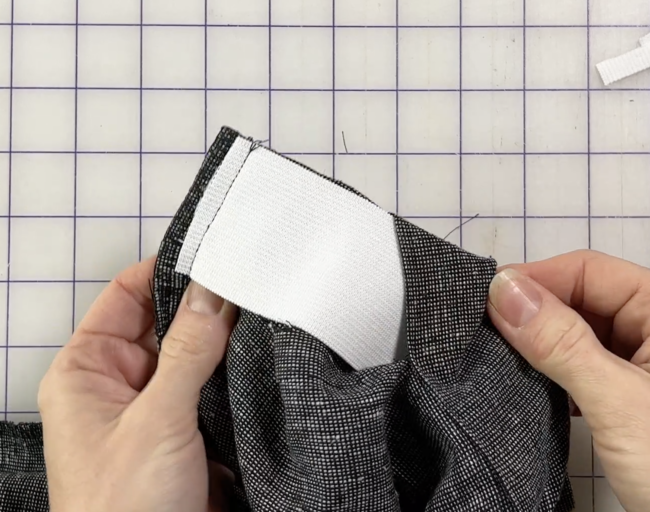 I also really enjoyed the waistband assembly, which was written in a different order than I've seen previously. I appreciated the construction notes that helped reduce bulk along the waistline, and help it lie flat on the body, and that the assembly of the elastic portion was integrated in a logical way with the finishing of the front facings–all of it just so thoughtfully designed. It really was a joy to sew, even when I was sewing every step on video along the way.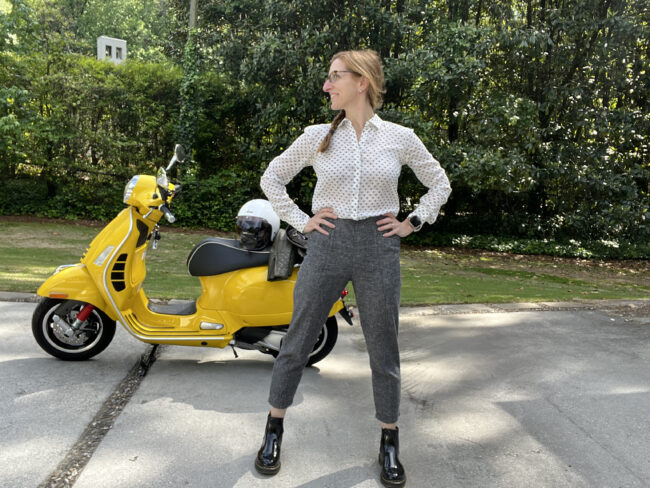 Come Join Your Team And Sew Along With The League!
As part of the video sewalong for The League, I included some suggestions for how to style these pants. I love them for everything from a boho lacy tank with layered necklaces and Birkenstock sandals, all the way to a silk blouse and motorcycle jacket with Doc Martens. For real, this design feels endlessly adaptable to me.
My next pair will be View A, the wide leg version, in a white linen for summer vacation wear. I legit think about those (future) pants at least once a day. That's gotta be the mark of a highly successful pattern.
Want to sew along with us? Join The League of Dressmakers for community, guidance, inspiration, and motivation! Find your team, join your people, and sew the best clothes of your life with The League of Dressmakers.