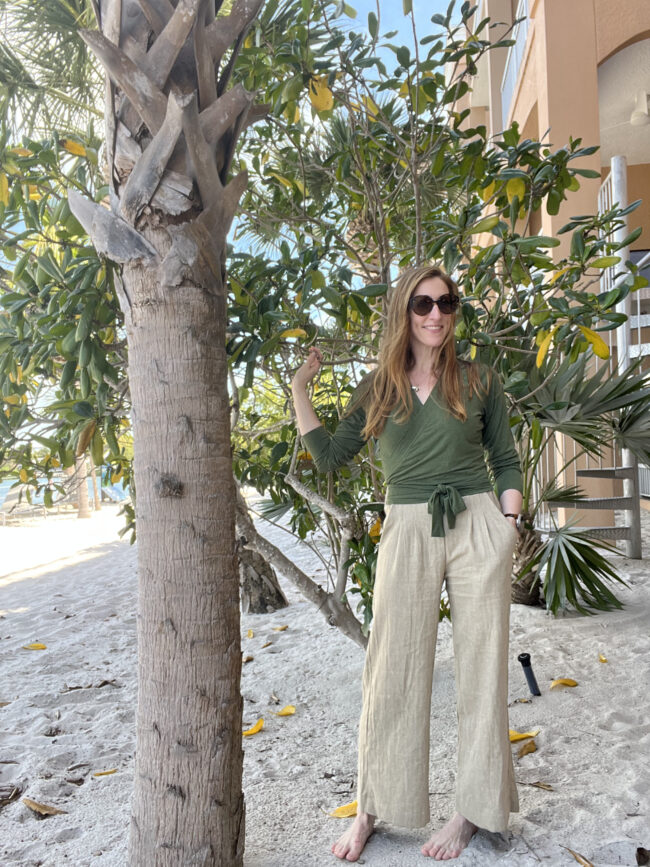 I'm on a kick making pants. A kick is like a rut, but in a good way, like, I can't quit pants right now. It's been a few years since I really made a lot of pants (like these, for my Sewing Pants e-course back in **cough** 2012), and I am excited to add new ones to my wardrobe. My body has changed a lot since then, and fitting is a fun challenge that I'm excited to tackle. Plus, I already own SO MANY pants patterns!!
Over the past few months, I reviewed all the PDF patterns I purchased but never made over the years–and that's A LOT, I'm a little embarrassed to say. Dozens and dozens, no lie. My sweet sewing friends at The League of Dressmakers and I have gone knee-deep at PDFPlotting.com, printing our large-format files so we can use the patterns we've purchased over time. I discovered that I'm approximately 79% more likely to sew a pattern if I already have it in-house, so to speak, and can access it immediately once the mood strikes–otherwise, I'm making project bag after project bag but not making much progress toward my sewing goals.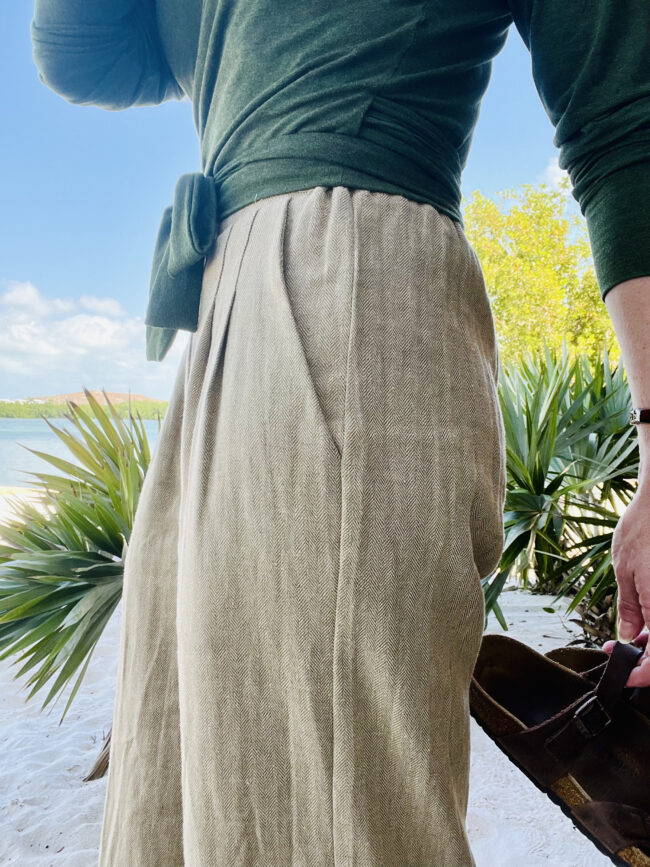 Weekly Video Sewalongs: Pants at The League of Dressmakers
I mentioned my pants-making obsession to the members at The League, and they're in the same boat: what patterns are worth making? how do we get a good fit? how do we work up to fly front designs, and can an elastic waist pant really give a good fit that looks polished? So I've turned these pants into an entire weekly video series, working from simpler designs toward more complicated ones.
The Emerson Pants are the first pattern in the sewalong video series, and they hit a lot of great skills for most folks who sew their own clothes: they have a slant pocket, stitched-down front darts, and a flat-front waistband but an elastic back waist, which makes fitting simple; the loose fit of the leg makes them easy to wear; and the variations in length mean these can fit into lots of niches in the average wardrobe.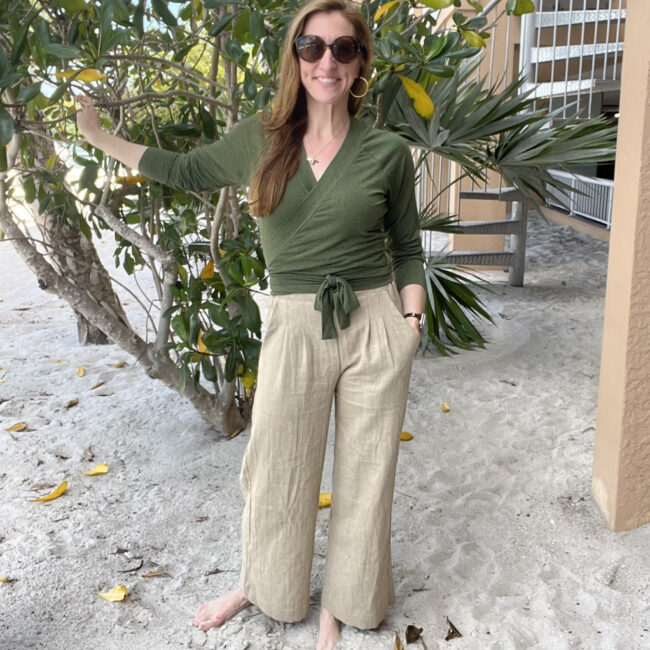 Emerson Pants Pattern Review
These are a fun, simple sew. I used a herringbone linen from my stash, which I originally (read: eight+ years ago) wanted to use for a pair of culottes from a BurdaStyle pattern, but I like it so much better for these. (I'm also thinking I'll use the remaining yardage to make the Veronica Vest for a beachy, relaxed menswear vibe.)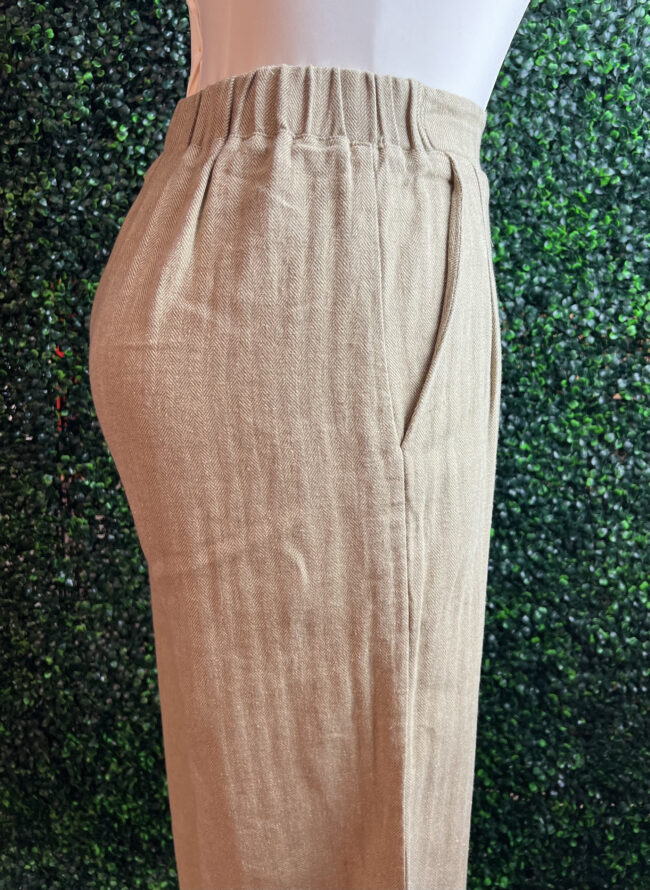 I like the detailing in this pattern–in skill level, it's a very beginner-friendly design, but there are enough small details that elevate the finished project, and make it one where folks who want to build their hand-sewn wardrobe can really begin to wade deeper into the pattern pool. Since this video series is designed to introduce a slightly more challenging pants design each week, the Emerson pattern was a great place to start! I love the bar tacks at the pockets, the stitched-down front darts, and the finish to the elastic waistband–all great, simple details that elevate the finished look.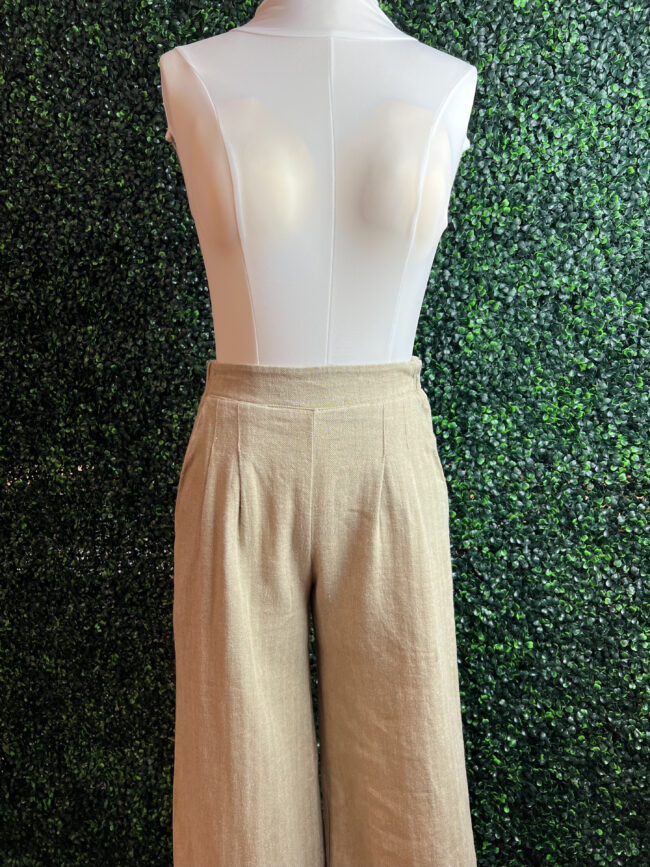 I like the flat front of these even though I had misgivings, and I worried that the way the elastic wraps around the side seam would be a strange shape–it's not, and they fit great. I also like that there doesn't seem to be so much volume at the elastic waist back that they bag out–I've seen that in a lot of pants with elastic, and it makes them harder to style. The width of the elastic, a yummy fat 2″ of it–keeps the waist sitting in a nice spot, too, so that these can be worn with cropped tops or waist-length tops just as easily as with a tucked-in tank.
I gave mine a deep hem but stopped it just above the ankles, because I wanted them to really swing when I walk. Plus I love a pair of beach pants that skim my ankles and don't get soaked walking along the shore!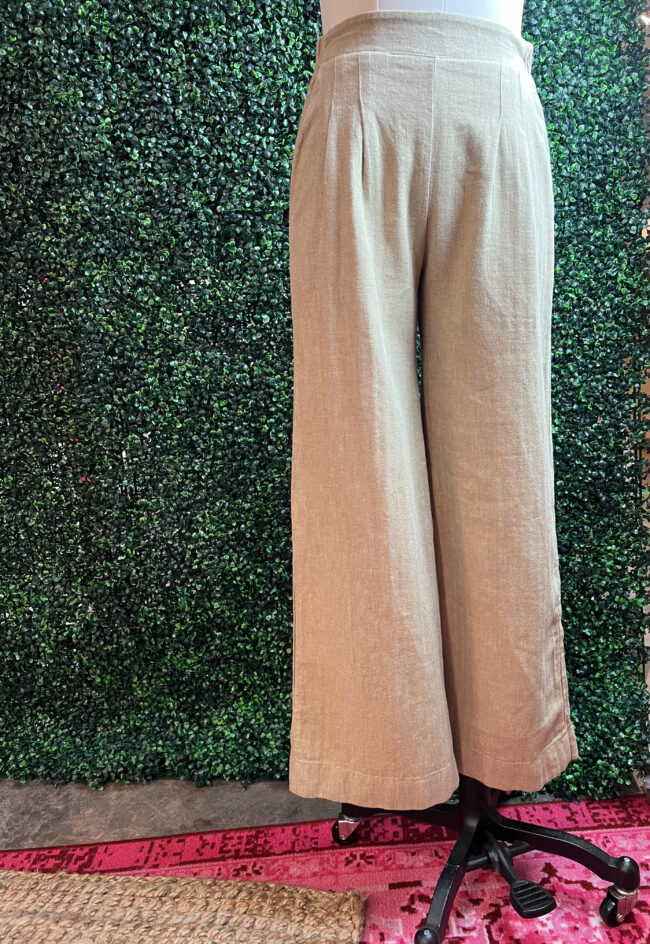 Join The League And Sew Along With Your Team!
The video at The League walks through EVERY step of construction, along with my observations about which steps might be most problematic to sew. I think of it like one of those reality show confessionals? Like, I share every stage of the construction, but then discuss it with the benefit of hindsight so that I have the chance to share what I learned, what I think will be most helpful to someone who hasn't made a particular style of pattern before, and to give foundational instruction for core sewing skills. Plus, making these in community is super, super fun–and we're building a real catalog of video guidance for your handmade wardrobe!