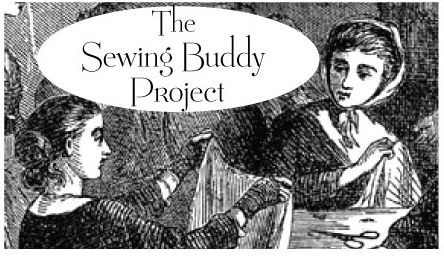 It's time!!  Today, we open up the list to add names to the Sewing Buddy Project for 2011.  I had SUCH fun hearing all the stories from last year and seeing what all you got up to with your buddies–it's so cool to think about what two people can encourage one another to achieve in the space of just a few months.  For background on the Project, see the original post here.
Just this past weekend, I heard stories of international sewing cooperation!  bi-coastal inspiration!  photographic motivation! and way more, all from Sewing Buddies who had used the project as a way to light a fire under their behinds and get moving on some plans and hopes and dreams they'd been nursing along for…who knows how long.  Like a pen pal, but for sewing, a Sewing Buddy can be part drill sergeant and part bestest friend, cheering you along as you tackle each sewing challenge in your path.  It doesn't matter if you're still learning or if you're an old hand–sometimes the best pairs are the ones who seem to have so little skill in common!
This year, I'm hoping for even greater things from the Sewing Buddy pairs.  My one disappointment from 2010 was hearing that some of the Buddies had gone AWOL part way through, and hadn't been following through.  Obviously, that was the exception rather than the rule, but I wanted to bring it up because it really did bum me out and spoil some of the fun for others who were all set to ascend to new sewing heights with their Buddies.  This year, then, I'd like to ask that each of us really go into the Sewing Buddy Project as a way to connect to another stitcher, to reach out further than our immediate sphere of influence, to build relationships beyond the local, and to find a like-minded soul with whom we can share ideas and inspiration.  It's not a huge time commitment, and it can have a giant impact, if you let it.
There are no real rules for the Sewing Buddy Project.  It's a pretty free-form gig, a way to introduce you to someone else who shares your passion for fabric and sewing, regardless of your skill level or nationality.  Beginners welcome!  International may apply!  Last year's participants: come get another Buddy!  I'd love to see lots and lots and lots of folks matched up and stitching happily with one another, no matter where they start or where they're going.  I did develop a handful of guidelines this year, though, so that no one ends up disappointed.
Guidelines for 2011 Sewing Buddy Project participation:
Agree that you'll commit for eight weeks.  If, after eight weeks, you find that you and your Buddy aren't a match, we'll re-match you with a NEW Buddy.  A year might sound like a long time, but anyone can do eight weeks.  If you put some heart into it, I just know we can find you Your People.
Agree that you will leave no email from your Sewing Buddy un-answered.  Simply replying to each message as they go back and forth will build your commitment and resolve.  If your Sewing Buddy-ness goes no further than encouraging emails once a week, that's awesome!  It will keep you on-track to meet some goals or to challenge yourself in a way you might not have otherwise.  If you both decide to start your own Flickr group or joint blog or do some mail exchanges, even better.  At a minimum, though, resolve to always answer your Buddy's emails.
Be on the lookout for contests, challenges, secret passwords, and even (gasp!) meet-ups designed just for Sewing Buddies!  I'm working on scheduling one or more of these each month in 2011, and hope that you and your Buddy will participate in ALL of them–they're golden chances to really ignite the fire of sewing in new ways.
That's it!  I'll begin matching names in the magic whirly-bin of Sewing Buddy Science on January 21, 2011.
To participate in the 2011 Sewing Buddy Project:
To add your name to the list to be matched with a Buddy, simply leave a comment below–that's it!  Include a working email address that you check.
You'll receive an email from me asking you to (1) confirm your participation and (2) name a favorite color and a number between 1 and 10.
I'll use the responses to the emails I receive along with a super-scientific system here at the Whipstitch Labs to match you to the PERFECT Sewing Buddy based on a four-fold formula that's much too complicated to write about here but that is really awesome and space-y
I'll send an email to the both of you giving introductions in proper Victorian style (a lady never spends time with someone to whom she has not been properly introduced), and then like a mother whose chicks are leaving the nest, I'll step back and watch as the friendship flourishes.
You and your buddy will make the initial contact and see where it leads you!
Happy New Year, y'all, and welcome to the Sewing Buddy party!