Every year, I have this startled revelation as soon as it turns March again: spring is coming!  I mean, obviously it comes every year (at least, so far), but it always seems like this delightful surprise to see blooms and buds.  And even though I know that the warm weather we're wallowing in right this minute is doomed to pass into a lion of a March, with freezing temps and frosted flowers at least once more before Easter rolls around (happens every year), I'm still letting that Spring Fever kick in a bit and get me excited about the coming allergy season.  Woot!
I was getting in the car yesterday and glanced over and saw this little fella: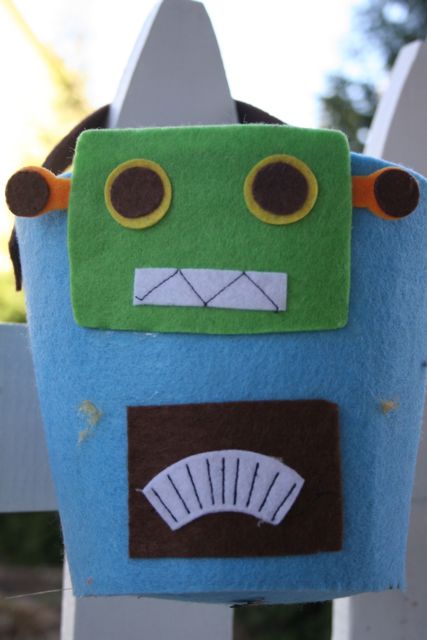 That's Mr. O's Easter basket from last year.  It was supposed to be his Easter basket again this year.  Except for the fact that he's been defiled.  See what's missing?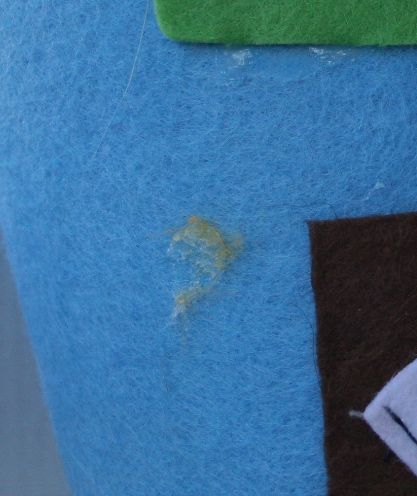 That's right: arms.  Poor little robot.  No wonder he has that look on his face.  Our son's superhero name is The Destroyer.  Appendages ripped from Mr. Roboto's digitized body over the course of a long, cruel winter.  And now he's bound to be replaced by some cowboy Easter basket.  Isn't that always the way?
So, somehow on our ridiculously long car pool drive this morning, these thoughts all coalesced for me: doomed Easter basket; spring is near; Sewing Buddies are jonesing for projects.  Hey!  Let's throw all that in a bowl and see what happens!
How's about these two words for you: Spring Swap.
This one's a couples skate, y'all.
I love me some spring sewing, especially if I actually get it started in time to wear/use/enjoy it before summer comes around.  Let's get all you Sewing Buddies going and stitching up something seasonal for a nice swap, shall we?
This isn't super complicated.  Simple steps to follow:
Contact your Sewing Buddy.

Hopefully, this is something you have already done.  If you have a Sewing Buddy, but haven't contacted him/her yet, shame on you.  Don't let this spring fly by and bail out on your newest friend.  Send a simple email.  If you've lost your Buddy's contact info, email me and I'll hook you back up.

Tell your Sewing Buddy you'd like to be part of the Spring Swap.

That part's pretty straight-forward.

Give your Buddy ONE limitation on what you'd like to swap with them.

They get to interpret the rest, but you get to place a parameter.  Maybe you'd like to make one another a spring accessory–you each get to choose what kind of accessory to make for your Buddy.  Maybe you'd like to swap fabric–you get to choose what fabric you Buddy gets, and vice versa.  Maybe you'd like to make one another 12″ quilt blocks–they get to choose the design you'll receive.  Maybe you both have unfinished objects floating around and you'd like to trade sewing jobs to finish each other's.  Maybe you'd like to send one another a sewing pattern you love to sew–you see where I'm going here.  Give your Buddy an idea of what you're thinking (and be flexible–life is about working together, after all).

Get sewing!

Once you've made your plans, do please follow through.  Swaps are a TON of fun (and if you've never done one, I should let you know they can be addictive!) but only work when both sides are rowing the boat.
Upload a quick pic to Flickr. The rest of us want to Swap with you, but vicariously–let us see what you're Swapping!  (Don't have a Flickr account?  Get a free one here!)

Ship your finished object.

Once you're ready to ship, make sure your Buddy knows where to send it!  That's it!  (I should note that I think shipping costs ought to be the responsibility of the shipper, but I totally get that some of you live super far away from one another and that shipping can be prohibitive.  If you want to work out with your Buddy to pay for shipping, that's cool with me.  Just remember to take care of that privately, as Flickr doesn't allow sales through their site.)
I, for one, would LOVE to go to the mailbox one day and find a package with my name on it stuffed with a fabric flower pin or bundles of scrap fabric or new-to-me vintage patterns or a fabulous quilt block.  Oh, happy day!  Or even better:  if my Buddy stitched up a new (and less sad) Easter basket for my boy.  That would be the gift that keeps on giving and saves me time I don't have to craft a new one.
This simple swap is a great way to do something nice for your Buddy (and nice for yourself) and can be as quick & easy or as complicated as you'd like.  How about swapping scraps with your Buddy to take part in Stitched in Color's Bottled Rainbows quilt along?  That wouldn't take but fifteen minutes of your time, but how fun would it be to quilt along together with your Buddy and share scraps?  Woot!
No Sewing Buddy?  No Problem!
Don't have a Sewing Buddy this round?  No worries!  You can still take part in the Spring Swap.  Start with Step 3 above: come up with an idea of what you'd like to swap.
Upload your picture to Flickr in the Spring Swap Flickr group, and tag it with any notes you'd like to add.
As other Swappers load their images and get involved, they can contact you via Flickr Mail or by leaving a comment on your image.
Once you're in touch, make plans to swap and SHIP PROMPTLY.  Let's all play nice and make sure everyone comes away happy.  It's not really possible for me to monitor every swap, so I'm putting all of you on the Honor System here.
If you're hoping for a Sewing Buddy but weren't part of the initial match-ups, Spring Swap is a great way to get on board and be prepared for the April round!
Can't wait to see what you'll all swap.  Welcome, Spring!