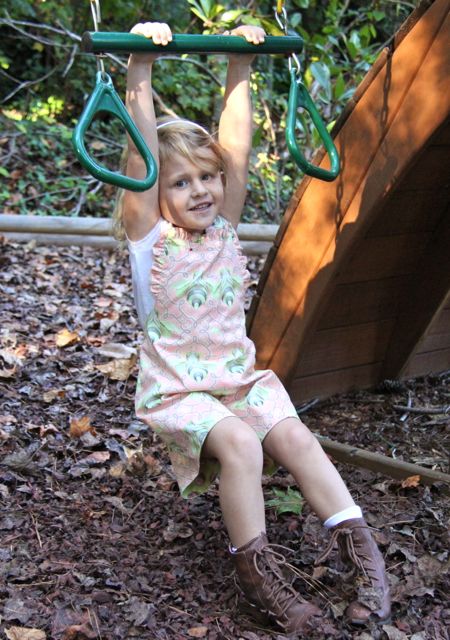 I already shared how awesome I think Tula Pink's mini-collection, Bumble, is.  It's PEACHED POPLIN, you guys.  It is this incredibly super-soft cotton base cloth that feels not-quite-fuzzy to the touch.  Imagine the softest sheets in the nicest hotel you've ever stayed in, put them on steroids and multiply by five.  And that's what peached poplin feels like. SO soft. SO, SO soft.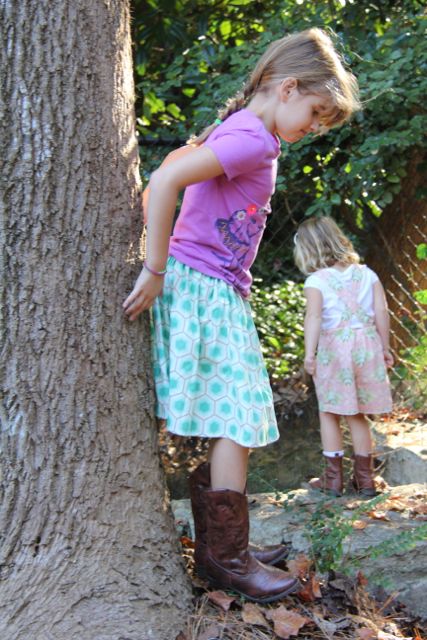 It's also just a tiny bit lighter than most quilting cottons–slightly less thick, and that makes it FLOATY.  It drapes and hangs so much more like an apparel fabric, and makes the most lovely pleats and gathers.  Gah!  I just love sewing with this stuff so much.
Which is why I have MORE projects to show you!  Go, Bumble, go!  Not just for babies and nurseries–for the whole flock of kids!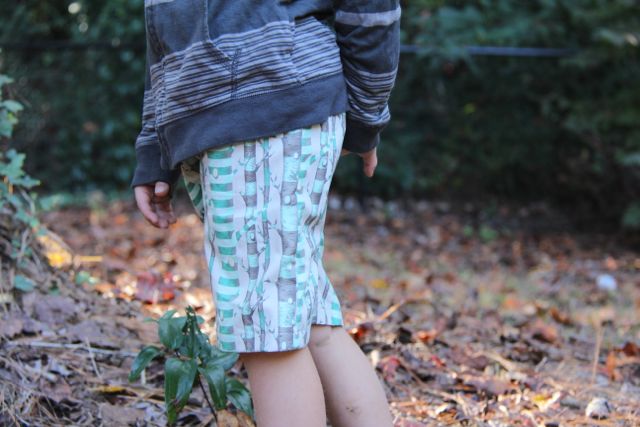 We'll start with my boy, the (very) reluctant model.  I could tell he had ZERO interest in letting me take these photographs when he told me it would be illegal for him to change into these shorts in the backyard.  ILLEGAL.  And then, once he'd changed, he arrives with the muddiest, muddiest feet you have ever seen outside the canine realm.  Sigh.  But the shorts!  Look fabulous!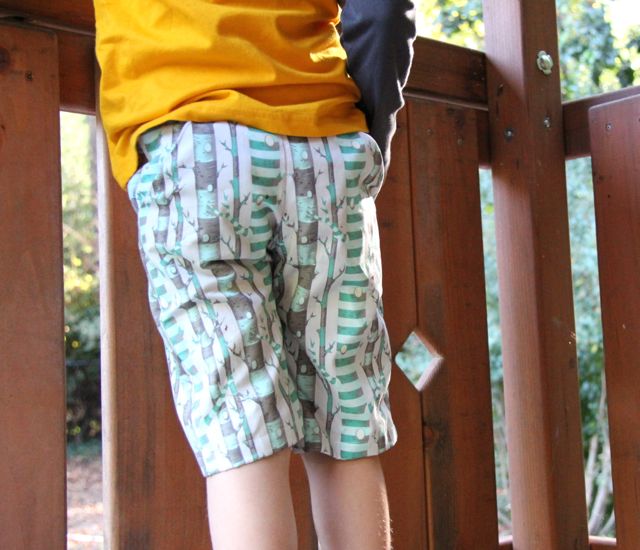 Or they would, if they weren't backward.  You can hardly tell in these photos, but those are slash pockets on the back.  Except they belong on the front.  Whatevs, he was happy enough.  (Turns out the shirt was backward, too.  Silent protest?)  This is my same go-to self-drafted shorts pattern that I listed with my Back To School for boys post.  They're just so quick to sew up, and once you have the pattern in one size, you can really whip them off the machine in about an hour.  Plus, he likes the way they fit, and will willingly dress himself in them for school each day.  Just, you know, not when Crazy Mommy wants photos (again).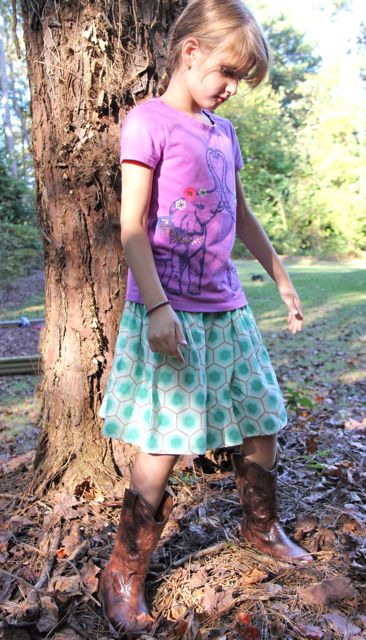 For our older girl, I made a simple 20-minute skirt.  This fabric is so lovely to work with, and easy to draw up into a casing, but even so I reduced the panels from the two suggested in the printable to 1.5, instead.  I think it makes the volume a little more manageable.  Not only did THIS child put the skirt on willingly, she asked if she could LEAVE it on when we were done, citing it's "ooooh….soft!"ness and that it would be awesome to climb the slide in.  Love.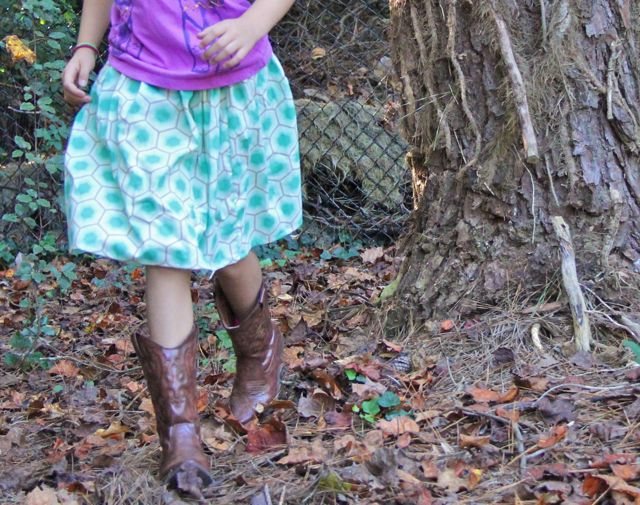 I mean, seriously.  How many skirts let you RUN in them, but also feel fabulously soft when you do it??  And this little knit tee from Target happened to coordinate so well with it.  So now, she's decided what she wants to wear to school tomorrow, too.  If we can keep her brother's muddy feet away from her, at least.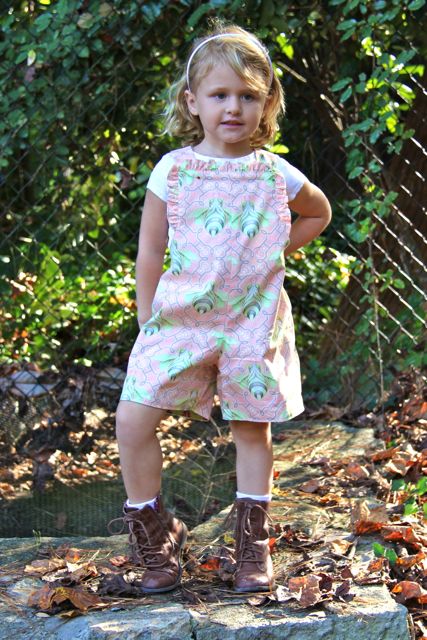 For the littlest, who is not only willing to have pictures taken but who actively poses for the camera (I actually had to ask her to STOP posing), I made up a pair of Overmosts.  Gah!  How much do I love this pattern?  I mean, I have literally NEVER made a pair that I didn't love.  I added a ruffle to this one, and I confess to a certain amount of back-patting.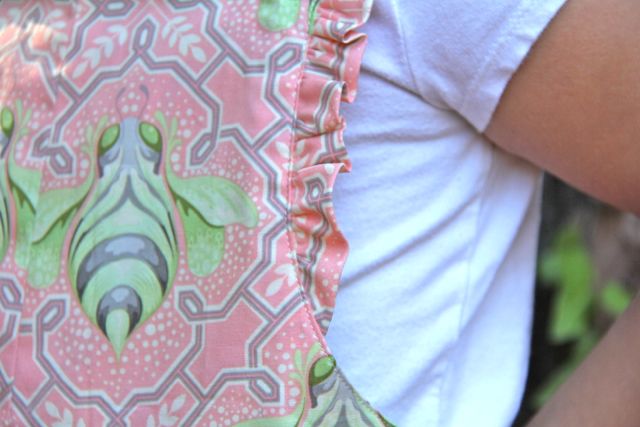 See how beautifully the peached poplin ruffles up?  The "peached" part doesn't refer to the color–it refers to the texture, where it's slightly "buffed" and has a little peach fuzz on the surface (get it?).  And when you cut that on the bias and fold it in half, then make a ruffle?  Good grief, it's so sweet.  This mini-collection has been marketed as a nursery collection, but with our kids, I have totally found that older kids appreciate that softness and texture, too.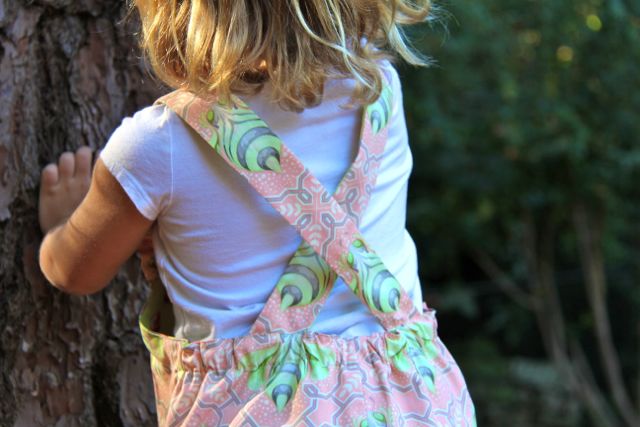 The lightness of the fabric was also a really great match for the elastic at the back of the waist on the Overmost, too.  I think I might want to add a small loop on one strap to pass the other strap through, so they don't slip around, though.  Something to consider as I polish off the Overmost re-boot!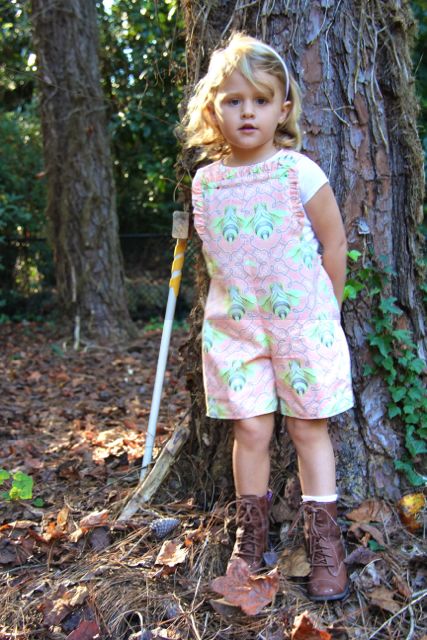 Obviously, this is the short version–the OverMOST version, if you will.  The pattern has a long version, too, an OverALL, but I stuck with shorts for us.  We are still having 70-degree days this time of year, so she's playing in these in the afternoon sun as we speak!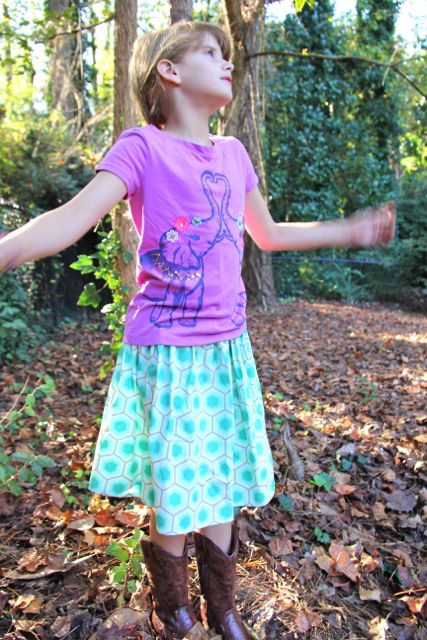 Man, that is the MAGIC of sewing.  You combine fabric and pattern, and you end up making memories and sharing an emotion.  Because even though our boy wasn't thrilled to model, he was still feeling the rock-and-roll: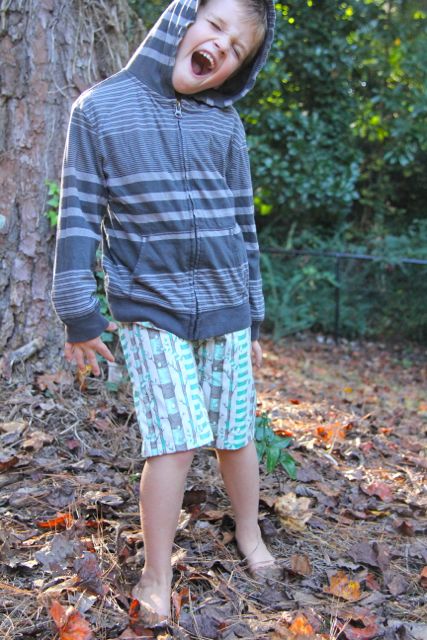 Bumble is OUT!  It is available at the links above and most independent fabric shops.  If your local shop doesn't carry it, let them know you're looking!  There are only a handful of prints in this collection, and it's not too late to order it from the manufacturer.
Have fun sewing, y'all!