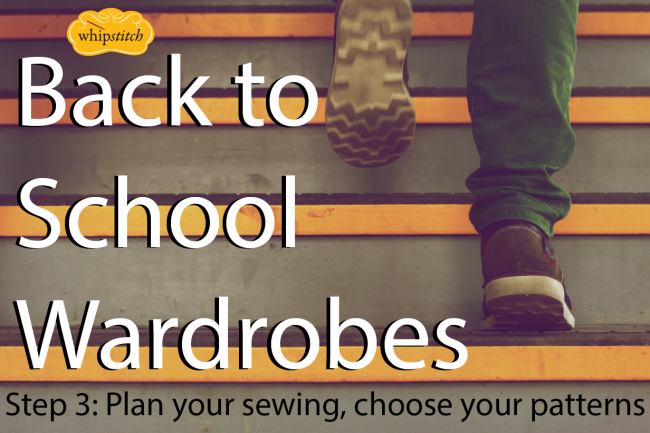 No, I haven't forgotten about sewing for back-to-school.  I am just milking the fortunate climate here in the South that allows me to continue to dress my children in their summer clothes while I polish up a new pattern release (woot!! next week, you guys!!).
The past few days have given us a peek into cooler temperatures, though, and I'm returning my machine to thinking about sewing up new things to get our kids through the fall and the bulk of the school year.  Next up: our boy!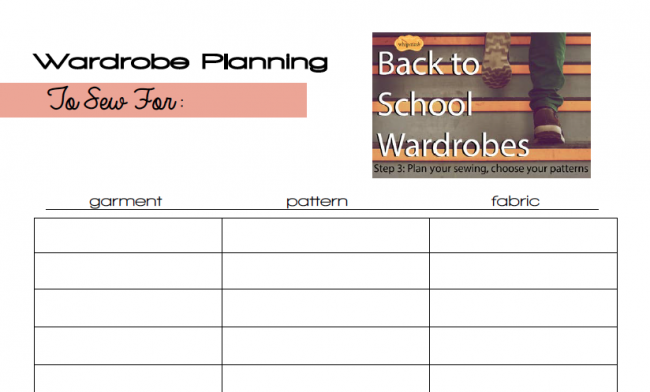 When I was first designing children's clothing for a local design co-op, making clothes for girls was easy for me: I am one of three girls, I had two daughters of my own, and I was accustomed to sewing my own clothing (I'm a girl, too, after all).  But designing for boys just STUMPED me.  I thought all boys were willing to wear was graphic tees and cargo shorts, because that was all I ever saw them wearing.  Once I began to teach sewing classes and talk to other moms about their boy children and how hard it was to find good clothing for them, I learned pretty quickly that it wasn't that boys would only wear those things–it's that those were all moms were able to find on the shelves at stores.  Add in the "themed" nature of most of these clothes–dinosaurs or trucks or sports, with the all-time-classic dinosaur-in-a-truck-with-sports-equipment tee (which I saw in real life, no lie)–and it's pretty slim pickings out there.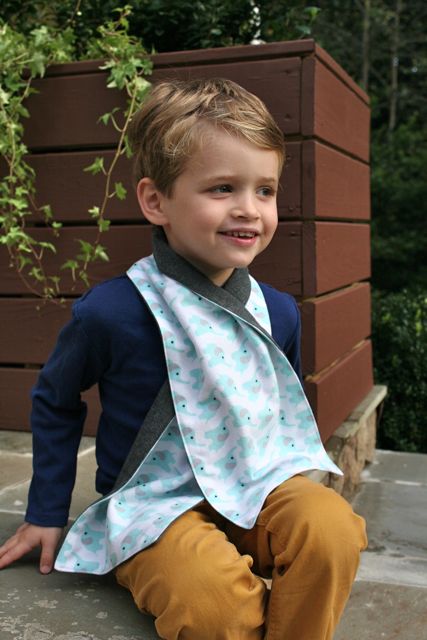 I feel very, very strongly about boys (all children, really) having the freedom to move and climb and play and run in their clothing.  Even as a family who change out of our "nice" school clothes and into play clothes at the end of the school day, I still recognize how much HARD play goes on during the school day, and want our kids to have that movement in their garments.  And wanting it for my boy isn't gender stereotyping–Harvard has released details of the most ambitious longitudinal study ever conducted that indicate that boys whose mothers really embrace their "boyishness," who don't just permit but revel in their antics and exploits, their very "boys will be boys"-ness, are the ones whose sons grow up to the most successful adult men.  Not just financially or professionally successful, although that's certainly part of it, but with the greatest long-term physical health, the highest level of self-described happiness and satisfaction with the outcome of their lives, and the longest and happiest marriages.  I want that for my son, and don't think that my sewing is too small a place to seek it out.  If by the act of sewing clothing that gives our boy the room to move, the freedom to fall out of trees and run far and fast, the doesn't-even-think-about-it comfort of well-sewn clothing in which he can do ANYTHING, if my sewing those things for him gives him even an inch more happiness by the end of his life, then the hours I invest here are not in vain–even if I won't see the results of that for decades.
Sewing, my friends, is never a small thing to do.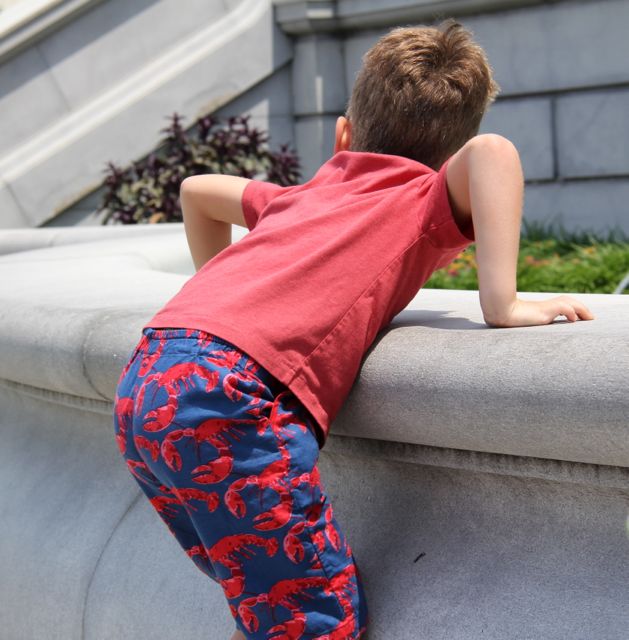 So a good, classic, adaptable wardrobe of basics for our boy is a must, and I really can't rely on the shops to provide that.  In addition, my taste being what it is, I like to see him in lots of retro-styled stripes (we all tend to go back to what we knew in our childhood, really, which explains my mother's fetish for cowboys and Elvis and my penchant for horizontal-striped ringer tees and wrap skirts–behold, children of the 70s, unite!!) and a mock-fly pant with a long break (I like them to almost drag the heel of their shoes in the back–so sue me).
This, then, is the list I'll be pulling from over and over the next few weeks.  I confess that while many of these are indy patterns by designers I love, others are my own self-drafted designs, because sometimes you just see what you want in your head and you can't accept anything else.  (Some of my self-drafted patterns are scheduled to be put together for sale down the road, but not all of them; feel free to let me know if you see something you're really grooving on, and I'll move it higher up in the queue.)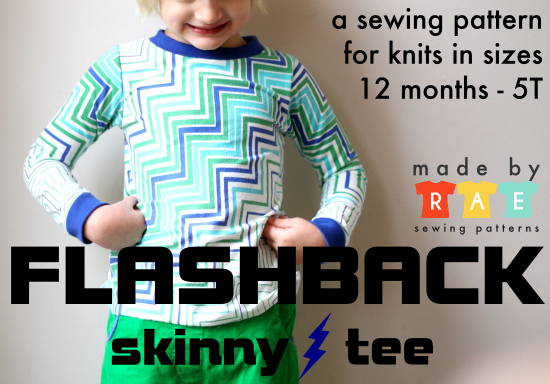 Let's not beat around the bush: if you're looking for a great retro-styled tee, the Flashback Skinny Tee is a surefire bet.  I love Rae's styling on this one, and the long-torsoed fit.  Add in long sleeves, and we'll need about half a dozen of these this fall and winter.  I have hoarded some striped jerseys from Girl Charlee with exactly this shape in mind for him.  He's much (MUCH) more willing to wear a tee that I've sewn than a button-front shirt, which makes me weep since I adore him in a little collared shirt, so I feel good about making a mountain of these for him.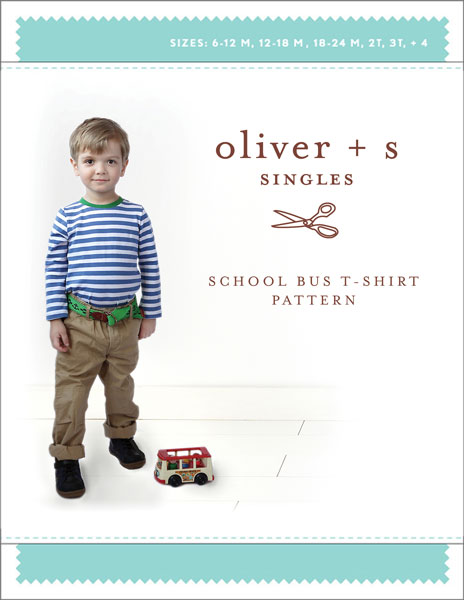 I also love the Oliver + S Schoolbus tee–it has a slightly boxier shape and a higher neckline, and works great under sweaters or layered.  I have some novelty knits and solids I'm planning for this one.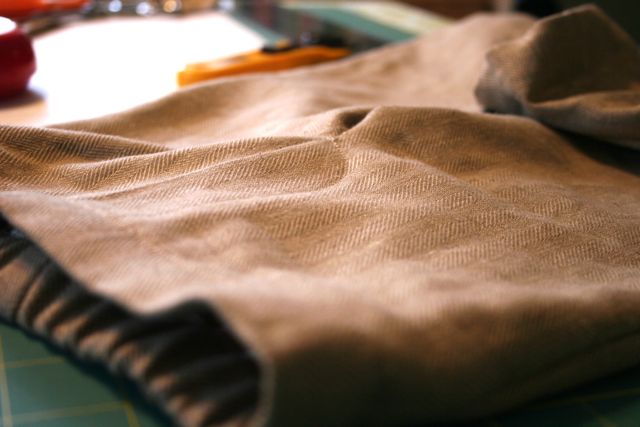 I've been working with my go-to pants pattern for years–since at least 2008.  I had it nearly perfected, and then our house flooded and all my patterns were destroyed.  Grgh!!  I started over from scratch in 2010, and am pretty sure I've finally gotten it just right.  I use it for shorts and for pants, and love that it has a flat front, elastic back waist and a mock fly.  Getting that perfect balance between a low rise (my kids are Below the Belly wearers of all waistbands) and good coverage in the bottom when they're bent over to play is HARD, so I'm unlikely to find love for another pants pattern any time soon.
Our boy has a boatload of new $9 jeans, but I still want him to have a bottle green pair of cords, plus something of the navy chino persuasion.  I'll be using this pattern for those–and I encourage you, if you have a favorite pair of pants that your kids wear, to trace those and make your own pattern, or to explore Dana's or Rae's pants patterns.  They're all great ways to get good pants!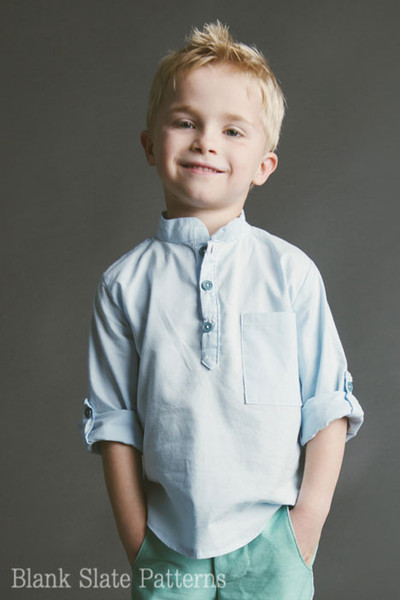 Despite his reluctance to wear a button-front shirt, there's just no way around the fact that a boy has to look a little more spiffed up once in a while–or, let's be honest, the fact that there are some really AMAZING print fabrics out there that we all want to sew up!  I wonder if this Prepster Pullover might be a happy medium for us.  I have this great Alex Henry animal skeletons print that I know he'll love, so maybe I can find a way to break him into the woven shirts by luring him with his favorite things.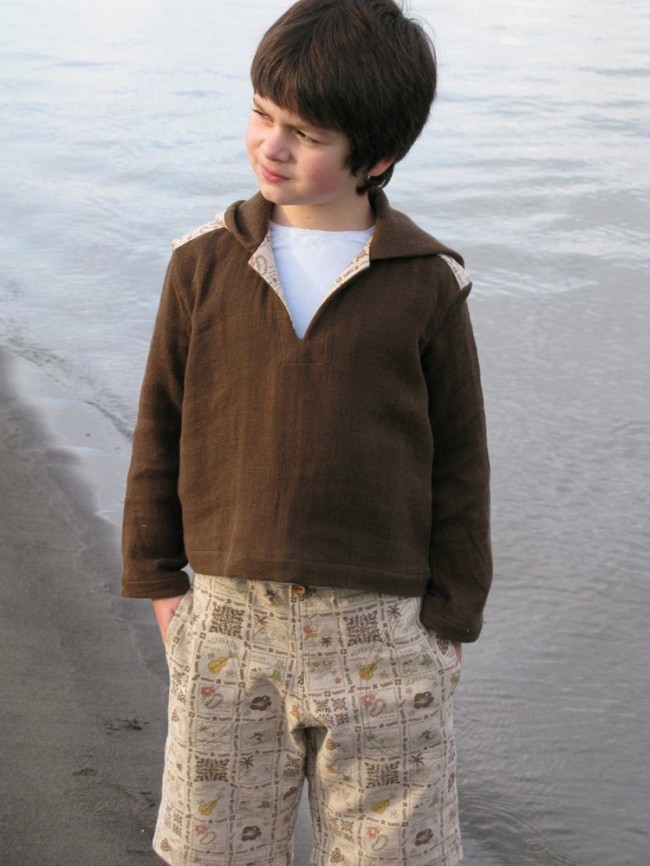 I also really like the idea of this Beach Bum Hoodie–and wonder how it would work as a shirt in a woven print?  Or a nicely textured solid?  I want it to have a little more length, but I think a tee under the hoodie layered as if it's two shirts (rather than a shirt and a cover-up) might be just the ticket for inside the classroom during the school day.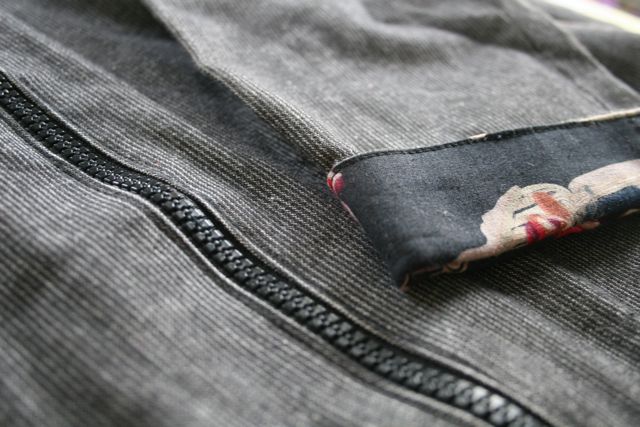 One of my fantasies this year is to manage to pull of a PUFFY VEST.  Is that crazy??  I started pricing out rip-stop nylon and batting to quilt it, and wondered if maybe it was going to be waaaaay more expensive than just buying one–until the Hanna Anderson catalog arrived, and I saw that one could easily pay $69 for such a garment, and I surely won't do that.  So I'm thinking I'll adjust and re-purpose the jacket pattern from my Sewing Clothing for Kids e-course to make it.  Something in the forest green family in rip-stop, an exposed chunky plastic zip (maybe a contrasting color?), and little snap-closed welt pockets, yes?  I should preface this by saying that given the progress on my men's sport coat, I might want to cut the size 8 for my six-year-old boy, just to make sure it'll still fit him when I'm done.  Ahem.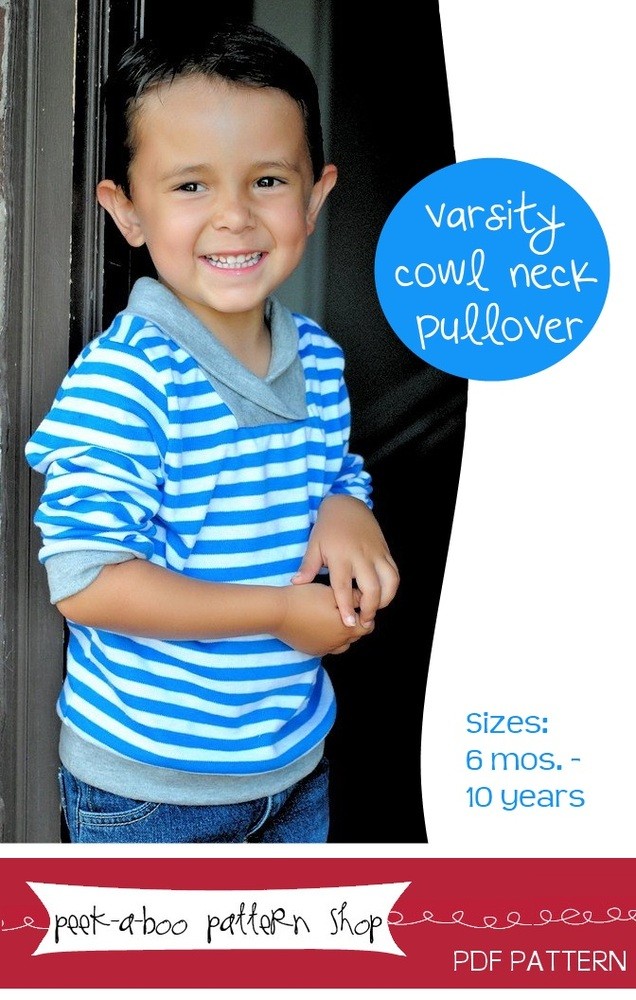 I'm also kinda grooving on this cowl-neck shirt for outerwear.  Right?!?  Especially for game days: watching them or playing them.  Our boy will avoid wearing a heavy winter coat if at all possible (y'all, he's NAKED every chance he gets, so just sleeves is a victory some days), hence the vest and this sweatery-sweatshirty-top.  I have some sweatshirt fleece I've been saving in a lovely oatmeal color that would work great, with maybe an orange contrast?  And I bet this one would be good in a soft fleece–it's easy to find loads of it on sale this time of year.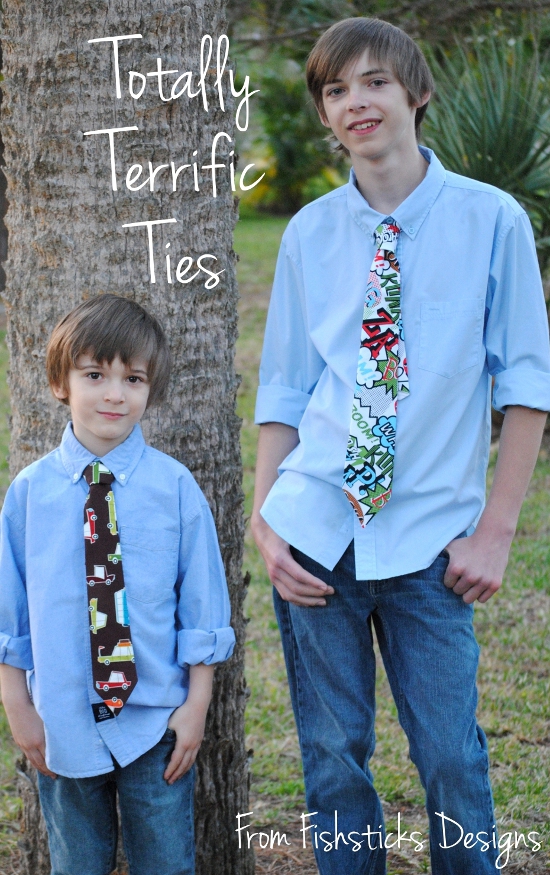 For special events (maybe holiday photos??), he's also going to need a tie.  We've done bow ties in the past, and I'll be honest, my husband and I both totally melt to see him in one.  But this year, I want to see how we do with a standard neck tie.  This pattern is FREE and quick and should work with whatever dinosaur or super hero fabric he'd like to choose–because if he can't add a little personal flavor with his ties, where can he?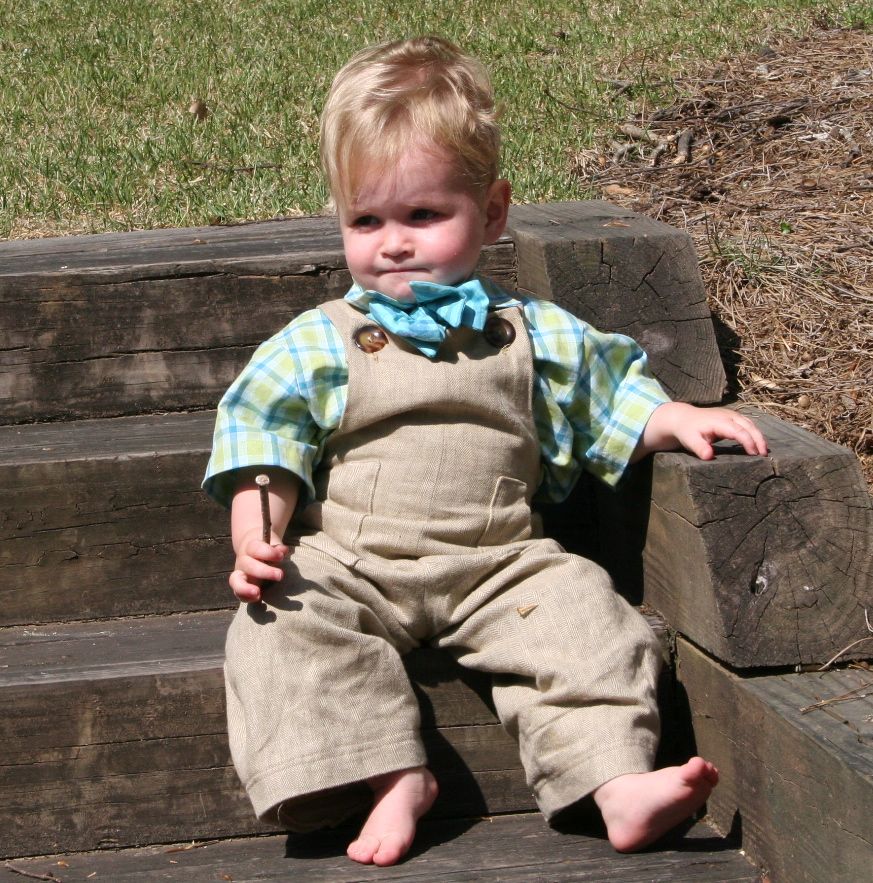 Finally, I'm working on a pair of overalls for him–this was him, four years ago, in his Easter Overmosts.  I can't even process how little and CHUBBY he was then.  All gone, baby belly.  Sniff.  As a bigger boy, though, I think there's still a place for a good pair of overalls–in our case, in a heavy Robert Kaufman ticking for railroad overalls.  I'm most of the way through sewing those already, so maybe they'll be the first pattern you get to see all sewn up!
There are other great sewing patterns for boys out there–these just cover the garment categories we most needed to hit.  What other patterns have you made for boys that you really extra love?  Or what patterns have you seen that you're wanting to try?  I'm open to suggestions–hit me with 'em!