Hand-knitted? Hand knit?  Whichever.  I thought at one point I would never, ever, ever knit socks.  The stitches are just soooooo tiny, you guys.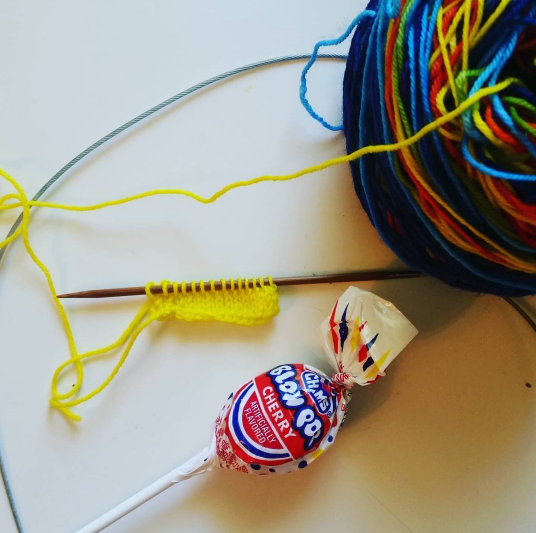 But my friend Alexia assured me that once I got going they were really fast, and the appeal of knitting something that was so eminently practical was pretty strong.  Like when I started thinking about Sewing All The Things, the idea that another entire sector of my wardrobe had the potential to be Made By Me was hypnotic.
I cast on.  And then I ripped it out and I cast on again.  For some reason, getting the in-the-round thing going was super tricky for me, even though I'd done it before.  Finally, I got it going and started my first pair: Hermione's Everyday Socks,  which I found on Ravelry (you can find me there as @whipstitchdeborah).  I used a beautiful yarn I scored from an IG sale with @skeincocaine (most aptly named IG account EVAR), and it's lovely and squishy and soft, and did most of the knitting in the car on the drive back from Grand Canyon.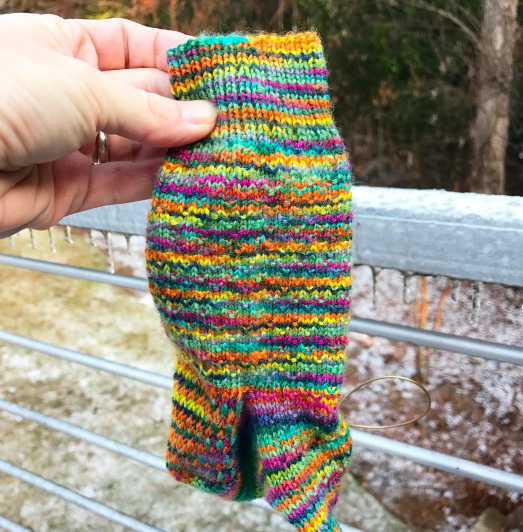 These were much easier to knit that I would have expected.  And fun!  I know, I know.  But really, I'm not just saying that.  I can't read in the car, and I want to talk to my husband, anyway, but I intensely dislike wasted time, and cross stitch while riding shotgun was just too finicky.  All the switching colors and splitting floss, yikes.  This is vastly more straightforward and easy to manage without making a mess.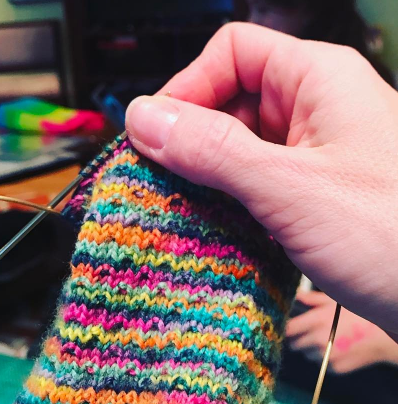 I got the first sock mostly done in the cozy car hurtling east on I-40 between Arizona and Atlanta, even working while we out-raced a winter storm to avoid getting stuck in Little Rock.  I cast on the second once we get home, as IG friends with far more knitting and sock experience than I have (I only wear them three months out of the year, after all–hooray for a warm climate!) suggested that starting to knit socks two-at-a-time was maybe a recipe for frustration, and learning sock "structure" by knitting them individually first would be a better approach.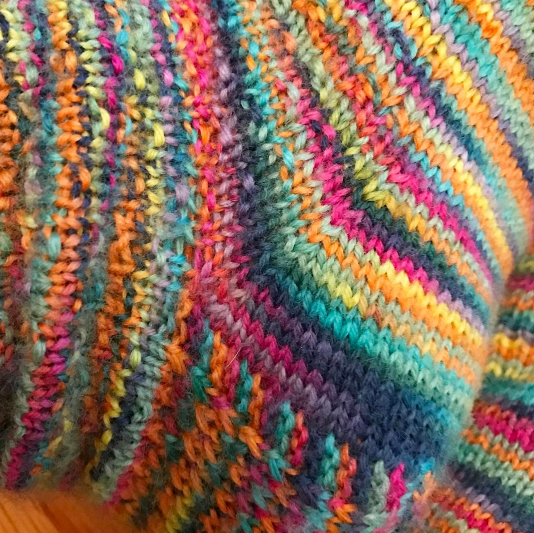 Maybe you've never read or heard people geek out about "turning the heel," the point in sock knitting where you take the tube part–either coming from the top down or from the toe up–and make it "bend" to head the other direction at 90 degrees.  Most of the time, whenever someone uses this term, it is followed very closely with the word "magic."  There's a reason for that.  IT IS MAGIC.  There appear to be lots of ways of doing it, but they all seem to involve grabbing stitches that are headed north/south and knitting off them to head east/west.  It's a little tricky and took me a couple YouTube videos to understand what I was sticking my needle into before making the next stitch, but once you get the hang of it, it's pretty fun–and the results feel like you've just gotten your letter to Hogwarts in the mail.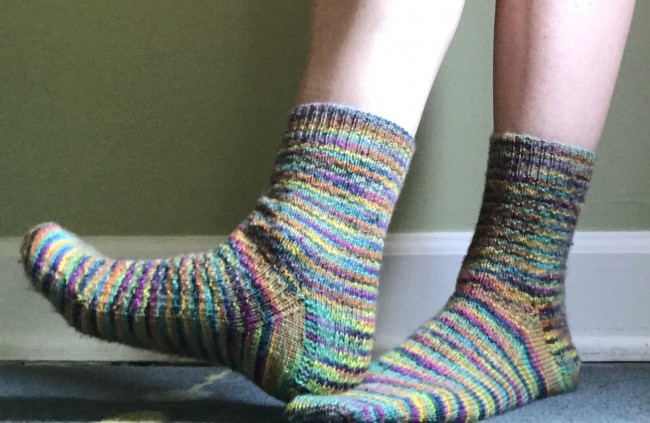 These are the completed socks, which have seen heavy wear, and have also faded every so slightly from washing.  I've been running them through the washing machine and then hanging to dry.  They are soft and squishy in a way that I never comprehended a sock could be before I knitted my own–even better than the $20+ socks from the outdoor store that you would swear are your favorite socks ever.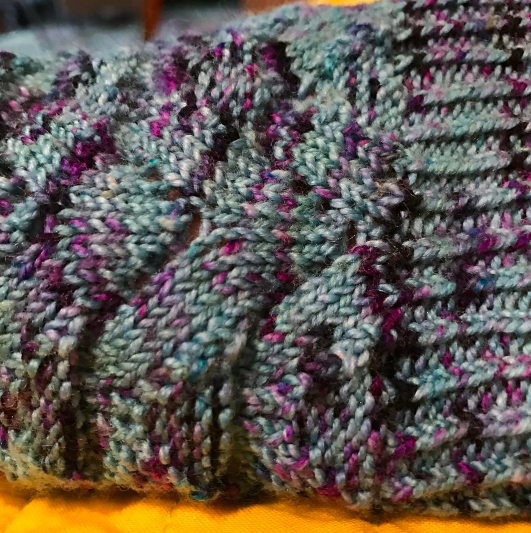 Naturally, because it's me and I can't bear to do things the easy way if there's any chance for there to be a method of complicating matters, I cast on a second pair that were far less simple: these are lace and mock cables, and they're so, so pretty.  The pattern is the Monkey socks, and it feels wild and carefree compared to Hermione's socks. The yarn is Sea Witch by House of a la Mode on StevenBe, and it was the colors that drew me in.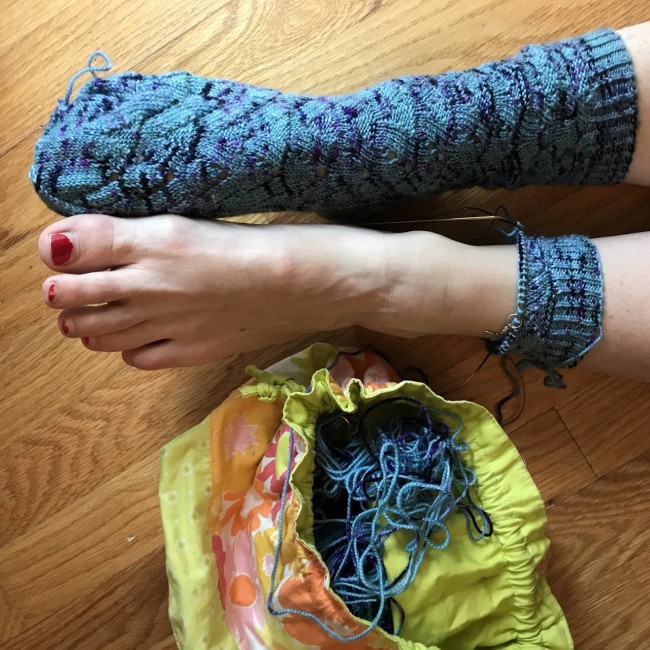 I mostly worked on these on the sofa and at ballet classes; thought I'd only done half of one, but looky!  I find I am far more industrious than even I thought.  I set these aside for most of the spring, and worked on a sweater for my daughter instead–I don't really like having more than one project ever going at the same time, for exactly this reason.  I had actually almost forgotten about these, and they're still unfinished–and with the pattern, it's not quite suitable for knitting during the church service, which I freely admit I do.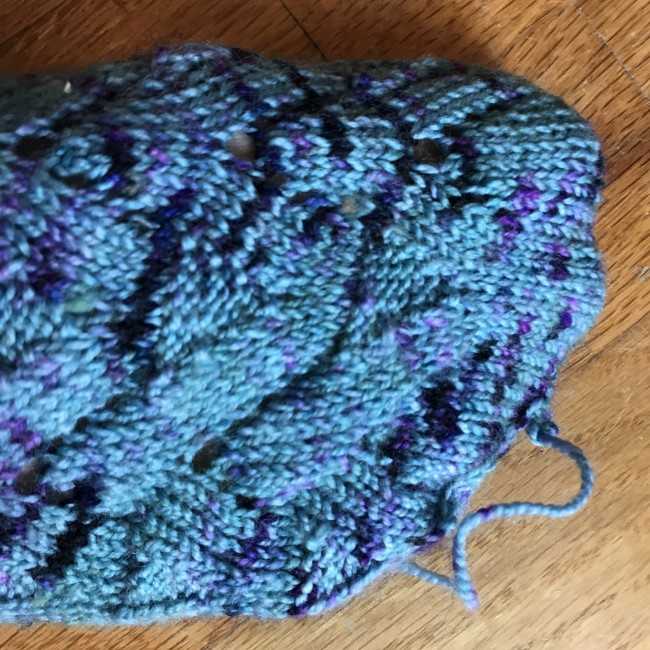 The yarn overs–where you wrap the yarn around the needle but don't stick it through a loop first–make the lace pattern, and they also feel wild and daring, because you're basically making a hole in your knitting AND THAT'S JUST CRAZY.  The interaction of those strategically-placed holes and the winding pattern makes "leaves" and I think these might be the prettiest socks I've ever (almost) owned.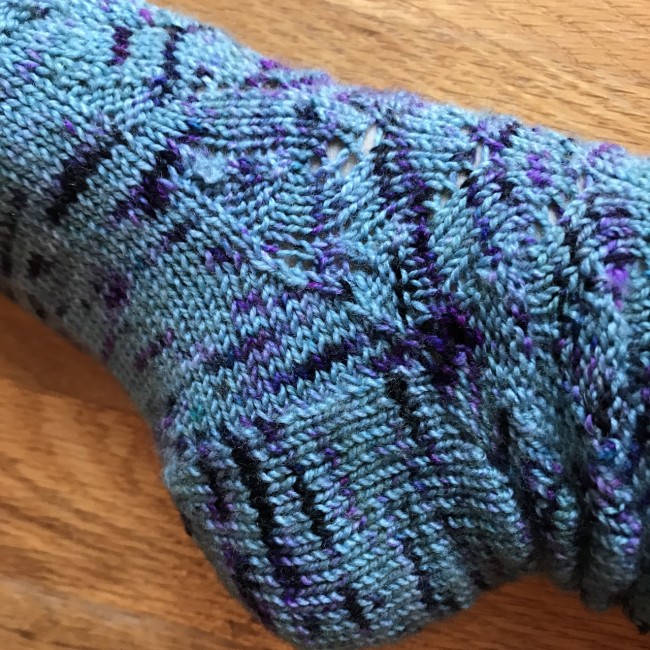 I vaguely recall the heel on this being made differently from the Hermione heel, but it's not a clear memory.  It looks pretty good, though, yeah?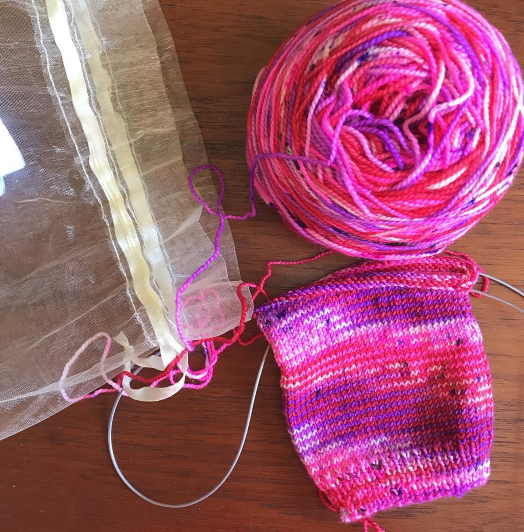 At some point this spring, I cast on a third pair, I think right before we left for our big family trip this summer as a project for the planes/trains/car while we were in France.  These are the same as first pair, but without the repeating pattern, so they're basically just a plain sock in the same dimensions and with the same heel.  They're FLOWN along, and are so pretty.  The yarn is a commemorative Prince colorway called I Wanna Be Your Lover, dyed by LushKnit and snapped up in one of her Instasales.  They're bright and bold and PINK and I love them.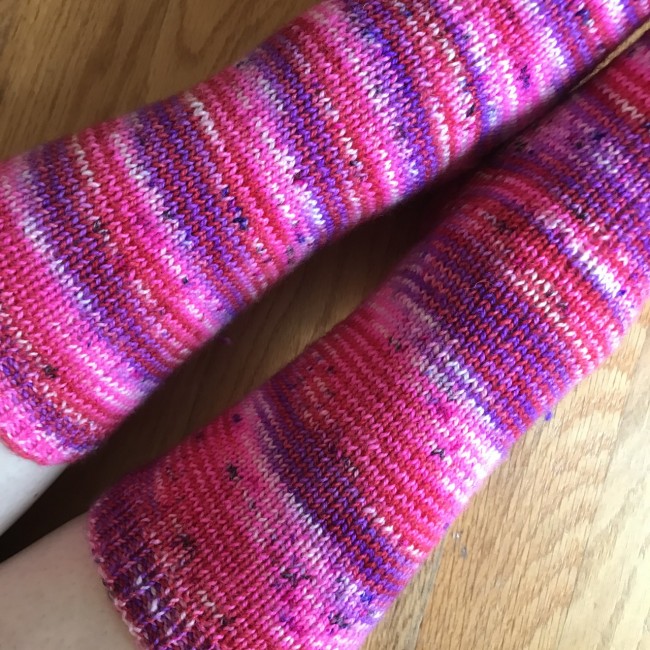 I worked on these all the way to, through, and from France this summer, followed by on the drive back from South Florida to Atlanta after seeing family in July.  Because there is no pattern, it's just around and around and around, which makes the time fly by and makes it easier to concentrate on conversation (or on finishing up the Harry Potter audiobooks which SAVED OUR LIVES when all three children had to sit across a single back seat in the rental car and were on the verge of eating one another–put on a little HP and TOTAL SILENCE while looking out the windows, enraptured!).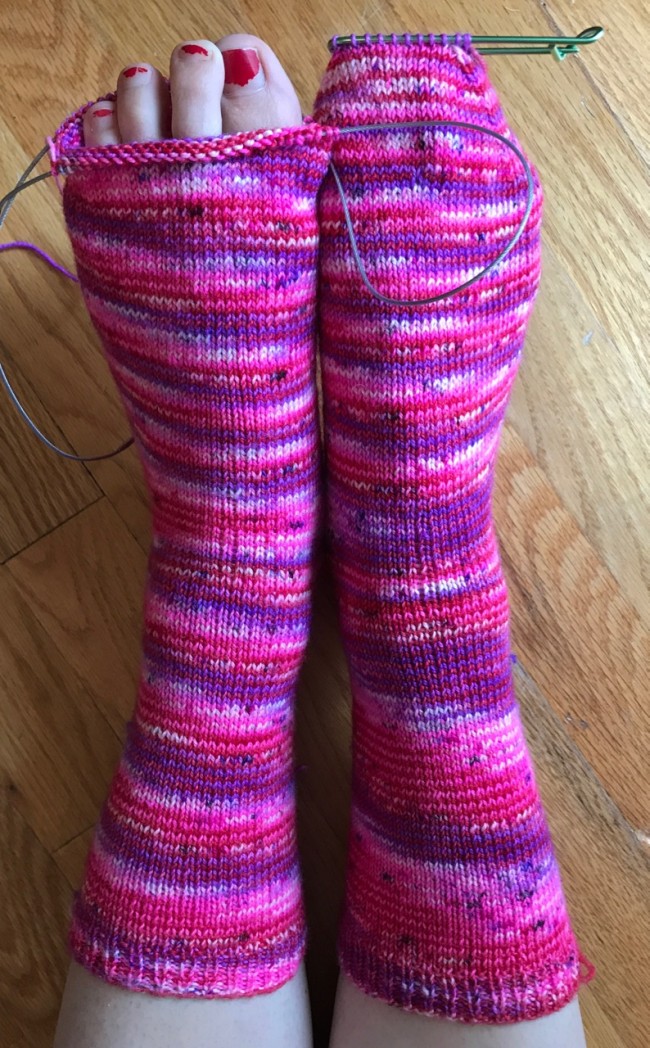 I've just got to finish off the toes on these and they're done!  I was traveling without a blunt darning needle, so I had to work a temporary solution on sock #1 to free my needles and cast on sock #2; so far, so good.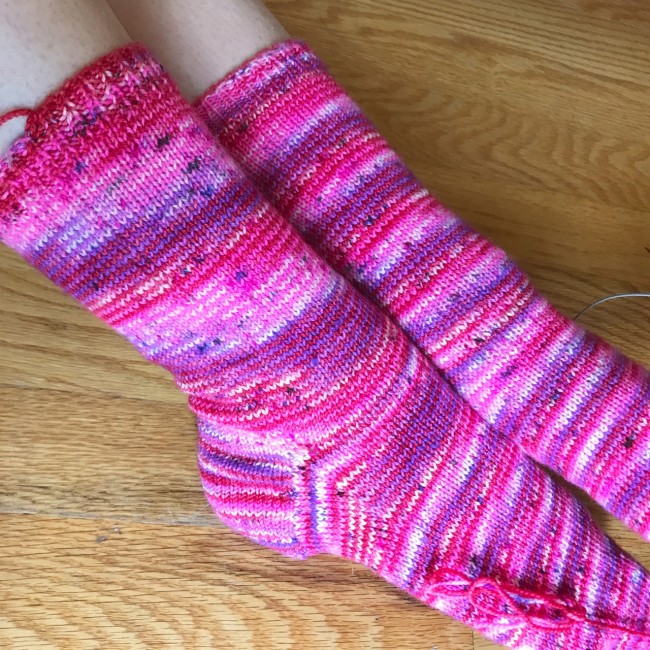 Believe it or not, I tried to make them match exactly, but the "striping" effect didn't play out quite the same between the two–one had big fatty stripes, and the other they're a little skinnier.  But who cares?  And I don't even mind at all that no one will know by looking at them that this is a commemorative Prince-themed yarn BECAUSE I WILL TELL ANYONE WHO STANDS STILL LONG ENOUGH.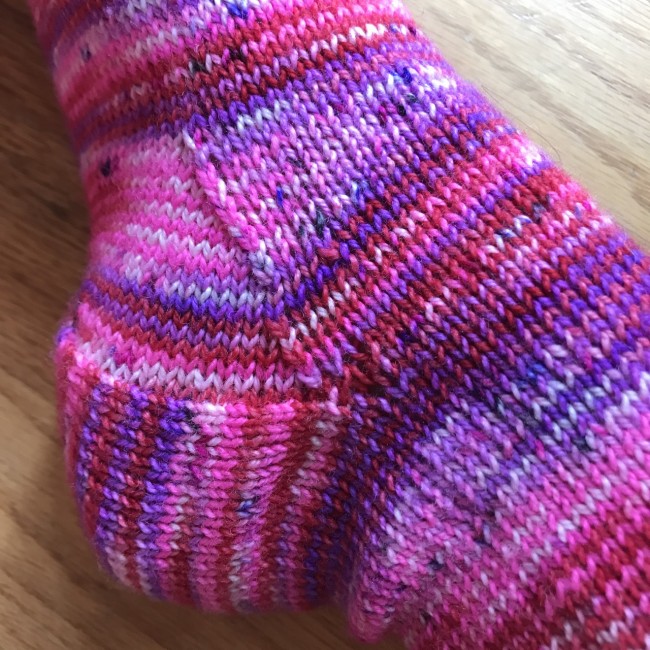 None of these socks are perfect.  There have been dropped stitches that I had to find and drag back up to the needle, which causes a little under-breath muttering that may or may not go over poorly at church.  There are a couple rows where something got away from me or where I split the yarn and didn't get a smooth result.  I honestly don't care.  I sincerely enjoyed knitting all of these, and wearing them will make my winter so much cozier.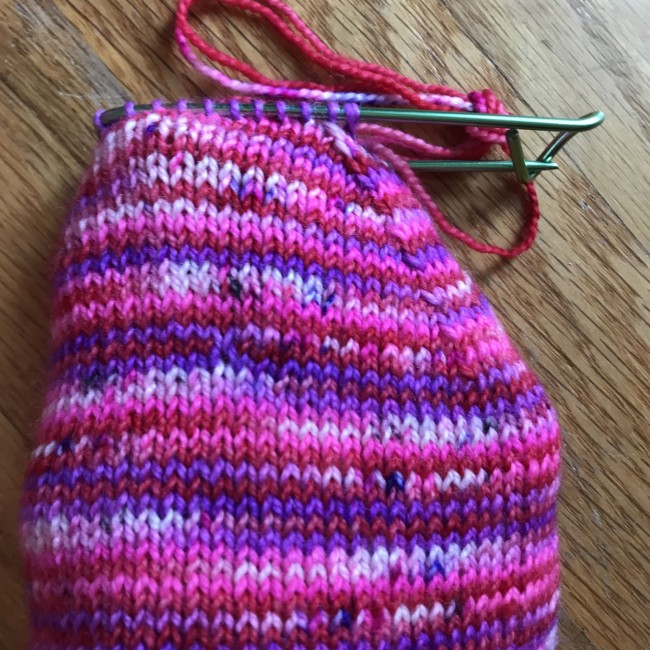 Finishing is FUN!  I had read people complain about the Kitchener stitch, which makes an invisible join along the toe but requires "sewing" the toe closed, but once I tried it, I loved the repetitive nature of the stitch and found it pretty easy to pull off.  As long as I could remember the steps, that is.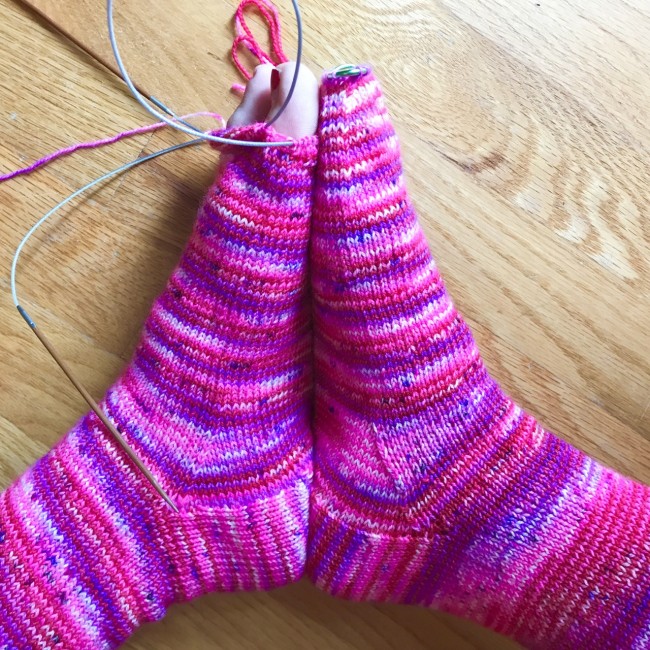 Why bother to make socks, then?  Seriously? It IS a lot of work, and I do live in a climate where it's over 80 degrees for six months out of the year.  Is this really the best investment of my time, if we're being analytical?
The truth is, they really do feel amazing.  So, so much softer than I can describe.  Plus, unlike a lot of other shapes, it's simple to knit with large sections that don't require referring to the pattern.  Knitting socks is easy to transport, which gives it an advantage over almost every garment sewing project, and they're quick to complete.  I like that as you're working on socks, everyone can tell what it is, deflecting lots of irritation questions about your "what is that, crochet?"
And maybe the strongest argument: sock yarn is SO PRETTY and very affordable.  I may or may not have two dozen more colors waiting to go–which gets me one step closer to, well, maybe not a 100% handmade wardrobe, but at least one where 100% of the categories have at least one handmade option in them.  It's a mountain I am willing to climb–in hand knitted socks.