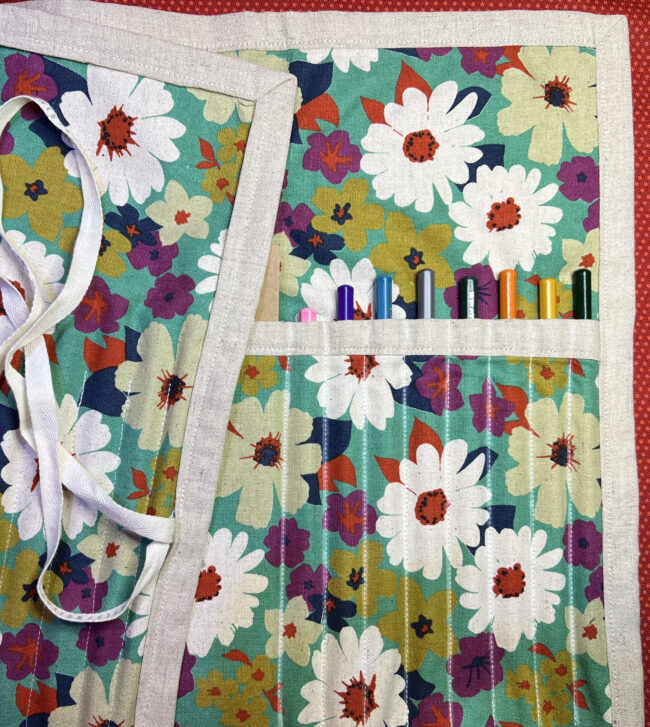 I love holiday sewing. I love the deadlines, and the planning, and the excitement of thinking through what will make the people I love feel the most loved, and then meeting that need with my own two hands. Bonus points for when I can do that without needing to buy new fabric, and instead sewing from my stash.
This post: a round-up of sewing projects that tick all the boxes. They make great gifts for loved ones, or great treats for yourself. They take little time and little fabric, and can usually be made from treasured scraps or hoarded small cuts, so you get to enjoy the fabrics you love the most.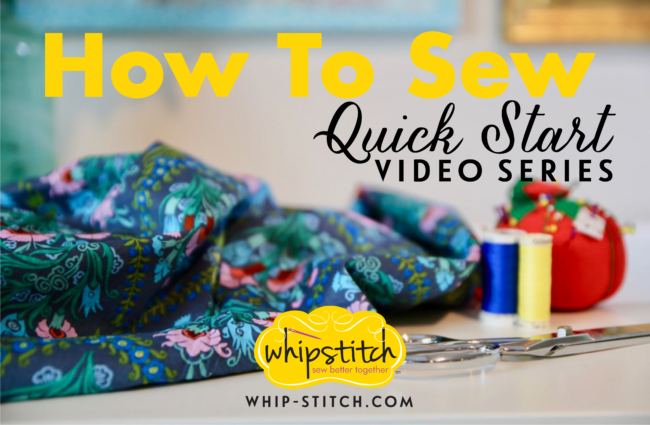 Most of these are featured projects in the How To Sew video series, which is included in every League of Dressmakers membership. The entire series is written so that you can dive in to master your sewing skills from the ground up, whether you're beginner or filling in gaps from learning here and there over the years. Patterns are included along with step-by-step videos to guide you as you do the best sewing of your life!
---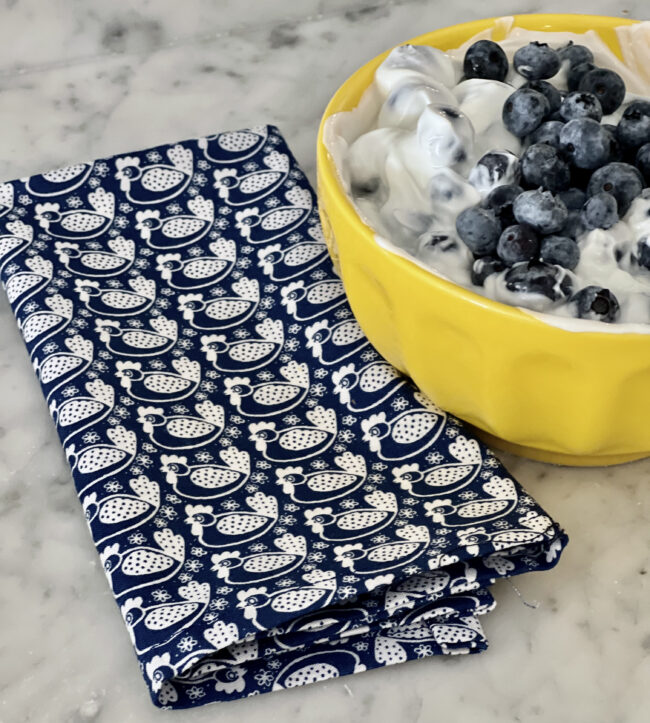 Hostess Gift: Handmade Cloth Napkins
We host Thanksgiving at our house most years, and if I have learned one lesson, it's this: you can never, ever, ever have too much ice or too many napkins. It's impossible to go overboard in those departments. Bringing a lovely set of cloth napkins to any gathering, in a fabric the hosts will love, is an act of now-and-later kindness that never gets wasted.
Cloth napkins are kind to the environment, easy to care for (because you can just toss them into the washer & dryer), and they last FOREVVVVVVER. They also take very little fabric to sew, and are a dreamy way to show off fabric that you love. My sister, when she planned her wedding, asked me to sew the cloth napkins for her reception, which meant not only did she have lovely linen napkins for her guests, but she has a set of 100 napkins to use for years and years, and then pass along to her kids down the road, because seriously, they last FOREVER.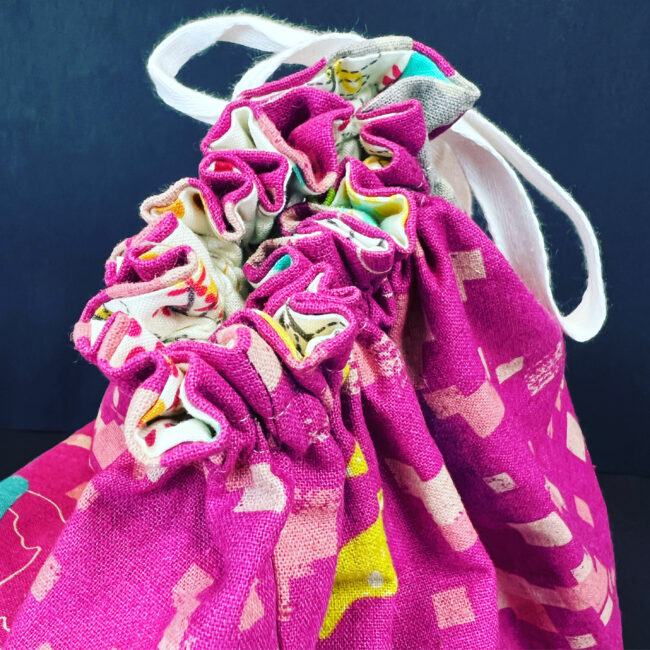 For All Your Gifts: Drawstring Bag
When we order gifts from Amazon to deliver to family who live far away, we discovered pretty fast that the "gift" option was just a drawstring bag made of very lightweight "fabric." It's a great option to dress up an Amazon order, but when I want to go a little fancier–or when I want something opaque to disguise the gift a little longer–I prefer to make my own.
This drawstring bag is lined and simple to make, and the dimensions can be adjusted for nearly any size gift. I like it as a wine bag, which you can totally make in fabric to match your cloth napkins, unless that's too much.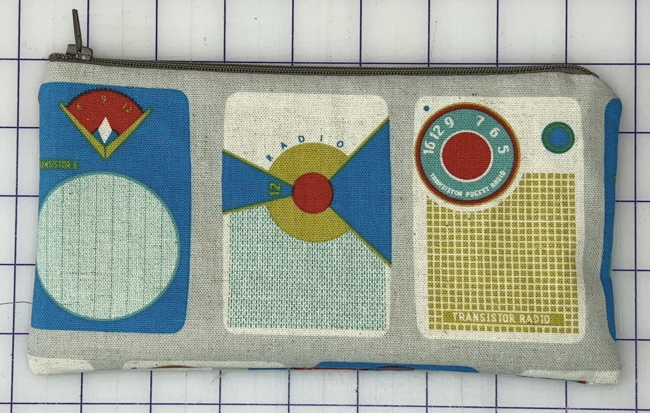 Stocking Stuffer: Lined Zipper Pouch
My girls this year both asked for make-up in their stockings. Our son wants a fountain pen with cartridges of ink. Both those gifts feel like they need to be collated? Which isn't the right word, but you get the idea. A quick zipper pouch does that, and I mean, broken record but still true: you get to show off little bits of your very favorite fabrics. This is fully lined, with an enclosed zipper and SRSLY takes about 35 minutes, even including cutting.
The How To Sew episode for the zipper pouch is designed for folks who have NEVER sewn a zipper before, and walks through zipper anatomy plus the constructions steps to get you to zipper domination.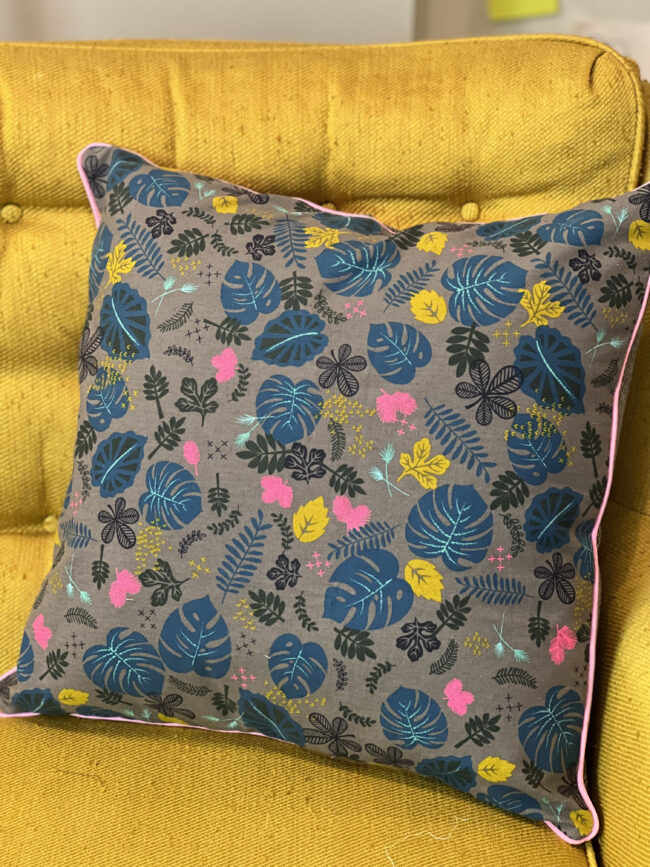 Home Decor: Button-Back Throw Pillow
The first time I saw a throw pillow priced at $149 I thought I had inhaled paint fumes and started hallucinating. I mean. What? What even IS that price?? It's unconscionable. Especially when you realize you can use 1/2 yard of fabric plus a $3.79 package of piping and get your own throw pillow.
This version has a sweet button back, which makes it reversible. It also acts as a blank canvas for showcasing a fabric you love (you saw that coming), or creating a seasonal appliqué, or fabric paint, or cross stitch, or embroidery, or any other design element you can come up with! Swap them out by season, or make one side Thanksgiving and one Christmas/one side Christmas and the other New Year's/one side your family tradition and the other your spouse's…you get the idea.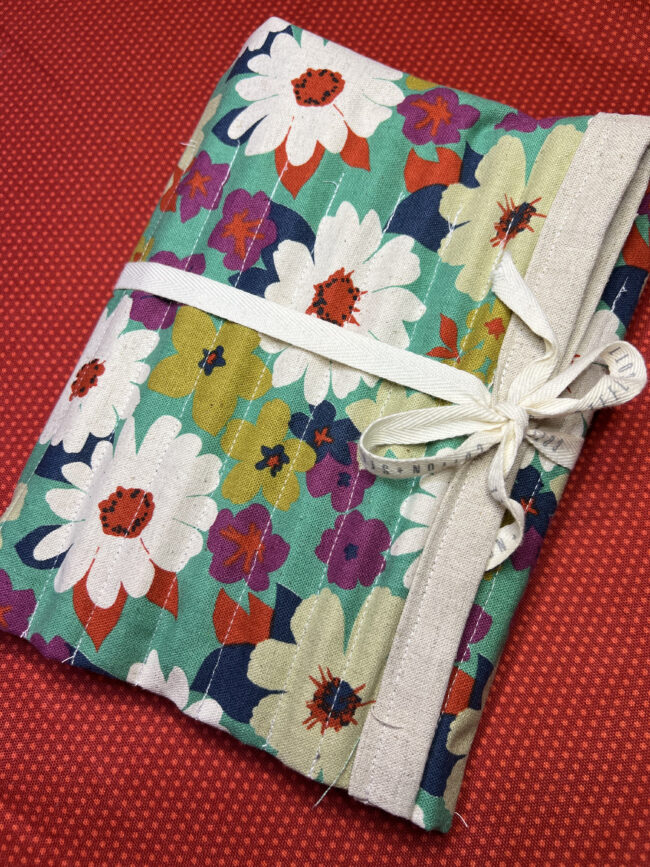 Art Roll-Up or Placemat? You Decide.
When our kids were little (and Pinterest was king), I took great pride in making printable coloring pages for Thanksgiving, so the little ones had plenty to keep them entertained during the parade while the adults loaded up on coffee and flexed their joints to roast a whole turkey.
When we first traveled with our little babies, we would pack their teensy backpacks with WRAPPED treats, like a box of new crayons or a small board book or a new lovie, which they would UNwrap on the plane and then the newness would hold their attention while we flew.
This art tool roll-up would have been great for that. It's just the right size for an airplane tray table, and holds exactly as many coloring pencils as you want it to. It's also a great cloth placemat, and was featured in my book Stitch By Stitch as a picnic placemat, complete with cloth napkin and utensils. I love the idea of making it with wooden spoons and really nice rubber spatulas? Also as a hostess gift. It's anything you want it to be, and takes only 1/2 yard of fabric plus continuous bias tape.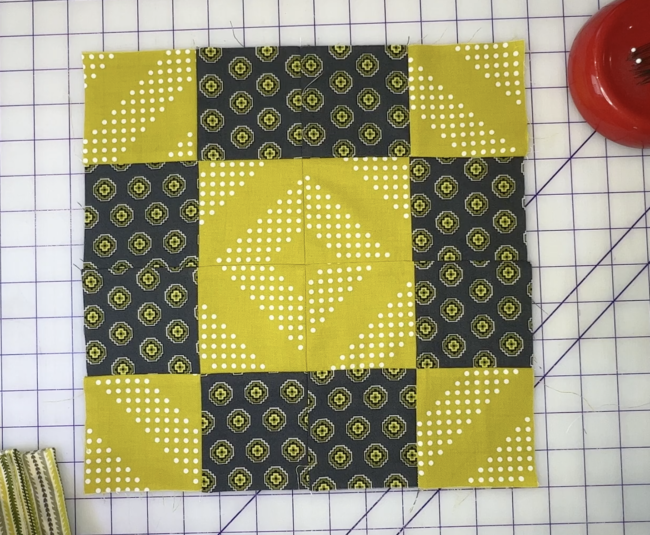 Simple Patchwork: Mini-Quilt or Trivet
A small patchwork gift can take very little sewing but have a huge impact. I like to use small practice blocks for trivets and oven mitts–all it takes is heat-proof batting in the middle and the tiny cuts of fabric you love! These are ideal for potlucks and for large spreads–even if they've been catered with take out. What about New Year's Eve parties where you know the hosts will keep chilled beverages on the counter? An insulating patchwork square can prevent drips and keep drinks cold!
Want something even bigger? What about a full-size quilt? Then the How To Sew video series will help with the patchwork project above–but so will the How To Quilt video series! How To Sew is included as part of a League of Dressmakers membership, and How To Quilt is a bonus included with your Murder Mystery Quilt membership in 2023.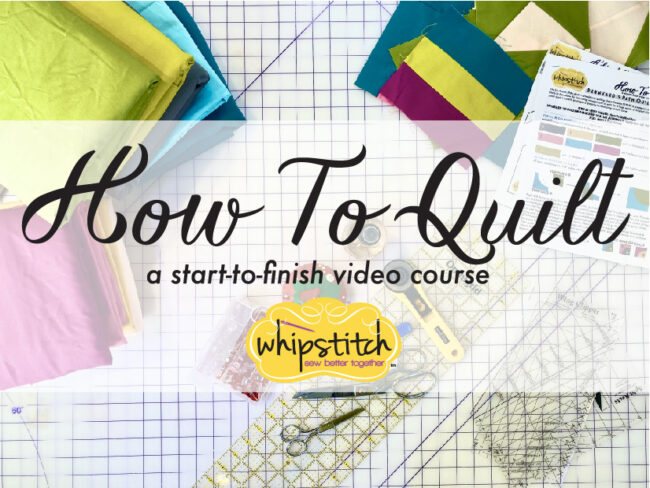 Does a quilt seem like too much for the holidays? I ask you to consider: how many hours would you spend shopping for just the right gift for your closest loved ones? An hour? Six hours? Days and days of mindless scrolling through online deals with no idea what to give them and only the constant hope that the NEXT link will be Just The Thing?
What if you could spend a weekend making a quilt they'll treasure forever-and you get the keep the skills when you're finished? That would be an investment in the relationship, and IN YOURSELF.
What if you could do the entire project in holiday colors, and KEEP IT EVEN IF YOU DON'T GIFT IT? Way better than buying something on clearance that they don't even like, am I right? Or am I right? Because I'm right.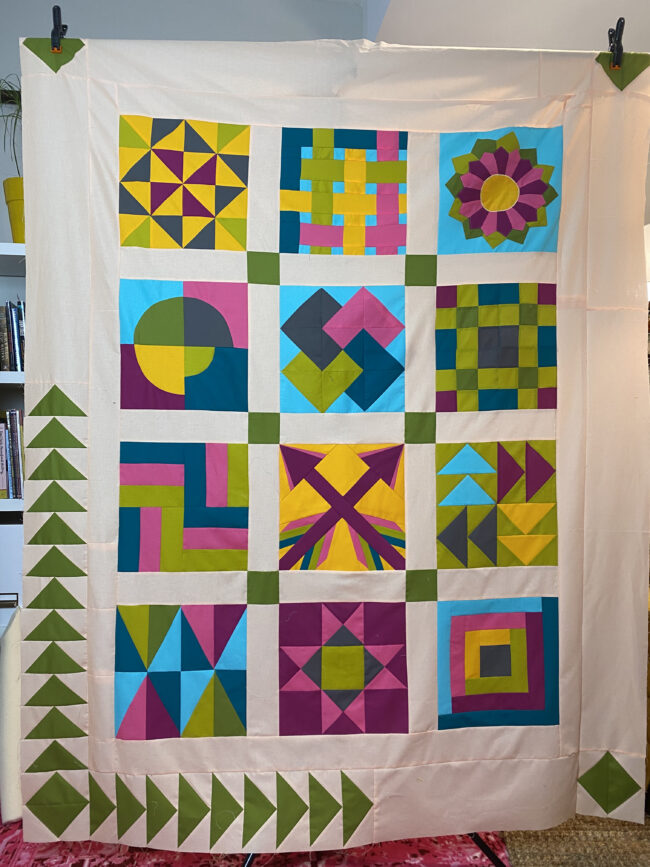 Larger Patchwork: For Now & Forever
The How To Quilt video series includes twelve quilt blocks and directions for making a sampler quilt. I love it in these bold jewel tones, but I made a sample in all red-white-and-blue that was just as fun.
What about making a sampler quilt all in holiday colors? Or in your grandmother's favorite colors? Or as a donation to foster children, a project you can do with your own kids as an act of love this holiday season? Quilts of Valor makes quilts for veterans, and they always want blocks and finished quilts to award to heroes. The How To Quilt series can walk you through the entire project, one video at a time.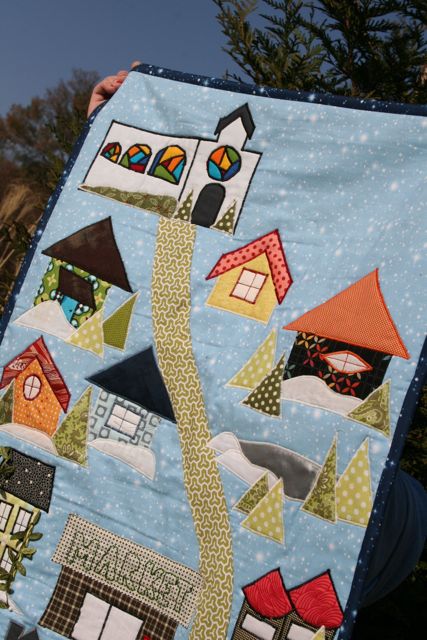 Holiday Village Advent Calendar
Also included in a 2023 Murder Mystery Quilt membership: an Advent Calendar quilt-along. This one is based on the series I made here on my blog years ago, which was itself based on the one my mother made when I was little, and that I revised and shared with our MMQ members as a bonus treat leading up to the start of our mystery together!
I used scraps of fabrics from my stash for these tiny houses, plus each year I add a little bit more trim or another notion to create dimension and warmth. Our paper doll family "walks" the village path and visits each little house, one per day through the Christmas season, until arriving at the chapel on Christmas Eve. Our family has so many memories of this wall hanging, and it's a deeply loving gift to offer to those you care about.
What handmade gifts will fit into your schedule this year? This list covers every level of sewing, from napkins to Advent calendar wall hangings. Come sew with us at The League and make handmade treats for yourself and your loved ones this season!