As our kids get older, some traditions we've held close to our hearts are changing and growing along with them. I've sewn a new pair of pajamas for our kids each Christmas for years, and that has become their one gift they open on Christmas Eve.
But these days they don't grow as fast as they used to, and what was a practical project–they needed new PJs anyway–had become redundant. They don't need, in a climate where the low temperatures are over 60 for seven months out of the year, six pair of flannel pajamas.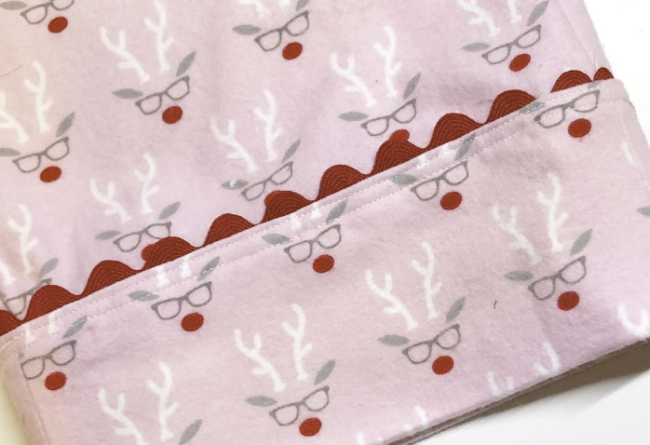 Sewing Is Practical, But Also Emotional
Last year, I didn't plan to sew any pajamas for the kids. I wasn't really feeling it? And they didn't seem to need them, for the first time. Until our son made me this: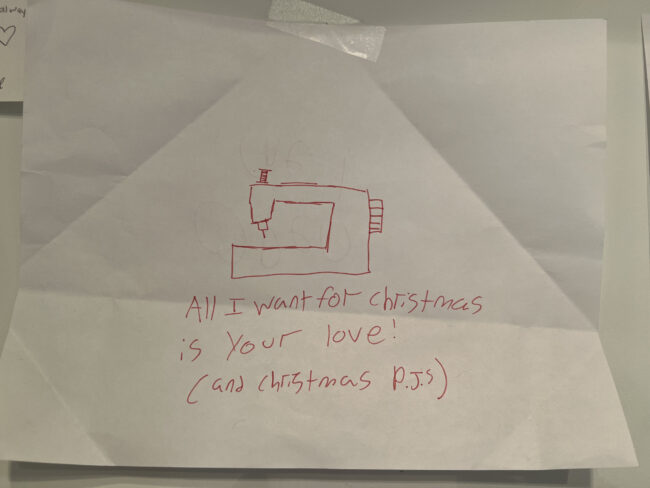 I ask you. What kind of monster would say no to that??
So last year, it was flannel jammies for all the kids on Christmas Eve. I made the choice to do full pajamas–tops and bottoms–rather than just PJ bottoms, based on the fact that THAT'S WHAT THEY WEAR. Which is to say, if I bought into what we see on TV or in ads, I would have made them only pajama pants and a tee shirt, but when our kids go get ready for bed and come back out to say goodnight, they CHOOSE FOR THEMSELVES to wear full pajamas, and there's a lesson hidden there about letting our kids tell us who they are rather than believing the current images that media & culture impress upon us.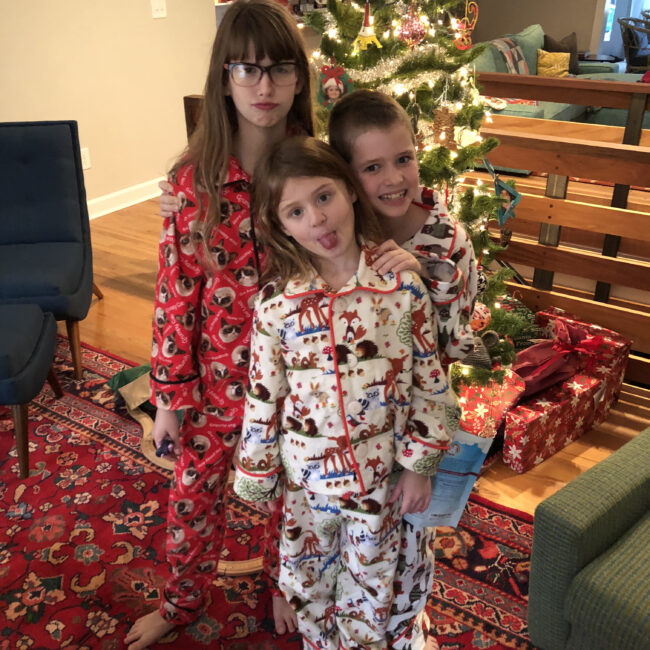 The Process: How To Sew Christmas Pajamas For The Whole Family
It's a LOT to sew a family's set of pajamas each Christmas. Like, an overwhelming amount. I also know: I LOVE IT. And clearly, based on the feedback my kids and husband give me, so do they. This has become one of the traditions we all treasure. So it's worth the effort.
I'm only one person, though, which requires that I have a system. I'm asked every time I post Christmas jammies on social media what patterns I choose, what fabrics I use, and how I get "it all" done, and this post and the YouTube video are here to answer those questions!
With an effort to avoid repeating myself too much, I put together some clips of the jammies I've made over the years, and talk through how I think about sewing them, what I do to give myself grace when the project seems daunting, how I choose the patterns year after year, how I prepare my fabrics, and why I make matching sets rather than pajama bottoms only. You can watch on my YouTube channel!
The YouTube video shares the patterns I use, which are a combination of new and vintage. My kids are stair-steps about two years apart, which means that each year when I sew a pair of pajama pants, I can trace the pattern pieces and save them for the next year, when the next-younger kid can wear the same size–so at this point, I have a file folder of pattern pieces in almost all the sizes I need.
For the younger two, for example, I use a pattern I've sewn for the older kids in the past and adjust lengths and seam allowances to "grow" it a size up.
As the kids get older and move into adult sizes, I don't have to trace a new pattern. I've settled on the Carolyn Pajamas for my oldest girls and me, and nearly always make this pattern now. I love the classic styling of the lapels, and the variation I can get from the cuffs on sleeves and pants.
That's a point that I don't discuss much in the video–because I was trying to cut it down to less than half an hour–but that bears mentioning: before we can begin the "sewing" part of sewing, we have to make some decisions about WHAT I'm sewing. Who gets a pair of pajamas? Do they get tops and bottoms both, or just pajama pants? Will there be piping or ric rac or trim? Are these flannel or can they be lightweight cotton, like, what do they need?
Those are initial questions that must be answered, and while I flip through the patterns, I answer them for myself and make a bin of all the supplies I'll need this year. I start by sorting through all my available patterns and allowing myself to get inspired. Seeing which ones I've used in the past also gives me a space to ask whether that family member's tastes might have changed–does my little girl who last year loved ruffles and nightgowns wear Doc Martens and black eye shadow now? She might want a different style of sleepwear, and this is my shot to match her TODAY personality with her pajamas for the year.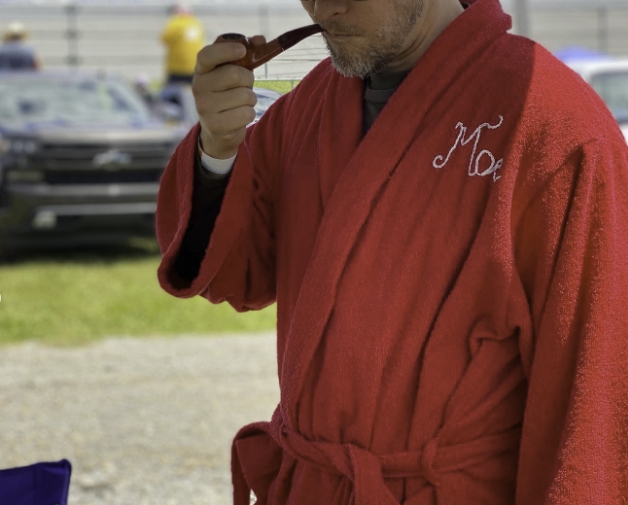 I can also be a little strategic about how my sewing time is spent. Will these new jammies meet a need? Too much is too much, even when it's a family tradition–so I can explore as I sort through pattern ideas whether my sewing will be purposeful.
Last year, for example, I expanded my pattern repertoire to include a bathrobe for my husband, who has plenty of pajama pants but wanted a cold-weather bathrobe. I struggled to find a brand-new bathrobe pattern with the fit I wanted, but scored a really great one on Etsy, where I find a lot of vintage patterns. My search technique usually involves exploring Pattern Review, getting a pattern number, then Googling that pattern umber or searching Etsy and eBay for that specific pattern in the size(s) I need. This has been a successful strategy for snagging patterns in the $6-$10 range.
The fabrics each year are all from my stash. I tend to purchase yardage of fabric of either three or five yards as the year goes along, nearly always on sale or with a coupon. In the case of flannel, experience has taught me to buy five yards with the assumption that they'll become pajamas and I'll need that much; pants generally take about one-and-a-half yards, but tops take up to three, so an adult set of pajamas will require between four-and-a-half and five yards total.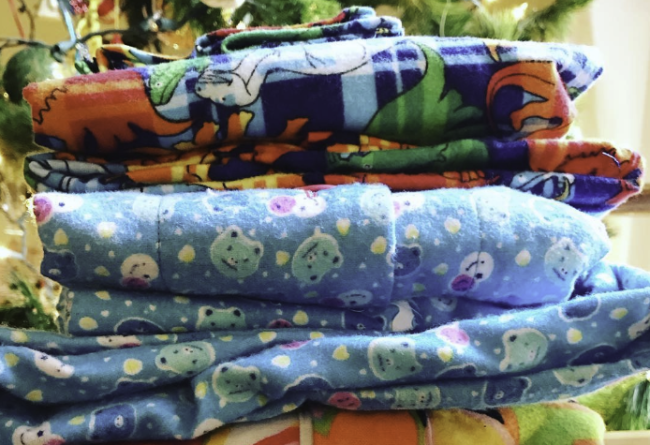 I launder flannels TWICE and run the yardage through the dryer before cutting and sewing. I also steam press the fabric folded double, right sides together and selvage to selvage, before rolling it out on the cutting table. Flannel is notorious for shrinking, so I want to be sure that I get as much of that over with BEFORE stitching as I can so the pajamas will last the maximum length of time before handing down.
I use other fabrics besides flannel, these days, because my kids grow less each year so their pajamas last a little longer–which means we don't need oceans of cold-weather jammies, but rather some that can be worn year-round. Some of my alternate favorites are double gauze and rayon, and on occasion I've used a quilt-weight cotton if it has a really great print. I cover fabrics in depth in the video above. Now that Fabric.com has closed down, I find most of my fabrics at local quilt shops and through my favorite sellers, like Crimson Tate.
Like with my scrap buckets (video here) and my Harry Potter Project of Doom quilts, I sort my pajama sewing into a large plastic tub along with every notion I'll need for the whole gang: elastic, trim, buttons, all of it. At no point during the sewing process do I want to stop because I don't have enough buttons or I ran out of thread, so I do ALL my shopping–either in my stash or at the store–before I ever cut a single pattern piece or sew a single stitch. This may seem like a sloooooow start, but it makes for a much faster process in the sewing stage.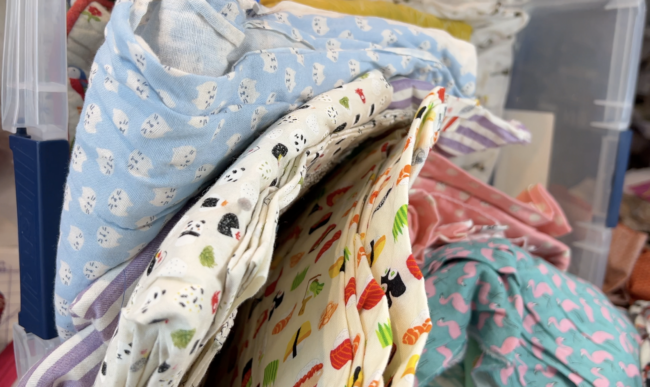 The key to this whole thing is, I think in terms of CHAPTERS. "Chapters" are how I sub-divide this super big project into chunks that don't scare me quite so much.
Chapter 1: choose the patterns (and decide who's getting what this year).
Chapter 2: prepare the fabric, which includes both pre-washing and pressing.
Chapter 3: cut everything out, which is A WHOLE "SEWING" SESSION OF ITS OWN.
By treating cutting out as a discrete step all on its own, I'm way less likely to put off getting started. Since this is a chapter, and each chapter is one step closer to being finished, the simple act of pinning the pattern pieces and cutting out EVERY PAIR OF JAMMIES at once becomes more achievable.
I set aside an entire "sewing" session, which I define as a period of time when I'm working on a sewing project and expect that I will have about two hours before I have to stop, to JUST cutting pieces out. I start with the first fabric, and cut out EVERY PIECE, including all facings, pockets, trim, cuffs, and collars. I don't stop until ONE WHOLE SET as been cut out. Then I bundle all that ONE SET together, usually in a two gallon zippy bag, and set it in the bucket with the notions I'll need. I move on to the second set, and continue until I run out of time or until everything is cut.
I do this with a movie playing, or a podcast, or an audio book. I jam out to tunes. The cutting part is MINDLESS so I like to get it done early and with as much lightheartedness as I can.
Cutting includes ADDING INTERFACING to any piece that calls for it. That way, those pieces are completely prepped and ready to sew, all while I have the cutting shears in my hand already!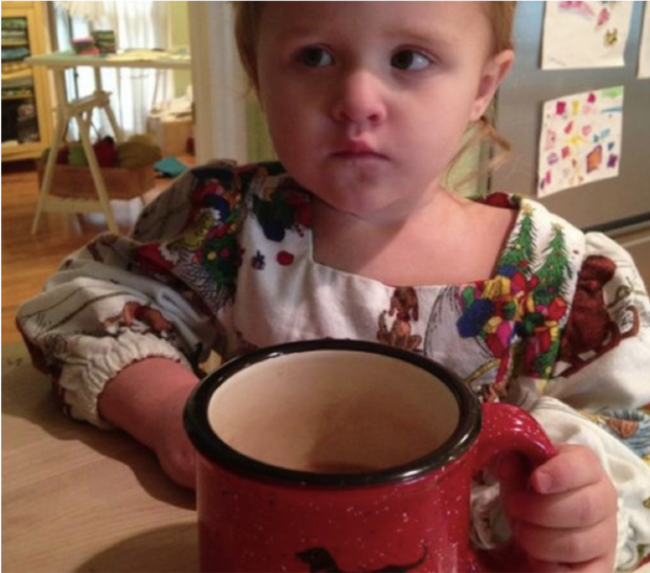 It's surprising that having ALL the pieces cut and ready to go, and a whole bucket of ALL the notions I need in one place, can PUSH ME FORWARD, but this is the real method to my system. I break the project down into chunks, and I work on ONE CHUNK AT A TIME. Finishing the shopping and the cutting way early makes the sewing part seem like a breeze!
I won't need an entire weekend of un-interrupted time. I won't need to lock myself in a room and hide to get it all done, or to lash out in frustration anytime other holiday (or regular life) obligations get in the way. Instead, any few minutes here or there I discover, I will be able to sew A LITTLE BIT MORE, because I don't need to do any of the prep. It's already finished!
Chapter 4 is the actual "sewing" of the sewing project. I never feel like sewing before Thanksgiving, but the practical reality is that I have to start before Halloween to get it all done. Shopping ahead, or buying after-season and saving the fabric for next year, makes that more affordable. Beginning to sew around October allows me some margin so that I won't feel I'm sewing under the gun (although I confess I often sew all the way up to Christmas Eve).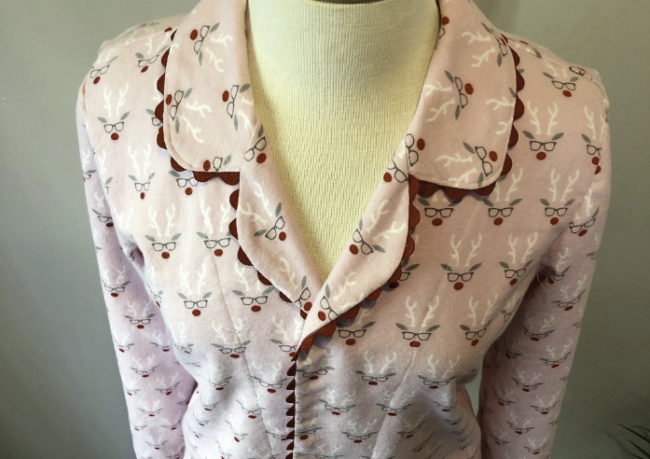 When it's time to sit down and sew, I speed it up by using the same color thread for all of them, if that's even remotely feasible. This reduces my time commitment considerably, and with printed flannels I frequently find that white thread works for nearly every print, regardless of the main colors in the fabric–the printed part is on the right side, but the wrong side is almost always white, anyway. Now I can skip threading and re-threading the machine or winding a new bobbin, and just sew and sew and sew!
Last hack to make the sewing go faster/get it "all" finished before the holiday: sew ALL THE PANTS FIRST. That way, if I run out of time, I can at least gift pants to every family member. Pants are nearly always quick to sew, and require only a few seams plus waistband casing and hem, so they can be stitched up with very little time invested on each pair.
For our family, as I discuss in my recent podcast episode, we give our kids TWO gifts per year, one from us and one from Santa. But on Christmas Eve, we unwrap jammies. We do this at the very end of the evening, after we attend a candlelight service some years, after we have a family meal other years. Right before they head off to bathe and get ready for bed, I bring out a stack of wrapped gifts and there's a frenzy of ripping paper and glee as they open them.
One year, when our kids were very small, the girls each had an American Girl doll, and so I made the dolls matching jammies. Our son had a woolly mammoth doll he loved, and so even the woolly mammoth got a pair.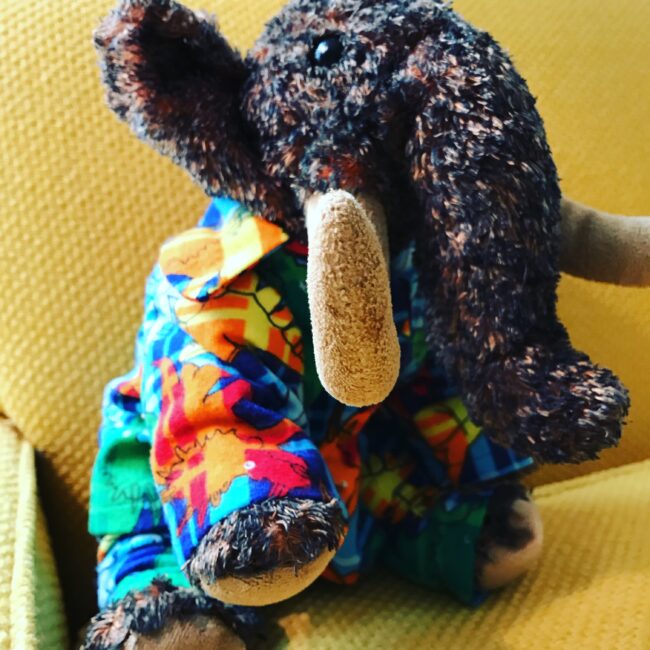 The whole thing gives me SO MUCH JOY, which is the real reason I keep doing it. Knowing it gives my kids equal amounts of joy is the kicker that means I won't stop anytime soon. It doesn't hurt that our Christmas morning photos are THAT MUCH BETTER because everyone looks so dapper in their brand-new pajamas.
I don't know what will happen next Christmas–they'll probably still fit in the ones I'm sewing now, and the ones that don't fit our boy will fit our youngest by that time. Will they ask for pajamas again? Will they need them? I guess the answer to the first is more important to me, is what I'm discovering: even if they don't have a gap in their wardrobes, but they WANT that connection through a family tradition, I will almost certainly make it happen. Some things are even warmer than flannel.