The short version is: we're still super stalled on the kitchen.  The butcher block bar has yet to be installed, and while I've pretty much chosen a backsplash, it's crazy expensive and I can't seem to pull the trigger.  I am pretty proud to say that I've installed one whole drawer handle–the other ten are here, but drilling those holes was harrowing–which represents serious progress.  Still no cabinet doors (stop laughing at me for thinking it was a good idea to paint and re-hang those by myself), but we're getting by.  And honestly, Spring Break is making me feel way more motivated to get these things done.  Must be Spring Fever.
In order to avoid feeling like a complete failure, though, I thought I'd share the one room that's closest to completion: the living room.  I acknowledge that it will be quite some time (if ever) before this entire house is really "done," but this one room is inching along faster than the others, and it will make me feel better to hear your oooohs and aaaahs.  Might even make me buy more trim paint.  Ba-dump-bump.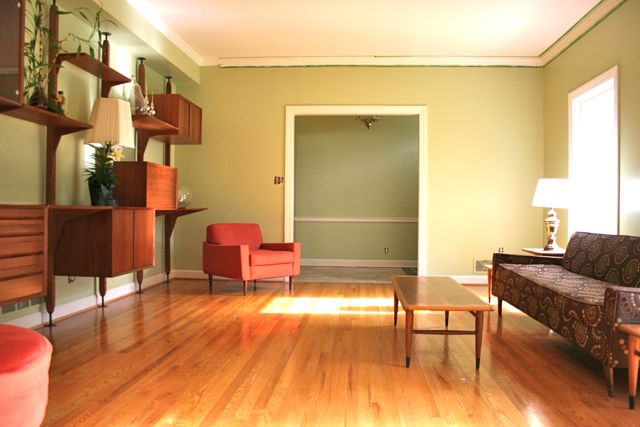 Our house is a pretty standard 1960s ranch, so when you enter the front door, at the far end of this photo, you're in a foyer with a formal living room on the left and the wall to a bedroom on the right.  Directly in front of the door, out of frame to the upper left of this photo, is the hallway to the bedrooms, with the den beyond that.  In this photo, the dining room is behind the viewer; I was standing in the doorway between the living room and dining room when I shot this.
For comparison, this is what we started with: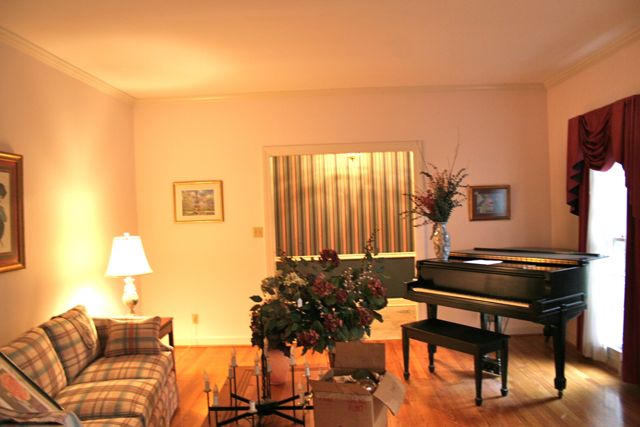 This was a snapshot taken at roughly the same time of day last October, when we did our walk-through.  You'll notice the wallpaper in the entryway, which we clearly painted; the depressing dullness of the living room itself–the ONLY room in the entire house that didn't have either wallpaper or bi-fold doors (or both); and the lack of a soffitt on the left-hand wall (which we had built specifically for the teak wall unit that lives there now).  Sincerely, even if this weren't my house (and my sweat equity), I don't know that I would recognize this as the same room.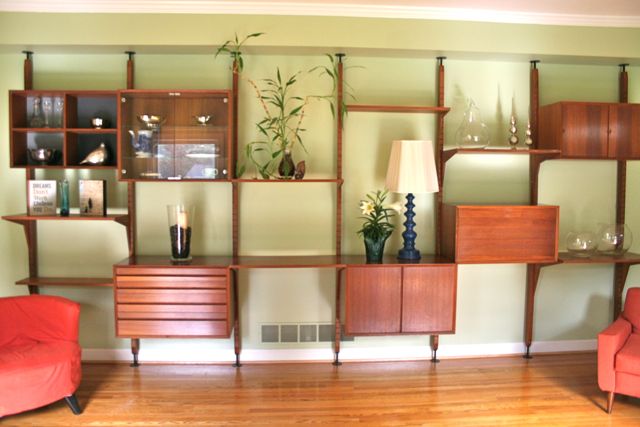 The wall unit is very obviously the star of this show.  This wall is huge, and it needed something more serious than a sofa to set it off.  I grew up with this teak unit in my parents' house, and have always adored it–it says home to me, with the smell of the cabinets and the memories of all our "nice" things stored there that only came out for holidays and special guests.  It's a CADO unit, designed by Poul Cadovius in the 1970s; my folks got it when we lived in Europe with the Air Force when I was a baby.  It's eight feet tall, but the ceiling in this room is nine, so we built the soffit to fit the unit.  With all sides of the soffit painted on all sides to match the walls, you hardly even notice that it's there.  I'll be honest: I freaking love this thing.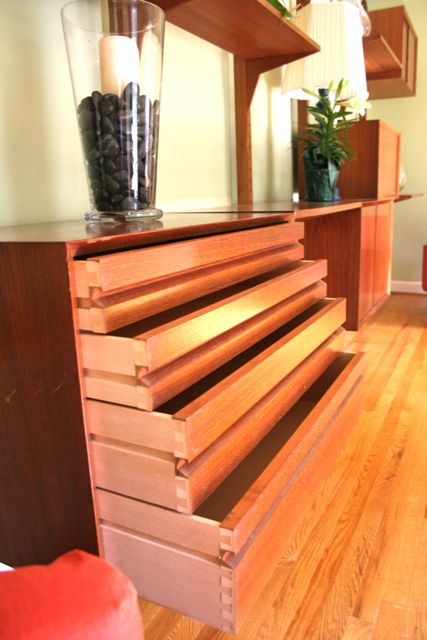 Each of the modules in the wall unit is designed for a different function, and when my parents bought it, you could pick and choose which ones you wanted.  I've always loved this drawer module, and the glass-front upper piece.  I love that there is a sliding-door section, in the far upper right of this photo, that's sized to hold LPs.  Oh, 70s.
There's also a desk with a drop-down leaf for writing and lots of little pigeon holes inside–perfect for kids to squirrel things away:

There are label-maker stickers still in there that read "outgoing mail" and "current bills."  I'm not sure which of my folks did those; either of them is fully capable of having gotten a little excited with the label-maker–but I'm betting it was my dad.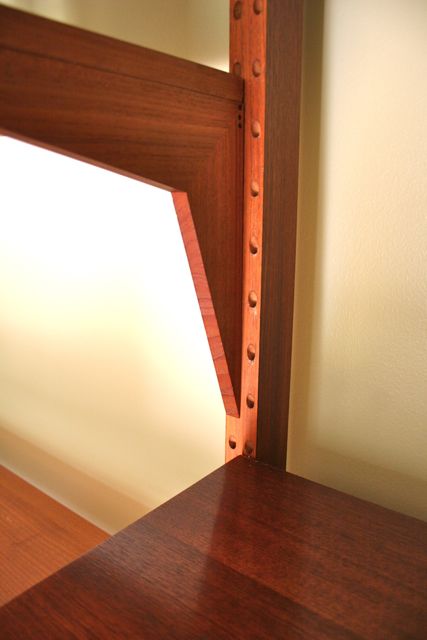 Each module and shelf attaches with these angled wooden prongs on the back–in the case of the shelves, they're on the brackets, but for everything else, they're on the back of the module itself.  Line them up with the holes on either side of the poles, and you're in business.  Oh, and best part, if you're feeling Brady-Bunchy?  There are holes on the opposite side of each pole, too, so you can use the entire unit as a room divider, with modules on the back and front.  Hello!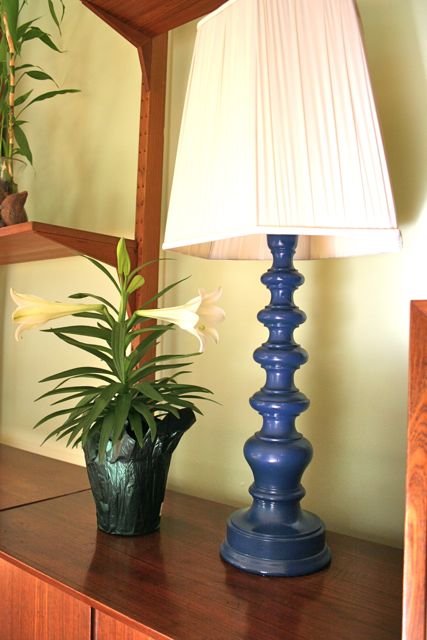 We've outfitted our lovely teak behemoth with suitable accessories–but not too many, since both of us tend to err on the side of fewer tchotchkes rather than more.  This (FABULOUS) lamp was in the house before we bought it–we picked it up at the estate sale, and I adore it.  At first, I thought I'd paint it, but now I'm using this cobalt blue color as an accent in this room, and the lamp is spectacular.  Hi, there, Easter lily!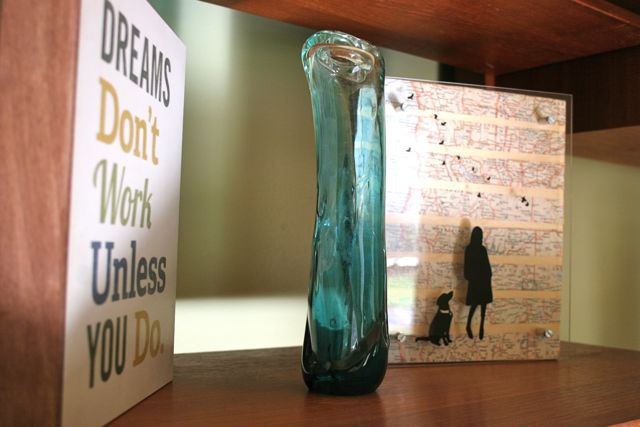 Art, from L to R: "Dreams Don't Work Unless You Do" block print on wood, from Chicago artist (and super swell guy) Kevin Lucius; blown glass vase handmade by my grandmother; vintage map and acrylic overlay by Atlanta animal artist Yvonne Miller.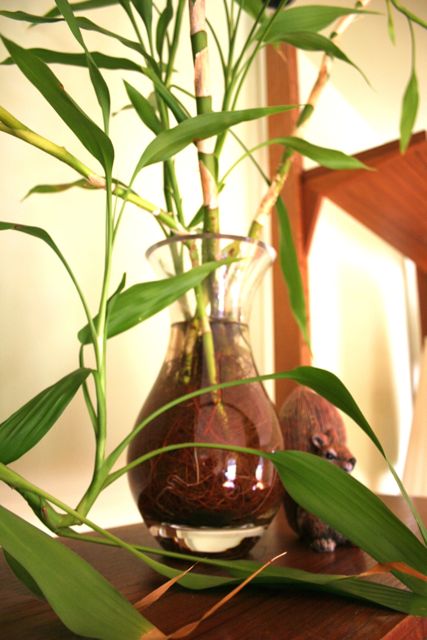 Bamboo that's been growing and growing for somewhere close to ten years now.  The squirrel, who is destined to be Pinterest-painted gloss white, says "SOON."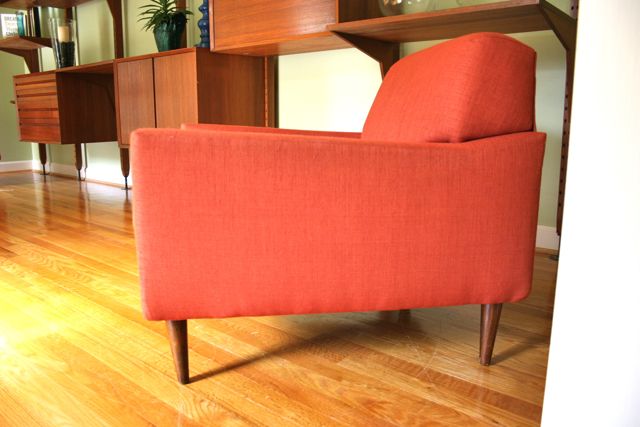 At one end of the CADO is a vintage chair I found on Craig's List.  It was recovered by the seller, and while the color isn't my first choice, I think it's going to work in this room.  On the opposite side, though, is a similarly-colored chair whose slip cover is destined to go: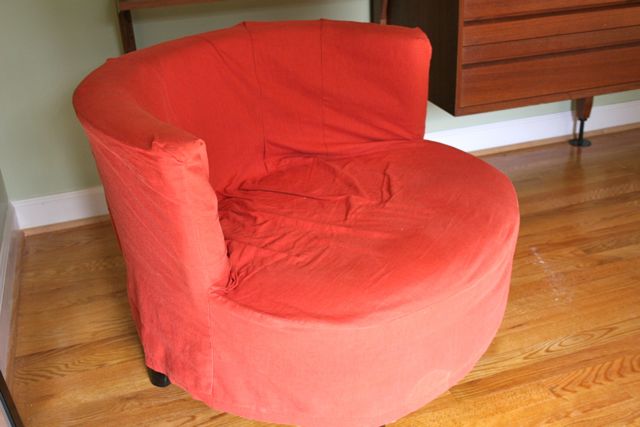 I think the rounded lines of this chair make it perfect for this room–which must by why my mother gave it to me when she brought the wall unit–but the slip cover has seen better days and the color is too close to the other chair, meaning it's got to be re-done.  Lucky for me, I'm teaching Home Dec as my next e-course, so I've got some fabric on the warmer, ready to rock this bad boy as a class sample!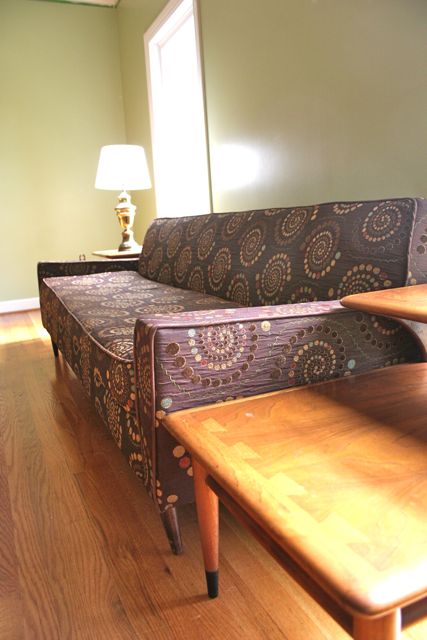 Opposite the CADO is the sofa, which came as a set with the orange chair (the one that's NOT being slip covered).  The seller had re-upholstered this one, too, but honestly I do not like the fabric.  At all.  It doesn't make me cry every time I see it, but I cannot live with it.  So I'm on the hunt for the perfect green-and-blue ikat print to recover and set the emotional tone for this room.  The end tables belonged to my grandmother, and match the Lane dovetail coffee table I got when she moved to senior living: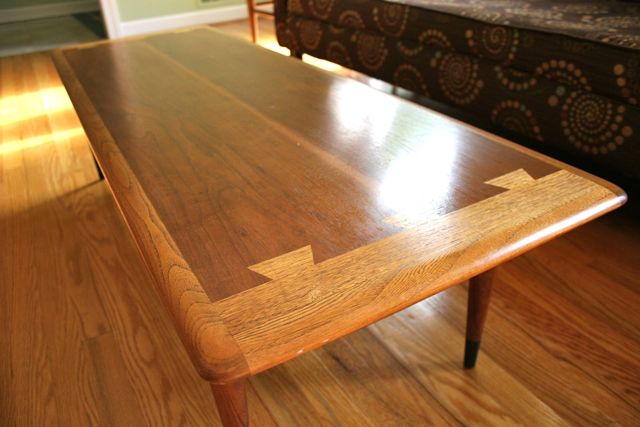 And there you have it!  Obviously, there's a lot left to do, but on the whole, this room is pretty close to liveable.  Coming up:
spray paint the two brass lamp bases chrome
add window treatments–probably a textured white that runs floor to ceiling with a honeycomb header on rings
slip cover the round chair
remove the painter's tape on the crown molding–oops!–and finish updating all the trim from cream (and lead–eeek!) to bright white
ditto the baseboards
find a rug, probably in blue (husband is resisting, but I really think we need a rug, don't you?)
hang our art on the walls, including the fabulous Puerto Rican king print my husband got when he visited San Juan
Plus a couple other fun projects, including getting a beta fish and making two terrariums…terrarii…: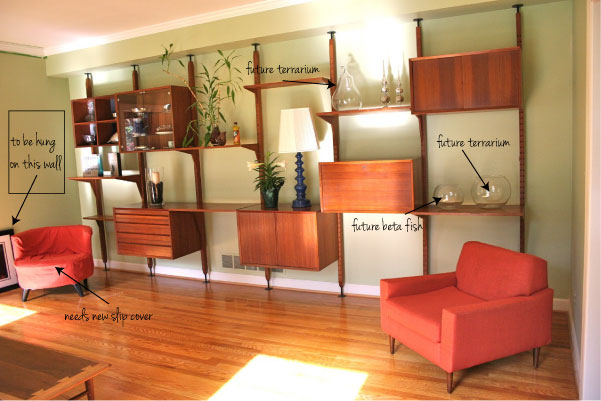 I DO feel better.  Now I see why it's taking so long.  Maybe next week I'll share the master bedroom–the master bath might never be un-ugly enough to show you, but the bedroom is making striking progress.  Woot!