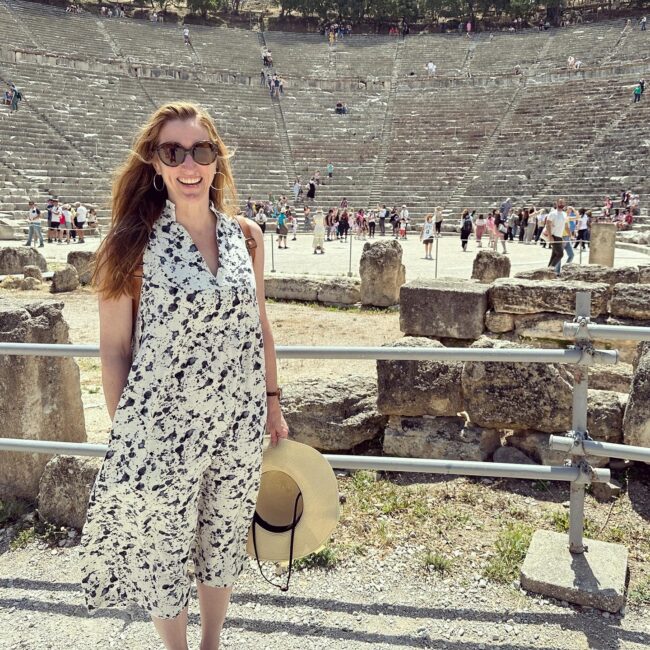 I needed a simple, pull-over style dress for one of the days during our recent visit to Greece. We started our day driving away from Athens (srsly not for the faint of heart, ugh, what a tough town for driving) and heading west, toward Corinth. Over the former-isthmus-now-canal at Corinth, we headed to Epidaurus, which is NOT the very, very famous ampitheather at Epidavros, above, but rather a teeeeeeensy tiny little spot on the coast, where I was assured we would find an underwater sunken city of ancient origins which we could snorkel.
We found it, it was amazing, we were basically the only people there: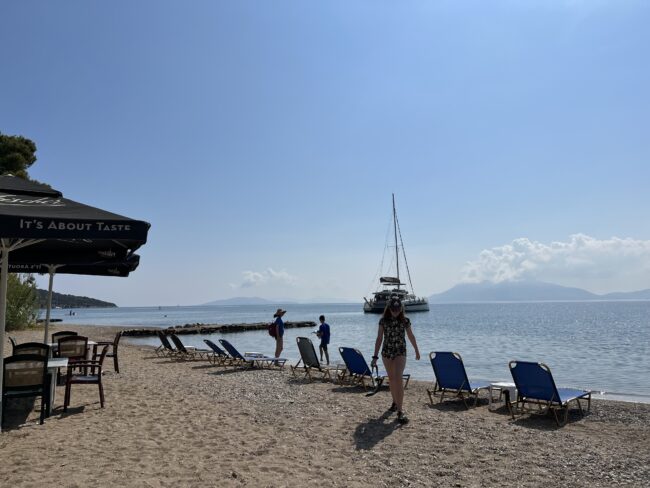 With the exception of the four people on that sailboat, we were the ONLY people visiting Epidaurus that day. And it is exactly what they said: under a scant four feet of water, an entire (small) city in ruins lies on the sandy ocean bed, and you can legit snorkel right over it. The walls are all still in place, and the amphorae which once held olive oil and wine are snuggled side-by-side inside rooms that your body glides over in the chilly water. Our whole family braved literal piles of urchins on the sandy bottom to swim out about 100 feet from shore and explore this place, and I can't believe it wasn't mobbed, because where else can you get this close to 2000+ year-old ruins without a velvet rope?
We were willing to drive over 90 minutes to get here early in the day, and start our morning snorkeling. I wanted a dress to wear, though, which would not only go over my suit leaving the Athens hotel, but also let me change out of my wet swimsuit after, so we could visit the ancient theatre at Epidavros (largest intact ancient ampitheatre in the world!), and then keep driving west to the adorable harbor town of Nafplio: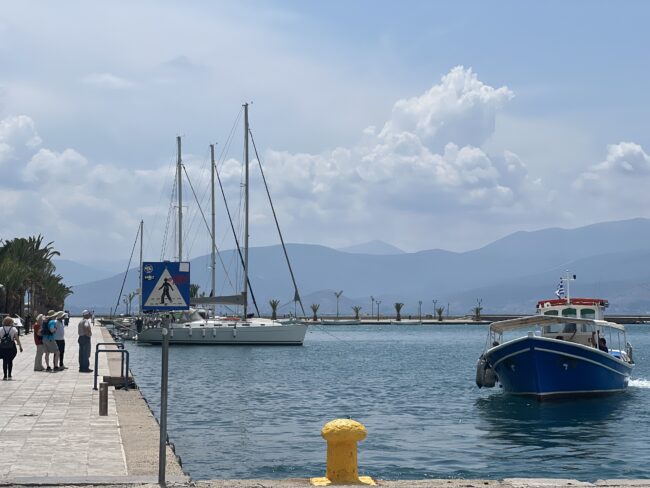 I didn't want to be soggy for our quayside lunch there, or wandering the narrow streets where bougainvilla hangs from balconies above cobbled walkways, where we would have Greek gelato & feel the ocean breezes–all surrounded by exactly ZERO cruise ship passengers. I wanted to feel chic and worldly, unconcerned, and fully immerse myself in this sweet little fishing town where not one dish on the menu was anything other than seafood, seafood, seafood. It was heaven.
I also knew that after lunch, we would go explore Mycenae, an outdoor archaeological site: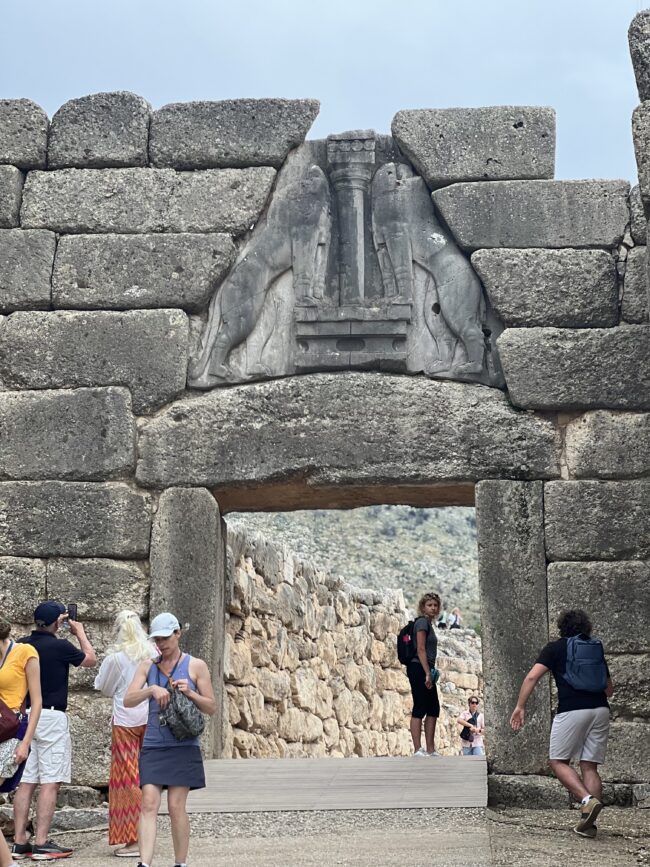 Mycenae was an ancient stronghold, at the top of a high hill, whipped by wind and subject to periodic intense storms. It's also the oldest place we visited all day, and very, very cool. When we read Greek epic poetry and learn of battles between the Myceneans and…everyone else? That's these guys. They were cool before Greece was Greece, and I wanted to climb all over this site with abandon, and I didn't want to change clothes first.
Basically, like a lot of us, I was asking a TON of a single garment. But since I had a fairly good idea of what my parameters were–loose enough to easily pull off a swimsuit beneath it, structured enough to feel chic at lunch and touring a small town, functional enough to hike up to an ancient archaeological site, comfortable enough for a four-hour round trip car ride–I narrowed down my options and got to work.
I chose the Montana Dress from Style Arc, with the expansion pack that offers six additional neckline options.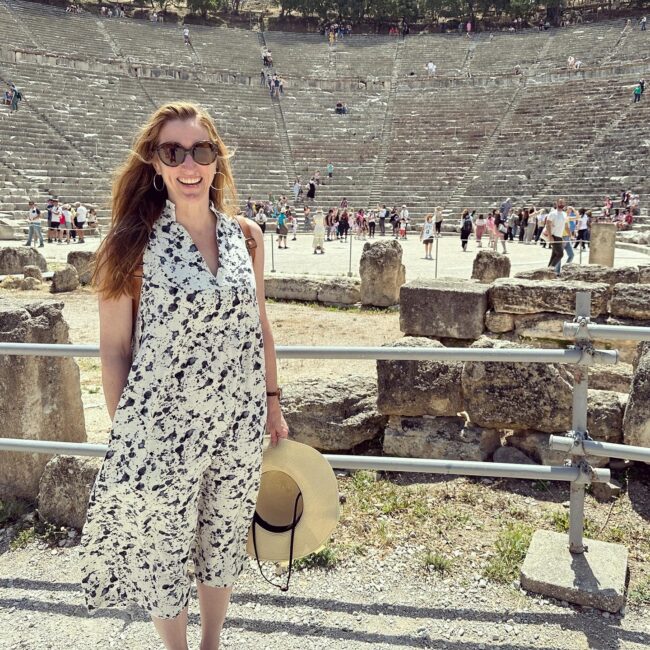 The fabric is a linen blend from my stash, with this fun splatter print design. It's easy to style, easy to wear, and did everything I asked it to do. Unfussy, but also just polished enough, and with plenty of room to hike, climb, change clothes beneath it, and even catch a breeze at lunch.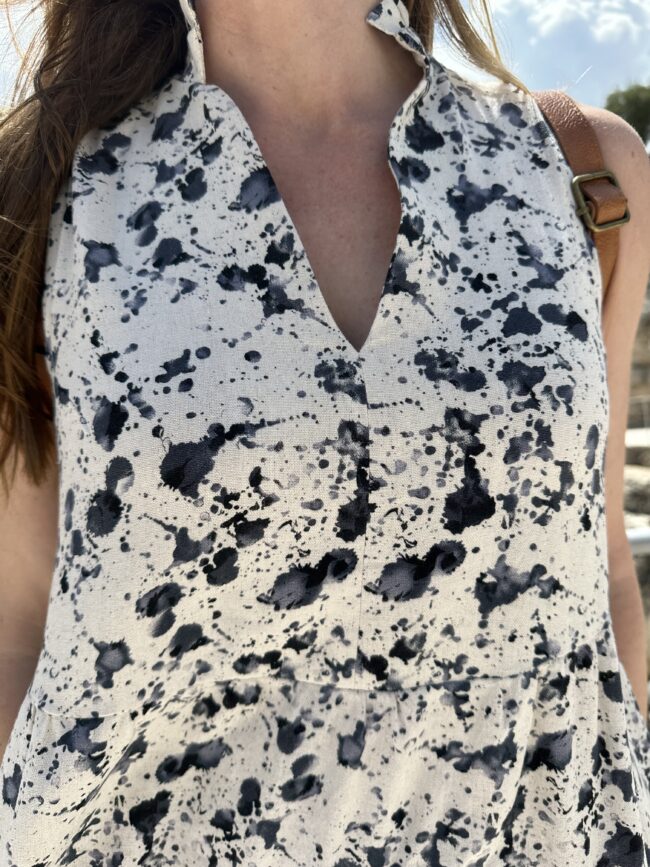 The design of the Montana has a very slightly raised waistline, and the expansion pack option I chose has a center front seam with a sweet little ruffled collar. The bodice is fully lined, and I don't even think it has darts? If it does, they're side bust darts, but I don't remember sewing them. The whole thing went together in about 90 minutes of sewing, including gathering the ruffle for the collar.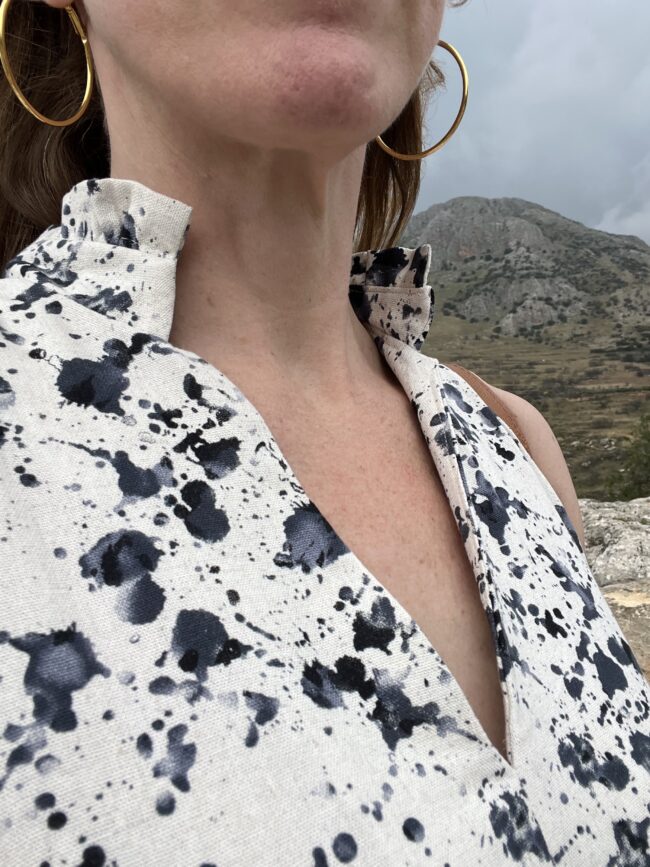 I was suuuuuper happy with how easy this dress is to wear. The center front seam ends in a spot where I don't feel like I'm exposed or on display, but the collar gives a sweetness to the shape that helps me feel put together–even though it's basically like wearing jammies. I'm happy I chose the splatter print linen, too, which offsets any twee quality from the collar.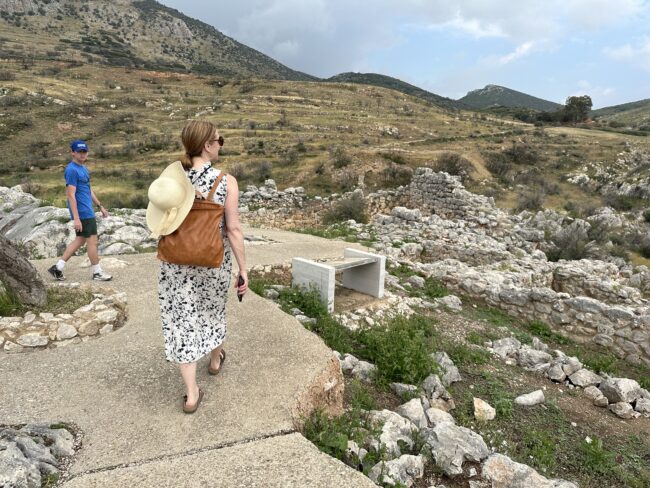 What I do NOT like about this design is the length. It's billed as a "midi" length dress, but hits me at exactly the spot on my calf that feels dowdy and matronly to me. I didn't hate it while I was wearing it? But I think in the photos the length of this dress, combined with my casual sandals, adds about ten years to my appearance, and that's not gonna work for me.
My plan is to shorten the hem by 4-6″ or so, and create a little more of a long babydoll look. Otherwise, I would probably grab this dress every time it came out of the wash and wear it over and over, it's that easy to put on and style.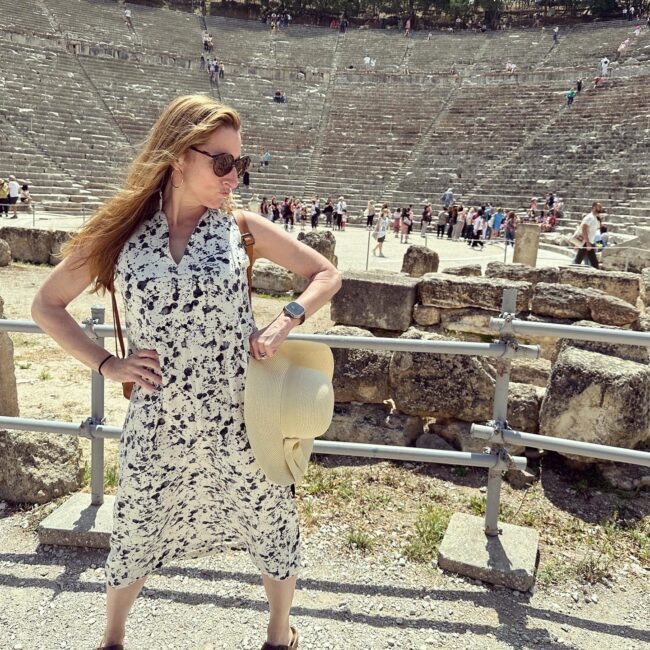 I talk a lot more about these ideas–how to think through WHAT my life demands of me and use that as a guideline for planning my sewing & choosing a pattern–in my Travel Handmade series at The League of Dressmakers. It's about travel, but also about "travel," and one of the most impactful takeaways for me has been how to frame my thoughts surrounding sewing handmade clothes in a way that my sewing serves the life I already have. You can learn more and join us with this link–come design your own clothes at The League, find your team, and grow your sewing!