In 2012, there are over 100 pair of Sewing Buddies, and they have been going like gangbusters since the spring!  These folks are virtual pen pals, sharing their sewing skillz and inspiration with one another, sometimes learning and sometimes teaching, and seriously, making me so excited to see how just the simple act of sewing can take us beyond geographic boundaries and age and even style, bring people together who otherwise might never get to know one another, and make them fast friends.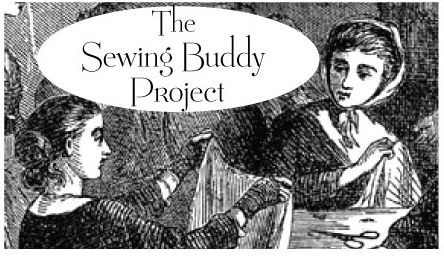 In April, I set a challenge for our Sewing Buddies, and they totally stepped up to the plate with some really awesome sewn projects.  The challenge asked each pair of Buddies to create two final stitched pieces: one for a male and one for a female.  Those were the only guidelines–they could have been boy/girl gifts or he/she sets, anything so long as both Buddies did some of the sewing and the final projects were he/she themed.
I loved, loved, loved seeing the photos come through on Flickr, and was genuinely inspired by the ways that the challenge was interpreted–how cool to think that most of these Buddies have never met in person, and are using the World Wide Internet Web to communicate and plan and execute these projects!!  In the end, though, there can only be one.  Winner, that is.
Announcing: the Sewing Buddy Challenge #1 WINNERS!
This was such an incredibly hard decision–I loved something about every one of the entries, for real.  In the end, though, it was a question of which projects did the best job of embracing the challenge and making a real PAIR of projects, showcasing the skill and work-togetherness of the Buddies.  I did, however, decide to give prizes for first, second and third place, so I could brag on more of you Buddies out there!
THIRD PLACE WINNERS:  Nicole and Jennie with their Adventure Bags!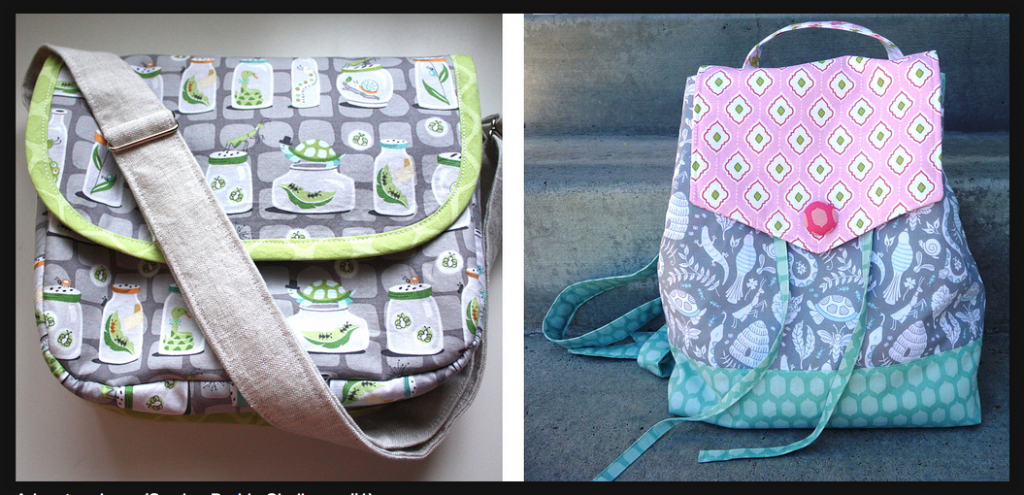 These are so, so cute and show not just how the ladies came up with projects that fit the theme, but also worked together to choose fabrics and style their sewing.  Great job!  Both of you will receive a fat quarter bundle of fabrics (pot luck, my choice) delivered right to your door!
SECOND PLACE WINNERS:  Elisabeth and Rebekah with their dolls!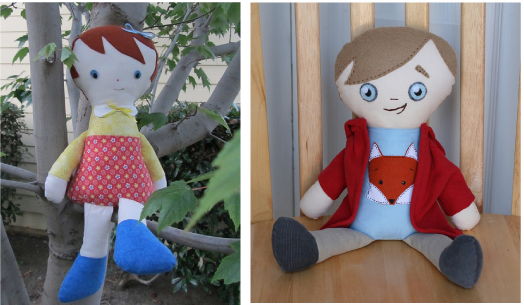 The sewing on these is so lovely, the detailing so sweet, and the way these Buddies planned out the dolls to look as though they could be hanging out together is just awesome.  I adore these two!  Congrats, ladies!  You'll both receive a half-yard bundle of fabrics (pot luck, my choice), delivered right to your door!
FIRST PLACE WINNERS:  Penny and Kristy with their Camping Outfits!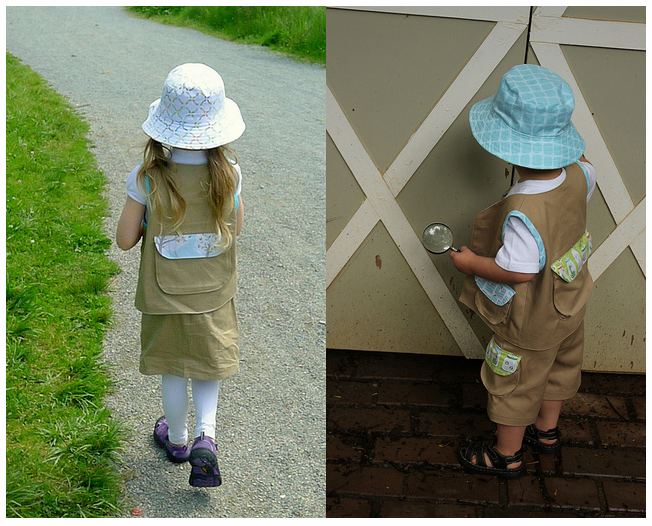 These two take the cake–they're just so much fun!  These Buddies used great co-ordinating fabrics, chose complementary pattern styles, and really thought through what project they could sew that would embrace the whole theme.  Everyone who has seen them has ooohed and aaahed over them, and deservedly so.  I'm so pleased you're both winners!  You'll both receive a $30 gift certificate to the shop, to use as you please!
HONORABLE MENTIONS:  There were so many really fabulous projects that I can't resist showcasing some honorable mentions: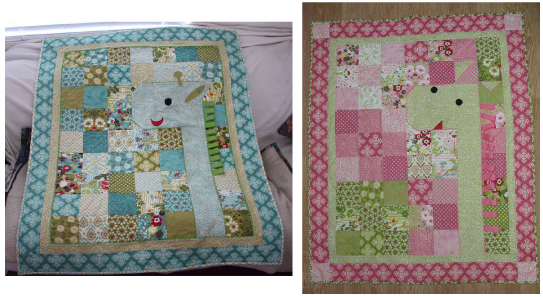 These giraffe quilts are darling, and make great use of the theme–they're the same pattern, but use their variation in fabric to make them boy/girl friendly.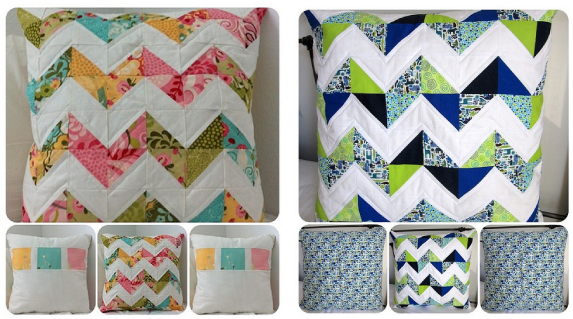 These HST pillows also use the same design and mix things up with the colors and prints they've chosen–I love these!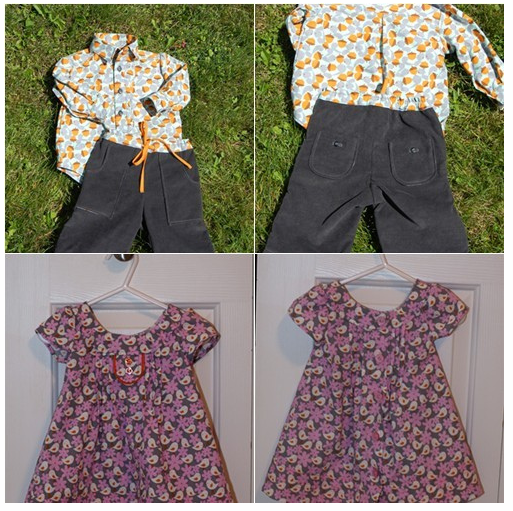 I adore these outfits (and the acorn fabric that they're made with!), and would totally be proud to send my children out of the house wearing these.  Aren't they crazy detailed and super cute?  Love!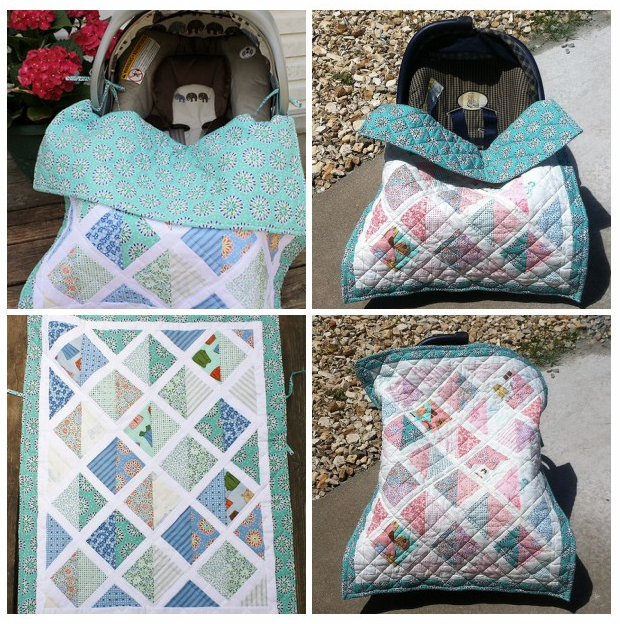 The car seat quilts here are delicious–I love that they're made with the same fabric collection, but that they're matching without being too matchy-matchy, and that these Buddies worked totally bi-coastally!
Spectacular work, all you Buddies.  I am having SO much fun seeing what you all have been up to, and LOVING the motivation that these challenges are providing.  I can't get over how quickly so many of you have gotten to be friends over the Interwebs, and how cool the sewing is that's springing from that!  And so…
Sewing Buddy Challenge #2
The next big announcement: the SECOND Sewing Buddy Challenge!  This time, we're focusing on COLOR as our theme.  Sewing Buddies, your task–should you choose to accept it–is to create two projects that coordinate or reference one another through the use of color.  I'm leaving that pretty open for how you'd like to interpret it–you can make two projects using the same color palette; make two projects where one piece is in a color that complements the other piece (say, one of you makes a blouse that's orange and the other makes a skirt that's green, because those colors are opposite one another on the color wheel); make the same project using different colors on each one, but in a planned manner to accentuate the pattern or design; or create a color-based theme that runs between two sewn items.  I'm leaving the specifics up to your very creative Sewing Buddy minds, but the theme of the challenge is COLOR.
Get to it, Buddies!  Challenge #2 opens today, and the deadline to submit entries is September 20, 2012.  Winners will be announced on or around October 1, along with the final 2012 Sewing Buddy Challenge!  Best wishes to all of you!*
*Non-Sewing Buddies are always welcome to participate!  Just make your project using the theme and add it to the Sewing Buddy Flickr group–with a note saying "just for fun."  We'll all be inspired by what you've created, and will hope that you'll dive in and get a Buddy next year!