QuiltCon, QuiltCon, QuiltCon!  WHEN will everyone STOP talking about QuiltCon?!?
Not today, I'm afraid.
I was there in Austin when 10,000 modern quilters gathered from all over the world–as far away as India, over 9500 miles–to learn and be inspired and meet up and hug a LOT.  It was, honestly, everything everyone has said it was and maybe even a little bit more.  Imagine: every time you turn a corner, you see another dear, dear friend whom you don't see often enough, and you race toward each other for giant hugs and super fast chatter.  That's what this was like.  Like a junior high dance, except everyone was really nice and in an incredibly good mood.  I'm totally in withdrawal.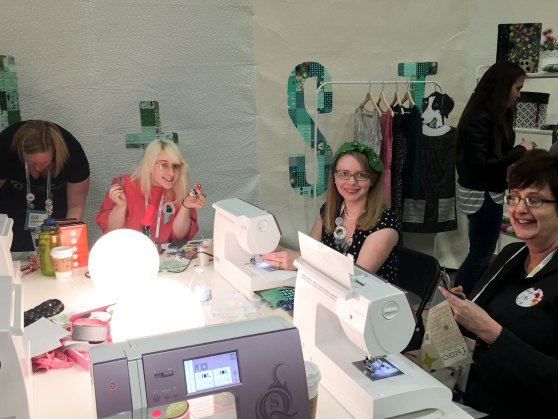 Make-and-takes at the Cotton + Steel booth! Image via the MQG blog.
I volunteered while I was there, and it was such a great way to visit with friends and make new ones, to see the show and to feel like I was contributing to something that makes an enormous impact in a lot of people's lives.  I helped set up booths and hang quilts on the show floor before quilters began arriving, I welcomed folks in as they entered the ballroom for the QuiltCon Awards Ceremony, and I even spent a day with Anna Maria Horner in her Mod Corsage workshop (along with Denyse Schmidt, pretty much guaranteeing that the entire day was both magical and hilarious, because those ladies are hysterically funny).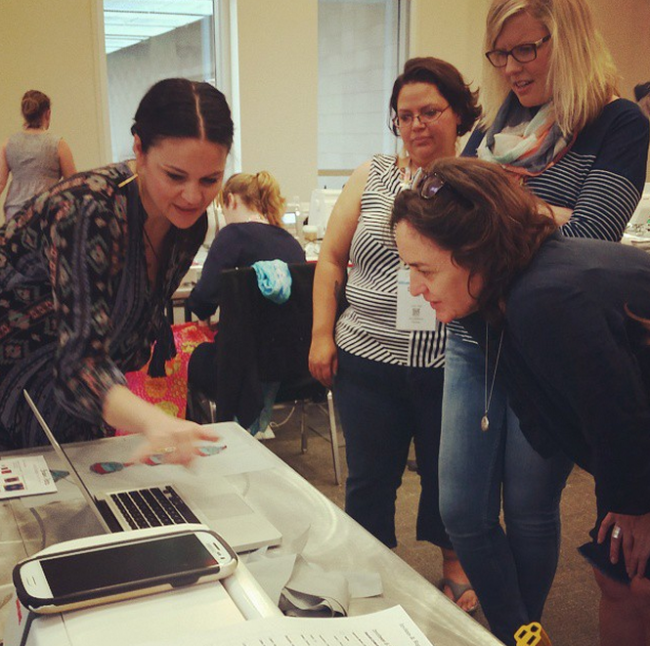 I even took one whole day to enjoy a workshop for myself–I know, you can really pack some stuff into four days, right?  I was actually scheduled to do another half-day workshop during the weekend, but as I was packing my bags to leave on the plane, realized that it was just too much.  I dropped the half-day workshop so that someone else could pick it up from the wait list, and stuck with just the one full-day class: the Emphasis quilt with Carolyn Friedlander.