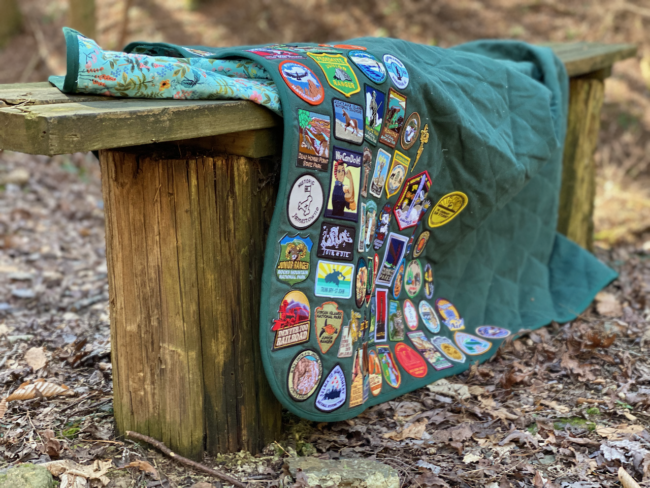 A few years ago, I made heavy-duty backpacks for our children modeled on vintage satchels, as a way to practically display the Junior Ranger patches they'd been earning on our family visits to the National Parks: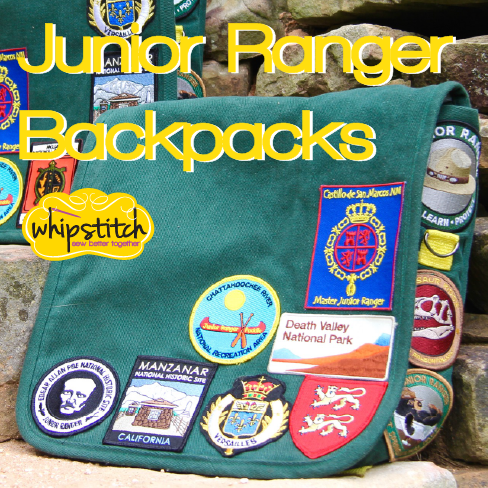 We ran out of room on them pretty quickly, which is both exciting and worrisome: we'd set into motion a family tradition, and had been collecting patches at every travel destination, including not just the National Parks but also Japan, Italy, France, Scotland, London, even small local destinations near our home in Atlanta.
Bottom line, they weren't all going to fit.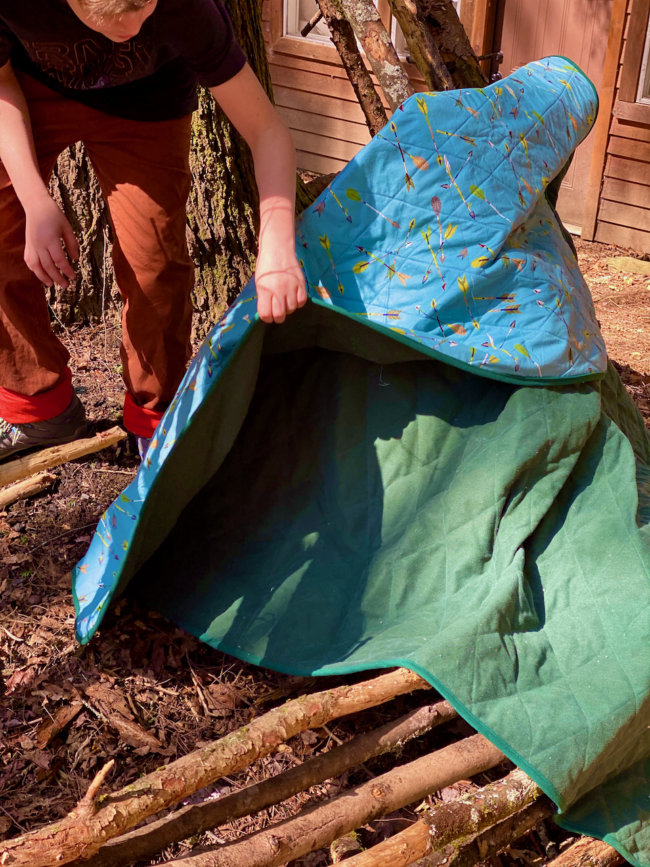 Design
I came up with the idea of creating a "camping blanket," something made of the same fabric as their backpacks and designed to match. I wanted it to be big enough to display a lot of patches over time, and grow with them, but also small enough to be practical when camping or hiking, something they could carry with them fairly easily but that would be useful once they arrived.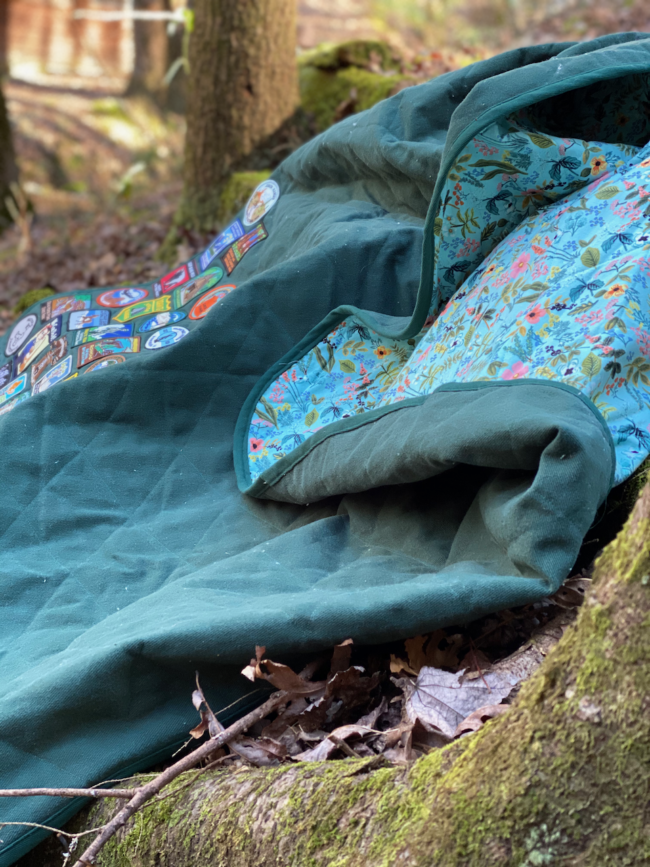 The backpacks are made of a bull denim, a fairly heavyweight cotton that gets softer over time. I ordered more of the same fabric (twice, because this was a project that evolved over time so I naturally didn't get enough the first time) and set it aside. I needed time to ruminate on the design parameters in order to plan out the project before I started sewing.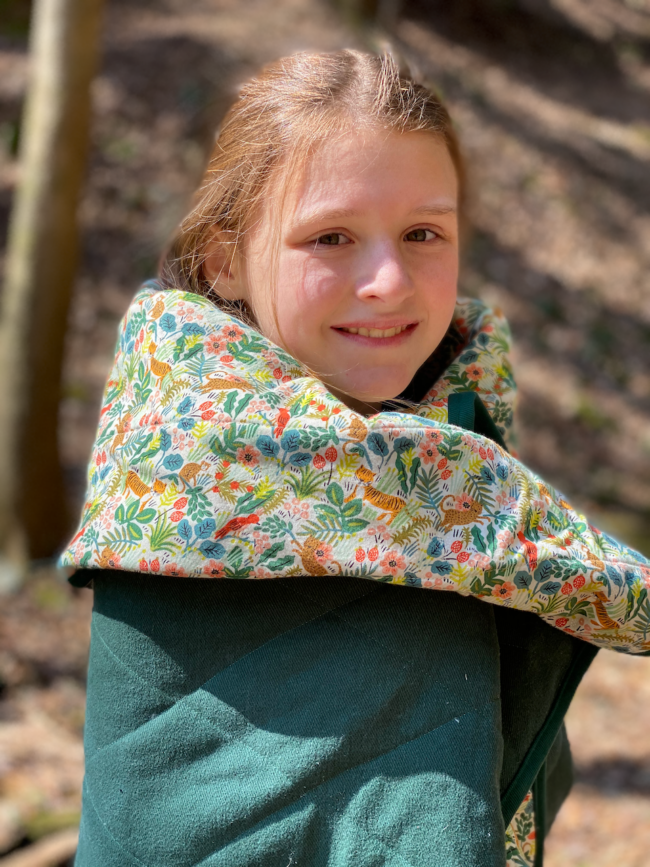 I decided pretty fast that in order for the blanket to really be worth it, I needed more than a single thickness of denim: a single layer gets stiff when the patches are added, and pretty soon, that's not a blanket anyone wants to use. These needed to be quilts–but I didn't want to overshadow the patches by adding pieced patchwork on one side, which led me to design a whole-cloth quilt, where both the front and the back are made of a single piece of fabric (there's one in my second book, Stitch Savvy, too).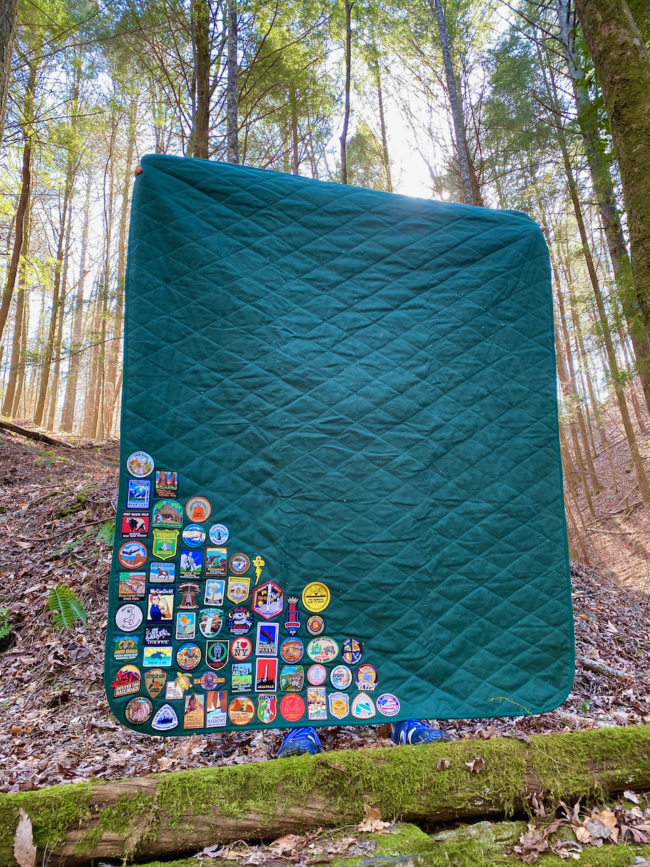 I made three quilts, one for each of the children, and have a fourth (larger) one planned for me and my husband to share. The design is identical for all four, with some variations in the fabrics. Backing for each is a quilting cotton, for one thing, in different prints so they'd always be able to tell them apart. I toyed with the idea of appliquéing their first initials, or embroidering their names, but in the end it felt like I want the patches to be the star of the show, so I limited myself to whole-cloth quilting on solid fabric.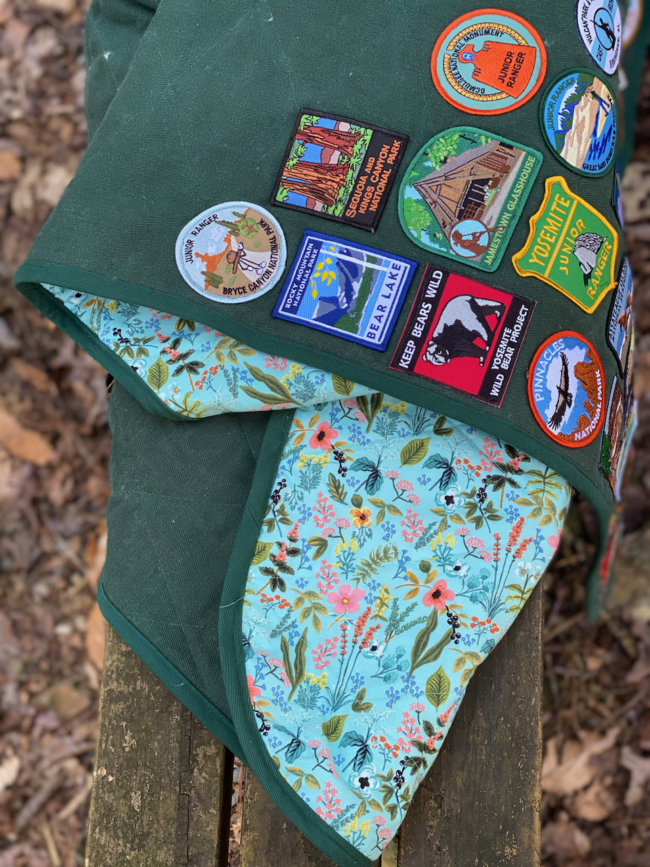 Supplies + Sizing
The spruce green denim quilt fronts are made from 2 yard cuts of 60″-wide fabric, so these each measure roughly 60″ x 72″ finished, minus the minor shrinkage from pre-washing plus a little loss from squaring up. I minimized that (and made the shape more closely match the backpacks) by rounding the corners. The one for me + my husband will be slightly larger, closer to the size of the double camping cot sleeping pad we share, and should end up closer to 90″ x 120″ give or take.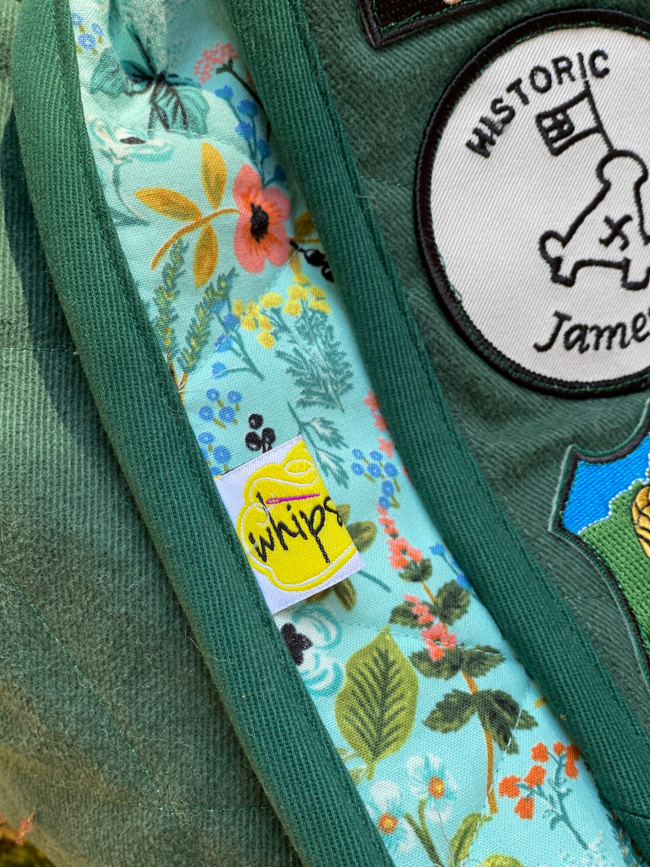 Backing is pieced from a 2.5 yd cut of 45″ quilting cotton, with seams pressed open. I used a twin-size package of batting for each, and made my peace with the slight waste (since twin batting measures 72″ x 90″ but crib size was too small).
Quilting
All the quilting lines are done at a 60-degree angle, which I drew on with chalk using my clear acrylic ruler, one line along each diagonal through the center of the quilt, and then spaced about 3″ apart when stitching with my walking foot. (Heads up that with this dark denim, I DID get some fluffy bits of batting stuck to the surface as I worked, and they've been a beast to remove–you can buy dark batting to avoid that very problem, but that wasn't what I had on hand.)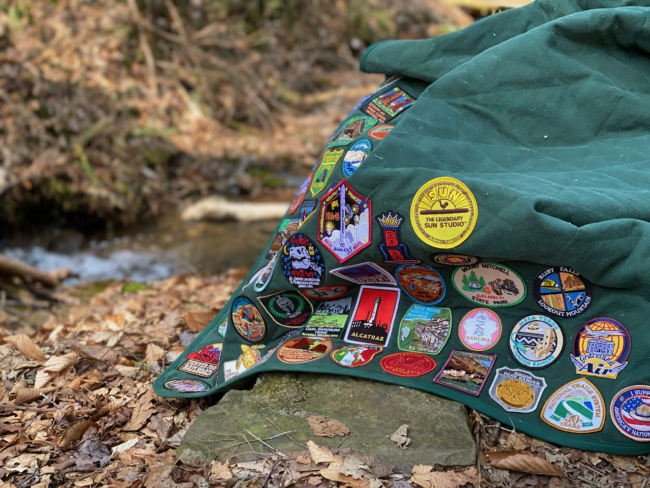 Binding
Edges are bound in bias tape made from a very close match but NOT the same fabric, which was sold out when I went back to buy additional yardage for binding. I cut 2.5″ wide continuous bias tape (see my YouTube tutorial for making CBT, one of my very favorite nerd things to do), then folded in half as I usually do for binding quilts, which makes a super durable and rounded quilt binding that's satisfying to touch and will hold up well to lots of abuse.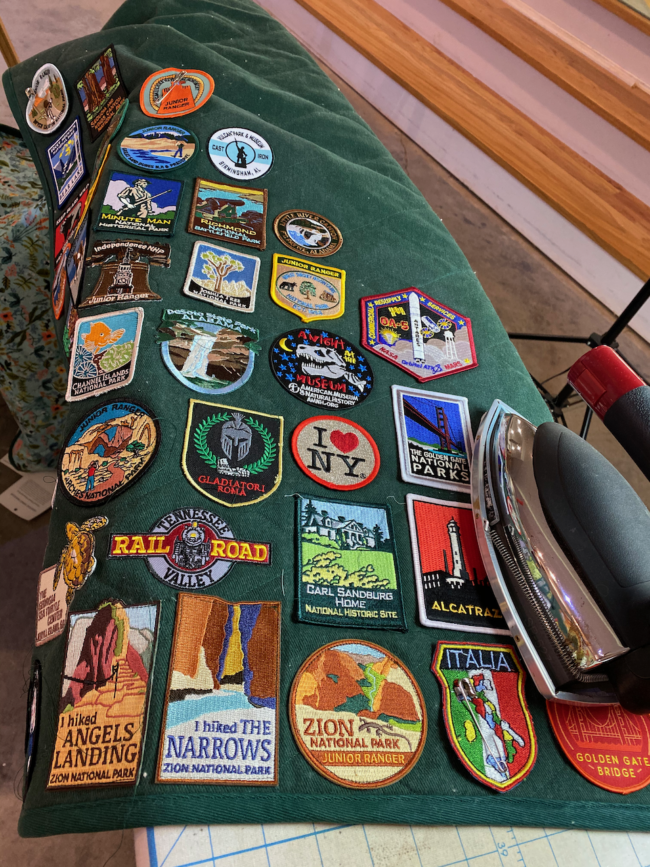 Adding the Patches
The patches are mostly iron-on, but not all of them are–and even if they all were, we worked hard for every memory they represent, so after fusing with heat, I stitched each one individually. The thread on the back as I stitched each patch is the same as the bobbin thread I used for quilting and matches the quilt back; the thread on the front is the same as I used for quilting, and matches the denim, which means in some cases it doesn't blend AT ALL with the patch–but we had a pretty big stack of patches to add, and I was just NOT up for changing my thread for each one.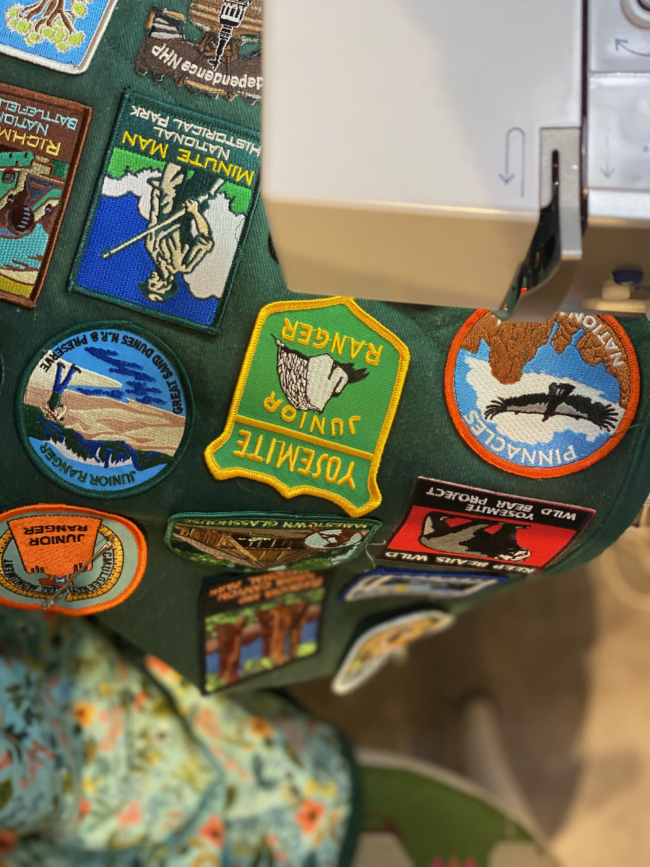 I started with my standard presser foot for the patches at the edge, but manipulating the bulk of the quilt got burdensome pretty fast, so I changed to my free-motion foot and dropped the feed dogs to do the rest. That was slightly less accurate around the edges but MUCH easier for getting to each patch.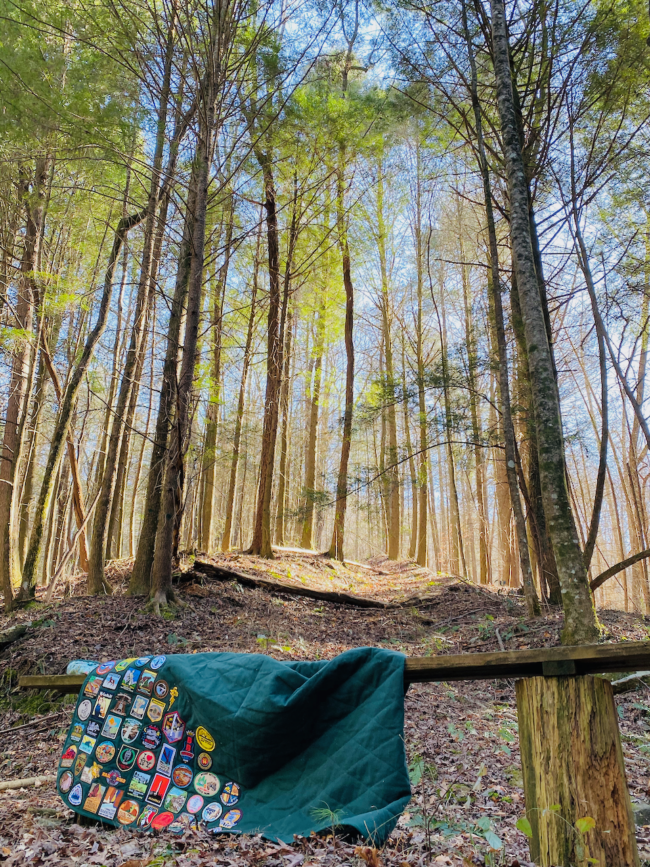 Test Drive!
We took these with us to a dreamy mountain bike getaway in the mountains of North Georgia this past weekend, where we slept in a cabin by a creek, and the children built a lean-to from scrap wood they found near the campsite. I thought the quilts would be redundant, since the cabin came with beds & bedding, but they quickly became the floor for the lean-to, or the snuggly next-to-the-campfire blanket, or the extra warmth the kids needed when the temps dropped below 30 overnight. Side note: when these quilts were finished, I asked my husband to help me take photos and he said, "These aren't what I pictured when you described them. They're a lot better than I imagined."
Not many things are more gratifying than having the labor of my hands IMMEDIATELY appreciated.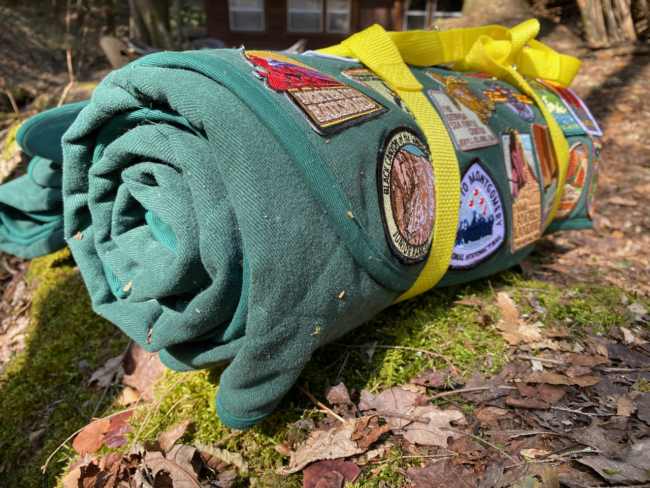 Carrying Strap
Knowing we'd be hiking and camping and lugging gear from car to campsite and maybe even on mountain bikes, I made a strap for each quilt. My original idea was to add buckle straps to the bottom of each backpack so the quilts could be carried as part of the pack, but not only did that seem like it would be hard to make secure, I figured it might make the whole thing more bulky? So a separate strap made more sense.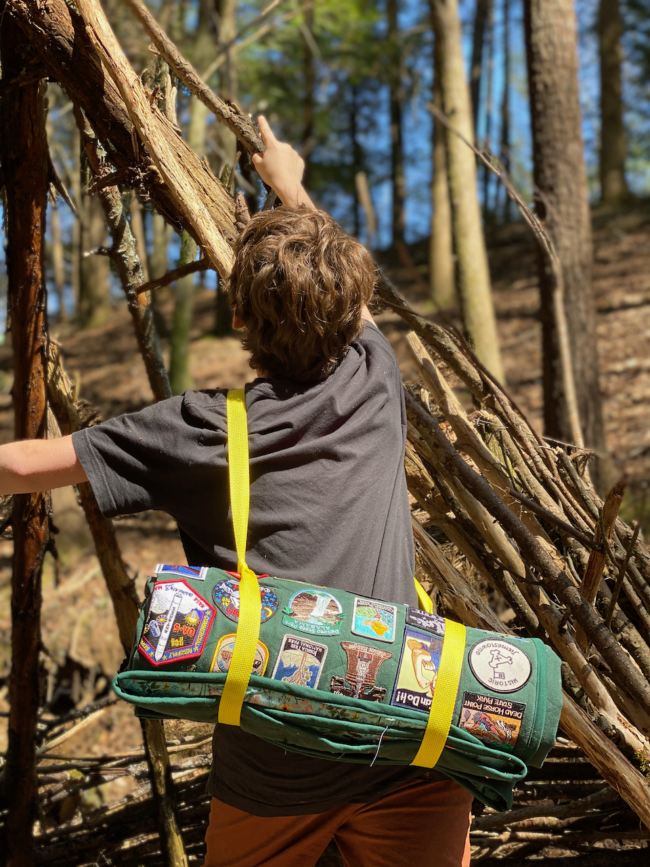 I designed this using the buckle slides I found in a drawer, which I guess I bought in bulk for….something? (You hear what I'm saying, I know you do.) I wanted a hybrid of the yoga mat strap my husband and I have, and a Pendleton blanket strap we saw at REI recently. I used the same nylon webbing that I bought in (accidental) bulk a few years ago, which was added fun because you have to melt the ends to prevent them from unraveling and that always feels daring.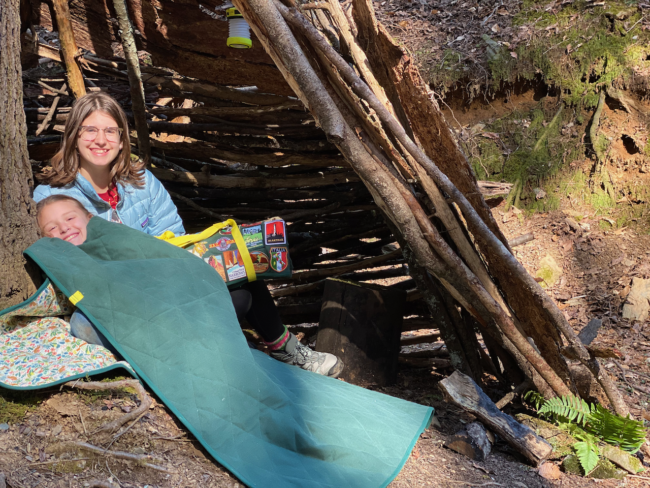 A Brand-New Heirloom!
Like so many successes, this was NOT a spur-of-the-moment overnight win. I spent actual YEARS thinking about these quilted blankets, about how to best use these patches, and we worked hard as a family collecting the patches to include. The planning was part of the fun, and so was sorting through these memories when it was time to stitch each patch in place–we pulled the giant bag of patches out one night after supper and all sat down all together to dig through and exclaim and remember and get excited about travel all over again.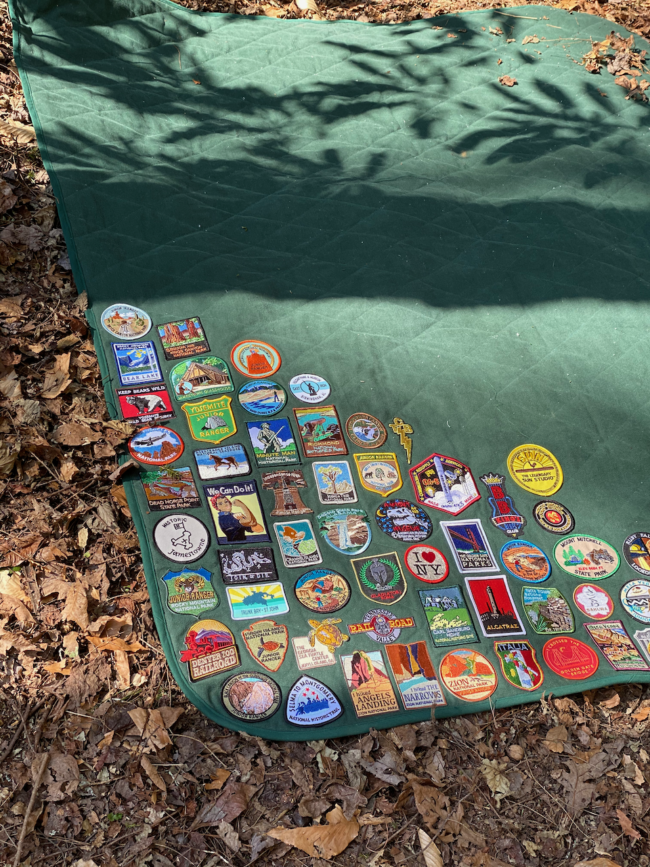 My hope is that our kids will keep adding to these blankets over the years, and take them off to college, and treasure all the adventures we had building them, once they're out of our house and looking back. Until then, I'm going to keep bringing home patches, and planning new chances to make memories together.