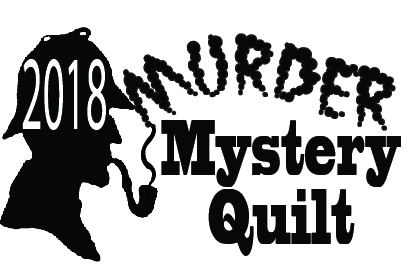 It's back!  The Murder Mystery Quilt is now open for registration for next year.  I am so, so excited–will you come play with us?
For the past two years, I have had the honor and the pleasure of sewing alongside over 1500 quilters who love to read, and who have made new friends while sewing a mystery quilt.  These are smart, funny folks who enjoy a good story and a good puzzle, and who are having a ball putting the two together in a sewing project that lasts all year!  Registration is open NOW for an all-new quilt and an all-new story.  Come play with us next year and sew the quilt to solve the crime!

The Murder Mystery Quilt is a monthly subscription club that reads along together and stitches up a quilt to find clues and solve the murder mystery contained in the story.  
Members receive a chapter from a mystery story each month, and a pattern for a quilt block.  The quilt block relates directly to the chapter you've read, and contains an additional clue (or clues!) to help unravel the plot.  There are 12 blocks, one for each month of the year, and every quilter gets one guess as to who the killer is.  All the correct guesses are put in a bucket, and a winner is drawn for a giant prize basket of quilting goodies and fabric!  There's also a second prize for those who complete the quilt top, regardless of whether they made a correct guess, so that everyone has a chance to win–even if you feel more like a Watson than a Holmes.  (After all, Holmes was a little bit of an egomaniac who didn't like to share credit, but it was always Watson who supplied the necessary connections to get to the solution, right?)