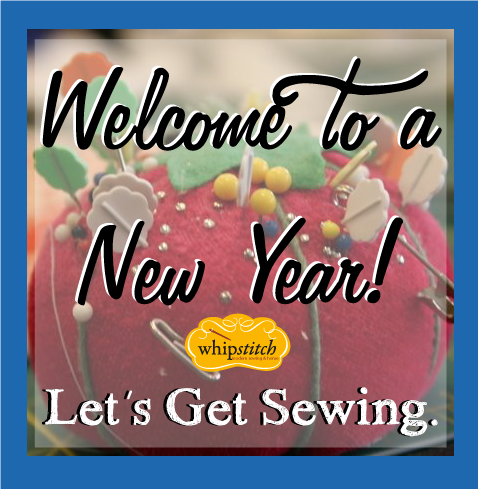 Hooray!!  A whole new year has begun.  And I have an overwhelming sense of optimism this year.  I'm excited to see what comes and where it goes, and how I will fit into that picture.  Are you feeling it, too?  Because I keep hearing, from people close to me and from strangers, that we're all ready for brighter days, and that this winter, we're taking our cue from the world outside our windows: resting and rejuvenating and renewing ourselves beneath the surface, so that as the sun returns and the air becomes warm again, we can burst forth in the most vibrant and electric version of ourselves.
I think that's what taking a class and learning something new is all about–truly, I don't just say that from some cliche sales place.  The most marvelous thing about the internet is the way in which it has given us the means to explore and discover and learn on a near-constant basis, if we're only looking for it.  Your teachers might be folks who are learning alongside you, or folks who have been experts longer than you've been alive, or something in between.  But always, I think, most of what it means to be human is to be looking for a place where we can grow and explore.
I'm beyond excited about my 2013 e-courses.  I've been teaching online since early 2010, and it has been such an incredibly rewarding and challenging and inspiring experience for me, so each year when I compile the list of classes I'd like to offer, I get a little bit buzzy about it!  I really sit down and look at what I've taught before and what I've been asked to offer, plus what else is available online and in person, and how my online classes can be a part of that but add something new.  I really think I've been able to do that in 2013 in a way that I haven't in years past, and I'm so excited to share it all with you today!

Announcing: the 2013 Whipstitch Sewing E-courses class list!  Read details and background below, and visit the e-course page for more details on dates and registration for the classes that interest you.  Feel free to leave a comment or email me directly if you have questions by writing deborah (at) whipstitchfabrics (dot) com!
Essential Sewing and Essential Quilting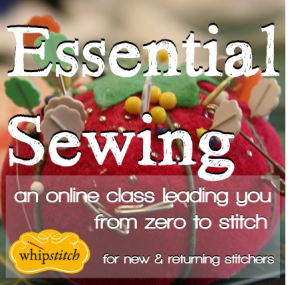 In past years, I have offered an Essential Sewing course–designed for those new to sewing or the self-taught looking for a more formal class–and an Essential Quilting class–a similar course to Essential Sewing, but focused on quilting and quilt-making skills from start to finish.  Because I limit how many classes I teach to seven per year, and because I liked to offer Essential Sewing twice each year plus Essential Quilting, that meant I could only offer four other e-course titles each year.  But I LOVE coming up with new classes and new projects and inviting back students who have taken courses with me before to learn something they haven't tried before.  So this year, I'm mixing it up: Essential Sewing and Essential Quilting are going year-round! 
Both of these classes are now going to be offered on an a la carte, on-going basis rather than as a six-week series.  That means you can start whenever you like, take as long as you like, review the lessons as often as you like, and STILL be able to join any of my other online classes throughout the year as your skills catch up.  I really think this is going to be such a great option for so many folks who felt they needed to start with the Essential Sewing class, but found that the scheduling didn't line up with their lives.  Same with Essential Quilting, where students really wanted to review lessons again and again as they became more skilled, seeking to really cement those foundational skills as they developed new ones–this option will allow you permanent access that never expires to all the content of these classes!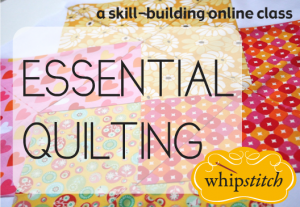 Plus, not only do you get to access ALL the lessons forever, but you don't lose the one-on-one element of the classes that I always loved the most.  The number of spaces available in each class for new students per quarter will be limited, allowing me to answer each of your questions and comments individually, so you'll still get the attention you need and the answers you're looking for, just for you.  And with a live chat every quarter for each class, you can even have real-time interaction with me and your classmates!  It's the community that gets built in these classes that's my favorite part, and I didn't want to lose that–I think that the new format will enhance it, and I'm so excited to see new faces there!
For more details on the lessons, the projects and to register for these classes, visit the Essential Sewing and Essential Quilting pages.
Sewing with Knits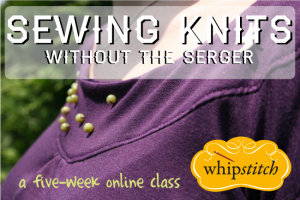 Back by popular demand!  Sewing Knits without the Serger is a great class for working with these amazing fabrics that we all love to live in, but so few of us regularly sew.  I taught this class first in 2010 and again in 2011, but didn't have room in my schedule in 2012–and so many of you let me know that you'd been eagerly waiting to see it appear on the schedule!  So after making arrangements to have the Essential Sewing & Essential Quilting classes go year-round, I've got time to add Sewing Knits back in, and I'm so excited to teach it FIRST this year.  I adore knit fabrics and love introducing folks to working with them, leading them to build their confidence.  We go over where to buy them–and what to buy–along with what needles, what thread, how to work with the pattern, how to adjust fit, and then make four projects that you'll love to wear and make over and over again.  Patterns are included in the class, and are staples for any wardrobe!  Winter is such a great time to be thinking about working with soft knit fabrics, and the skills will be a delight in the summer when you're looking for a quick project to satisfy.
For more details on the lessons, the projects and to register for the class, visit the Sewing Knits page!  This class begins January 28, 2013–spaces are limited, and it's only offered once this year.  Just so you know, and stuff.
Sewing Clothing for Kids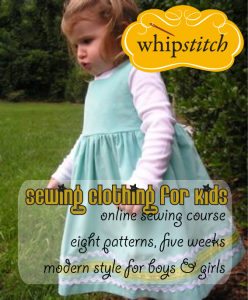 The Sewing Clothing for Kids e-course has been such a fun, fun class to teach over the past few years.  It really appeals not just to moms and folks who want to sew for the little ones in their lives, but also to stitchers who don't sew a lot of clothing and are looking for a place to get their feet wet with apparel that has a little less pressure than making a fitted dress for ourselves.  Because kids sizing and fit can be more forgiving, you've got a little more margin for error here, and that has made this class such a great place to cut your teeth on making garments!  Even if you've sewn clothing in the past, the class comes with piles of ideas for altering patterns to use them in new ways–like turning a button-front bodice into a button-back bodice on a girls dress, or swapping out buttons for a zipper on a reversible jacket–that there is plenty of inspiration for someone who is beyond the beginner level.  With eight great patterns for girls and boys in sizes 12 months through 6, there is something here for you no matter what your sewing goals might be!
For more information on the patterns and skills included in this class, including pictures of the projects, check out the Sewing Clothing for Kids e-course page.
Everyday Handbags
A new class this year, I am beyond excited about Everyday Handbags!  When I was writing Stitch Savvy, I really spent a lot of time thinking about what it is that we're all looking for in the perfect bag, and what makes a hand-made bag go from simple to stupendous.  I think I've really put together a fantastic selection of go-anywhere bags for all occasions, from totable to danceable and plenty in between.  None of us is just a mom or just a worker or just a dreamer or just a woman–we're a lot of things rolled together, and we want to be able to be all those things with the perfect handbag.  This five-week class is designed to walk you through making FIVE such bags, in fabrics from classic to fancy, so that you're ready to tackle every day with the most appropriate accessory.
Everyday Handbags will begin registration in early March 2013.  Keep an eye on the e-courses page for more details!
Summer Dresses
Of all the classes I'm teaching online this year, Summer Dresses might be the one about which I am most excited.  Probably because I live in dresses in the summer–they're so simple, just put it on and you're dressed!  Mix up the fabric, the trim, and the details, and BAM!  You can take just a handful of patterns and you'll be set for an entire season and beyond.  And if you're living in a climate like mine, here in the Deep South, a handful of dresses can last you from April through October, no question.  So Summer Dresses is a class I've been dreaming of for a while, and I'm over the moon to offer it in 2013!  This five-week class comes with three original patterns and guides you through making the basic design PLUS plenty of variations along the way to make a really exciting wardrobe for the warmer months.  Won't be warm where you when the class is offered?  Join us anyway, and sharpen your skills for the coming summer!
Summer Dresses will begin registration in early May 2013.  Keep an eye on the e-courses page for more details!
Four-Piece Wardrobe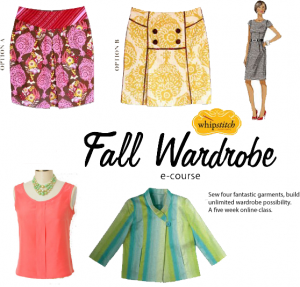 The Four-Piece Wardrobe e-course is such a great class to teach, and to take.  It's based on the Patterns classes I've taught in person in Atlanta, and is designed to be an introduction to working with and mastering a commerical printed pattern for garment sewing.  That means we really walk through what pattern companies are out there, how they differ, how to choose a pattern, how to prepare it and work with it, and THEN we sew up four awesome garments, tackling lots of pattern-sewing skills along the way.  It's always exciting to develop this skill alongside other folks who are learning the same thing, and this class has consistently been one of the best communities and experiences I could have asked for.  If you've finished Essential Sewing and are looking to make garments for adults, I can't recommend highly enough taking this class next!
To learn more about the patterns we're using in this class, and see images of the projects, check out the Four-Piece Wardrobe e-course page.
Slip Covers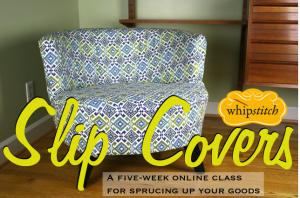 Last year, I taught a Home Decor e-course.  Of all the projects we did in the class, the ones I loved the best were the slip covers, and I felt almost sad that we couldn't do more of them.  Then I realized: we can!  This e-course is all about how to create slip covers from very, very simple–covering a pillow–to much more complex–covering a chair.  We go over how to plan your project, how to avoid as much math as possible, how to create a template or pattern for your fabric, and how to make your slip cover look as professional as possible.  By walking through covering pillows, an ottoman, a shaped stool, and two styles of chair, you'll have the skills you need to tackle the furniture that's been begging for new fabric–without a trip to the upholsterers!  Plenty of techniques and instruction on adding those little details that make a project look really professional, and lots of eye candy along the way.  Hooray for slip covers!
Slip Covers will begin registering in early August 2013.  Keep an eye on the e-courses page for more details!
Happy Handmade Holidays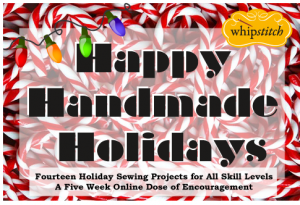 We have offered a Christmas Camp in years past at the shop, but most years I was so underwater with all the other things I felt hadtohadtohadto get done that I didn't get to make all the projects the ladies were teaching.  This year, I resolved to change all that, and designed a Happy Handmade Holidays class, where we could ALL get our Christmas sewing done well before the holiday season took over our days.  And you know what? It was SO MUCH FUN.  I had my holiday sewing done AND my shopping done by the week of Thanksgiving, and the entire holiday experience was a zillion times more enjoyable as a result.  As the class drew to a close, it occurred to me that "holidays" is a pretty broad term, and there are lots of other holidays throughout the year that aren't Christmas.  Wouldn't it be cool if this online class evolved and expanded to include those, too?  Yes, yes it would.
So it is.  The Happy Handmade Holidays class currently hosts fourteen original Christmas projects, complete with video, audio, images and downloadable patterns.  You can register at any time to join in on the winter wonderland magic.  In October 2013, I'll be ADDING to that content, and teaching a five-week series of fall holiday projects, including Harvest, Halloween and Thanksgiving!  The Christmas content will be there forever, we'll add fall this coming fall, and each year after that, we'll add another holiday "season" to the mix.  One registration gets you FOREVER access to this content, and you can join in the fun any time!  If you missed taking Happy Handmade Holidays this year, or if you just love yourself some Christmas, register now and you'll get all the fall sewing projects when they roll out in October–along with the company and daily interaction of a five-week class full of other stitchers who love the holidays, too.
To see more details on this class or to register, visit the Happy Handmade Holidays e-course page!
Thanks for making 2012 so amazing, all of you.  I'm looking forward to seeing both new and familiar faces in my e-courses this year–with hopes that we'll all get a little closer to our sewing dreams in 2013!